Cartoon Saloon/Aircraft Pictures/Melusine Productions (2017), GKids/Universal (March 6, 2018), 1 Blu-ray + 1 DVD, 94 mins, 2.39:1 ratio, DTS-HD Master Audio 5.1, Rated PG-13, Retail: $29.98
Storyboard:
A young Afghan girl responds to her father's imprisonment with a mixture of grief and bravery as she transforms herself in order to support her family.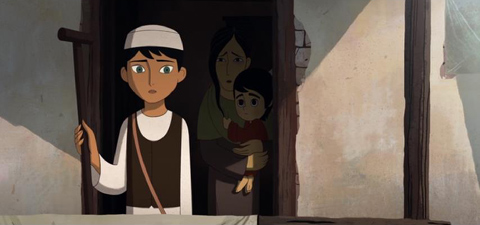 The Sweatbox Review:
Afghanistan is still a mysterious country for many westerners, probably known best as a centre of conflict, facing a succession of largely unsuccessful invaders and being also torn apart from within. Despite the nation being so prominent in the news for so long, many likely have only a passing familiarity with its history, culture and demographics. Canadian author Deborah Ellis went to Pakistan in 1997 to interview Afghans in a refugee camp and heard many stories of what their lives had been. She focused on learning all she could from women and girls, who had been the main targets of oppression in Afghanistan. Ellis was particularly taken by a small girl whose mother had helped her disguise herself as a boy in the camp. Out of these interviews she was inspired to write The Breadwinner, released in 2000. It has since won many awards and has had a few well-received sequels.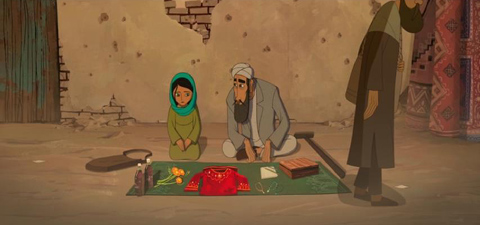 The grim tale of survival may not seem to some like an ideal property to adapt into animation, but the project was taken on by Toronto company Aircraft Pictures, who brought the idea for the film to the acclaimed Irish studio Cartoon Saloon, creators of The Secret Of Kells and Song Of The Sea. Angelina Jolie was brought on as executive producer to help guide the project, which was co-produced by Cartoon Saloon, Aircraft Pictures, and Melusine Productions in Luxembourg. Cartoon Saloon's Nora Twomey was selected to direct, and she read the source material in an evening, immediately seeing the possibilities for a powerful film. Both the book and the film tell the story of Parvana, an eleven-year old girl from Kabul who watches helplessly as her father is taken off to jail by members of the Taliban. The film omits and changes some of the book's details from there, but it is largely a faithful adaptation. Parvana struggles with the loss of her father and is absolutely determined to get him back. Her mother and older sister know it may be futile, but Parvana is insistent. Parvana and her mother go in search of her father together, despite the fact that women are not allowed to travel without a male guardian. The result is sadly predicable, with the mother being beaten, leading to a prolonged period of depression and recovery at home.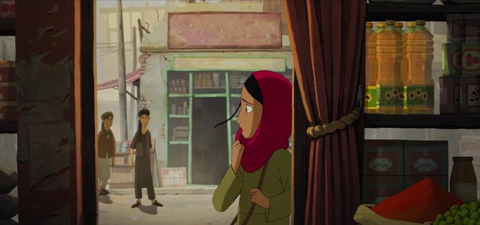 Of immediate concern is also how the family will survive day-to-day, as food and money run out. Parvana's older brother has been killed, and her younger brother is still a baby, so there is no male to go out and earn money, or even to go to the market to procure food. The solution is simple: the family must create another boy out of available materials – Parvana. With her hair cut, and with the use of her brother's clothes, the prepubescent girl can reasonably pass for a boy. She becomes the titular breadwinner for the family, selling small items on the street and assisting the illiterate with reading and writing, just as her father – a crippled former schoolteacher – had. Parvana is soon coached by a former classmate, Shauzia, who is leading a similar life of dangerous deception, and the two become close friends.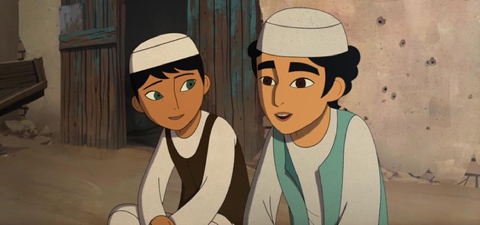 Eventually, a plot is hatched to bring back Parvana's father by use of bribes, but the whole family is overtaken by events in the country. Though the novel was written prior to 9/11, the film leads right up to what appears to be the American invasion in October of 2001. Even as the film's story moves towards a relatively happy ending, we know that life will never be the same for this family or their country.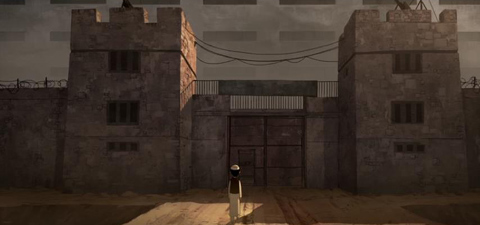 Director Nora Twomey somehow manages to make this potentially bleak story a fascinating and even entertaining one. Her protagonist, Parvana, is totally endearing, with a bright spirit and admirable perseverance. She is naïve, but sometimes a little naivete is required to drag along those who feel blocked by difficult realities. While we know that Parvana's success in life will be limited by her circumstances, it is inspiring to see her make the most of things, almost willing her family to survive their hardships. Mixed in with the main storyline are sections of a more light-hearted story begun by Parvana's father and continued by Parvana as she soothes her baby brother. The artistry shown in the telling of this folk tale is stunning and stylized, told in CGI but in a style harkening back to cut-out animation, but with amazing sophistication of style and detail. The purpose of including this tale in the narrative becomes clear in the end, adding a further note of heartache, even as we admire the startling beauty of the presentation.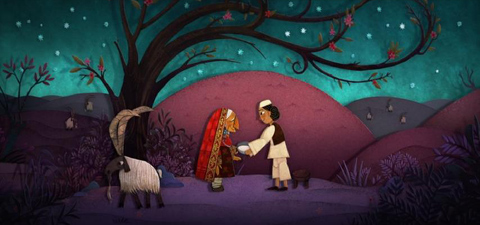 The Breadwinner continues Cartoon Saloon's record of excellence, giving them three straight Academy Award nominations for Best Animated Feature. It is an engaging story exquisitely told. Though the subject matter is quite serious, even my mature ten-year old boy, who loves history, declared it a great film. My wife, recognizing the sad undertones, was bothered by it for the rest of the evening, even though she loved the film. The story stays with you for a while, because it is based on truth, and the truth is not always pretty. However, even in the darkest times, there is still room for joy, laughter, and the enduring spark provided by love. That is the tale of Parvana and her family.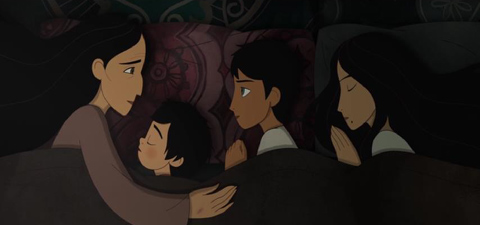 Is This Thing Loaded?
The disc offers a brief Introduction by director Nora Twomey and executive producer Angelica Jolie (0:35). There is also an Audio Commentary with the filmmakers, including Twomey and other key art and directing personnel, to provide further insight into the production. From there, we also get a few well-constructed featurettes that go even further into the making of the film:
Behind The Scenes With The Cast (9:36) actually begins with further comments from Twomey and Cartoon Saloon producer Paul Young before capturing the thoughts and insights of several audio cast members, as well as Aircraft Pictures producer Anthony Leo.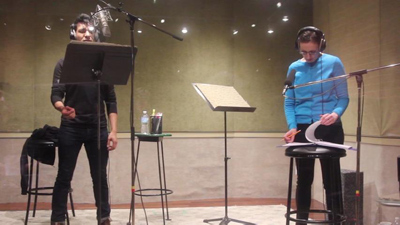 Animating The Film (6:16) is largely narrated by Twomey and others, as we view artists at work and see a generous amount production and pre-production art.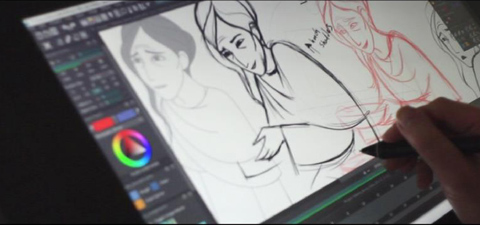 Creating The Music And Sound (4:48) features a chat with composers Jeff and Mychael Danna, as they talk about the music and instrumentation. Then, sound designer JR Fountain discusses matching the sounds to the mood of each scene.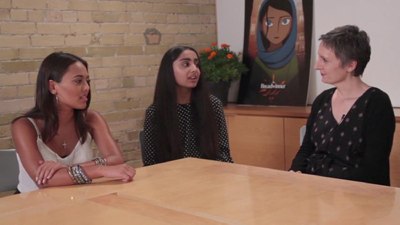 In Telling The Story (7:49), Twomey addresses tailoring the story to both younger and older audiences. Additionally, some of the voice actors – a few with Afghan backgrounds – speak about what the film means to them and could mean for others.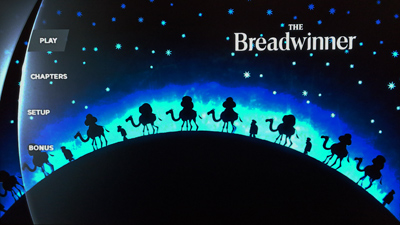 GKids disc previews that load automatically at disc start-up include those for Song Of The Sea, Miss Hokusai, and My Life As A Zucchini. The menu also offers the Breadwinner Trailer and one for Boy & The World.
The DVD included in this set has all of the same bonus content.
Case Study:
I really like how GKids packages stay consistent, whether they are released by Universal (as in this case), Shout! Factory, or other partners. That means the same trade dress on the cover and spine. Also as usual, early copies have cover slips. The standard Blu-ray case has a DVD and Blu-ray on each side of the case, and there is an insert for a US-only digital copy. At present, Universal's Blu-ray is only being distributed in the US, though Canadian buyers can still find their DVD, or imported copies of the Blu-ray at Amazon.ca.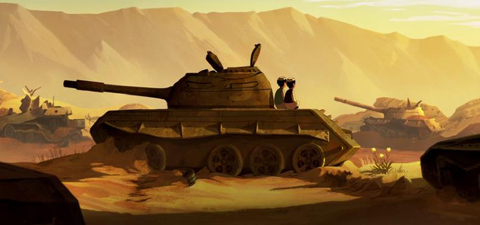 Ink And Paint:
The Blu-ray image is essentially flawless. Maybe I'm too lazy to look for problems, but I saw no issues with this encode. This is certainly a beautiful animated film, with the most outstanding parts coming from the CGI "folk tale" sequences, and the Blu-ray provides a beauty of a hi-def image.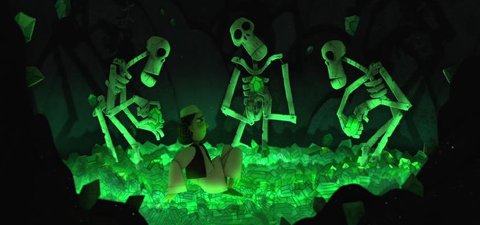 Note that the screen captures have been taken from the DVD version.
Scratch Tracks:
The DTS-HD Master Audio is robust and strong. Music is crisp, and the effects range from the ambient sounds of the market to forceful rumbling bass when called for. Most of the film does not lend itself to fancy sound design, but the audio track shines when it needs to.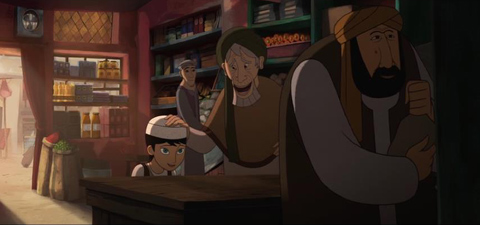 There are no alternative audio tracks. The only subtitles are English captions for the hearing impaired.
Final Cut:
It is always a pleasure to see an animated film reaching beyond the usual genres. The Breadwinner is a wonderful film that tells a difficult story. Its importance lies in how it puts a human face on a part of the world that we normally associate with conflict and war. Here we see how such events affect a family, and how a child can bring hope to her family in the midst of so much difficulty. Those who want to know Parvana better would be advised to read the books, but the film is a terrific adaptation, full of beautiful design, a compelling narrative, and heart. Though I really enjoyed Coco, I would not argue with anyone who said that it's The Breadwinner that was the best animated film of 2017.
Animated Classic or Back To The Drawing Board?