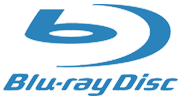 The move to make your very expensive DVD collection obsolete is underway. Disney has seen this day coming since at least 2003 when they accelerated the release schedule for their Platinum Edition line of DVDs so they could get through them all before the next generation of discs hit and force us to buy them all over again on a new format. Two competing high definition video disc technologies are currently battling for supremacy, and Disney has thrown their weight behind Blu-ray. For those unfamiliar with Blu-ray, there are many advantages to this new format over traditional DVD. Here are a few:
Blu-ray discs (or BDs as they are abbreviated) can display video in 1080p high definition, or over five times the detail compared to the standard definition available on DVD. BDs also offer higher resolution audio.
BDs can have a capacity of 50 GBs. DVDs top out at about 9 GBs. More space means more room for content. BDs can hold over 9 hours of high-definition video or about 23 hours of standard-definition on a single disc.

Due to the extra storage capacity of the discs and the newer technology built into the players, BDs can offer enhanced features over DVDs. Examples: Rather than static menus offered by DVDs, BD menus can be interacted with and can be brought up at any time without having to stop the movie. Games can be played in real time rather than waiting for the next part to load after you click a button. And special features can have a whole new layer of interactivity to them.
Today, Disney released the first film from their internal feature animation department (the so-called "Disney Classics") on Blu-ray disc – Chicken Little. While that may seem like an inauspicious title to launch things with, it was actually a wise decision. As Disney's only computer generated feature released to date the film could be given a direct digital transfer. A movie transfered to BD from film wouldn't have quite the same "pop" to it, so the decision to start with Chicken Little makes perfect sense.
The result? The picture quality is stunning, flawless even! This film was originally released in select theatres in Disney Digital 3D, and while the disc obviously does not have that ability there are some scenes that really jump off the screen. And the special features Disney has put together are not only well beyond DVD, but are some of the first uses of the new technologies to appear on a Blu-ray disc. The BD also has an audio commentary, a feature usually thought of as standard for DVD – but missing from that disc.
Is it time for you to jump off the DVD bandwagon? If you have a high definition TV, then it is a no-brainer – yes, as fast as you can! For those with regular TVs, you won't be able to take advantage of the benefits of the new format. But you need to be aware that change is in the air and Disney may soon be ready to move on without you!
Below are some (obviously lowered quality) pics of some of the features on this very well done disc.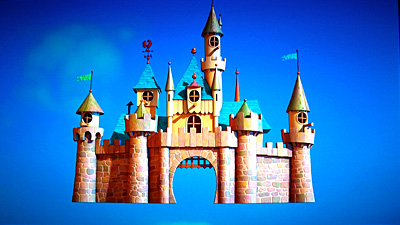 The Walt Disney Pictures logo pops off your high definition screen.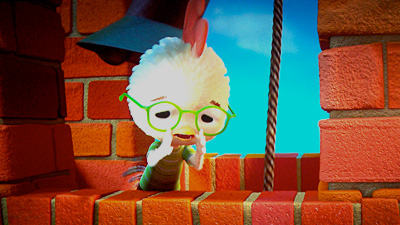 Blu-ray discs offer details and clarity that far surpasses DVD.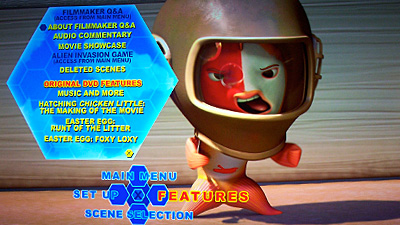 A standard BD feature is pop-up menus that allow you
to make choices while the movie continues to play.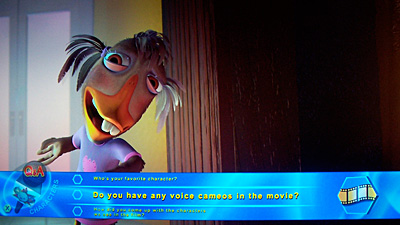 "Film-maker Q&A" allows you to ask director Mark Dindal and
producer Randy Fullmer questions as you watch the movie.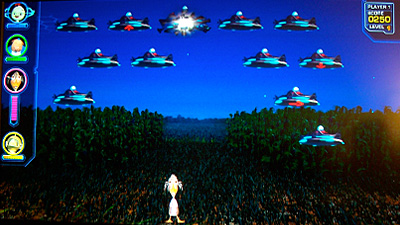 Unlike the wastes-of-disc-space games you find on DVD,
this Space Invaders style game is actually something you'd want to play.