Studio Ghibli (2001), Walt Disney Home Entertainment (June 16, 2015), 1 Blu-ray + 1 DVD, 124 mins, 1.85:1 ratio, DTS-HD Master Audio 5.1, Rated PG, Retail: $36.99
Storyboard:
A ten-year old girl finds herself trapped in a fantastical world both terrifying and wondrous. All she needs to do in order to escape and save her parents is to remember her own name.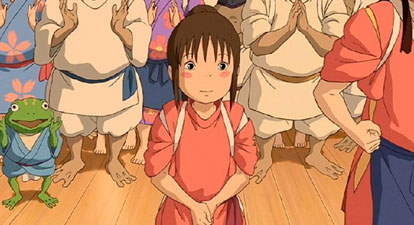 The Sweatbox Review:
The title most wanted by Studio Ghibli fans has finally arrived on Blu-ray. The studio's most acclaimed film, 2001's Spirited Away, was amazingly beaten to high definition disc by lesser films such as Tales From Earthsea and Pom Poko, while we all awaited word on the title we really wanted to see. Paired rather inauspiciously with the nearly forgotten The Cat Returns, Spirited Away is here at last. We are now all just that much closer to having all of our favorite films on Blu-ray.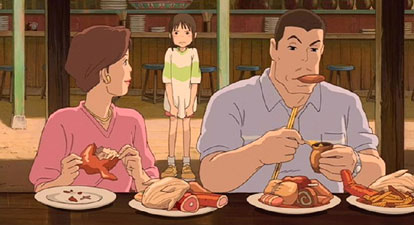 Spirited Away is the only Ghibli film to win the Academy Award for Best Animated Film, and it is easy to see how it won that year —aside from the fact that it was competing with Ice Age, Treasure Planet, and Spirit: Stallion Of The Cimarron; only Lilo And Stitch really gave it any competition. Regardless, Spirited Away would be deserving in any year. It is a masterpiece of imagination, a movie that leaves me with my mouth hanging open for a great deal of its duration. I am not certain how much of the story derives from Japanese mythology, and how much from the creative mind of director Hayao Miyazaki, but there are a great many things in this film that come no where near anything else I have experienced before.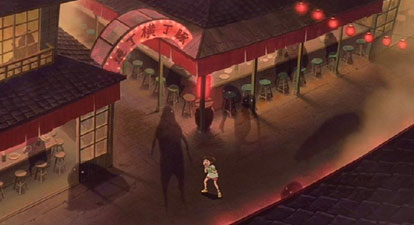 The young heroine of the story is Chihiro, who is on a trip with her parents when her father takes a wrong turn and they end up at a remote place that appears to be an abandoned amusement park. After dad insists on exploring the place, they end up in a diner where they encounter heaps of food, which the parents quickly devour. Their gluttony literally turns them into pigs, and Chihiro frantically tries to run away but finds her path blocked. Instead, she is forced to cross a bridge to a bathhouse that turns out to be a retreat for spirits.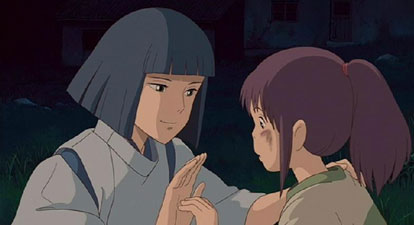 She is befriended by a boy named Haku, who advises her to demand work from the bathhouse's spider-like boiler operator. Through him, Chihiro finds herself in the company of the old lady who runs the bathhouse, Yubaba. Yubaba is harsh and her manner suggests treachery, but Chihiro must endear herself to Yubaba or face being turned into a pig herself. Though Yubaba accepts Chihiro into her service, there is a huge catch: Chihiro must give up her name. Re-named Sen, the young girl slowly loses her sense of identity, even as she struggles to find a place in the bathhouse amidst the prejudice that outsiders often face.
Sen's life at the bathhouse is intimidating and scary at times, and she sees many things that are beyond her comprehension; but it is a world filled with wonders and rewards as well. Her life of servitude includes waiting on a repulsive stink spirit, but her kindness and ingenuity see that event bring her closer to acceptance in the bizarre workplace. Her fortune takes a turn for the worse when a mischievous spirit named No Face is invited into the bathhouse, but it turns out to be all part of the journey she must take towards reclaiming her identity and her family. That path also leads her to interfering with a feud between Yubaba and her twin sister, assisting a dragon-transformed Haku, and ever more delirious sights and circumstances. As the story progresses, it only gets crazier and more beautiful, a true journey into the fantastic, making it one of the greatest fantasy films ever concocted.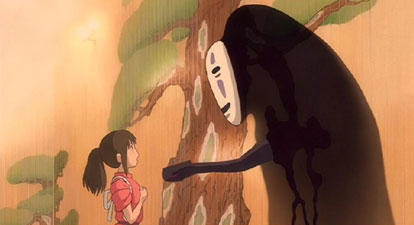 Is This Thing Loaded?
A film like this deserves a nice selection of bonus features, and fans should be very happy with what is here.
This starts with a one-minute Introduction by John Lasseter, which is naturally non-essential, but does no harm by being here. Much better are the Original Storyboards, allowing you to watch the film entirely in a 1.85:1 presentation of the storyboards with a 5.1 Dolby Digital Japanese track, with optional subtitles in English, English SHD, or French. I don't know how many people watch something like this from beginning to end, but I always give these a look.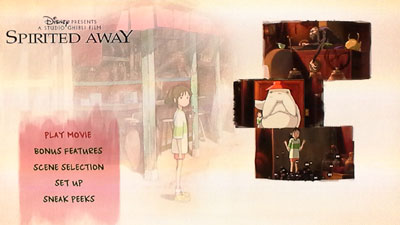 The Art Of Spirited Away is a 15-minute look (in standard definition) at the film from an American perspective. Behind-the scenes information is included on the Ghibli production, but its distribution by Disney and making of the English dub are also covered, all hosted by Jason Marsden, the US voice of Haku. The English dub gets a further six minutes of attention in Behind The Microphone.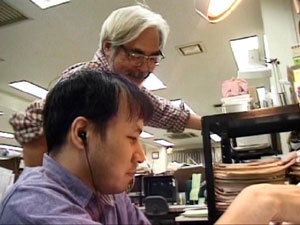 That's all well and good, but what I really love here is the Nippon Television Special, the Japanese-produced behind-the-scenes documentary, running over 40 minutes in standard definition. It is here that we see Miyazaki interviewed, story conferences, and artists at work. This is certainly the one to watch.
Those who enjoy seeing how a film is marketed will enjoy the nearly 20 minutes of Japanese Trailers and four minutes of Japanese TV Spots.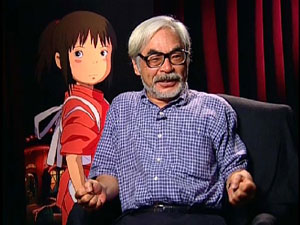 Also on the Trailer front, the disc presents those for Aladdin, and Inside Out. (The DVD has trailers for Castle In The Sky and Kiki's Delivery Service.)
Case Study:
Like the other Studio Ghibli Blu-rays, this one comes in a cover slip with the title tastefully embossed. The BD and DVD discs sit on either side inside the case, and the usual inserts for Disney Movie Rewards and Disney Movie Club are present.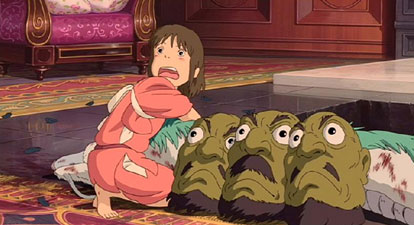 Ink And Paint:
As much as I have enjoyed my DVD of Spirited Away over the years, I yearned for what a hi-def transfer could provide. It was worth the wait, as the image here brings the film to even greater heights, with a wider offering of the film's amazing colors and better-defined lines. Everything is perfectly balanced, with proper contrast and brightness serving to both scare us with eerie blacks and dazzle us with the brilliance of the color design. Aliasing-type artifacts are rare and negligible. A sharper picture always brings me into a picture more, and with Spirited Away I can now experience what the film's title promises to its full extent.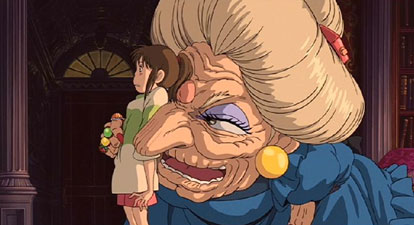 Scratch Tracks:
Ah, and the sound! Disney gives us DTS-HD Master Audio tracks in both Japanese and English 5.1 flavors. You cannot go wrong with either one, as they each provide distinctness in the conversations, full panning effects in action scenes, and gratifyingly strong bass when it is needed. The video may pull you into the world, but the audio gleefully drags you around it. There is also a French Dolby Digital 5.1 track.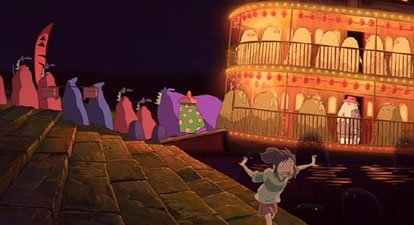 The DVD has Dolby Digital 5.1 tracks in Japanese and English, plus a Stereo track in French; and English subtitles and captions.
Final Cut:
I keep telling my wife that my collection is nearly complete, and that little fib is a tiny bit closer to truth now that Spirited Away is here on Blu-ray. The utterly enchanting story is as fresh and bold as ever, seeming like the greatest fairy tale you can't quite remember from your childhood. The video and audio are everything we had hoped for in a Blu-ray release, and the special features are about perfect as well. If you own only one Studio Ghibli film, I humbly suggest that it be this one.
Animated Classic or Back To The Drawing Board?