Studio Ponoc (2017), Universal/GKids (May 1, 2018), 1 Blu-ray + 1 DVD, 103 mins, 1.85:1 ratio, DTS-HD Master Audio 5.1 (for Japanese and English), Rated PG, Retail: $29.98
Storyboard:
A young British girl happens upon a flower with mystical properties. Suddenly, she finds herself flying on a broom and is taken to a world of witches in training. Mary tries her best to cope up, but finds herself entangled in a devious plot involving the mysterious flower.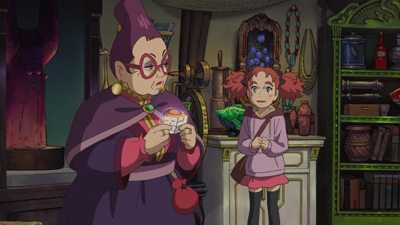 The Sweatbox Review:
When we all learned that Studio Ghibli was shutting down, or going on hiatus, or whatever they have done, there was a shared sense of loss. Aging director Hayao Miyazaki was retiring, rightfully taking time to spend with family, attend to his health, and hopefully generally enjoy life; but what of the young guys left behind? The studio had built up such a fantastic assortment of talent, that it would be a shame to see them scattered to the wind, many likely being forced to accept employment doing lesser work.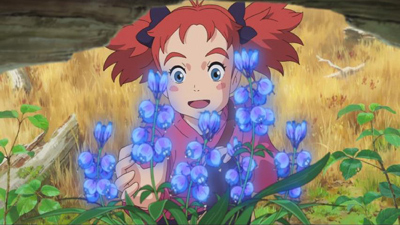 Fortunately, producer Yoshiaki Nishimura, whose filmography includes The Tale Of Princess Kaguya and When Marnie Was There, decided to address this issue by founding Studio Ponoc in 2015. Ponoc is taken from a Croatian word meaning "midnight," the signifier of a new day. He recruited a number of Ghibli staffers, with the objective of following in the esteemed studio's footsteps. Their first project is Mary And The Witch's Flower, based on a story by Mary Stewart, 1971's The Little Broomstick. He chose Hiromasa Yonebayashi to be his director. Yonebayashi had previously directed the well-received The Secret World Of Arrietty and When Marnie Was There.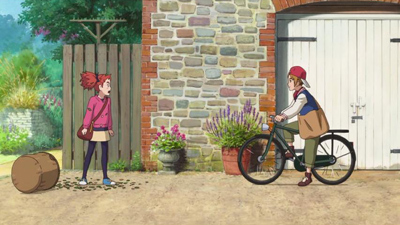 Given this, the viewer might expect Mary And The Witch's Flower to be reminiscent of the Studio Ghibli output, and the viewer would be correct. Even if one did not know of the film's pedigree, its influences are obvious. The plot, though naturally inspired by the book, seems lifted from a combination of Kiki's Delivery Service (a young witch), Spirited Away (a young girl meets fantastical creatures), Castle In The Sky (because of the… castles in the sky), and more than a little of another famed franchise, Harry Potter. The comparison to other Ghibli films may not have been so obvious if not for the visual style, which is tied strongly into the Ghibli aesthetic. That's not a bad thing, of course, and few Ghibli fans will resent the fact that this looks and feels like the latest in a long line of Studio Ghibli successes.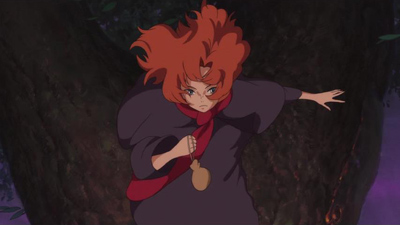 The film begins with an exciting prologue, perhaps the best part of the story, in which a young witch escapes an elaborate treehouse via broomstick, while being chased by bizarre creatures. A satchel comes loose, spilling out some blue, glowing seeds that give rise to quickly-growing trees. The broomstick becomes encased by the suddenly large trees, seemingly lost forever.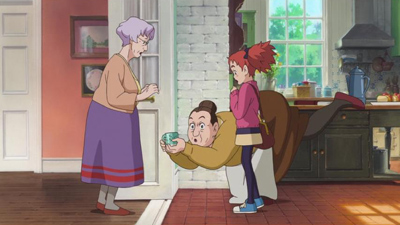 Years later, we meet Mary, a young lady living in rural England, staying with her kindly aunt while her parents are off doing some undisclosed work. She tries to make the most of her situation, though it looks like a potentially boring summer. Only her clumsiness seems likely to keep things lively for her aunt and the help at the house. Mary meets a boy named Peter, and though their relationship is initially somewhat antagonistic, they immediately share a type of bond. Mary dislikes Peter, who teases her about her wild red hair and lack of coordination, but she does like his cats, Tib and Gib.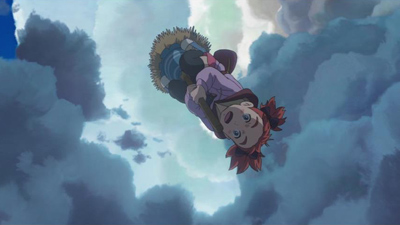 It is the cats who lead Mary to find some strange flowers, whom the gardener identifies as "fly-by-night" plants, apparently cherished by witches for their magical properties. Mary returns to the forest the next day, and discovers the small, old broomstick ensnared by the roots of a tree. While handling the broomstick, she accidentally breaks open a fly-by-night bud, releasing its gooey contents onto her hands and the broomstick. The broomstick seems to comes to life, and carries Mary up into the clouds, where she is taken to a city that contains the witching school of Endor. A fox named Flanagan reports that he is caretaker of the students' broomsticks, and he scolds Mary for her rough handling of her broom, while insisting that she get back to school.
Mary soon finds herself at the school, meeting the headmistress Madam Mumblechook, who spots the black cat she is keeping company with, and assumes it is her "familiar." Mary is shown around the school, and thanks to the fly-by-night juice absorbed by her hands, she demonstrates magical abilities that delight the headmistress and the students. The whirlwind day also sees her meeting chemistry teacher Doctor Dee, who likewise becomes convinced of her witching potential.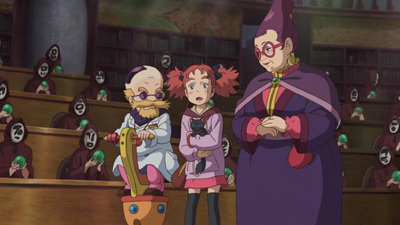 Their attitude changes, however, once they become aware of Mary's possession of the fly-by-night flowers. Peter is soon kidnapped, and Mary must mount a perilous rescue. Along the way, she becomes privy to a mad plot, the mystery of the fly-by-night's initial disappearance, and the true story of the young witch who took it away from Endor in the first place. With Peter's life and the fate of humanity in peril, Mary must find her own magic in order to save everyone.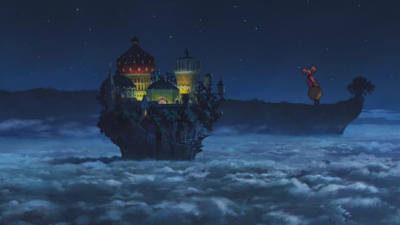 It's a nice story for kids especially, and the visuals are certainly impressive and enjoyable. I appreciated the great design work and the imagination that went into the creation of this world and its inhabitants. The story itself feels derivative of several other sources, perhaps due to the age of the source material (though even in 1971, the book came out a long time after C.S. Lewis was writing his tales of English schoolchildren entering a magical land). The book may have been printed decades before Harry Potter or Percy Jackson, but in this day such a tale cannot help but seem overly familiar. Enlarging the cast could have helped, as there are not too many characters on which to hang the straight-forward plot, making our attention focus on the "little girl finds outs she's a witch" angle. The other students are literally faceless and stay in the background, not intruding on events in the least. Even Peter really has very little interaction with Mary, despite the importance of their relationship. As big as the story is, it still feels small in scope. Not every story needs to be an epic, of course, but as a film it feels more like an exceptionally well-produced and lengthy TV special.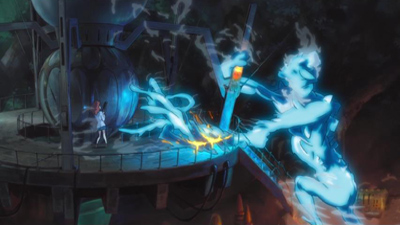 Still, one cannot deny that the film is a beautiful delight and a worthy if minor successor to the Studio Ghibli films, full of whimsy and wonder. Studio Ponoc may not have yet made its classic; but just one film in, it seems that they are well on their way.
Is This Thing Loaded?
The Blu-ray has several great bonus features. The first two are exclusive to the Blu-ray, while the others may also be found on the DVD. NTV Special: Creating Mary And The Witch's Flower (38:50) is a thorough examination of the filmmaking process, beginning with the founding of Studio Ponoc, and striking out past the shadow of Studio Ghibli, before examining details of the production. I have a feeling that this will be even more fascinating years from now, once the studio has fully achieved its potential.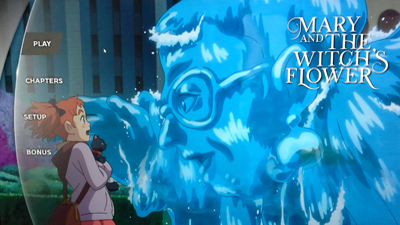 A Special Conversation: Sekai No Owari, Hiromasa Yonebayashi, and Yoshiaki Nishimura (31:34) discusses the film's Japanese music, and how its theme song was created and the changes it went through.
The Film Completion Press Conference (14:18) also proves to be interesting, featuring a wide variety of talent associated with the film, and the Theatrical Promotional Movie (10:46) is further evidence of how marketing is handled today in Japan.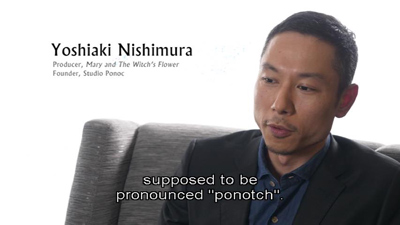 Interview with the Filmmakers (13:49) begins with describing the meaning of "ponoc" and what the studio hopes to achieve with this film and future ones.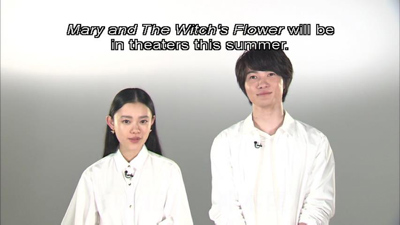 The disc also has Trailers (10:43) for both the US and Japanese releases, as well as English-subtitled Japanese TV Spots (4:44), including advertising tie-ins with Morinaga Milk products.
More from GKids leads to ads for Only Yesterday, Song Of The Sea, The Tale Of Princess Kaguya and When Marnie Was There.
Case Study:
A standard Blu-ray case holds a Blu-ray and a DVD on each side. There is an insert for the Movies Anywhere digital code. If you hurry, you will be able to find this release with a cover slip. The packaging comes with the usual GKids trade dress.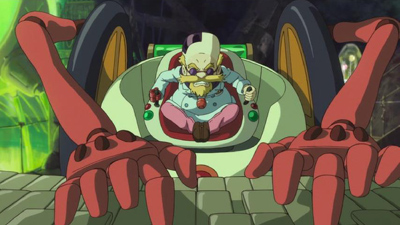 Ink And Paint:
The best part of this film is its visuals, and the Blu-ray transfer conveys all the best qualities of the film's outstanding design and color work. This is a beautiful traditionally-animated film, using today's modern tools to their best advantage. I saw no flaws in the presentation.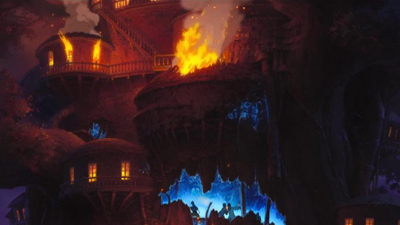 Scratch Tracks:
Audio is here in DTS-HD Master Audio 5.1 in either English or the original Japanese. Either way, the soundtracks are strong, delivering a variety of effects. The English voice cast, headlined by actors Kate Winslet and Jim Broadbent, does fine work, making either track suitable for even choosy viewers.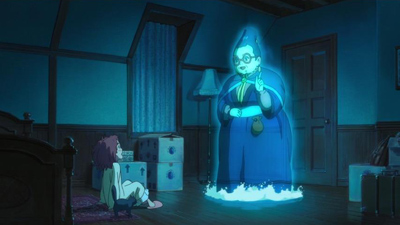 Subtitles are available in two brands of English – one for captioning of the English dub, and one translating the Japanese track. There are also French subtitles.
Final Cut:
While the basic plot may seem familiar, things get more interesting from there, and this is still a very impressive debut for Studio Ponoc. They are doing the Studio Ghibli legacy proud, and we should all be looking forward to what they produce next. Their first film is slick and exciting, beautifully animated and stunningly realized. Next time, they could maybe flesh out the script better and perhaps choose a less familiar subject, but the seeds of greatness are definitely there. The video and audio presentation on disc are perfect, and the extras are actually substantial. This is a great purchase for fans of family films, Studio Ghibli, or anime in general.
Animated Classic or Back To The Drawing Board?