Walt Disney Productions (August 29 1964), Walt Disney Home Entertainment (January 27 2009), 2 discs, 139 mins plus supplements, 1.66:1 anamorphic widescreen, Dolby Digital 5.1 Surround, Rated G, Retail: $29.99
NOTE: This is a revised and updated review featuring comments made for the 40th Anniversary Edition of Mary Poppins combined with comparisons of this new set. The review of the 40th Anniversary Edition, which remains the more recommended version of this film on DVD, may be read here.
Storyboard:
Wind's in the East, mist's comin' in…
Like something is brewin', about to begin…
Walt Disney's magical nanny arrives on disc again from out of the blue, in a promo-stuffed edition that shamelessly plugs the stage version, and that many might have welcomed more pleasingly if Poppins had arrived on Blu!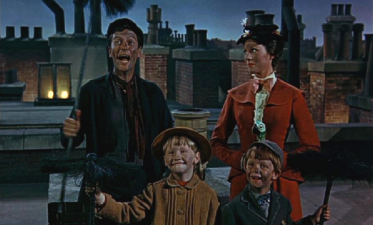 The Sweatbox Review:
I was very surprised – nay, perhaps even shocked and dismayed – to recently hear the British film critic Mark Kermode (host of several respected DVD-featured documentaries on such films as Alien, The Wicker Man, The French Connection and Blade Runner) recall a conversation between himself and now head of DreamWorks Animation Jeffrey Katzenberg in which the Studio chief made an astonishing remark. Apparently, during a discussion of the films Kermode admitted to enjoying, Katzenberg branded him "a fool" for loving Mary Poppins, this coming from a the former head of the Walt Disney Studios and a man not shy in coming forward as a self-proclaimed disciple of the old Mousetro himself.
Well, more fool him, because there's certainly something about this Mary! Though Walt Disney's personal touch is said to be all over The Jungle Book, The Happiest Millionaire, The Love Bug and, to an extent, The AristoCats – the first few films to emerge from his Studio following his death in 1966 – it is usually Mary Poppins, released just two years before he died, in 1964, that is seen as his swansong, and the only live-action film from later in his career that truly deserves the "masterpiece" tag attributed to early classics such as Snow White, Pinocchio, Fantasia and Bambi.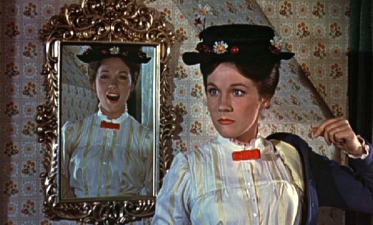 The reason is simple, and obviously lost on Katzenberg: Mary Poppins sums up everything that is good about Disney films: great characters, wonderful showmanship and a strong story, even if it is episodic by its book-adapted nature. Like Peter Pan, the story opens with an "all this has happened before" nod and a wink, and tells of a mysterious, magical flying character who enters the lives of turn-of-the-century children and teaches them the realities of life, while the parents – specifically the father – learns that all work is not play and ends up relating to his family better. Unlike Peter Pan, Poppins author PL Travers was against an all-cartoon take on her stories, meaning that Walt had to find a different way.
Disney's many years of filmmaking expertise meant that this basically wasn't a problem, and Poppins is generally regarded as the film where everything came together. This is Walt playing at the top of his game, and Poppins was a "prestige picture", meaning that anything and everything director Robert Stevenson and producer Bill Walsh needed was seen to immediately. Live-action (and all the comedy and drama that implies), animation (the cornerstone of the company) and even theme-park innovations such as Audio-Animatronics all went into the melting pot to fully realise Mary's world and the many adventures and characters she meets along the way.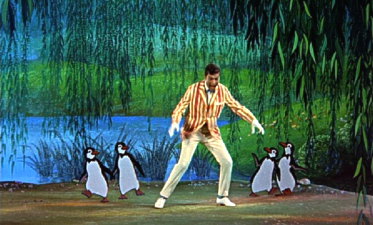 Now, I could go on extolling the virtues of Walt's seminal work all week, but you don't really want to know about Julie Andrews' fantastic, career breaking – and Oscar winning – performance, or Dick Van Dyke's hysterically so-bad-it's-all-part-of-the-fun "Cock-er-nee" English accent, nor even about the protracted history behind the book to screen adaptation. Yes, the film can seem to drag a little in the Uncle Albert section, and the animation may be of the rougher, 1960s Xerox-look that defined One Hundred And One Dalmatians and The Sword In The Stone rather than the lushly colored-lines approach of a Peter Pan or even the films of today, but that's all beside the point.
Poppins has a magic all of it's own, highlighted at the very least by the magnificent matte paintings by the legendary Peter Ellenshaw, and the songs and score by long-time Disney composers Richard and Robert Sherman, and Irwin Kostel, a score that's been all but ruined by the creators of the open and closed London stage show, now re-tweaked and playing on Broadway as this 45th Anniversary update unfortunately won't let us forget. Do yourselves a favor – forget that terrible, awful mess, not at all like the Poppins we all remember – and pick up the original and, practically perfect in every way, best. All you need to know is that Mary Poppins is not just a Disney classic, but a bona fide movie legend, and as such automatically belongs in your DVD collections – I'd bet that even Jeffrey Katzenberg has a secret copy too!
Is This Thing Loaded?
In what seems to be a last ditch attempt to milk a little more reissue profit from standard definition DVD before we are all supposed to run out and re-buy all the Disney classics on Blu-ray, the company has been all but bringing out new special editions of older titles seemingly every other month. Now, in a "celebration" of the film's 45th Anniversary that feels as empty as it is an opportunity to repackage the five-year old 40th Anniversary and plug the Broadway show, Poppins is back on disc, with very little reason to buy again and all the recommendation to either pick up the 40th set cheap or wait for the eventual Blu-ray, perhaps due for the 50th Anniversary in 2014?
The disc kicks in with the usual Disney magic promo and Sneak Peeks for other Disney product, among them a mixture of theatrical and DVD coming soon titles including Pinocchio: Platinum Edition, the first full trailer for Pixar's Up (leaning heavily, as always, on all their previous releases), Space Buddies, the Disney/Chinese co-pro The Secret Of The Magic Gourd and the Movie rewards program, with additional previews from their own menu option containing an awfully odd teaser for the Beverly Hills Chihuahua disc release, Bolt, Monsters Inc on Blu-ray, TinkerBell And The Lost Treasure, Oliver & Company: 20th Anniversary and the Disney Parks.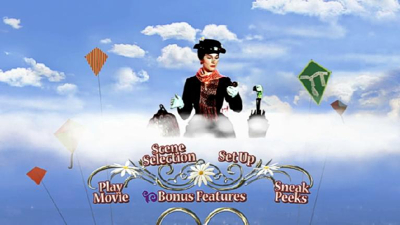 Speaking of menus, I should point out that they've been completely re-done from the 40th Anniversary Edition, and pretty fun they are too, if a little over-elaborate, now using the Banks' family wind direction indicator as a pointer to the Set-Up, Scene Selections and Bonus Features instead of the Jolly Holiday penguins' menu. Essentially, everything you needed to know about Mary Poppins (but were perhaps unable to have answered) was contained in that previous 40th Anniversary release, so what has been added here is essentially a selection of promotional pieces for the stage show adaptation, though much has been carried over too. The first "extra" you'll find in Music & More is Disney's Song Selection, which runs through eight of the film's complete songs (as opposed to reprises and smaller moments) with or without optional sing-along subtitles in play. A Play All option links them all chronologically, but why do this when the film works so much better with dialogue and story?!
Onto Backstage Disney and the supplemental features proper, and most fun is the full-length Audio Commentary. Editing together comments from Julie Andrews and Dick Van Dyke (recorded together), Karen Dotrice and Richard Sherman (again recorded together), Richard also kind of serves as "host" for the track, calling up additional words from his brother Robert (now living in England), as well as occasional archive interview snippets from director Robert Stevenson, music maestro Irwin Kostal and Walt Disney himself. An immensely enjoyable track, this is the most fun I've had in ages listening to such a commentary, and it never lags, thanks to the large assortment of participants. The mood is as magical as the movie, and it's clear that everyone enjoyed working on the picture and are proud to be associated with it. Julie Andrews keeps her end of the conversation going the most, but Van Dyke only offers a sporadic tidbit of information here and there while seemingly sitting back and being awed by the film all over again. However, there is a ton of facts and fun to be found, and this is well worth your time!
Adding to the commentary track is a Poppins Pop-Up Fun Facts trivia track, which again is a worthy addition to the set, packing in everything one could wish to know (such as the voices behind the robin whistling with Mary, and her magical umbrella at the film's end). The track is a subtitle option, so if you're able to flip between these on your player, I suggest having the audio commentary and this on at the same time, as I did. There's never too much going on that one can't keep up with both, and they occasionally compliment each other with extra nuggets of info on a given topic that is under discussion by the filmmakers. An excellent bonus, well tied in to the already exemplary commentary, and a great way to begin immersing yourselves in the experience of Poppins' creation.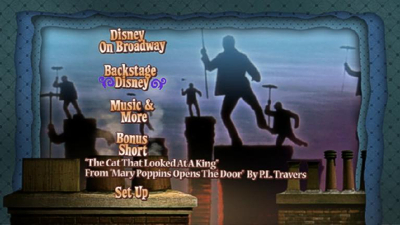 Since the film, especially with those audio mixes and additional tracks, clocks in at almost two hours and twenty minutes, it's over to Disc Two for the remainder of the extras, which uses the dancing chimney sweeps and some of designer Bob Crawley's concept art from the stage show as the bases for its menu theme. Solving the rather chopped up approach from the previous release, things are more conveniently placed within the usual Disney groupings, with the addition of Disney On Broadway, which leads to the mentioned promotion of the stage show version. The term "Broadway" is here very loosely used: much of the footage here actually focuses on people from around the world who worked on the London premiere of the show, which as I understand it has been re-worked for Broadway audiences. What put me off the London staging was a decision to return more to PL Travers' original books and integrate their feeling and events rather than to try and stage some of the more magical element's of Walt's film, thus begging the question: why try and stage Walt Disney's adaptation of Mary Poppins and not their own?
The Sherman Brothers, as it turns out, were not able to contribute any new material, that task falling to new songwriters who, with these classic songs at their disposal, immediately began to screw them up, adding in awful extensions to Supercalifragilisticexpialidocious in particular, and generally trying to fix what wasn't broke in the first place. I can see that they were trying to bring something new to proceedings, but this wasn't the Mary Poppins I wanted to see on stage or the Mary Poppins many people remembered. It did get a few fans, and apparently the Broadway tweaks are a response to those expecting to see the film on stage. I wasn't expecting that exactly: many films have made for terrific stage musicals and if you ever get a chance to see the Shermans' Chitty Chitty Bang Bang expanded exceptionally well for the format, do so, as it proves how great something like this can be achieved.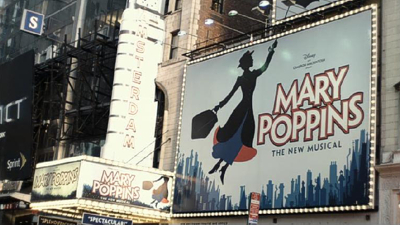 As it is, this stage Poppins couldn't win me over, and this dedicated section to the show strained my interest as I watched, the feeling that this has nothing to do with the film and everything do to with commercial promotional fluff stretching my patience. From Page To Stage is a bit of a hodge-podge of sources: there's President of Disney Theatrical Productions Thomas Schumacher, who intros us to the Mary and Bert stars of the production at famed theatrical restaurant Sardi's in New York, while Cameron Mackintosh is in London speaking about his involvement. Then we're off to France to meet the new score writers, and back to England to meet designer Crawley, before Richard Sherman interjects with a few words of praise for what's been achieved on stage. The whole thing feels a little cliquey and too self-congratulatory, with Sherman's comments ("they didn't do the things we did in the film, they did new things that were right for the stage") kind of saying it all. Most interesting is the revelation that it was PL Travers' decree that stated that the stage version's songs should be written by British writers, hence the lack of the Shermans' involvement, though this documentary goes to great pains to suggest they're happy with the result. But this is very talky and really too long: hardly any songs are previewed and no less than almost 50 minutes is spent on telling us how great Mary Poppins on stage is. And we're not done yet.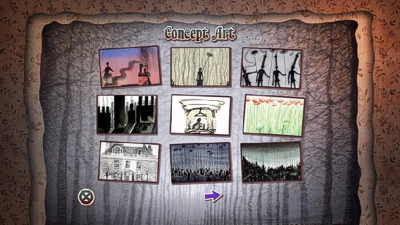 For those wondering what Poppins on stage looks like, we're offered the entire seven minute Step In Time number from the musical. This admittedly is visually the best thing in the show, and the most faithful to the film, so while it works well enough, it is a bit of smoke and mirrors in that the rest of the show isn't really as closely matched as this makes it look. Again, I'm not for a simple stage translation from the screen, but in returning to Travers' source, some of that acidity has been reintroduced, meaning a quashing of the magical spirit that Walt brought to the stories. If there's one thing from the show that wowed me, it was the visual interpretation of the production, and Bob Crowley's Design Gallery allows us to see his costume and set designs, concept art and set models. Quite again what this has to do with the Mary Poppins film is beyond me (they feel like extras for an extra!), but the 68 images on offer at least do capture the spirit of the film more than the eventual show. Finally, place the disc in a DVD-ROM drive to access an mp3 download version of the same Step In Time song, found in its own folder if the autoplay doesn't run.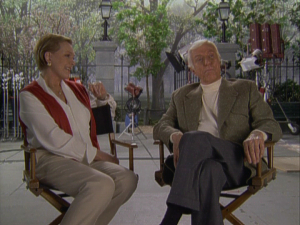 With all that fluff out of the way, it's back to Walt's 1964 movie and another trip to Backstage Disney for what we really want to know about, with the fifty-one minute Supercalifragilisticexpialidocious: The Making Of Mary Poppins, the disc's true centrepiece and a fantastic documentary, covering all aspects of production already not touched on in the commentary or other featurettes. There is a little repeated information, of course, but these all-new interviews, coupled with appropriate archive footage, are brilliant, further examining what made Walt Disney – and Mary Poppins – magical and special. Apart from surviving cast and crew, we hear from British-based Disney expert Brian Sibley (presenter and author on a number of animation and related books well worth seeking out), as well as next generation Disney creators Andreas Deja and Don Hahn as they explain how the film touched them and continues to inspire, and there is archive footage and stills aplenty. As well as a brief nod to Matthew Garber, the boy who played Michael and who died at a tragically young age, the piece finishes off with a tribute not only to Poppins, but to Walt himself, and though it never becomes cloying or mawkish, I don't mind to admitting that I was in tears by the end, such was the power of this amazing and brilliant man.
Movie Magic is a quick-cut, kid-friendly look at the film's effects, and feels like one of those promos that runs on the Disney Channel, lasting just over seven minutes. It's a light and breezy peek behind the scenes, which on the original 40th Anniversary disc did lead nicely into a scene deconstruction of two sequences, providing an amazing look at Jolly Holiday and Step In Time in before and after stages. It was exceptionally interesting stuff, the combined clips lasting for eighteen solid minutes – but they've been dropped here to accommodate the Broadway material. Also missing is the I Love To Laugh game which, although it was a simple inclusion, was better than average for a set top activity and made good use of a more than passable Ed Wynn impersonator and good use of recycled footage from the film.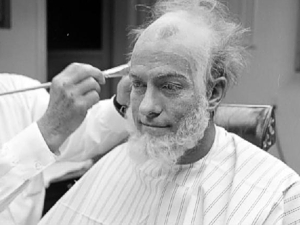 Skipping on to the film's release, and we're presented with a look at The Gala World Premiere, labelled The Red Carpet on the previous disc, which collects a series of stills and camera footage to recreate what the atmosphere was like on August 27 1964, when Mary Poppins had its world premiere at Grauman's Chinese Theater on Hollywood Boulevard. The almost eighteen-minute featurette draws on previously seen footage, radio interviews and newly discovered archive material, as well as a comical outtake from the film's shooting that will be familiar to those with the Restored LaserDisc and/or Gold DVD editions, finishing with the original Buena Vista fanfare opening to the film. Missing from the 40th Anniversary edition is The Party, which included additional material from the post-premiere radio broadcast over images from the party. Still included is a Dick Van Dyke Make-up Test that shows off the one-minute piece of film that convinced Walt that Van Dyke could play the over crotchety Mr Dawes Senior, presented here with some narration from Van Dyke (from the commentary) and some musical score accompaniment.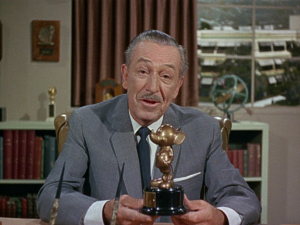 A Publicity section features something that's all too rare on Disney DVDs of late: a selection of original theatrical teasers and trailers, which have managed to survive intact from the previous release. We get Walt's on-screen introduction to the film, plus original and re-issue previews and TV spots. Also presented is Julie Andrews' on-screen premiere greeting, which was played at various venues across the country, and to which Andrews was unable to attend due to her filming of another movie, Hawaii. Following this roughly twelve minutes of material, we're treated to an extensive selection of Still Art Galleries, including a look at the Visual Development, Story Development, Peter Ellenshaw Matte Paintings, the Recording Sessions, Costumes And Make-up, Behind-The-Scenes, Cast Photos, Walt And Friends, more from The Premiere, Publicity and Memorabilia! Though many of the images found here have been used as illustrations in the video supplements, there's nothing like taking your time to go through and study these pieces, especially the selection of Ellenshaw's extraordinary mattes and concept paintings.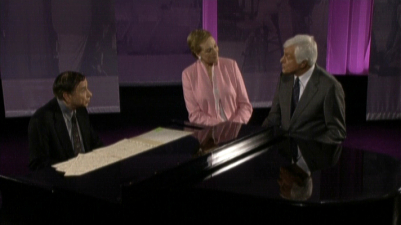 Under the title Music & More, and as if the documentary on the film wasn't enough, we find a number of generous, newly filmed documentary featurettes. A Magical Musical Reunion lines up Julie Andrews, Dick Van Dyke and Richard Sherman for a just over seventeen minute look back at the tuneful aspects of making the picture. Additional deleted songs are touched on, as well as the inspiration behind some of the film's biggest hits, and the piece is kept moving by a continually revolving camera and back-and-forth editing. Though some of the exchanges are obviously scripted, and real fans will know many of these stories already, this is a good piece that goes in-depth without outstaying its welcome, and is sure to bring a shiver to the spine and a big, big smile to the face (especially at the end)!
A Musical Journey with Richard Sherman has the charismatic co-composer take on hosting duties on his own, carrying on the theme started in the Reunion featurette. Lasting almost twenty-one minutes, as with all the supplements here, this is another enjoyable trawl through the archives. Richard is expertly and delightfully inserted into scenes from the movie, even interacting with some of the animated characters as he reveals all about songs and cues that were discarded and some musical secrets (a song sheet confirms that Bedknobs And Broomsticks' Beautiful Briny Sea was on the list at one point, and the years of my wondering if I'd dreamt I'd seen Poppins in a theater with an intermission are answered too). There are also a few words from his brother Robert ("Hello from London!"), which only goes to make the piece even more poignant.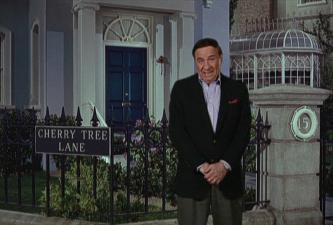 The featurette ends with a newly recorded version of the deleted song Chimpanzoo, which is repeated below but better accessed here, placing the song in context and with a bit of background information. Also, after having spent some minutes in the company of Mr Sherman, it's a nicer way to play this feature out, rather than just having the clip (literally lifted from this piece) quite coldly presented on its own. Very magical in its own right! For those that do want direct access to the Deleted Song: Chimpanzoo clip by the Shermans, it's presented as its own option next, sung here to storyboarded art for the sequence by Richard Sherman. To have taken place during the Uncle Albert section, the song was replaced with I Love To Laugh, though you wouldn't know that from the way this is presented away from the Musical Journey featurette, where it sits much more pleasingly.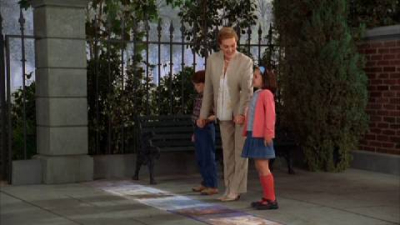 Finally, we come to the bonus animated short The Cat That Looked At A King, a much-touted inclusion on the 40th Anniversary packaging but here almost bypassing a mention altogether! At least the piece is now one of the main menu options at the top of the disc. Based on one of PL Travers' stories from the book Mary Poppins Opens The Door, the short tells of a washed-up King (voiced by recent Disney favorite David Ogden Stiers, doing a Pocahontas here and taking on duties as the King's underling too) who can't seem to love his bride (Sarah Ferguson…yes, the real once-Royal one) until a magical cat (Tracey Ullman) comes along and convinces him otherwise. A battle of wits transpires, in a comical, 1950's Disney animation way, that brings the King and Queen together before the cat, Poppins-like, moves on to help another troubled soul.
"Hosted" by Julie Andrews, the live-action bookends take place back at Bert's sidewalk drawings, recreated using the original London park backdrop, and directed by one time Disney Animation and Studio head Peter Schneider. The animation, directed by Walt Disney Treasures producer Dave Bossert, was co-ordinated by the direct-to-video crowd at the DisneyToon Studios, with animation completed by the Japanese staff of Disney's now defunct animation company based there. The style invokes the feel of a classic Disney short, though the crisp lines and soft shading are a giveaway of the film's recent production. Animation in the ten-minute new film is very pleasing, and while not quite up to feature animation standards, it's streets ahead of what the DTV unit traditionally churned out.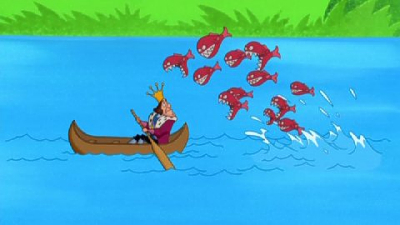 Bringing real magic to the short is Julie Andrews – here basically playing a Poppins-esque version of herself – who recreates some of the poses and lines from the original ("I have no intention of making a spectacle of myself, thank-you very much"). The kids chosen to play her new charges are by turns charming and irritating (the girl is a typical Hollywood brat, though the boy displays a good deal of what made Matthew Garber so memorable), but they quickly clam up as Andrews leaps them into one of the drawings for the story to take place. Presented in 16×9 anamorphic widescreen, and with a title font style that immediately calls up the original and gives a sense of continuity, the one really bad mark against The Cat That Looked At A King is in the scoring of the picture, which has been composed and performed using synthesized samples instead of by a real orchestra. Whereas the production design, animation and performances are all of a level we expect, this cut-price approach to the soundtrack does bring the short down a notch or two and lends it a "cheapness" that Walt would never had allowed.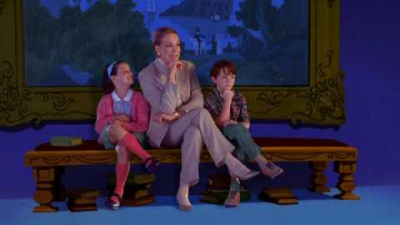 All in all, the short encompasses all that is good and bad about this new edition. To use an old cliché (and already worn out in this review alone), the 40th Anniversary DVD was "practically perfect", but not quite, and this update seems to have made that even less so, dropping some much more vital extras for the Broadway puff pieces. Still missing also from the previous LaserDisc editions and the first Gold DVD is the 17-minute Practically Perfect In Every Way: The Magic Behind The Masterpiece special, an additional (and self-contained) Hollywood Goes To A World Premiere archival featurette and another original theatrical trailer. The Restored LaserDisc also contained an isolated music track that showcased the music score sans vocals and effects. Those with these discs may want to hold on to them for the various frame ratios too (see below), plus the additional audio mixes and extras just listed, but others coming to this title for the first time might well do better to search for the older Anniversary set for a more comprehensive experience. And if you are looking for that online, you could also do a lot worse than find the 40th Anniversary CD soundtrack too. Apart from featuring the complete songs and score over two discs – including sequences never before released in soundtrack form – there are also exclusive audio supplements in the way of deleted song demos, interviews with PL Travers, and a lengthy discussion with the Shermans on the whole project!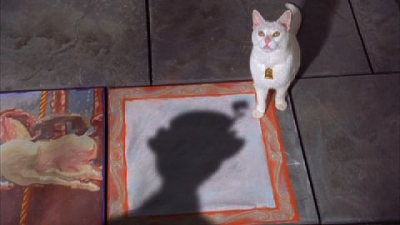 Case Study:
The cut-priced feel to this release extends to the artwork: instead of the lavish foldout slipcover that opened up to list the bonuses to be found inside that graced the 40th Anniversary set, this edition is happy to simply replicate the artwork underneath and add only a minimal amount of embossing and gloss. The "Walt Disney's" signature that his films are usually labelled as (and did appear in press materials for this release) has been replaced with the boring, says nothing "Walt Disney", which appears to get slapped on any Disney DVD these days irrespective of age or quality, thus cheapening the name. Even the Mary Poppins logo font is dreary, foil effect or not and, on the back, they can't even be bothered to spell "Supercalifragilisticexpialidocious" with a capital S.
Missing from before is the inserted DVD Guide that provided a handy map on where to find the footage and features on offer; here we just get the Movie Reward code and a booklet announcing the benefits of Blu-ray (what, like Mary Poppins not being available on the format?), while the color disc art is replaced by a standard gray wash: suitable for many titles admittedly, but not for the colorful Poppins. The sleeve is magical enough, even if the title treatment is bland and it basically recycles clip art from the nearly 15 year old LaserDisc cover. A rather bland "2-Disc Set" banner tops things off, while the eagle-eyed might notice that some sloppy work finds Julie Andrews' name with a drop shadow underneath but that Dick Van Dyke's name has missed out on the treatment…oops!
Ink And Paint:
With yet another reissue, this is now fourth time around for me and Mary Poppins on videodisc, and I have to say that the results here aren't as practically perfect as one might like or expect. After years of grainy, pan-and-scan videotape issues and TV showings, the film was originally released to collectors as part of the Exclusive Archive Edition series of LaserDiscs. Mary Poppins was presented in that incarnation from a remastered film print, shown at the apparent "original theatrical aspect ratio" of 1.66:1. Several years later, a Restored Limited Edition LaserDisc – and the same version ported over for Mary's original Gold Collection DVD – presented the film cleaned up and in Dolby 5.1 and an "original theatrical aspect ratio" of 1.85:1, causing much confusion!
Checking those two discs back today shows that the Exclusive Archive disc, while the rougher print, actually shows the complete 1.66 frame information, while the 1.85 Restored LD/Gold DVD edition hard mattes the images, cropping a little top and bottom (as is consistent with this type of theatrical exhibition). However, the 40th Anniversary Edition went one further and caused more confusion, presenting essentially an image closer to that 1.85:1 version of the film, but with cropped off areas left and right to create an "original theatrical aspect ratio" 1.66:1 frame, but actually meaning that we lose a sliver from the 1.66 to 1.85 formatting anyway, plus a not so little amount left and right. Very odd, and again annoying, since even though this is basically incorrect framing, the image is amazingly pleasing and, excuse the pun, eye-Poppins, thanks to a pretty extensive clean up from Lowry Images.
Unfortunately, those issues haven't been solved here, not do I suspect they ever will be: this 45th Anniversary disc recycles the exact same transfer as before. On the bright side, the colors are deep, with blacks showing good shadow detail and staying true to the original theatrical exhibition. Apart from a few high contrast scenes, I noticed no edge enhancement, and even the scenes that might be questionable are probably more down to how the film was composited (remember not to confuse EE for the matte lines that do still show here and there, particularly in the animated segment). Likewise, compression artefacts are absent, and this is certainly again the best Poppins has ever looked on a home video format, making the slight image cropping that much more irritating.
On the flip side, the frame sections lost would likely end up in the blanked out, overscan areas of most viewers' displays anyway, but it's not correct and that is that. Practically perfect, but not perfect in any way. One should also note that, as before, this print uses the standard white on blue Walt Disney Pictures castle logo at the top of the film and not the original Buena Vista fanfare that appeared on film in 1964 and on the Archive, Restored LD and Gold DVD discs.
Scratch Tracks:
Presented with the original Dolby 2.0 Stereo Surround mix as heard in 1964, Mary Poppins also comes bundled with a new-fangled 5.1 soundtrack (previously labelled as a Disney Enhanced Home Theater Mix on the 40th Anniversary set), designed to give a maximum workout to your home set-ups. Historically, and because of the way it was made, the songs in Poppins have always sprung out at an audience when they come crashing in, leaving the dialogue sections of the film (recorded live on the soundstage) to be rendered a little less aggressively and therefore softer in the mix. The theatrical 2.0 stereo presentation preserves this mix, but the new 5.1 track finally resolves this issue, and is the one to go for.
It also sounds tons better than the faked 5.1 track produced for the Limited Edition LaserDisc/original DVD, thanks to extensive work carried out in starting again from scratch. The new track does lose a little of the "ambience" from the original, and adds a little reverb echo to create a feeling of spaciousness, feeling a little "softer" as opposed to the high-end treble of the original, but once one gets used to the new feel, the 5.1 mix is generally more pleasing overall. French and Spanish 5.1 dubs are also included. Additionally, most of the bonus features, including the audio commentary, have been subtitled in all languages, not that you'd be able to automatically tell from the menus, but they're there all the same. Very good work, almost making up for the image crop.
Final Cut:
So, as Jeffery Katzenberg might, call me a fool! One of Walt's true masterpieces, and possibly his greatest achievement in live-action filmmaking, Mary Poppins really does get better with age. A fantastic children's and family film, I've always gotten nothing but more from it every time I catch up with it over the years. This new edition is basically nothing more than a promo push for the magic-free stage production, and though there's little between the two versions, this set does indeed drop a couple of significant extras (the fun game, plus the very extensive, pertinent and fascinating scene deconstructions and premiere footage) from that older release to find the space for the commercials. Other than that, for those attracted to this edition, it remains a fine collection of supplements, even if it doesn't contain each and every ounce of Poppins-related material created during the film's production.
The 40th Anniversary, and by extension this set, did a grand job of collating the important bits, topped off with wonderful new supplements that prove that Disney, when they want to, can still pack their discs with content that is better than the rest of them; it's just a shame that it has arrived on disc with little fanfare surrounding its birthday: it may as well be called the "40th Anniversary: Five Years Later With Substituted Broadway Fluff Edition", which is pretty much what we get. As a basic repackage, there's nothing adverse to picking this up, but my final recommendation would be to go find the previous release cheaper and feel more satisfied overall. Or just wait for the Blu-ray to float down from the sky when we're least expecting it!
Animated Classic or Back To The Drawing Board?