Studio Ghibli (2010), Buena Vista Home Entertainment (May 22, 2012), 1 Blu-ray + 1 DVD, 95 mins, 1.85:1 ratio, DTS-HD Master Audio 5.1, Rated G , Retail: $39.99
Storyboard:
A girl who belongs to a race of tiny people risks her family's well being to develop a friendship with a human boy.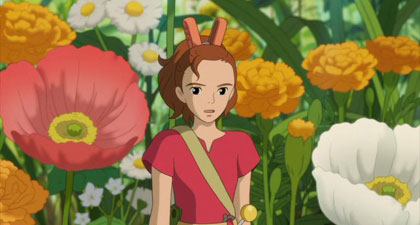 The Sweatbox Review:
The release of a new Studio Ghibli film will always arouse the interest of the Japanese studio's fan base, particularly when Hayao Miyazaki is directing. When he's not directing, we've had a mixed bag over the years— those films have ranged from the powerful Grave Of The Fireflies to the positively delightful Whisper Of The Heart; on the other hand, we have also had the loopy My Neighbors The Yamadas. and the ponderous Tales From Earthsea. For the latest Ghibli effort, Miyazaki co-wrote the script (with Keiko Niwa), so some level of quality was certainly expected.
The subject matter, however, was a little surprising. The Borrowers books by Mary Norton have seen a number of television and film adaptations over the past twenty years, though admittedly these were live action ones. Of course, these may not have been heavily seen in the Japanese market, as they were primarily British efforts or American-British co-productions. It's also been stated that Miyazaki had his eye on doing an adaptation for many years. The book series, begun in 1952, concerns itself with the lives of a family of tiny people and their acquaintances. They are called Borrowers, since they "borrow" items from humans that they don't think would be missed (most people would still call this stealing, since they don't return the "borrowed" items, but I digress).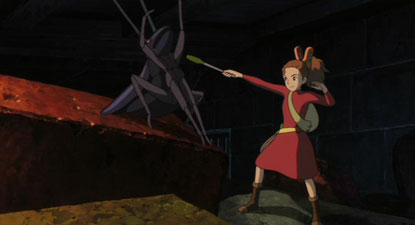 Ghibli's film was called Arietty in many jurisdictions, but was retitled The Secret World Of Arrietty for the American market, along with Canada. Arrietty was directed by first-time director Hiromasa Yonebayashi, who became the youngest director to helm a Ghibli theatrical release. In accordance to Miyazaki's intentions (he was also the film's production planner), he delivered a quiet, largely peaceful and leisurely paced film that may serve as a gateway for kids into the Studio Ghibli world, just as My Neighbor Totoro did a generation ago.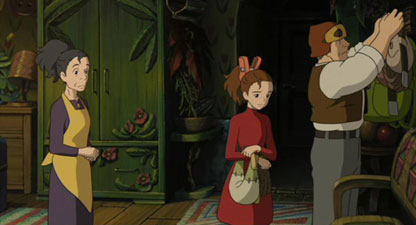 The film follows the first Borrowers book's plot to a large extent. Arrietty is a Borrower who lives with her parents Pod and Homily. Pod is stoic, patient, and kind; but Homily, while also a good person, is also shrill and overly emotional when it comes to worrying or reacting to danger. The two parents' personalities come into full focus when Arrietty is about to go with her father on her first borrowing expedition. Unbeknownst to either parent, however, Arrietty has already been seen by a boy who has just moved into the house where the Borrower family stays. Young Sho (or Shawn in the US version) is the nephew of the lady of the house, and is staying with her while his own mother is away. Sho is also awaiting heart surgery, and is supposed to be avoiding any stress. (In the book, "The Boy" is recovering from rheumatic fever, which he had contracted in India.)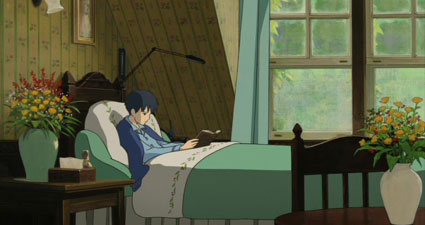 The borrowing mission goes somewhat awry, and Arrietty is again spotted by Sho, who begins to establish a dialog with her. Despite her father's warnings, and with no small amount of her own uncertainty, Arrietty slowly encourages the friendship, gradually working over the next few days towards speaking face-to-face with Sho. She knows that Sho is no danger to her family, but what she fails to realize is that not all humans are like Sho. In fact, the housekeeper Haru (Hara in the US) is very suspicious of what is happening, and she knows of the family legends about a race of little people living on the grounds. Haru becomes focused on finding the Borrowers, whom she sees as pests. Her actions eventually lead to a kidnapping and a rescue, followed by a flight for survival. And in the midst of it all, there is the deepening trust between Arrietty and Sho, who each learn important life truths from one another. The ending is bittersweet, but what is important is that Arrietty and Sho have changed each other forever.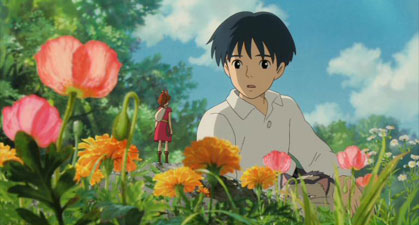 Arrietty was very successful at the box office in Japan, and did well enough in the United States to be the biggest Ghibli success to date, even if its $19M gross seems modest compared to larger blockbusters. Critical reception was also very good, but audiences— at least in North America— were divided. I even find myself divided. To be honest, when I saw the film in the theater, I fell asleep. Now, I was certainly tired for some reason, but the slow pace did not help my energy level any. In short, I found Arrietty boring. The story was too simple, there was no real "B" plot to go with the main narrative, and the characters simply did not interest me. However, I was very impressed with the storytelling and the animation, which made the miniature world of Arrietta's family so convincing, particularly the depiction of how water behaves at that scale.
I was so unimpressed with that first experience, in fact, that I was initially reluctant to take on this review; but I'm glad now that I did. With my expectations properly set, I watched the movie again as it was intended— and I don't just mean that I watched the Japanese version on Blu-ray, though I did that too. No, this time I knew what to expect: a film made to be experienced in a quiet state of mind, willing to let the narrative unfold without any tricks of editing to make you excited, sad, or worried. Here, the story tells itself on its own terms, in beautiful loving detail. I'm tempted to call it an "art house" film, but Arrietty is more mainstream than that term implies. Arrietty takes its time, and lets you enjoy the tale in a leisurely manner. (Of course, it helps to not fall asleep while it's playing!)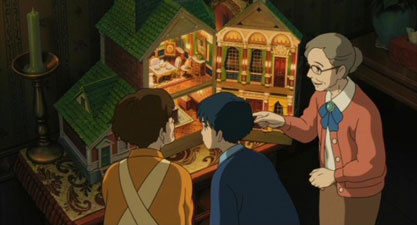 Naturally, such pacing isn't for everyone. Even my daughter, who loves Ghibli films, couldn't be bothered to watch it with me a second time. And the film still has the same faults I noticed the first time. The mother, Homily, is annoying, freaking out at the drop of a hat. It's a wonder that Arrietty hasn't run away from home to get away from her mother's histrionics. Then there is Haru, the villain of the tale. I am still conflicted about her. On the one hand, her near-hatred of the Borrowers seems practically psychotic, and yet… she's right. They are little thieves. Contrary to Pod's assertions, the things they've stolen have been missed, so it's hard to feel sympathetic to the little people. I guess that's a lot like life, though— neither side is fully in the right.
So, in the future, I will enjoy revisiting Arrietty again, though I shall do so only when I'm in the proper mood— the mood to be engrossed in a simple tale, well told.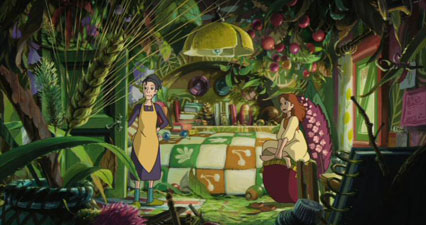 Is This Thing Loaded?
The Blu-ray's Sneak Peeks include looks at Disney Studio All Access (coming soon!), Brave, and the Cinderella: Diamond Edition. Funny that there's no cross-promotion for other Ghibli titles, considering two more were just re-released on Blu-ray.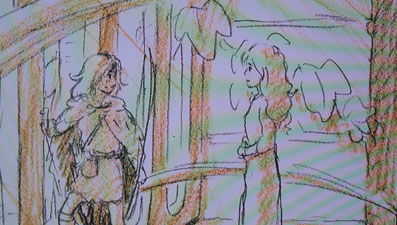 That old Ghibli standard, the Complete Japanese Storyboards (not sure why they specify Japanese?) appears here, and can be watched with either Japanese of English 2.0 sound, and English or French subtitles are available here. As usual, I skimmed through the storyboards, but can't see spending a whole hour and a half watching the entire film that way. Still, it's cool to see the storyboards being available. Nearly 14 minutes of Trailer And TV Spots are on the Blu-ray, too, though many of the TV spots are practically the same.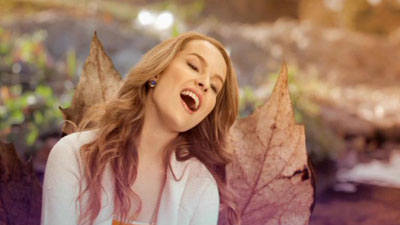 Then there are two Music Videos, one with Cecile Corbel doing the English version of Arrietty's Song (3:40). Then, Disney teen Bridgit Mendler performs Summertime (3:01), which is actually a nice little song that reflects the film's themes well. And, if you hasven't had enough of Miss Bridgit yet, you can watch The Making Of Summertime (2:03). Feel free to roll your eyes are Bridgit talks about her song being in a "Disney film," but she does redeem herself later when she talks about Studio Ghibli.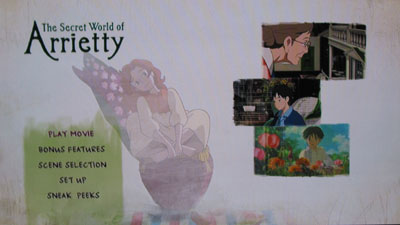 The DVD only gets the Sneak Peeks, and the Summertime video and its "Making Of."
Sadly, the hour's worth of interviews that appeared on the UK Blu-ray do not show up here, leaving Region A buyers with a pretty slim package of extras.
Case Study:
The standard-sized Blu-ray case has a disc on each side of the interior, with a Disney Movie rewards insert in-between. The case also has an embossed slipcover, with a gold foil spine. The slipcover has two stickers on it, promoting the Combo Pack nature of the release, and the Rotten Tomatoes "Fresh" rating. It was nice to see the Borrowers book being credited on the cover.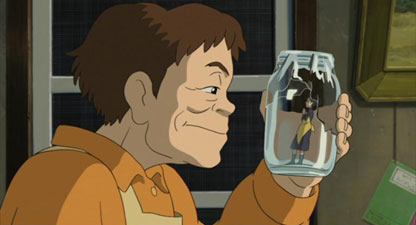 Ink And Paint:
This is the most boring part of the review. The transfer is impeccable. I saw no trace of shimmer, not a pixel out of place. This is one of the more colourful Studio Ghibli films I've seen (some look washed out, at least on DVD), and the brighter colors make a good show on Blu-ray.
Scratch Tracks:
Both the original Japanese track and the US English dub are presented in lossless DTS-HD Master Audio 5.1, while the French track is available in Dolby Digital 5.1. (The English dub done for the UK market is not present.) While you might not think this the type of film to have a marvellous soundtrack, Arrietty does in fact impress. Every effort is made to transport the viewer into the big world of the little people, with amplified effects for rustling grass, plunging raindrops, and skittering bugs. It's a quite active sound mix, helping to keep the viewer's interest even when the scene is moving slowly.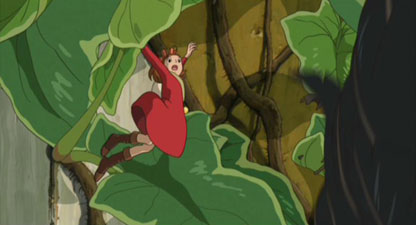 It should be noted that the Japanese and English versions are distinct visually as well. Selecting either option will give you the credits in that language, and there is at least one instance where the appropriate language is seen on on-screen text.
The DVD has Dolby Digital 5.1 tracks in English, Japanese, and French; both discs have subtitles in English, English For The Hearing Impaired, and French.
Final Cut:
I have come around in my thinking about this film. Boring on first viewing, I had a better appreciation for it the second time, allowing myself to accept the slower pace and simple story. The pleasure lies in the details, with beautiful animation and well-thought out physics of living in a miniature world. And, though the story is quite straight-forward, it is effective in developing the friendship between two young people who have a profound effect on one another. When you are in the right mood for a gentle character piece, give Arrietty a watch. The Blu-ray certainly has perfect picture and sound, even if the supplements package is a bit disappointing, especially for the price.
Animated Classic or Back To The Drawing Board?