Who would have ever imagined a French-Brettone singer-songwriter would come to compose the score of one of Studio Ghibli's productions? That would be a total fairytale. Actually, it's a fairytale that harpist and composer Cecile Corbel did live!
Born in 1980 in Brittany, Cecile discovered the harp during a concert of Greek harpist Elisa Vellia who soon became her teacher. During her studies in Paris (where she got a Master in Archeology), she used to play in pubs. There, she drew attention and, in 2002, she started producing a CD and touring from France to Australia.
It is after the release of her latest album, Songbook Volume 2, that she haphazardly got noticed by Studio Ghibli producer Toshio Suzuki and became the composer and songwriter of their latest and most-anticipated animated feature, Arrietty, the Borrower, that is to reach our screens soon.
Here's how she presented her unlikely adventure to us…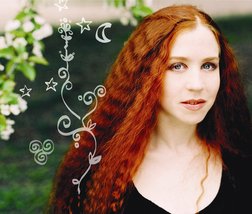 ---
AV: Cecile, how would you introduce yourself ?
CB: My music is often advertised as Celtic. Which is true in a sense considering the fact that the Celtic harp is my instrument, and that I draw much of my inspiration from Celtic art. That said, I'd rather consider myself first and foremost as a singer-songwriter of my time. You can always find some Celtic or folk color in my music since they're part of my identity, of my roots, but it's not traditional music. It's present-day music, really.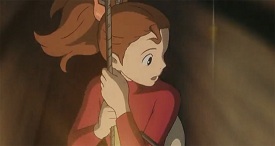 AV: How did you get in touch with Studio Ghibli?
CB: I'm lucky to be my own producer, which means that, each time a new album is released, I promote it myself. Two years ago, at the end of a promotion campaign, we still had promo albums remaining, so I made a kind of a secret list of people I liked to whom I wanted to send my CD. So, I put Studio Ghibli on my list because I've been a fan of their films for years. I'm not an expert in anime in general, but I've always been touched by Ghibli's productions. They have a way of telling stories, a pace that helps me in my life.
The first Ghibli film I saw was Grave of the Fireflies and it was a shock. Then, I was immediately captivated by the universe of Spirited Away that reminded me of the fairy tales I was told as a child in Brittany. There are some unexpected connections between Celtic mythology and Japanese mythology. I also remember Only Yesterday. There is not much of a story in it, and nevertheless it's very intense. I love the fact that it's not about good vs. evil, with an expected ended. There's always something unspoken. That's what led me to sending them my album, just as a gift, a testimony of my appreciation for their productions, without any hope of any kind.

AV: How do you explain their coming back to you?
CB: Everything happened pretty quickly. Less than ten days after I had sent the CD, I received an email about it. A series of coincidences led to the fact that Ghibli producer Suzuki-san received that envelope and opened. He later told me that it was because it was hand-written, which is really rare. Another thing he rarely does is put the CD into the player, since he's used to receiving dozen of CDs. Anyway, he did it at a time when the production of Arrietty was at its very beginning and he was wondering about the score.
He knew he wanted something with a Celtic flavor since the original story by Mary Norton is slightly connected to that culture, but he had no more idea about it. He said he was seduced from the very first notes at the harp and by the sound of my voice. Then, he showed it to the director, then to their partners such as Yamaha, which is always involved in their soundtracks. So, I received an email ten days later, and one month after that I was receiving the first elements of the movie. It went pretty quickly, that was so amazing. I wasn't even expecting a feedback!
AV: What kind of elements did you receive?
CB: That was the early steps of the production. I just received Miyazaki-san's script, Mary Norton's original book and early concept art regarding the characters and the settings.

AV: Then, what did you write first?
CB: At first, my only assignment was writing the main title, Arrietty's Song. Yonebayashi-san, the director had sent me some poems he had written and that were translated for me in English to help me find inspiration. That song had to focus on the character of Arrietty and introduce her in a way. Then, I sent my demo with a certain anxiety via internet, and they asked for a second one, then a third one and up to ten songs! And by 2009, I was on for composing the whole score of the movie!
AV: How did you approach that score?
CB: It was very thematic. One theme can be devoted to one character, but also one environment like the garden (which is very important in the film) or the house. All these themes were derived from the songs I wrote first.
AV: That's an interesting way of creating a score!
CB: Studio Ghibli always proceeds that way. They always start with songs. With those songs, they produce what they call an "image album" that is released months before the film's released and that is used as inspiration for the artists working on the film. For Arrietty, I wrote many songs, and we kept 14 of them. And the instrumental themes are derived from them. Anyway, there are quite many songs in that film!
AV: That's quite unusual for a Studio Ghibli film!
CB: We thought a lot about that aspect. The fact is that the film is no musical comedy like the Disney animated films. No character is actually singing. But as they made some tests with my songs, they realized it was interesting to use my voice as an instrument like any other, the lyrics being secondary.
AV: The color of your voice leads us through the film, just like the harp, I guess.
CB: Yes, the harp is the main color of the score. It represents the sparkling and magical aspect of the film, and is strongly connected to the character of Arrietty.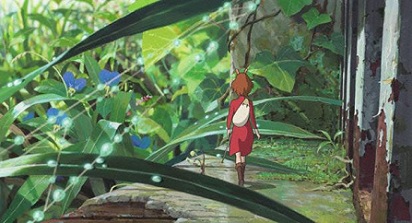 AV: Can you tell us more about her?
CB: I can't tell you much, but what I can tell you is that she's a tiny little girl about 3 inches tall. She's a pretty girl, very fresh and seems so fragile due to her size. But despite her size, it's her that moves the story forward and who really does things. She's mischievous and brave at the same time. That's that image of her I had from the very beginning and that I put in her song.
AV: How did you adapt your songs to write the score?
CB: People who like my music always tell me that it creates images in their mind, that there is a kind of a cinematographic dimension to them. Maybe that's how they spoke to Suzuki-san… Anyway, that was a huge privilege for me to get to score such a big project! But Studio Ghibli was very helpful and everything went smoothly, in a very fluid way. With my partner Simon Caby, we just proceeded as we always do, taking this time our inspiration from the director's poems (that set the right tone and emotions). Then, we adapted the songs in giving them different colors and paces. Then, the Japanese musical director of the movie, Kasamatzu-san, draw from all that material to edit it to the pictures. That was the best way to proceed for us, focusing on the artistic aspect of the music and not on the timing and editing.

AV: What kind of orchestra did you use?
CB: I wanted to keep with what I always do, with the colors that seduced the artists from Ghibli. It would have been impossible to me to resume the sweeping orchestral vocabulary of their previous movies, beautifully scored by Joe Hisaishi. So, in order to keep with my own language, I decided not to watch any of their movies during that period of time. So, I kept my modest orchestral sound, working with the artists and musicians I always work with. There's acoustic guitar, bass, a modest string quartet, bagpipes, Irish flutes, an Irish drum called Bodhran, a lot of percussion instruments, accordion, etc. And everything was recorded in France.
AV: You also went to work in Japan. Can you tell me about your experience over there? How did you come to meet Miyazaki-san?
CB: It was important for us to meet in person. I was lucky to visit the studio, too. We went there several times to see the progress of the work and were involved in the musical mixing in Tokyo. We worked more closely with Suzuki-san and the director, Yonebayashi-san. Miyazaki-san wasn't that present since he was more involved in the script. But when I came to meet him, I was very impressed. We talked about the harp and Celtic culture. I saw him at the premieres since he was the mentor of the whole project. Music is a character of its own in his films, that's why I was present and that involved in the promotion of the movie.
---
---
---
Our thanks to Cecile and Simon Caby. Photos by Cecile Corbel – all rights reserved.