AV Countdown app
Count down to upcoming animated films with our app for your smart phone!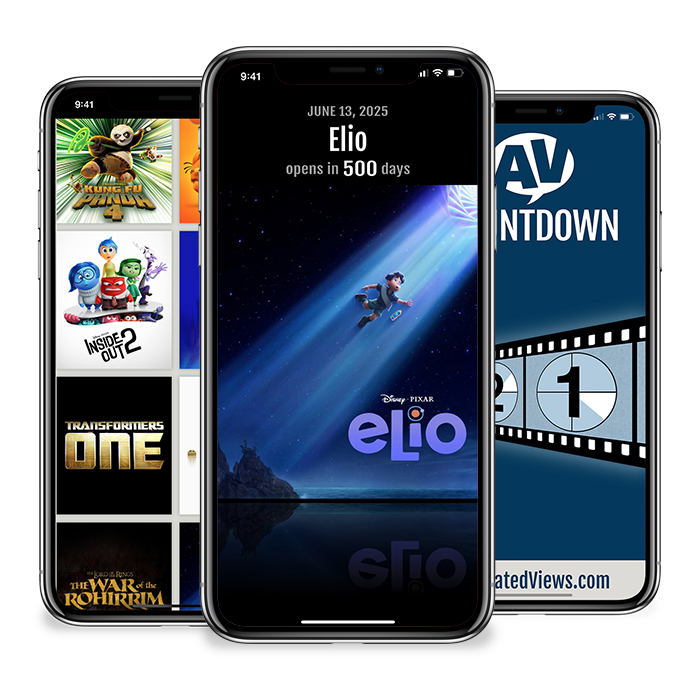 Animated Views has a cool web app for your mobile phone — AV Countdown! With the AV Countdown app you can see a list of upcoming animated films set to be released. Tap one of them and you'll get a full screen countdown page for that movie. Pick your favorite and every time you launch the app you'll start with that countdown screen. It's a fun way to get your inner animation geek excited about what's to come or to just answer your kid's question when they ask you about an upcoming movie.
It's free (no ads either) and will work with most any smart phone!
Since it's a web-based app you'll always have the latest version and you don't have to download it from any of the App Stores. You can install it directly to your device's home screen from your phone's web browser.
Instructions on how to install the app to your home screen can be found by choosing your device below.
Check out the Animated Views Forum if you have any questions or comments about the app.
• Go to the app webpage using Safari on your device: animatedviews.com/countdown/app
(Click here to email yourself a link to the app.)

• Tap the share button at the bottom of the screen.
It will look like one of the following icons, depending on your device:

• Find and tap the button labeled "Add to Home Screen".

• Confirm the install by tapping the "Add" button.

• An icon for AV Countdown will be placed on your home screen with all your other apps!