Studio Ghibli (1991), GKids/Universal Pictures Home Entertainment (July 5, 2016), 1 Blu-ray + 1 DVD, 120 minutes, 1.85:1 ratio, English DTS Audio 2.0/Japanese DTS-HD Master Audio 2.0, Rated PG, 34.98
Storyboard:
While on her way to visit in-laws in the country, a young woman reflects on her past, and whether her life path has been as she intended. Flashbacks show that Taeko may not have turned out exactly as she expected, but her journey has brought her to a place that still allows for further growth and exciting choices.
The Sweatbox Review:
For North American Studio Ghibli fans, the wait is over. The sole Ghibli theatrical film awaiting its disc debut is now out, courtesy of GKids and Universal, with a new English dub that stars Star Wars: The Force Awakens' breakout star Daisy Ridley. Now twenty-five years since its Japanese theatrical release, this new home video release (following a limited run in theaters) was a long time coming. Its lateness is certainly not due to any poor reputation, either. The film was Japan's 1991 box office champion, well received by audiences and critics alike. Its reception by North American critics this year was also uniformly positive. It then seems a bit of a mystery that Disney passed on releasing the film here, despite handling most of the other early Ghibli films on home video. It would seem that the answer to that riddle lies in the film's genre and subject matter: a drama focusing as it does on a female protagonist having an honest and open remembrance of her life as an adolescent in Japan.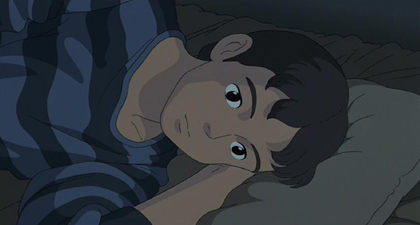 I missed a showing of the film on Turner Classic Movies in 2006, but was actually able to view this film a couple of years ago, having been excited to find that it had had a UK release on DVD. I had recently purchased a region-free player, I was anxious to feed it this mysterious Ghibli film. I invited a friend of mine, a local animation producer and huge Ghibli fan, along with his daughter, who is a good friend of my own girl, and we all viewed it together. And… hmmmmm. I can see why Disney declined to release it, but that is no jab at the picture's quality. It is simply not the type of film to which American audiences are accustomed. My friend and I enjoyed it, while I think it may have alternately bored and scandalized the girls.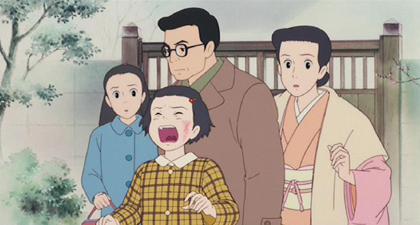 Only Yesterday was officially the fourth Studio Ghibli film, coming between Kiki's Delivery Service and Porco Rosso in the Ghibli filmography. Its director was Isao Takahata, who had been acclaimed for his work on the sombre Grave Of The Fireflies a few years earlier. Only Yesterday's Japanese title literally translates to "Memories Trickle Down," reflecting the tone and intent of the film accurately, though it is interesting to note that the manga source material did not have the framing device of a woman remembering her past. The episodic manga focused only on various life moments of a schoolgirl, which required some reworking to make a viable feature film. The switching back and forth between 1966 and Taeko's present works mirrors the protagonist's attempt to make sense of how she got to where she is in life, and whether she is truly where she wants to be. The time period switching can be confusing initially, until the viewer picks up on the subtle visual cues that define each period. The present day is shown realistically, with lush backgrounds, and the characters have detailed facial features. The past has light-coloured backgrounds that fade around the edges, and the characters have slightly more cartoony expressions with less depiction of facial muscles.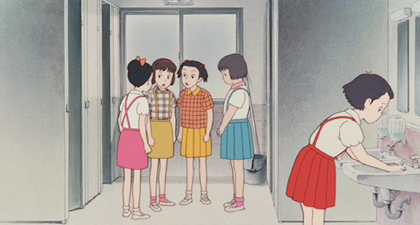 The older Taeko is travelling from Tokyo to the countryside, to visit the family of her brother-in-law. It was always a childhood wish of hers to leave the big city and have the experience of life in the country, and her sister's new relations have given her someone to visit. This is now her second time making a vacation out of it, and her intention this time is to help out with the safflower harvest. The train ride to Yamagata offers her the opportunity to reminisce, to take stock of her life and challenge her notions of who she is. She states that it was not her intention to "bring along my ten year old self," but the younger Taeko ends up being her constant, unseen companion over the next ten days.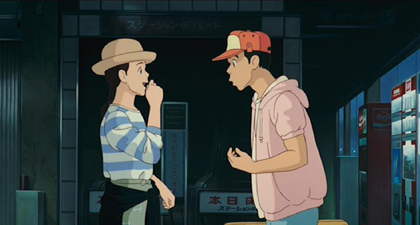 A cousin of Taeko's brother-in-law meets her at the train station, which provides a further trigger for self-appraisal. The film is not a romance for most of its length; but there is no doubt that the meeting of Toshio, in addition to experiencing life outside of her usual existence, is a catalyst. Like many of us, Taeko makes the realization that she is the product of her experiences and geography maybe to a higher extent than her own decisions. Removing herself from her unfulfilling office job and the rat race of the city allows her to make an honest appraisal of her life. She looks back at her childhood–— going to school and through puberty, developing feelings for boys, and dealing with disappointments and embarrassments— and then views her present self through the lens of her childhood. By the end of the film, she is in a totally new state of mind, eagerly making choices that will redefine her.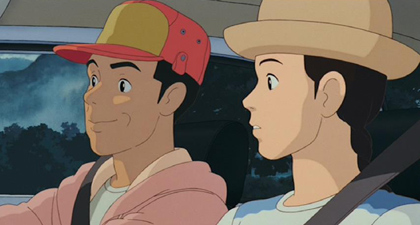 As the end credits began, I really wondered at first if the film had been successful. The melding of the two time periods was a nice approach, but had not seemed to really come together. However, that is why you have to watch the full credits, as they actually take place over the final scene of the film. It is here that you beautifully see a reversal in roles between the two Taekos, as it is the younger Taeko looking at her future self, prodding her to make a change that will redefine her. It is that final scene that clinches it; not only is Only Yesterday beautifully made, it is also a classic.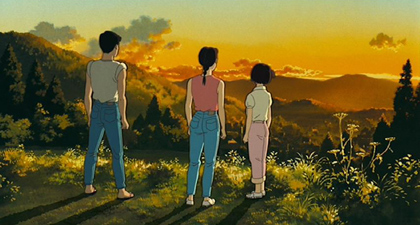 Is This Thing Loaded?
The Blu-ray starts up with advertisements for When Marnie Was Here, Boy & The World, The Prophet, and Song Of The Sea.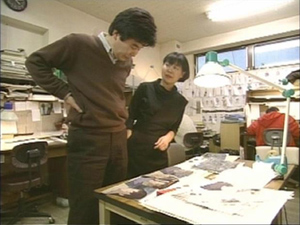 The film is supported very nicely by an assortment of bonus features, starting with The Making Of Only Yesterday (46:08). This is a vintage documentary in Japanese, viewable with English or French subtitles. The informative documentary follows the production through ten months, and reveals many interesting facts. "General producer" Hayao Miyazaki compares animators to donkeys needing to be whipped, for example! We also learn of Takahata's idea of the framing device, his desire to show more muscle activity in the faces of the adult characters, and his preference to record the present day dialogue first, before animation, as opposed to the usual anime method of dubbing afterward. And we see Miyazaki frustrated with the perfectionism of Takahata that makes the project fall behind schedule, even as he runs interference for him with investors. The documentary also nicely covers the history of Miyazaki and Takahata, going back to their days as young animators. This is one of the best Ghibli bonus features that I have seen.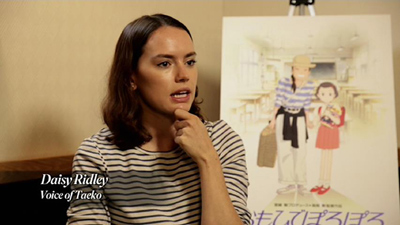 Behind The Scenes With The Voice Cast (7:44) has Daisy Ridley, Dev Patel, and Ashley Eckstein discussing their roles and the honor of dubbing a Ghibli production. It does not explain why Ridely hid her British accent, but Patel kept his.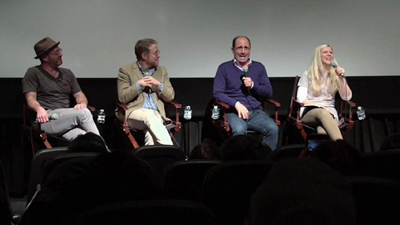 Interview With English Dub Team (16:29) is a recording of a talk that took place prior to a screening of the new English dub. It focuses more on the how and why of the dub by the English dub's producer, screenwriter, and director, moderated by voice actress Ashley Eckstein. It is revealed here that GKids, Studio Canal (UK) and Madman (Australia) all contributed funds for the project.
Trailers and TV Spots for Japan (7:30) and the US trailer (1:46) are also provided.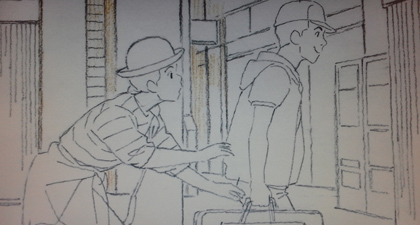 All of the above features are present on both the Blu-ray and the DVD. The Blu-ray exclusively contains Feature-Length Storyboards. You may view these with either the Japanese or English track.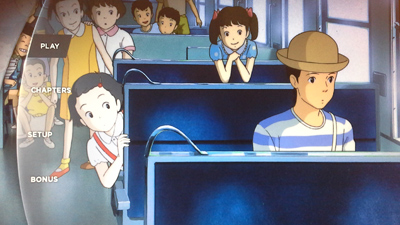 Case Study:
The Blu-ray case has the two discs facing each other. There is an insert advertising two of GKids' other Ghibli releases. A soft-feeling cover slip, nicely in keeping with the genteel nature of the film, has the film's title and Studio Ghibli ribbon embossed.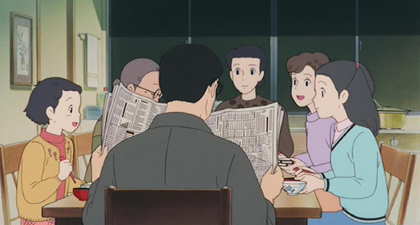 Ink And Paint:
The BD-50 features a 1.85:1 picture that easily trumps the UK DVD. Studio Ghibli films often feature a gentle color palette that can look washed out and uninteresting in standard definition, but in high definition looks reinvigorated. The increased sharpness of the picture helps even pastels to pop better, and when the colors do turn brighter or darker, it can really look gorgeous. Aliasing is present but minimal. Overall, this is a beautiful film to watch.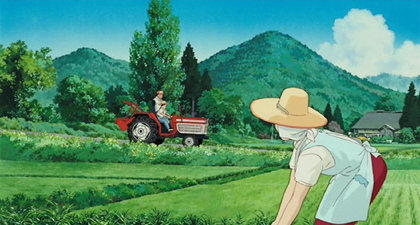 Scratch Tracks:
The original Japanese track gets a DTS-HD Master Audio 2.0 track on the Blu-ray, while the new English dub only rates a compressed DTS 2.0 mix. It was likely a space issue, and if so I applaud the choice to favor the original language track. As this is a quiet drama, there is little opportunity for the audio to make an impression, but there are nice surround effects when it comes to falling rain or lively fields of wind and insects.
The DVD has Dolby Digital 2.0 tracks for each audio track.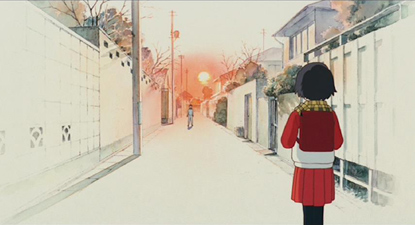 Subtitles are offered in English and French, plus there are English captions for the hearing deficient (specifically following the English dub).
Final Cut:
Only Yesterday was apparently not seen by Disney to be commercial enough to release it themselves, but North American fans can be glad that other parties stepped up to finally make its release here a reality. The film may be slowly paced and unusual in its subject matter for an animated film; but the medium suits the story perfectly. Takahata felt that only with an animated presentation does the audience truly pay attention to a film, and he felt strongly that this was a story that the audience needed to absorb fully in order to appreciate it as it deserved. The artistry in the film is also exceptional, in both the nearly abstract past and the lushly realized present. Parents should be aware that the film does earn its PG rating in its discussion of female puberty, which made my own girl uncomfortable, even if she was already a little older than the girl in the film.
The Blu-ray release sees this lovely story nicely realized in a perfect high definition presentation, with great extras. My Studio Ghibli shelf is finally complete, and yours can be too.
(With the release of Only Yesterday, the sole major work of Studio Ghibli that is awaiting word on either an English dub or a North American disc release is the television film Ocean Waves. For those interested, Ocean Waves has been released in other markets on either DVD or Blu-ray. The UK or Australian DVDs may be the best bet for English audiences, as they at least offer English subtitles.)
Animated Classic or Back To The Drawing Board?