Studio Ghibli (1989), Walt Disney Home Entertainment (November 18, 2014), 1 Blu-ray + 1 DVD, 105 mins plus supplements, 1.85:1 ratio, DTS-HD Master Audio 2.0, Rated G, Retail: $36.99
Storyboard:
A young witch goes away to train in the ways of magic, but learns even more important lessons about growing up. Thanks to her own admirable qualities, she finds a pathway to success.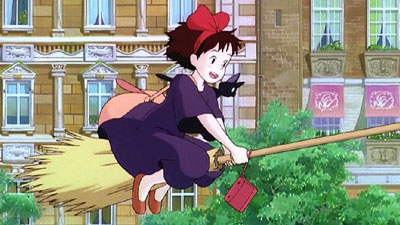 The Sweatbox Review:
If one were to try to categorize Hayao Miyazaki's film's, then I suppose that Kiki's Delivery Service would be his "girls' movie". That would be the easy thing to do; but that would be just as unfortunate as describing Princess Mononoke as simply his "environmental movie". The label really is not nearly big enough. Miyazaki's films are for everyone. It doesn't matter if you are a little girl or a big boy; good stories are good stories.
Kiki was written, produced and directed by Miyazaki. In his oeuvre of films, 1989's Kiki falls chronologically between My Neighbor Totoro (1988) and Porco Rosso (1992), but it did not receive its original North American release until Disney brought it to VHS and LaserDisc in 1998 (I still have my LD). At that time, the Disney people made their own English language dub of the film, using such talents as Kirstin Dunst, Phil Hartman, Matthew Lawrence, and Janeane Garofalo. Since that initial home video release, we have seen two separate DVD releases in 2003 and 2010, and now a Blu-ray release. The second DVD release re-edited the film's sound, helping the English mix be a closer match to the original Japanese, and it is this revised version (which was well received) that appears on Blu-ray.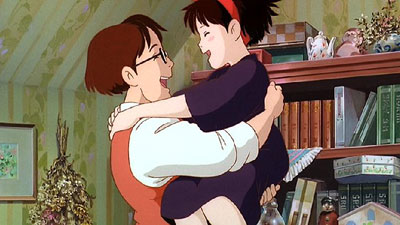 As the movie opens, we meet Kiki, a young witch on the verge of a new life. As she turns thirteen, she is to go away for a year to train on her own in the arts of witchdom. She is so anxious to go, that she leaves a month early and sets out with her black cat Jiji. She eventually finds the perfect city— a bustling place sitting on the edge of the ocean. The people of the town do not seem too surprised by the appearance of the young witch, as such things do happen from time to time, it seems. They have not had a witch for many years, though, so Kiki feels this is a good place to set up shop.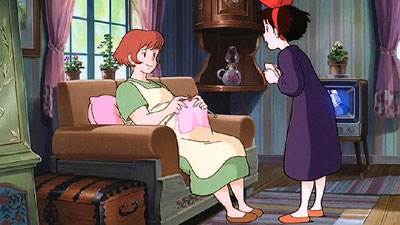 Her excitement is slightly dimmed by the reception she gets from a few of the townspeople, but she also finds enough kindness to confirm her satisfaction with her choice of locale. She is fortunate enough to make the acquaintance of a pregnant bakery shop owner, for whom she runs an errand. The shopkeeper is impressed with the girl's attitude and kindness, and Kiki gets a place to stay above the shop. Furthermore, the experience gives her the idea to start her own delivery service. Kiki has also met a boy her age, Tombo, who takes an immediate interest in her. He pursues a friendship, and eventually wins her over.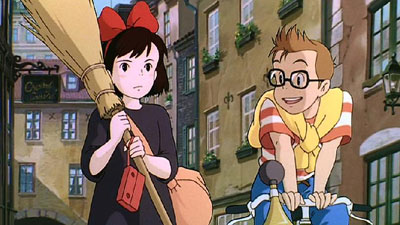 As Kiki starts her business, we further see that she embodies such positive attributes as a strong work ethic and an appreciation for the kindness of others. This is contrasted with certain other characters that seem almost resentful of simple acts of kindness, but it is clear that such behavior does nothing to enrich the lives of these people, while Kiki's attitude brings her many rewards.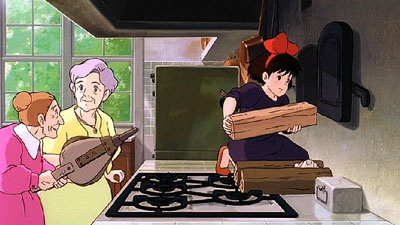 As Kiki comes into contact with more people through her work and through Tombo, we see a definite variation in the amount of kindness that others demonstrate. Her exposure to the less-kind ones leads to Kiki developing self-doubt. Like many teenagers, she is of the belief that she is unattractive and perhaps at least a little weird. She definitely feels like an outsider, and believes that she is not worthy of people's friendship. All of this begins to affect her powers, and she needs to regain her confidence with the help of her friends. This has to happen in time to help Tombo in a dramatic climax that involves a dirigible, which we have been hearing about in background radio broadcasts all through the film.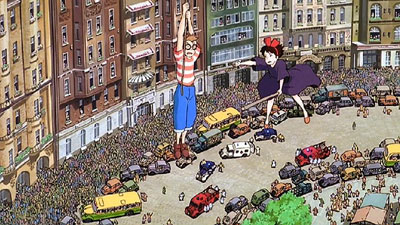 Kiki's Delivery Service gently shows that having strong values is a way to gain personal strength and success. Kiki's moral character and positive qualities make her a strong role model for all people, and teenagers in particular. It is always uplifting to see positive traits being portrayed as laudable qualities, and fortunately this film manages to do so without becoming maudlin.
In terms of animation, there is an understated yet impressive quality to what is on display. I have to say that one aspect of the animation that I was particularly impressed by was during Kiki's flying scenes. The animators never shied away from having her fly towards or away from the camera in perspective. It is done so well that most people would not take notice of it, but anyone who draws or animates will tell you that this is not an easy trick to pull off.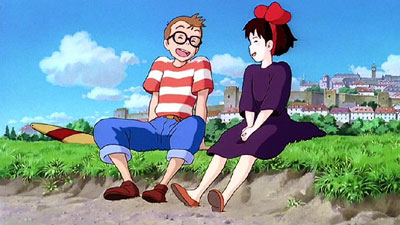 Kiki's Delivery Service is a pleasant, quiet, little movie for the most part, appropriate for all-ages viewing. It is much less intense than Castle Of Cagliostro or Princess Mononoke, and is a great way to start younger viewers on Miyazaki— more along the lines of My Neighbor Totoro. The simple story focuses on Kiki's developing not so much as a witch but as a person, as she finds out what she is truly made of. It turns out that she is not made of magic after all— the magic is made up of her! The movie gains depth as it explores this theme, and it becomes obvious that the message is for all of us. Whenever we lose faith in ourselves, we too lose our powers. It is by re-assessing our own worth that we regain the faculty to use our powers (i.e. talents) to do good in our own lives while having a positive effect on others.
Is This Thing Loaded?
The only bonus feature new to disc is Ursula's Painting (3:18), which simply takes a close-up look at a painting featured in the film. The drawing was originally created by classroom of students at a Japanese school, then touched up and slightly altered for the film.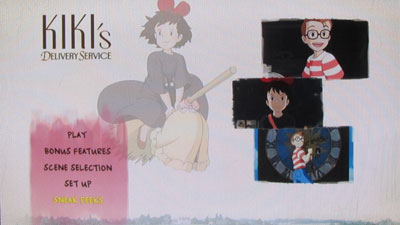 The Blu-ray also brings back all the content from the 2010 DVD release, which is a very good thing, as that was a packed special edition. First of all, there is an item that also appeared on the very first DVD release in 2003, the Introduction By John Lasseter (0:51), which adds little to the proceedings, as by now we all know who Miyazaki is and that John loves him. We also still get the Complete Storyboards for the film, complete with chapter stops, which can be watched with either the Japanese or English language track, or subtitles in English or French, or English captions.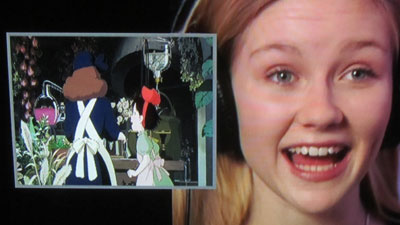 There is also the old four-minute Behind The Microphone featurette (4:53) on the English language cast that is, well, fine. It is neat to see such a young Kirsten Dunst, who I was not even familiar with at the time that I bought the Kiki LaserDisc years ago; and of course the late, great Phil Hartman, whom we all miss.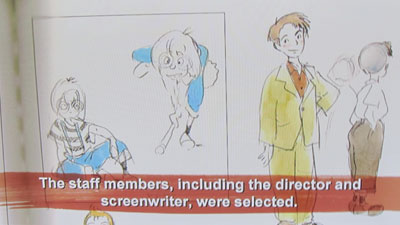 The 2010 DVD release added a plethora of fine new bonus features, all of which are here on the Blu-ray (except for a few small promotional items for simultaneous DVD releases), beginning with four short featurettes that really together constitute a "making of" piece using interviews with Hayao Miyazaki and Toshio Suzuki. Creating Kiki's Delivery Service (2:26) has Miyazaki discussing how the project came about and how he ended up directing it himself. Kiki & Jiji (3:28) explores this further, adding thoughts from producer Toshio Suzuki. Flying With Kiki And Beyond (2:50) looks at the animation of flying in the film, the choice of adding new scenes in with the closing credits, and how the film became Ghibli's first true financial success. The Producer's Perspective: Collaborating With Miyazaki (1:48) has Suzuki close things off with some information about his own role in the filmmaking process.
The Locations Of Kiki is a healthy, half-hour excerpt from a Japanese documentary called The Scenery In Ghibli. We are given a charming city-by-city tour of Sweden, primarily Stockholm, where the inspirations behind Kiki become clear. Joe Hisaishi is featured in Scoring Miyazaki (7:19), where he discusses his work providing music for the Ghibli films. Next, there are six Original Japanese Trailers (10:25) for Kiki's Delivery Service.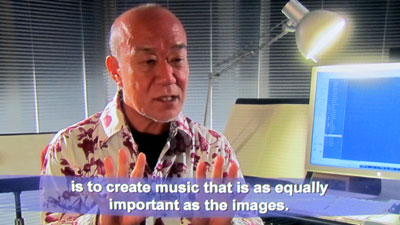 Trailers that first play on the Blu-ray include spots for 101 Dalmatians, Big Hero 6, and Legend Of The Neverbeast. Sneak Peeks selected from the main menu brings us more ads, for Frozen: Sing Along Edition, Star Wars: Clone Wars and a teaser for the live action Cinderella. Oddly, there are no ads for Ghibli titles.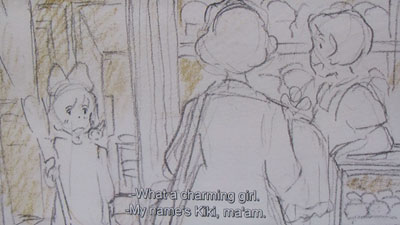 The DVD seems to be the same as the 2010 disc, as it has trailers for Beauty And The Beast: Platinum Edition, Toy Story 3, and the 2010 Ghibli DVD releases, plus the Lasseter intro.
Case Study:
Standard Blu-ray case, with a Blu-ray and a DVD on either side of the case. There are inserts for Disney Movie Club and Disney Movie Rewards. The cover slip is embossed.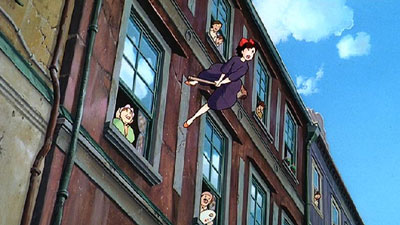 Ink And Paint:
The 1.85:1 image is better than ever on Blu-ray, bright and crisp. The colors are bolder now, even with the subdued color design, with better delineation between shades and tones. The 2010 DVD looked fine, but still gave the effect of a relatively washed out color palette. The Blu-ray is so much richer. It is possible that the colors have been boosted a bit, but to me it is more dynamic and helps the excitement of the story. Compression artifacts are minimal, and only noticeable if you really look for them.
Note that our screen captures are not a reflection of the Blu-ray's quality.
Scratch Tracks:
Audio is presented in DTS-HD Master Audio 2.0, for English, Japanese, and French. It is a nice clean track with a few, non-showy surround effects. The English-speaking actors do a quality job in bringing life to their characters, making it an easy dub to listen to if you (or your kids) prefer to avoid subtitles.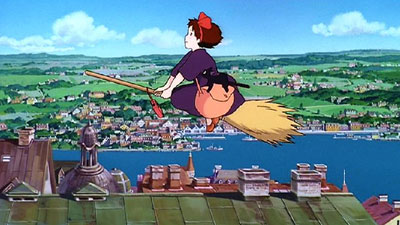 The small changes made for the 2010 DVD release have been retained, making the English dub truer to the Japanese track. Most noticeable is the replacement of the opening and closing credit songs with the Japanese originals, as opposed to what had previously been featured in the original English dub found on the 2003 DVD, Soaring and I'm Gonna Fly. Additionally, a Phil Hartman line at the end was eliminated, but this was also a good choice, since no such line of dialog is in the Japanese track.
The movie can also be viewed with English captions or subtitles, as well as French subtitles.
The DVD in this Blu-ray Combo Pack has audio in English, French, Japanese, and Spanish; plus subtitles in English (both subs and captions) and French.
Final Cut:
Growing up is a challenge for any young person, and this fantastical film captures that nicely. Other characters constantly refer to Kiki as "the witch", but the audience recognizes that Kiki is a little girl who is struggling to become a woman. No amount of sorcery is able to make the transition easier. In fact, her talents actually make her feel more apart from others at times. Rather than feeling special, she feels dreadfully different. Hopefully, all of us have a moment in our lives when we realize that it is our talents and our inner qualities that make us valuable as individuals. It is a pleasure to share Kiki's moment when her time comes.
This new Blu-ray edition retains all of the previous important special features, and obviously improved video. If you are inclined to upgrade, you will be quite pleased.
Animated Classic or Back To The Drawing Board?