Studio Ghibli (July 29, 1989), Walt Disney Home Entertainment (March 2, 2010), 2 discs, 105 mins plus supplements, 1.85:1 anamorphic widescreen, Dolby Digital 5.1, Rated G, Retail: $29.99
Storyboard:
A young witch goes away to train in the ways of magic, but learns even more important lessons about growing up. Thanks to her own admirable qualities, she finds a pathway to success.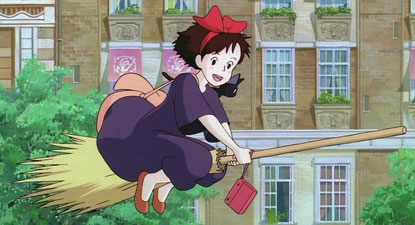 The Sweatbox Review:
If one were to try to categorize Hayao Miyazaki's film's, then I suppose that Kiki's Delivery Service would be his "girls' movie". That would be the easy thing to do; but that would be just as unfortunate as describing Princess Mononoke as simply his "environmental movie". The label really is not nearly big enough. Miyazaki's films are for everyone. It doesn't matter if you are a little girl or a big boy; good stories are good stories.
Kiki was written, produced and directed by Miyazaki. In his oeuvre of films, 1989's Kiki falls chronologically between My Neighbor Totoro (1988) and Porco Rosso (1992), but it did not receive its original North American release until Disney brought it to VHS and laserdisc in 1998. At that time, the Disney people made their own English language dub of the film, using such talents as Kirstin Dunst, Phil Hartman, Matthew Lawrence, and Janeane Garofalo. The dub was well received, and a little later Miyazaki's newer film Princess Mononoke was released on home video, including a DVD edition; but for whatever reason, we would have to wait for 2003 until Disney readied another Miyazaki catalog film for home video. That year, in association with the release of his newest masterpiece Spirited Away, we were blessed with both Castle in the Sky, and a DVD version of Kiki's Delivery Service. And, given Disney's typical seven-year cycle for reissues, they have now given Kiki a nice upgrade and timed the new DVD release with that of the latest Studio Ghibli film, Ponyo.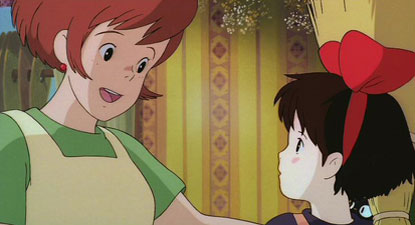 As the movie opens, we meet Kiki, a young witch on the verge of a new life. As she turns thirteen, she is to go away for a year to train on her own in the arts of witchdom. She is so anxious to go, that she leaves a month early and sets out with her black cat Jiji. She eventually finds the perfect city— a bustling place on the ocean shore. The people of the town do not seem too surprised by the appearance of the young witch, as such things do happen from time to time. They have not had a witch for many years, though, so Kiki feels this is a good place to set up shop.
Her excitement is slightly dimmed by the reception she gets from a few of the townspeople, but she also finds enough kindness to confirm her satisfaction with her choice of locale. She is fortunate enough to make the acquaintance of a pregnant bakery shop owner, for whom she runs an errand. The shopkeeper is impressed with the girl's attitude and kindness, and Kiki gets a place to stay above the shop. Furthermore, the experience gives her the idea to start her own delivery service. Kiki has also met a boy her age, Tombo, who takes an immediate interest in her. He pursues a friendship, and eventually wins her over.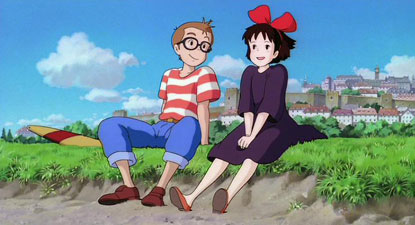 As Kiki starts her business, we further see that she embodies such positive attributes as a strong work ethic and an appreciation for the kindness of others. This is contrasted with certain other characters that seem almost resentful of simple acts of kindness. It is clear that such behavior does nothing to enrich the lives of these people, while Kiki's attitude brings her many rewards.
As Kiki comes into contact with more people through her work and through Tombo, we see a definite variation in the amount of kindness that they demonstrate. Her exposure to the less-kind ones leads to Kiki developing self-doubt. Like many teenagers, she is of the belief that she is unattractive and perhaps at least a little weird. She definitely feels like an outsider, and believes that she is not worthy of people's friendship. All of this begins to affect her powers, and it becomes necessary for her to regain her confidence with the help of her friends. This has to happen in time to help Tombo in a dramatic climax that involves a dirigible, which we have been hearing about in background radio broadcasts all through the film.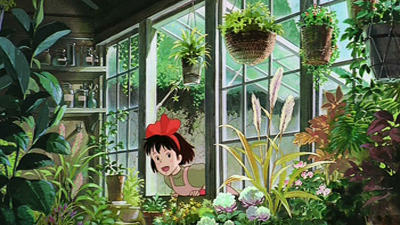 Kiki's Delivery Service gently presents strong values as a way to gain personal strength and success. The moral and personal qualities that Kiki exhibits contribute to having her present a strong role model for all people, and teenagers in particular. It is always uplifting to see positive traits being portrayed as laudable qualities, and fortunately this film manages to do so without becoming maudlin.
In terms of animation, there is an understated yet impressive quality to what is on display. I have to say that one aspect of the animation that I was particularly impressed by was during Kiki's flying scenes. The animators never shied away from having her fly towards or away from the camera in perspective. It is done so well that most people would not take notice of it, but anyone who draws or animates will tell you that this is not an easy trick to pull off.
Kiki's Delivery Service is a nice, quiet, little movie for the most part, appropriate for all-ages viewing. It is much less intense than Castle Of Cagliostro or Princess Mononoke, and is a great way to start younger viewers on Miyazaki. The simple story focuses on Kiki's developing not so much as a witch but as a person, as she finds out what she is truly made of. It turns out that she is not made of magic after all— the magic is made up of her. The movie gains depth as it explores this theme, and it becomes obvious that the message is for all of us. Whenever we lose faith in ourselves, we too lose our powers. It is by re-assessing our own worth that we regain the faculty to use our powers (i.e. talents) to do good in our own lives while having a positive effect on others.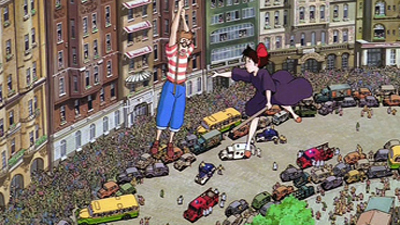 Is This Thing Loaded?
Let us start with the holdovers from the previous DVD release. The first item in this category is the Introduction By John Lasseter (0:51), which adds little to the proceedings, as by now we all know who Miyazaki is and that John loves him.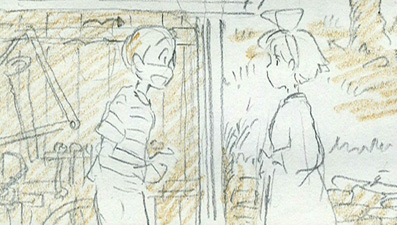 When Kiki was first announced for DVD several years ago, I was perplexed at how this could be a 2-disc set. There did not seem to be enough material; but that was because I did not understand the scope of what was meant by "storyboards" in relation to the special features that would be on the disc. It turned out that on Disc 2, the lack of Japanese production material was made up for somewhat by the ENTIRE FILM in storyboard format; this same extra appears on Disc 2 in the reissue as well, complete with chapter stops. Viewers can watch these storyboards with either the Japanese or English language track, or subtitles in English or French, or English captions. (A couple more 2003 holdovers are mentioned later.)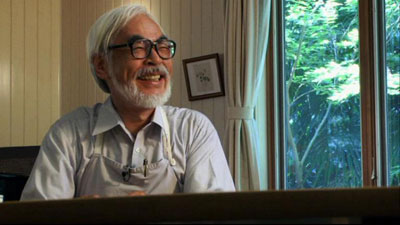 On this 2010 DVD release, there are a plethora of fine new bonus features, also to be found on Disc 2 under the heading "The World Of Ghibli", which is then divided into two sections. Behind The Studio has materials that are in Japanese, with English or French subtitles, beginning with four short featurettes that really together constitute a "making of" piece using interviews with Hayao Miyazaki and Toshio Suzuki. Creating Kiki's Delivery Service (2:26) has Miyazaki discussing how the project came about and how he ended up directing it himself. Kiki & Jiji (3:28) explores this further, adding thoughts from producer Toshio Suzuki. Flying With Kiki And Beyond (2:50) looks at the animation of flying in the film, the choice of adding new scenes in with the closing credits, and how the film became Ghibli's first true financial success. The Producer's Perspective: Collaborating With Miyazaki (1:48) has Suzuki close things off with some information about his own role in the filmmaking process.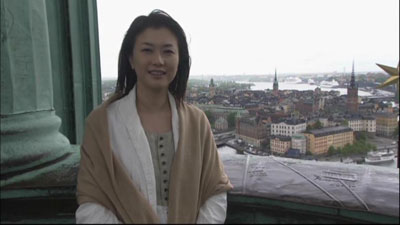 The Locations Of Kiki is a healthy, half-hour excerpt from a Japanese documentary called The Scenery In Ghibli. We are given a charming city-by-city tour of Sweden, primarily Stockholm, where the inspirations behind Kiki become clear. Joe Hisaishi is featured in Scoring Miyazaki (7:19), where he discusses his work providing music for the Ghibli films, focusing on the ones in this current DVD wave. Next, there are six Original Japanese Trailers (10:25) for Kiki's Delivery Service (the trailers were on the 2003 release as well).
There is also the old four-minute Behind The Microphone featurette (4:53) on the English language cast that is, well, fine. It is neat to see such a young Kirsten Dunst, who I was not even familiar with at the time that I bought the Kiki laserdisc years ago; and of course the late, great Phil Hartman, whom I miss a lot. There is nothing here that discusses what went into the Japanese production, but it seems like much less of an oversight now on this new DVD, which already has so much great content from Japan.
From another bonus menu entitled Other Ghibli Worlds Preview, Disney tries to promote its simultaneous Ghibli releases by also including Creating Ponyo (3:57) and Creating My Neighbor Totoro (2:58), as well as a short featurette on Castle In The Sky called Character Sketches (2:47).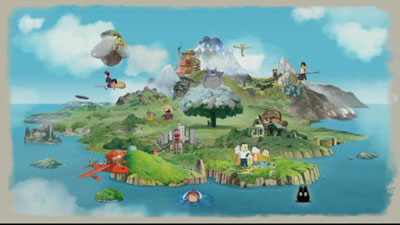 The second and by far the lesser of the main two sections of the "World Of Ghibli" bonus features is called Enter The Lands, which provides an interactive map with narration as the viewer is allowed to go through the lands and learn about the stories, characters and objects from Ponyo, My Neighbor Totoro, Castle In The Sky, and Kiki's Delivery Service. (Selecting Kiki allows one to find out which character from the film you most resemble.) There are further icons on the main map that go with other Ghibli movies, but these are not yet selectable, assumedly until the next wave of Ghibli DVDs hit.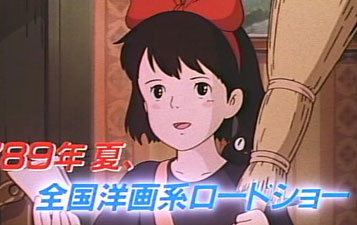 Previews on Disc One include Beauty And The Beast: Diamond Edition, Toy Story 3, and the current wave of Studio Ghibli DVDs. Further Sneak Peeks available from the menu include those for the Toy Story Blu-rays, The Princess And The Frog, Tinker Bell And The Great Fairy Rescue, Ponyo, Disney's Friends For Change: Project Green, an anti-bootlegging spot called Genuine Treasure, Disney Movie Rewards, and Disney Blu-ray.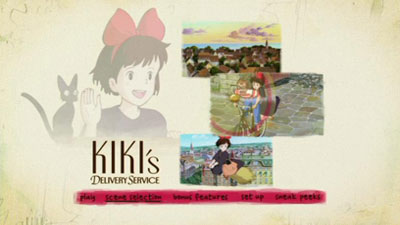 Incidentally, I liked the new, elegantly animated menus!
Case Study:
Standard keepcase with tray. The cover nicely proclaims this a Studio Ghibli film, presented by Disney. Unlike the original release from Disney, this one has a slipcover, as well as a "Collectible Litho" that has the cover art by itself. I was pleased to find a Disney Movie Rewards code inside, since there was no indication on the cover. The final insert is an ad for Disney Blu-ray with information on their upgrading program.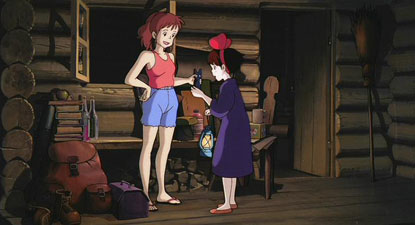 Ink And Paint:
The 1.85:1 anamorphic image is generally very good, but there are very occasional moments of increased grain and video noise. The transfer looks very similar to the 2003 release, with one great exception. On the original 2003 DVD, the grain became most apparent in the final scene, which appears under the credits, as it also shifted violently to the red part of the spectrum. This section looks much, much better on the new DVD.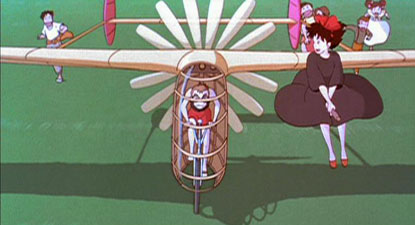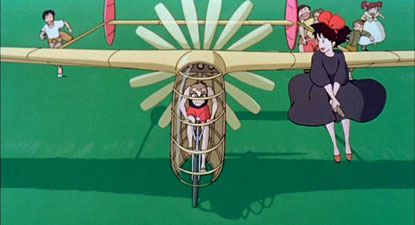 End credit sequence from the 2003 DVD on top, and the 2010 DVD on the bottom.
Additionally, the print is fairly clean, with only an odd dust speck seen. The video has warmness to it, and nicely conveys the naturalistic feel of the animation. As most other Miyazaki films, I found the color palette to be somewhat soft compared to most American animation. I suppose this is a cultural difference between the relatively subdued Japanese and the more bombastic American brand of entertainment, as well as Miyazaki's intent to keep the colors naturalistic. Miyazaki's films dazzle with story and character, not relying on gee-whiz effects and over-saturated color palettes. One thing I appreciated seeing this time around was the Japanese title card, missing on the old DVD's transfer.
Scratch Tracks:
The audio is likewise appealing. Early in the film, a rainstorm fills the surround speakers with sound, and although that level of aural immersion is not present throughout the film, it is a nice clean track with occasional rear surround effects. The English dub is in 5.1 Dolby Digital, as are the Japanese, French, and Spanish tracks. The English-speaking actors do a quality job in bringing life to their characters. This is one case where I did not mind listening to the Dubbed track.
However, fans of the original English dub may want to know that some small changes have been made this time out, though they do make the English dub truer to the Japanese track. (These changes are carried over for the storyboard presentation.) Most noticeable is the replacement of the opening and closing credit songs with the Japanese originals, as opposed to what had previously been featured in the English dub, Soaring and I'm Gonna Fly. It's a little jarring if you were used to the old way, but I prefer it. Additionally, Internet research has revealed that a Phil Hartman line at the end has been eliminated, but again I'm pleased; it is a line not in the Japanese dub, and it bothered me that it had been added in the first place when I noticed it years ago (though I did not notice its exclusion until I read about it online this week).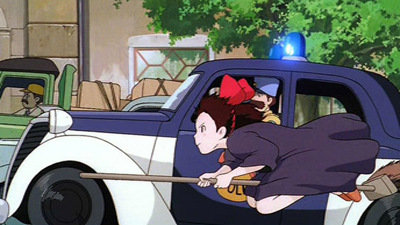 The movie can also be viewed with English captions (which generally match the English dub), or English subtitles (which seem to more closely follow the literal Japanese translation). Language tracks and subtitles can now be done on the fly, whereas they had to be menu-selected on the previous release. You may note that this release's French subtitles and a French language track are new additions.
Final Cut:
Growing up is a challenge for any young person, and this fantastical film captures that nicely. Other characters constantly refer to Kiki as "the witch", but the audience recognizes that Kiki is a little girl who is struggling to become a woman. No amount of sorcery is able to make the transition easier. In fact, her talents actually make her feel apart from others at times. Rather than feeling special, she feels dreadfully different. Hopefully, all of us have a moment in our lives when we realize that it is our talents and our inner qualities that make us valuable as individuals. It is a pleasure to share Kiki's moment when her time comes.
The new, 2010 DVD is a major upgrade from the 2003 edition. The final scene's video has been corrected, the Japanese title card and songs have been reinstated, and there are a wealth of truly worthwhile bonus features that were not in the original release. Disney is finally giving the Ghibli films the attention for which fans have been hoping. There has never been a better time to share Kiki's adventures with your young ones, and enjoy the ride yourself.
Animated Classic or Back To The Drawing Board?