For the new "Swing Into Spring" season, Disneyland Paris unveiled a totally different show on the stage of Chaparral Theatre, in which Disney heroes and heroines will celebrate Nature in an unusual manner. This truly traditional musical show will allow guests to meet the Disney characters in the heart of an enchanted forest, full of surprises. The spirits of the forest will invite them on an extraordinary voyage to the sound of catchy and energizing rhythms that prelude the imminent arrival of spring.
In turn, Pocahontas and John Smith, Baloo and King Louie (The Jungle Book), Tarzan, Rapunzel and Flynn Rider, not forgetting Merida (from Brave), will appear on stage to give a live performance of the legendary songs from their films. New scenery appears over the course of the stories, brought by the spirits of the forest, inviting the audience in to discover new worlds as though they themselves were turning the pages of a pop-up book.
We were glad to meet two of the creators of this original Disneyland Paris show, Show Director Christophe Leclercq and Composer/Arranger Gordon Goodwin.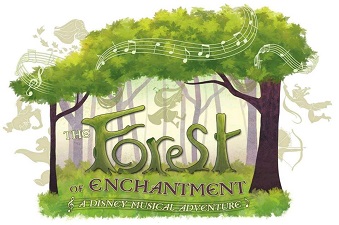 ---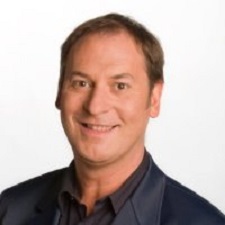 Christophe Leclercq, the show's stage director, designed a particular atmosphere in which guests would plunge into the heart of an enchanted forest, not surprising at Chaparral Theater, right in the heart of Frontierland. To put this brand new musical adventure on stage, Christophe Leclercq called in great talents from Broadway, Los Angeles and Paris.
The Forest Of Enchantment: A Disney Musical Adventure brings together all the Disneyland Paris know-how and the talent of international artists, thus offering a unique show in its genre.
AnimatedViews: How did you get the idea of The Forest Of Enchantment – A Disney Musical Adventure ?
Christophe Leclercq: At the time of the Frozen Sing-Along show, we went to Chaparral Theater and, looking all around us, we realized we were right in the middle of a beautiful forest. At the same time, knowing that our show was intended for our "Swing Into Spring" season, we felt inspired by that musical idea of "Swing." So, we brainstormed on that idea of swinging in the middle of a forest. At the beginning, we even talked about presenting a true concert with a live band. Then we added the appearance of the Disney characters that would come and punctuate that musical adventure.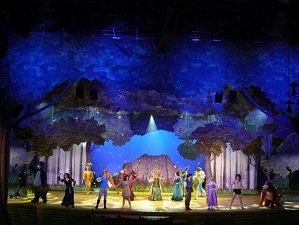 AV: How did you choose the Disney characters featured in the show?
CL: Our show is a celebration of nature; but we didn't try to convey a definite message. We just looked among the Disney Characters the ones that embodied a particular relation to the forest, under all its forms.
Pocahontas first seems an obvious choice. She shows John Smith the wild life that peoples the forest, because "we are all connected to each other." And when you think of Mother Nature's recipes, you think of Jungle Book. And the same way, Nature provides a shelter and a place to live to Tarzan, who chooses the jungle over civilization. We also wanted to present a Disney Princess. That's why we turned to Rapunzel. When she gets out of her tower, she discovers all kinds of new sensations associated with nature: putting her foot in the grass, breathing fresh air, swinging across the trees and the leaves. The same way, Merida is a "natural" princess who loves riding across the forests of Scotland to practice archery.
At first, we had thought of Snow White, but her vision of nature can be frightening when she escapes the hunter. Moreover, the swing (style) was kind of too remote from her musical world.
AV: The Forest Of Enchantment – A Disney Musical Adventure is a very original show.
CL: For once, we chose not to present a show with dancers, rather with live singers and acrobats, which creates a totally different artistic approach. As it is a live show, the performance of the singers and the acrobats changes each time, as they always find new ways to surprise us.
We wanted the visuals and the music to really tell our story. It's no mere reproduction of the original Disney movies. It's a brand new interpretation, with a new sensibility, in order to offer our guests unforgettable new experiences.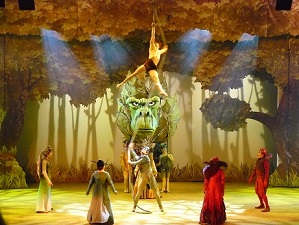 AV: Contrary to Frozen Sing Along, which is very narrative and literal, The Forest Of Enchantment – A Disney Musical Adventure seems more abstract. Do you agree?
CL: I do. We wanted to talk directly to our audience's heart and imagination, to let them react to our different numbers according to they own feelings. That's pretty new, and a true challenge for us. But that's what creation is all about!
AV: What were your sources of inspiration?
CL: I'm a great fan of Cirque du Soleil, and notably their Varekai and Amaluna shows. There's also something from the Lion King musical, with those half-man/half-plant characters surrounding Rafiki's tree. All these inspirations coming from outside the park help us keep our productions fresh.
That's why we appealed to new collaborators. We asked vocal coach Guillaume Coignard, who had already worked at Mogador on the Lion King and Mamma Mia! musicals, to join us. The stunts, and especially Tarzan's, were supervised by Yoann Benhamou, a former Disneyland Paris Cast Member who then went to Cirque du Soleil. And for the choreography, we appealed to Carline Roelands, who also worked at Mogador. She also worked for TV and classical scenes.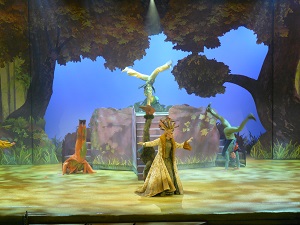 AV: In addition to the Disney Characters, this Forest Of Enchantment is peopled by all kinds of fantastic creatures.
CL: Enchantella, our Story Teller and master of ceremonies, is accompanied by all kinds of creatures representing the four elements, which give them their personality. You can feel it through the colors of their costumes. RootMan bring an organic dimension to the show. Lucille the dragonfly, who represents air, has her eyes wide open to catch all the wonders of the world. Our Lizard, Lezardo, is all red. He's flamboyant, as opposed to Waterlilo the water lily, connected to water, who brings a kind of serenity to the whole. And for the fun, our costume designers imagined extravagant outfits inspired by the ones of the French Revolution. Slender and stylish outfits, at the same time inspired by nature. In order to do that, the costumes are made of all kinds of stuck elements, also with painting on the very fabric to give that impression of a very raw relationship to nature. Just like the makeup, specially created to enhance that man/nature duality.
AV: How did you approach the sets?
CL: The idea of our show was to have animals and characters jumping out from all over the place. The show is full of visual surprises!
The scenography is due to Yves Ollier, who's been working at Disneyland Paris for some years now. Our first inspiration was pop-up books. So, we consulted Matthew Reinhart, one of the pop-up book masters. That allowed Yves to conceive a set that, like an open book, unfolds and transforms in front of the audience along with the different numbers.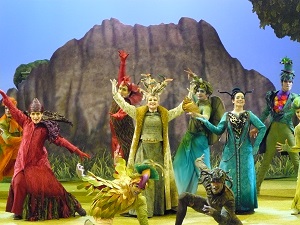 AV: With The Forest Of Enchantment – A Disney Musical Adventure, you really managed to bring something fresh to the great tradition of shows at Disneyland Paris.
CL: Bringing back Pocahontas and Tarzan at Chaparral was kind of a tribute, in a new way, to that tradition that goes back to the opening of that stage with Pocahontas – Le Spectacle back in May 1996 and then Tarzan – La Rencontre, launched in April 2000. The first reaction of the audience was very positive and I am truly thrilled!
---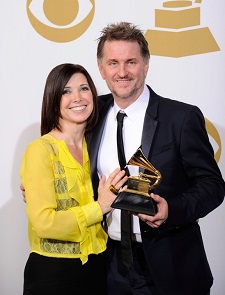 Even for a successful composer and arranger in Hollywood, Gordon Goodwin's numbers are impressive: A 2006 Grammy Award for his Instrumental Arrangement of Incredits from the Pixar film The Incredibles, three Emmy Awards, and thirteen Grammy nominations.
A keyboardist and woodwind player, Goodwin has built a larger-than-life reputation throughout the music industry for his composing, arranging and playing skills. Ray Charles, Christina Aguilera, Johnny Mathis, Toni Braxton, John Williams, Natalie Cole, David Foster, Sarah Vaughan, Mel Torme, Brian McKnight and Quincy Jones are just a few of the artists with whom he has worked. Goodwin has also conducted world-renowned symphony orchestras in Atlanta, Dallas, Utah, Seattle, Toronto and London.
Gordon's cinematic scoring and orchestration craft can be heard on such films as The Sorcerer's Apprentice, Race To Witch Mountain, Get Smart, Glory Road, National Treasure, The Incredibles, Remember The Titans, Armageddon, The Majestic, Con Air, Gone In 60 Seconds, Enemy Of The State, Star Trek Nemesis and even the classic cult film Attack Of The Killer Tomatoes. Goodwin's soundtrack to Looney Tunes' Bah HumDuck! – a wacky Bugs Bunny and Daffy Duck riff on the classic A Christmas Carol – also features Gordon's own Big Phat Band's patented sound.
Gordon was in charge of all the arrangements of the Disney songs presented in The Forest Of Enchantment – A Disney Musical Adventure, and with his wife, Lisa, they form a unique duet of songwriters that created together Forest Of Enchantment, the main song of Disneyland Paris' newest show.
AnimatedViews: How was the concept of Forest Of Enchantment – A Disney Musical Adventure presented to you?
Gordon Goodwin: We were contacted by Vasile Sirli, Music Director for Disneyland Paris, who flew out here to Los Angeles along with the Show Director Christophe Leclercq and show producer Claire Salmon. We spent 2 days in our studio going over the script, discussing the show and exploring options. Working with them on this was a delight from start to finish.
Lisa Goodwin: I remember Vasile was a great admirer of Gordon's music, arrangements and GG's Big Phat Band. If I may be allowed to brag, Gordon brings a buoyant flavor to his writing that is so unique and I think Claire, Vasile, and Christophe were inspired by this sound. I think they were as excited to work together as we were with them. When that is how the conversation starts, it's a good day!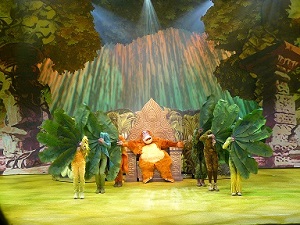 AV: What kind of a challenge was it to create a whole show driven by music?
GG: It's a rare opportunity to get to work on a show where the music is the main focal point. So often in the theme park world, and certainly in the film world, the music must serve the visual, first and foremost. But for this show, we could really take the handcuffs off and produce musical arrangements that stood on their own merits. Having said that, these songs have a rich history in the Walt Disney Company, and we have a responsibility to present our guests with a musical experience that enhances their previous experiences with these songs.
LG: I agree. Both Gordon and I have a long happy history with Disney's music and are very grateful every time we get the opportunity to present classics, old and new, in a way that will honor the original versions but also showcases them in a way that surprises the listener.
AV: How was it to write a song that has to fit within such an array of Disney songs, and at the same time has to be different enough to articulate the show?
LG: The song we wrote needed to be a tool for the Story Teller, a sort of musical invitation to join her on the journey through this enchanting forest. We wanted it to create a curiosity that would encourage the audience with anticipation for what surprises awaited them around every corner.
AV: How did you work with Vasile Sirli Christophe Leclercq?
GG: Once in a while you get to collaborate with people who have the same world-view as you do. And it seemed that both Vasile and Christophe were in agreement with Lisa and I about the choices quite often. Working with them was effortless and organic and you could tell they have the same affection for these songs that Lisa and I do.
LG: They brought a great amount of joy and energy with them for the project and the amazing set design so the stage was already set for our task.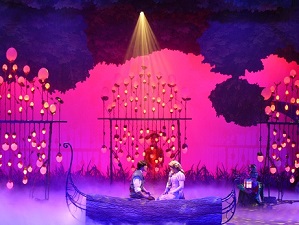 AV: How do you work as a couple?
GG: Lisa and I have been writing songs together for years and we have a short-hand now. We know each other's styles so well and, most importantly, we've learned how to exist as collaborators in marriage and in song writing! Essentially, I write the music and Lisa does the lyrics, but since she is a great singer herself I definitely want her input about how the melody lays vocally. And I will even suggest a word here or there.
LG: Gordon will give me a working instrumental demo of the song. I like to find a way to work within that structure as much as possible while still conveying the concepts the team decides are the important points we want to present. Besides giving me so much to work with musically he's a great source if I get stuck on a word for my concept.
AV: Can you tell me about your sources of inspiration?
GG: The ambiance of the music was definitely influenced by the gorgeous set they designed. We wanted the music to feel uplifting and fun, with a slight touch of drama. And since our song starts and ends the show, it had to be something that would seem to be in context with all the other music. That was the toughest part, since the music in this show covers a wide stylistic range!
LG: I agree, everything about the lyrics was to support the incredible, transformative tree. The visual flavor of the lyric cues was all there within the drawings of the many forms the tree was capable of presenting. The sketches of the costumes were the icing on the cake. Mystery, curiosity, earthiness; I had so much to work with!
AV: How did you manage to "refresh" the Disney songs while keeping with each one's identity?
GG: This is a great question and is a topic I consider carefully as an arranger. Because I am also a composer, I have great respect for a composer's original intent, and I never want to distort that. On the other hand, do we really need another arrangement of Let It Go that sounds just like the film? A stage show is derived from the film, but it is NOT a film and I believe that the music must evolve in some way to whatever new venue it's going to. It's really a matter of taste, where you protect the original creator's intentions while enhancing it somehow.
LG: The trick is to lift the original, which is the audience's reference point, to the next level. (Not an easy task!) Nowadays families are hearing the original score, which has hours of preparation and the fullness of hundreds of musicians, over and over again on a daily basis. Keeping the original intent is paramount. If you miss the mark the viewer may not know why they have a positive or negative response to your version but they will vote with their feelings and by how many times they want to return to see the show. Bringing a sense of fun and magic with the lyrics, the thing I love most about all the classic Disney songs, is always my goal and Gordon's arrangements always support that goal. He is also a master at making whatever size orchestra he's working with sound huge so I never notice the switch from movie score to live show. That is a major contribution to the show's success!
AV: What kind of an orchestra did you appeal to? Did you record all the numbers separately, or all in a row?
GG: The music for this show was primarily orchestral in nature, although we did have some jazz and other rhythmically based music, like for Jungle Book and Tarzan. So, first we did a rhythm date and recorded the bass, drums, keyboards, guitar and percussion. Next we brought in the trumpets, trombones, French horns and woodwinds, and then the string section. The musicians we use are among the best in the world. They can play in any style and can sight-read the charts perfectly. It's a thrill to stand in front of them and conduct because they really lift the music off the page and give it real nuance. It took about three days to record the songs for this show. Then we had a couple days of vocals and then another three days to mix everything.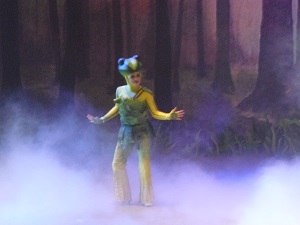 AV: The Disney parks have a great tradition of shows, and you started out as Disney cast members.
GG: I got a job at Disneyland right after I got out of college. It was the best thing to happen to me. I learned how to be a professional musician at Disneyland. I learned how to play at my highest level whenever I stepped onstage. I got my first commercial writing assignment at Disneyland, so it's been a wonderful lifetime relationship. I take a lot of pride in being a small link in the chain of such a noteworthy company.
LG: I actually went to the "University of Disney" for my college experience. (laugh) Which means the years most students are going to a college is when I began my work with the company. I started at Disney World in Florida as a performer and learned so much about what makes a show successful from all the wonderful show creators, directors, choreographers, performers, musicians and crews I had the privilege to work alongside. Disneyland came later for me.
GG: And, by the way, Lisa and I met in the employee's cafeteria at Disneyland! So without question, Disneyland really changed our lives.
LG: It was fate!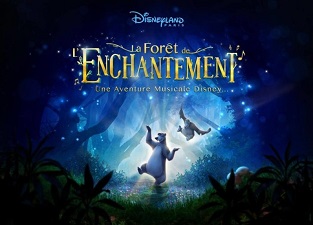 AV: How do you see the role of live music within a Disney theme park?
GG: Working in the park, certainly you can see all the popular attractions and their appeal to the guests, but the live music brings another level of meaning to the parks. It gives an intimacy and a real human connection when guests stop for a minute to enjoy live music at the parks. There is a discernable difference between live music and recorded music and I am grateful that Disney still believes in providing the live music experience for its guests.
LG: Absolutely! One of the things Disney has always done seamlessly is integrate the nostalgic with the modern. When you get the live performances along with the amazing attractions it's a total sensory experience. It is also very inspiring for the young Disney guests who are gaining knowledge and respect for what is possible when fun and talent get together. My first visit to a Disney park was at the age of 10 and it was interacting with the music, the presentations and the performers that inspired me to return again and again.
AV: Would you have any anecdote to share about that experience?
LG: There are so many! But one that stands out for me, especially since we are involved with music as our portion of the creative effort, is when a group of park visitors made a point to come thank our cast for including sign language in our WDW Castle stage show. Being deaf made their visit to the park a bit different from the average guest and the surprise of us signing out one of our songs was a permanent emotional memory that they took away with them. I'm so glad they made a point to let us know what that meant to their experience. It is one of the moments that taught me we were doing more than entertaining and it's just one of the many reasons I consider my time at Walt Disney World my college years.
---
---
---
---
Our warmest thanks to Christophe Leclercq, Gordon & Lisa Goodwin and Mathias "Grandmath" Dugoujon