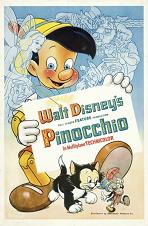 For Pinocchio, Walt Disney showed no small ambition: he wanted it to be the most wonderful animated film ever created – and he would spare no expense to achieve it.
De facto, the production of his second full-length feature animated film started immediately after Snow White as a new step forward towards beauty and innovation.
Indeed, because of its very content, the story of Pinocchio offers a much wider range of possibilities than Snow White. Confined almost exclusively in two places – the castle and the cottage – the whole storyline of Walt's first feature converged towards the Dwarfs' house to better bring out its warmth and all the endeavors made to try and protect it.
Pinocchio presents a much larger palette of situations, plots and subplots, because of extremely different locations (the small village, the theater, Pleasure Island, the submarine expedition), and secondary characters such as Figaro, Cleo, "Honest" John, Giddeon, Stromboli, the Coachman and Lampwick.
That said, the definition of any of Walt Disney's animated classics is the extraordinary coherence – and complementing – of the story, the visuals and the music. And Pinocchio is far beyond being an exception to the rule. It is even more a precursor. As well as this narrative complexity, the music is of particularly great assistence in understanding the true meaning of the film as a whole.