Disney (1955-2007), Walt Disney Home Entertainment (December 11 2007), 2 disc set, 332 mins plus supplements, 1.33:1 original full frame ratio (CinemaScope featurette: 2.35:1 anamorphic widescreen), Dolby Digital, Not Rated, Retail: $32.99
Storyboard:
Over 50 years of Disneyland magic, covered in rarely seen archival promotional films, television specials and an insightful, new feature length documentary that celebrates what could well be Walt's greatest lasting accomplishment.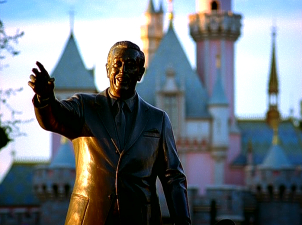 The Sweatbox Review:
Although the series runs a wide gamut of topics, the Walt Disney Treasures DVD line – now in its seventh year – can roughly be split into three primary concerns in terms of the subjects they deal with as part of their ongoing mission to document the achievements of this legendary visionary. We all know Walt the animation innovator, as seen by way of cartoon compendiums featuring his merry menagerie of caricatured animals, from Oswald The Lucky Rabbit (concurrently released in this new wave) to Mickey's most recent theatrical appearance in 1996's Runaway Brain. Then there's Walt the film studio head and television pioneer, presenting peeks into how the magic happens as well as historic programs produced directly for the small screen, as seen from 1942's visit behind the scenes at the Walt Disney Studio, The Reluctant Dragon, to the groundbreaking The Mickey Mouse Club and Davy Crockett phenomenon. Finally, there's Walt the theme park showman, and the reason the move to television really came: to partly fund his grand ambition – the first place families could visit together safely to enjoy a day (or two!) out in the company of his stable of well-loved characters. In fact, Disneyland as the place was to be dubbed, was the first such location to coin the term "theme park".
Disneyland has had a strong presence in this limited edition run since the first wave of Treasures wowed fans and collectors alike almost ten years ago. A LaserDisc set had compiled several episodes from the anthology program, including the debut episode of Walt's weekly television show, which was carried over to Disneyland USA, a Treasures set that proved to be something different altogether. As well as that debut episode, we were offered the special treat of revisiting the park's opening day, on April 17 1955, by way of the original live show broadcast across America, plus peeks at Disneyland After Dark, and a 10th Anniversary celebration. We had to wait a while for anything close to a follow up set, though a collection of the Tomorrowland specials plugged a gap with some information on the birth of Walt Disney World. Last year's wave of Treasures brought Your Host, Walt Disney, whose big inclusion was Disneyland '59, a long thought lost 90-minute special that re-dedicated the park and introduced three long-standing attractions: the Submarine Voyage, Monorail and Matterhorn mountain rollercoaster. Promoting new rides on the show always provided Walt with a way to get the message out, and a repeat inclusion of the 10th Anniversary Show (a double dip that had some fans disappointed) allowed Disney to preview upcoming mainstays Pirates Of The Caribbean and The Haunted Mansion among others. As well as several other episodes that showcased Walt as a presenter, Disneyland USA At Radio City Music Hall reconstructed Walt's filmed appearance with a costumed live Mickey on stage in New York.
That short film was also due to turn up a couple of years ago – during Disneyland's true 50th year, 2005 – in a special, one-off DVD celebration of the park. The release promised much…but never materialised. With the debut of the True Life Adventures in Roy Disney's Legacy Collection series last year, a second wave suggested a Disneyland disc would encompass much, if not all, of the previously announced material, but with fan reaction to these releases replacing the Leonard Maltin-curated Treasures, a last-minute switch saw the Legacy line shelved and the second wave's titles – including the much trumpeted return of Oswald to the Disney fold – incorporated into this latest collection of Treasures, save for the completed version of Destino, itself due to surface in a promised compendium of Disney shorts in the future.
As well as the DVD banner it is being released under, this final incarnation of that originally announced 2005 Disneyland disc has also gone through a few content changes to bring it further into line as a bona-fide Treasures release. Happily gone are the distinctly non-Treasures sounding Sing-along Songs and a duplicate of the Radio City stage show short, but then again so are the announced "extended interviews" with Walt's daughter Diane and park Imagineer Rolly Crump. However, in come three additional episodes of The Wonderful World Of Color, Disney's 1960s edition of his weekly TV program, as well as some other oddities and rarities unseen since their original debuts…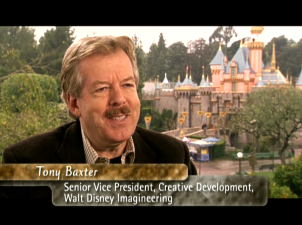 As with all previous permutations of this set, the centerpiece is still the feature documentary Disneyland: The Secrets, Stories And Magic Of The Happiest Place On Earth. Rumored to have undergone some re-editing since being pulled from the 50th Anniversary schedules, some odd facts remain intact, so I think if anything it's only the 2007 copyright date that's been updated. Running a healthy 81 minutes, an imaginatively cut two-hander between Harrison "Buzz" Price and Marty Sklar gets us rolling in amusing fashion, with them telling of the genesis of Walt's Anaheim, California park and how warned off the plans he was at the time, before an elaborate montage presents us with images of the park today, and 50th Anniversary ambassador Julie Andrews welcomes us proper and sets up what's in store.
Despite the newly shot letterboxed interviews, I wouldn't put much stock in the documentary being made with widescreeen displays in mind. The participants have simply been shot this way (most likely in HD) for future safe proofing – the clear indication is that, with all the multiple aspect rations inherent in the archive material, the intended ratio for the doc itself is "full-screen" 1.33:1, also indicated by the name tags assigned to each participant. What is super is the clear work that's been done to bring all that library footage up to first rate quality – the combination of vintage TV broadcasts, film records, video tape and HD is very pleasingly consistent throughout, especially the Technicolor film segments, that pop off the screen with vibrancy.
With all the wonderful inspiration Disneyland takes from the Studio's films and the amazing amount of classic music available at its hands, I was surprised that more Disney tunes weren't used in the score, which is all very majestic and worthy but sounds cued from pre-existing tracks rather than arranging new medleys of Disney hits. Absolutely anyone who is anyone to do with the park is soundbitten, and though I missed a known segment where Walt explained just what got him to thinking about even building a theme park (an interview referenced here), this is as comprehensive as anyone could wish for, and as such finds a perfect place for itself in the Treasures series.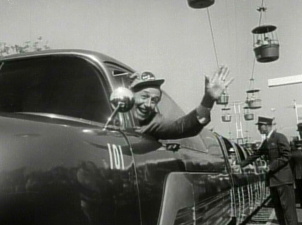 The race to complete construction in just one year is only lightly touched on but Walt's own quote that "Rome could have been built in a day if these crews were on that job" is an all-time keeper. Fun is also had with a montage of flubbed moments from the opening day broadcast and the entire tone is light as a breeze, but its the non-fussy approach to the editing that makes this the non-puff piece it needs to be, and a very valid documentary.
Once the origination and opening of Disneyland has been covered, the documentary resorts to a comfortable run through the ages and the coming and goings of the various attractions, taking in innovations such as Audio Animatronics and rides such as Submarine Voyage, the Flying Saucers, the Tikki-Tikki Room, Abraham Lincoln, The Carousel Of Progress and, of course, It's A Small World. Understandably, we only spend a little time in each attraction, and the many films and programs glimpsed at during the doc would make for fascinating viewing in their own right (and do so on Disc Two), but the pace found here keeps things rattling along.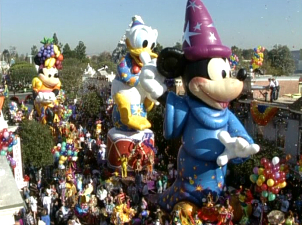 There's such a lot of history to the park's now over 50 year existence, of course, that Secrets, Stories And Magic doesn't just dwell on the Walt era. The Mousetro passed away in 1966 – just after ten years of the park opening and marked by the half-way mark here – after which the rest of the documentary concerns itself with flying though the next 40 years of achievements, most notably the post-Disney attractions that Walt had a hand in inspiring: Pirates Of The Caribbean, The Haunted Mansion and the Song Of The South-styled Splash Mountain. The 1970s, where attention was thrown towards opening parks in Florida and Japan, is somewhat skimped on, but the 1980s realm of Michael Eisner and George Lucas covers such groundbreakers as Star Tours and the Indiana Jones And The Temple Of The Forbidden Eye adventure.
Secrets, Stories And Magic does seem to peter out at the one hour mark but there's still more to come – a peek into the "Disneyland that never was" looks (very) briefly at long lost rides and attractions that never made it past the planning stages. We also hear from past cast members, including new Imagineering head John Lasseter (not seen until an hour into the show), but the famous Main Street Parades are all-too lightly mentioned. Indicative of how much has been packed into Disneyland's history, yes, but a reminder that some attractions get little or no (hey, where's Captain EO!?) screen time at all.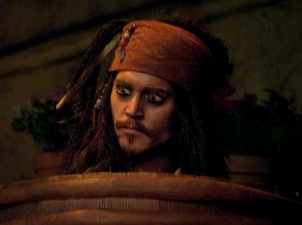 There are also precious little "wow" moments for the non-initiated. I'd have thought the fact that Steve Martin got his start watching the balloon antics of The Golden Horseshoe Revue's Wally Boag was good for a mention, or that oft-told nugget that Walt himself kept an apartment over the fire department building, but nothing like these secrets, stories or magic come along. There's a quick glimpse at some special events held at the park, but nothing on the popular weddings or such one-offs as holding the Pirates premieres at the park that inspired the movies, which might be seen as trying to keep away from commercialisation in what is supposed to be a serious consideration, but the closing moments lean too heavily on what the park experience "means", and they can't help but sneak in a quick, but harmless, plug for the latest addition to Disney's parks in Hong Kong.
The original 50th Anniversary dating of Secrets, Stories And Magic in 2005 is evident from "associations with Pixar" rather than acknowledgement of their outright purchase, the "two" Pirates movies, and a preview of the new Submarine Voyage, restyled as a Finding Nemo adventure exploration which opened pre to the release of this set in 2007. But for all the hard-core fan finding faults, this is a highly glossy, entertaining run through fifty years of a very special American institution, and one that should be enjoyed by aficionados (who will likely jump up and point out the extra facts not covered here) and casual park visitors alike.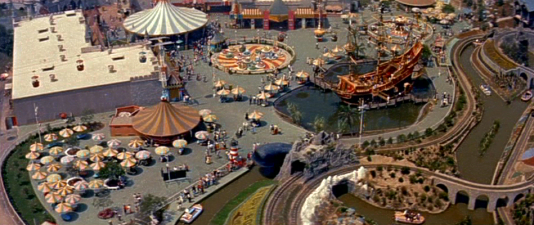 Also included on Disc One, and providing some authentic, of the era vintage is the theatrically released 1956 CinemaScope film People And Places: Disneyland USA, which runs around 40 minutes. The People And Places series was to travelogues what the True Life Adventures were for wildlife: explorations of "far off lands" back in a time when worldwide travel wasn't yet an easy or affordable option. It's rather cheeky of Walt to include his own theme park alongside such world destinations as Siam, Thailand, Switzerland, Lapland, Portugal and Japan, but one has to give the man a shot of self-congratulation and this sixth entry in the 18-strong series at least follows the same conventions as others in the series.
A lavish widescreen journey around the park shot in its inaugural year, yes, it's a sales piece but it's also remarkably restrained, with a very factually based narration from the True Lifes' Winston Hibler that's actually quite dry, leaving it to resident composer Oliver Wallace's traditionally jaunty score to help pep things up. For anyone who delved into the Musical History Of Disneyland box set and played the vinyl record reproduction of Walt's tour of the park, People And Places plays very much like a visual guide, though its one year anniversary shoot means it's a spectacular snap-shot of Walt's dream as it originally was not long after opening.
Since the park looks so different nowadays, there's much to find interesting here – not least the Wild West areas, which as Maltin explains in his commentary, probably took up so much real estate – a third – due to the popularity of cowboys on TV at the time – a genre certainly spurred on and encouraged by Walt himself! Taking the trip through the various lands, there's again so much to take in that the featurette was almost over before I noticed we were well past half way. I'm not so sure, but I wondered if a couple of family members might have included Diane and Sharon Disney on the flying rockets, and a real highlight has to be the Jungle Cruise, whose tour guide's voice has been dubbed in by, if I'm not mistaken, a very worthy authority!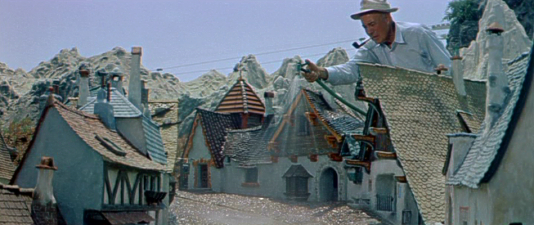 Disc Two continues the trend of archival material with three 50-minute episodes from Disney's 1960s weekly show to feature the park's entertainment aspects. The Golden Horseshoe Revue records the 10,000 performance of one of Walt's favourite Disneyland stage shows, and a popular one at that which ran for over 30 years from opening day, here with Betty Taylor and Wally Boag, and guest stars Annette Funicello and Ed Wynn. Directed by Ron Miller, the episode is bags of nostalgic fun, a trip back to old Americana that takes in classic song standards (Bill Bailey, Tea For Two, the Studio's own Pecos Bill) and music hall vaudeville comedy routines. Ed Wynn plays to the gallery with some wonderfully amusing shtick that uses a little TV trickery, Gene Sheldon pops up throughout, Wally Boag shows just where Steve Martin picked up that balloon act, and Annette gets to perform her hit Mr Piano Man – what more could anyone ask in an hour of stage show entertainment that's reminiscent, but of course pre-dates, the comical chaos of The Muppet Show!?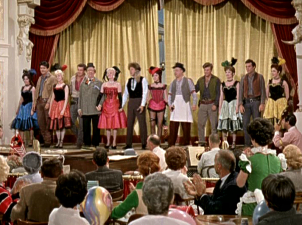 Disneyland Goes To The World's Fair looks at how Walt dominated the 1964-65 New York event with his themed attractions, which included the debut of several Disneyland mainstays. The history of such exhibition fairs is lampooned in a delightful song and animation sequence by Ward Kimball, an unseen for many years "short" in itself! The show absolutely motors along with some great onscreen segments with Walt, and fabulously amusing old-school film footage of an early fair that's quite risqué (Diversions For Father) for not only Disney but 1960s television too! Uniquely, Walt is on hand throughout the entire show and he's in delightful, whimsically enthusiastic mood. It's simply wonderful to see the genesis of so many of Walt's lasting works, including Great Moments With Mr Lincoln, the Tikkis, The Carousel Of Progress and, of course, It's A Small World. 30 years before Jurassic Park, Walt's Animatronic dinosaurs still look every bit as impressive, and the nature of the program is sure to make even long term fans amaze at the technical and creative achievements on show. Quirky and full of terrific facts (Walt calling the dinos reptiles is his only faux pas) and some spectacle and fun, this is perhaps my favourite pick in this set, even if the ten-minute ride through Small World will once again drive anyone nuts!!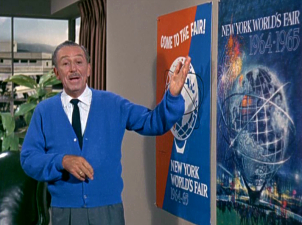 Disneyland Around The Seasons is a later 1966 episode that continues the World's Fair theme. We're taken back to the beginning of Disneyland's second decade and the elaborate grand opening Small World had at the park. A good portion showcases that song again, but the visual trip through the ride has at least been revised so as to find something new. Less a look at the park through winter, spring, summer or fall and more a look over the past year's new opening attractions, the rest of the show is content to dedicate its remaining segments to Mr Lincoln (whose words remain more prescient than even Walt thought them still to be in 1966), the inauguration of New Orleans Square (with a compact history lesson and the perfect setting to welcome the heroine of the Studio's next fairytale, The Princess And The Frog), and The Primeval World (which begs the question of if Dinosaur was actually Disney's first park-inspired movie). Lastly, the annual Christmas Parade, Candlelight Procession and Carol Singing end the show in a 20-minute montage. Walt pops back at the end to speak briefly about the future (and next week's program), but this show comes with an added layer of resonance: the show originally aired just three days after Walt had passed away.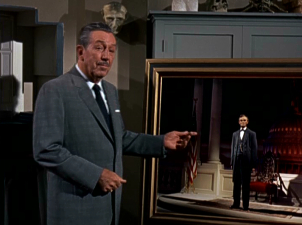 "Walt Disney didn't invent fun, but he kind of perfected it", says former Public Relations executive Tim O'Day at one point in Secrets, Stories And Magic Of The Happiest Place On Earth. With this set, you'll find out how and see why truer words have never seen said.
Is This Thing Loaded?
As with all the three releases in this seventh wave of Walt Disney Treasures, the first disc begins with a hideously out of place preview for The Pixar Shorts Collection. On the Oswald The Lucky Rabbit collection, this feels not only particularly random but frankly annoying, suggesting that the fledgling studio's output should be raised to the same level as these historic triumphs. What's more odd is that the Treasures have always seems to rise above this cross-company promotion, and while I can see the argument for the disc to work as its own "Pixar Treasure", I'd have preferred the wave remain true to its non-polluted roots. For a themed collection that does deal with the more recent additions to the Disney park, I wasn't as bothered by the inclusion here as I was on the Oswald and Donald sets, but I'm glad this is the only trail bundled into the set even if that still doesn't make it the right decision.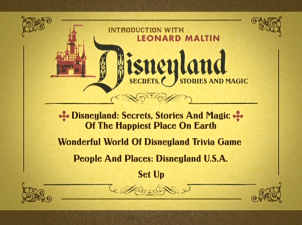 Since the final content selection we're presented with in this Treasures set has been culled from various originally intended releases (the 50th Anniversary DVD for one, and series host Leonard Maltin has always pointed to more park-themed shows in the line), there's something of a mash-up between what has been designated main feature material and the supplemental extras. Maltin is on hand for his roughly two-minute disc introduction, setting up the documentary and the disc itself with compelling comments, warming up those who may not recognise the "backroom boys" names and introducing us to Tony Baxter, Maltin's colleague in this collection, and Disneyland expert par excellance. The menus follow the retro-styled artwork found on all the previous titles, but new to the Treasures is a curious oddity: a set-top The Wonderful World Of Disneyland Trivia Game, that I've elected to include as a bonus, and that Maltin even makes sound interesting!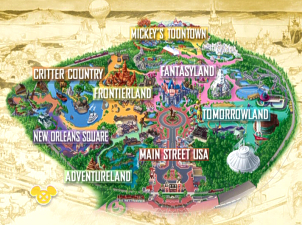 There are two levels of play: Beginner and Advanced. Although the main design and music make it clear this wasn't originated for this release, the narrator could be mistaken for Maltin himself at times at a pinch, and it's a wonder that they didn't wheel him in for a revoice job that would have tied things closer together. As it is, think of those almost-character vocals one hears on other Disney DVD games, and you'll have an idea of the Maltin-ese performer doing the duties here. All seven lands of the park each serve up some promo-type video information and multiple amounts of differing questions, while a wrong answer takes you to Main Street to make a point up. Successful players get to pick a subject from the winning (onscreen) E-Ticket to play an additional vignette about one of the park's attractions, but if an answer is incorrect the game annoyingly doesn't give us the right one, perhaps to better save questions for next time, but still frustratingly so for those with a real interest. Likewise, a correct answer is welcomed but we're only given an affirmative and not any more info. The video based clips make it work, but this isn't anything better than the usual such fare and nothing special even given its now-Treasure status.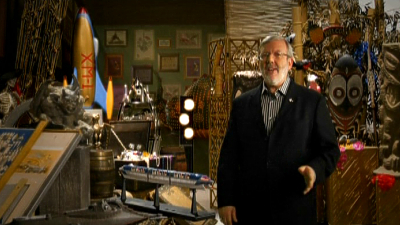 Accompanying People And Places: Disneyland USA are a couple of welcome surprises: a pair of alternate audio tracks: commentary and isolated music. These are both great, allowing us to hear Oliver Wallace's wonderfully orchestrated medleys of Disney tunes without Winston Hibler's narrative or the many volume dips and fades needed to accommodate him. If nothing else, this is a simply lovely way to sit and listen to 40 minutes straight of instrumental, authentic Disney music from the first quarter century of Disney magic. Even better is the tremendously entertaining commentary, for which Maltin is joined by Baxter for a discussion about this rarely seen film (here restored in beautiful anamorphic widescreen) and the park itself, taking in the many changes over the years and several wondrous points of minutiae. For instance, it's a little known fact that the classic Disney characters were not introduced into the park until 1959, four years after opening. Once this has been mentioned, the aridity of Disneyland Year One is all too obvious, and it becomes clear how little interaction there was back then, with most attractions being little more than seated (and rather sedate!) "look and point" moving viewing platforms! Providing a great service are the included optional subtitles for both Hibler's narration and the Maltin/Baxter commentary.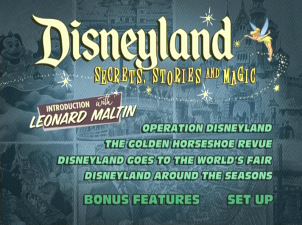 On Disc Two, after a rather technically dubious intro from Maltin who either seems inserted into a background or the victim of some odd compression effects on his jacket, is Operation Disneyland, also designated on the main feature menu but covered as a supplement here due to its nature. It's a 14-minute exploration that plays like a "making of" the 90-minute opening day telecast, intended to explain how the feat was to be accomplished to the private audience of ABC affiliates who had signed up to carry the show. Despite the dry nature of the narration (in fact without the aid of sound or music it's the only thing we hear), any issues that this is a slow piece pales in comparison with the sheer facts presented to us – amazingly a thousand things you'd never think of were involved in the humongous production. Simply put, Operation Disneyland makes one appreciate the unimaginably mammoth task of broadcasting a major opening day event back at a time when something like this wasn't even possible – another example of Walt Disney pushing the technology ahead to reach his aims. It's still an impressive feat that easily beats all such live telecasts today!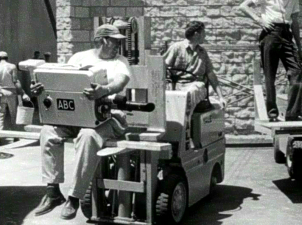 Building Walt's Dream: Disneyland Under Construction is a six part study that delves pre-park to look at the planning and building of Main Street, Adventureland, Frontierland, Fantasyland and Tomorrowland. A handy Play All option links them together for a 40-minute total. This is pure gold to Disney aficionados: the presentation of what amounts to nothing less than Walt's "home movies", shot from the very early stages of construction when Disneyland was nothing but mud. Through the magic of time-lapse photography, we see all the familiar sights at the park spring up from basically nothing and all the more amazing because the entire thing went up in less than seven months! Tony Baxter is back to voice this unique look at the building of the park with archivists Ed Hobelman and Walter Magnuson, who provide many anecdotes over the silent material. Baxter even hints that this footage is just a tease to over 200 reels he's seen, stretching from prior to opening to the 1970s, and jokes at a 400-disc set presentation! Over ten locked off cameras and many other views capture the action across the park, and there are fun glimpses of Walt on his bike and familiar face Fess Park – in costume as Davy Crockett – pitching in to help with his native Frontierland!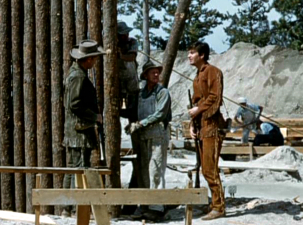 Finally a stills Gallery presents a pretty decent amount of park imagery, mostly concept drawings for things as varied as the entrance, ride cars, facades and even individual characters. But at just under 60 images, there's no look at any stills of Walt in the park, the changing face of Disneyland over the years or any of the wonderful publicity posters created for the attractions and the ability to look close up at even the images we do see is greatly missed, making them a token representation at best. In fact a lack of any promotion items at all is the set's major fault – perhaps in trying not to come off as promotional fluff, it's missed out on fans being able to collect some of their biggest Disneyland memories of all.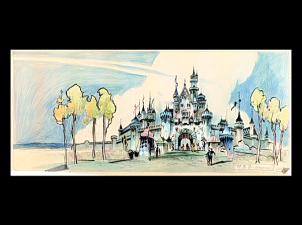 Case Study:
Coming to shelves alongside also-current Disney Treasures The Adventures Of Oswald The Lucky Rabbit and The Chronological Donald Volume Three, this Disneyland Secrets, Stories And Magic release comes housed in one of the series usual eye-catching and classy collectors' tin cases that lend the contents an archival film can feel. A holdover from the Legacy Collection trend of including a physical trinket as souvenir is a reproduction of an original 1955 Disneyland E-Ticket booklet, listing the park's many attractions and the visitor's way to access them. A welcome note from Walt completes things, though whether we need to be reminded this is a replica and "not valid" for actual admittance on every single page is open for question, but I'd have thought not!
Just as with a pin badge in the gold-tinted Oswald tin set, the E-Ticket's extra inclusion doesn't come in place of the Treasures' regular keepsake, a lithograph repro, and this time around we're presented with Herb Ryman's 1954 concept illustration for the iconic Sleeping Beauty castle, which has to be said seems to be the fuzziest print copy I've yet encountered in Disney's otherwise always fine facsimiles. We also get the usual eight-page guide that contains Maltin's always enjoyable liner notes, the all-important COA, limiting the run to just 50,000 copies, and a welcome Disney Movie Rewards code that helpfully doesn't find itself spoiling any of the other artwork. With the Platinum Editions continually mutating their packaging, it's great to see the Treasures, even after seven years, staying true to their elite trademark significance.
Ink And Paint:
Those keeping up with the television releases in the Disney Treasures line will know exactly what to be expecting here, though even they may be impressed with the clarity of People And Places: Disneyland USA, which boats a gorgeous anamorphic transfer in correct 2.35:1 and a theme park-enveloping 5.1 soundtrack.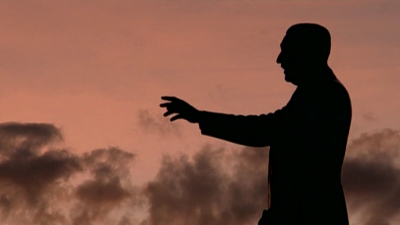 Surprisingly, the new Secrets, Stories And Magic documentary fares less well: while there's nothing inherently wrong with its travels to disc, the letterboxed nature of the multiple new interview segments make it clear that there's a hi-def master out there that could well have been used to downconvert this to a 16×9 anamorphic edition at the very least. Still, for a collection whose material has been pulled from an enormously varied amount of archival sources, everything takes on a pleasing consistency, with only Operation Disneyland dipping the quality due to the way it was preserved on film.
Scratch Tracks:
People And Places: Disneyland USA, in addition to receiving a stunning picture transfer, also enjoys the best sound here too, since again the new documentary slightly fails to impress with just a Dolby 2.0 Stereo track. With the amount of fun, color, rides, music and atmosphere on show, one would have thought the program might have been mixed in surround to have fun with the effect of "being there" and making good use of consumer's high-end audio systems. Nevertheless, for all the talking heads nodding away, their comments are the important factor and in these cases everything is clean and audible. The high fidelity of the other vintage TV shows means they sound as good as anything, also sporting 2.0 tracks.
Final Cut:
Coming clean, I have to say that I've never been a huge fan of Disneyland – on film. It's a wonderful place to visit and experience in person, of course, but watching the many faces pass through its twisty-turny walkways enjoying themselves alongside the classic characters always seems, to me at least, like being unable to go to your own birthday party. But these films – especially People And Places – make the most of sharing the feeling of the park and its many layers of entertainment, with the new documentary filling in the backstory without laboring over the details. Apart from the shoehorned inserts of the Johnny Depp addition to Pirates Of The Caribbean and the opening of Finding Nemo, the documentary never feels like a promotional piece, so rest assured that you'll be purchasing an authentic program and not a glorified vacation advertisement, and on that basis, this informative, entertaining overview of the history of Disneyland is well worth adding to completists' Treasures.
Animated Classic or Back To The Drawing Board?