UPA Productions (1961), Sony Wonder/Classic Media (September 26, 2006), 4 discs, 645 minutes, 1.33:1 original full frame ratio, Dolby Digital Mono, Not Rated, Retail: $39.98
Storyboard:
Newspaper comic strip legend Dick Tracy leads a team of crime busters against an array of grotesque enemies of justice.
The Sweatbox Review:
Dick Tracy first came to life in the pages of newspapers in 1931. In the early days of the strip, he saw his girlfriend's father killed by hoodlums, and joined the police force in order to bring their leader Big Boy to justice. He stayed on with the police to battle an increasingly bizarre range of thieves, con men, and gangsters. Except for a loopy period in the Sixties, Dick Tracy was always known for being a tough, unflinching look at police work, showing both the violent and investigative sides of the job; but it was the introduction of such incredible figures as The Brow and Flattop that made the strip's reputation. The juxtaposition of cartoony drawing and hard-nosed action made creator Chester Gould one of America's star cartoonists. He continued to do the strip until 1977, and the strip is still being featured in newspapers, done by Gould's successors.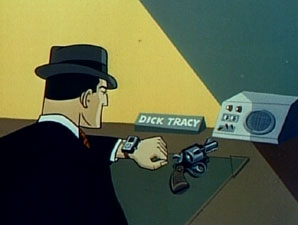 With the comic strip such a large part of American culture, Dick Tracy has been featured on a wide variety of merchandise. It was also a natural to bring him to the screen, first as a series of theatrical movie serials, then with a few B-movies and a 1951 TV show (mostly played in these incarnations by Ralph Byrd). Then, in 1960, trend-setting animation studio UPA took a crack at the character when they began production on a TV cartoon version under supervising director Abe Levitow. The cartoon was produced such that segments could be used within the context of hosted local programs, as many kids shows were done in those days. Each cartoon ran just a few minutes, complete with opening and closing credits.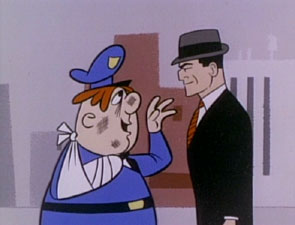 Oddly, the producers chose to not show Dick Tracy himself in any action. Instead, each cartoon opens with him talking with his chief over an intercom while sitting at his office desk. He then uses his wrist radio to contact one of several field agents. This is a case of taking a cartoon property and totally ignoring what made it popular in the first place. Certainly, the show uses many of the classic villains, but it confuses me as to why the show's creators felt they had to make Dick Tracy cartoons that did not feature Dick Tracy. Instead, the actual crime busting is done by the likes of Hemlock Homes, who (despite his name) is not a take-off on Sherlock Holmes, but rather a police dog who speaks with a bad Cary Grant impression. Hemlock commands the Keystone Cops-like Retouchables, who likewise do nothing to resemble their namesake "Untouchables".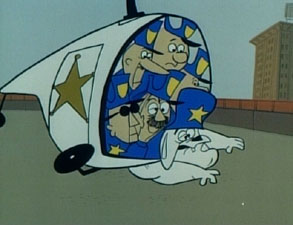 It is hard to decide which was worse— that ridiculous dog and the silly troupe of cops, or the stereotype-prone detectives that Dick also called upon. Diversity is great, but these fellows would not make it in today's politically correct world. Joe Jitsu speaks like Mr. Moto ("excuse prease") and uses martial arts, and Go Go Gomez is a Mexican who wears a sombrero and often prefers taking a siesta to helping out Dick. Actually, if one places the show in the context of its time, these caricatures do not come off too badly. They do evoke stereotypes, true, but this was not done so with any malice. For myself, eye-rolling was induced more than anger. I would advise others not to get too uptight about it. The other major player on the show is Heap O'Callory (ah, an Irish cop— another stereotype). Tracy generally contacts Heap as he stands near a fruit stand, where he tries to filch an apple or a peach. The repetitive nature of these cartoons then typically sees Heap contact a beatnik on the street for underworld information.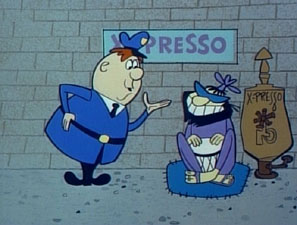 And then, of course, there is the infamous group of evildoers that populate the show. While the bad guys typically died at the end of each story in the comic strip, they were still often well remembered by fans and would pop up again in comics and on toys and other merchandise. On the cartoon show, the same familiar group of villains got recycled over and over again, often appearing in pairs. They also got some familiar-sounding voices. Flattop sounded like Peter Lorre, and his frequent partner BB Eyes sounded (sort of) like Edward G Robinson. The Brow got a James Cagney voice. And is it just me, or did Pruneface sound like Alfred Hitchcock? (Actually, a reader has corrected me— it's supposed to be Boris Karloff.) Other familiar faces among the bad guys included The Mole and Mumbles.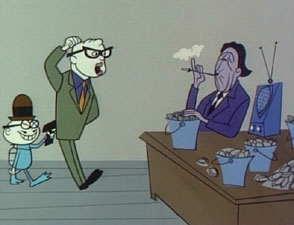 While the impressions don't always work, one may still enjoy picking out the voices of a couple of cartoon veterans on the show. Although Tracy himself was played by stage and radio actor Everett Sloane, cartoon regular Mel Blanc did Go Go Gomez, and Paul Frees did Pruneface
I used the word "repetitive" earlier when describing the show, but perhaps a better word would be "formulaic". Dick Tracy is called by the Chief. Dick contacts one of his men. The officer or detective finds the bad guys and confronts them. The bad guys then get the drop on the good guy, at which point a call is made back to Dick to falsely report that everything is under control. The good guy then escapes his predicament and captures the bad guys, often in time to see Dick show up at the end. Repeat 130 times, and you get a notion of what you will find in this set of episodes.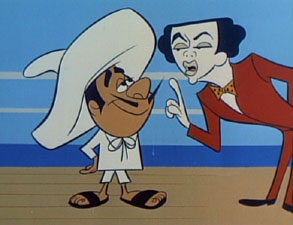 Still, even formula can be fun. Keeping in mind that these were only meant to be viewed one at a time, I can find some entertainment value in these cartoons. It's meager, but it's there. They definitely fall short of the Hanna-Barbera standard of that era, though the show isn't too far off from, say, Secret Squirrel (which H-B debuted a few years later). Dick Tracy, with its limited visual interest and uninteresting writing, could be considered similar to some non-HB shows of the early 1960's, such as King Features' Popeye, or Bob Kane's Courageous Cat. Like those shows, Dick Tracy is best appreciated in small doses. The animation is limited, and backgrounds are typically sparse. While the opening holds some promise, the design of the rest of the show is fairly uninteresting.
Dick Tracy recently celebrated its 75th anniversary as a property, having first appeared in newspapers on October 12, 1931. In conjunction with this occasion, Sony's Classic Media has released a four-disc set that contains all 130 episodes of the cartoon across four discs. Each disc has a Play All function, as well as the capability of selecting individual episodes. There are a couple of exclusions, however. The show originally included some teaser segments, but the loss of these is probably minor. Unfortunately, another segment known as "Dick Tracy's Crimestopper Tips" was initially shown between the cartoons but is also absent from the DVD set.
One nice thing that Classic Media did was to allow viewers the opportunity to skip past the opening of each cartoon using the "next chapter" button on the remote. Thank goodness! With each episode being only about five minutes, that opening (as nice as it is) could otherwise wear out its welcome.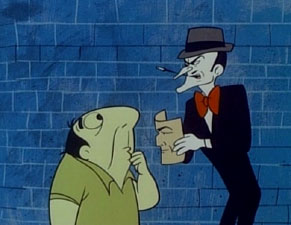 Incidentally, Dick Tracy would return to television with animated segments on Filmation's 1971 series Archie's TV Funnies. Those segments weren't too great either, but at least Dick got to do some of the work himself. It was rumored that film Roman was looking at the property a few years ago, and I would love to see a current animation studio try to do the comic strip justice. Imagine if Bruce Timm or Genddy Tartakovsky were to get a hold of Dick Tracy!!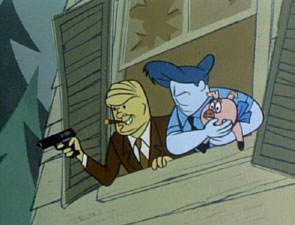 Is This Thing Loaded?
Sadly, no extras are included.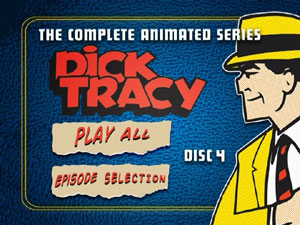 A little context about when the show was produced, or some commentary from comic strip historians would have been nice. Certainly former Tracy writer Max Allan Collins would have liked to do a commentary or interview, as he has appeared on other Dick Tracy DVDs. You just know that if BCI had done this set, there would have been a whole disc full of extras!
Case Study:
The Dick Tracy set uses a book-style case that is like a cross between the past couple of Justice League sets and Universal Legacy set cases. That is, it holds four discs, but has a hard cover to it with no slipcase. It makes for a bright, sturdy package, and includes some pretty artwork that looks better than what is found in the show itself.
A limited edition comic book was included in some copies, though not mine (even though I pre-ordered the set; maybe because I'm in Canada?).
Ink And Paint:
All things considered, these cartoons look pretty good on DVD. Grain is minimal, and most artefacts appear related to the show's original production. The prints are surprisingly clean, excepting for original cel dust and the like. Overall the show looks a tad bland, but it's tough to say whether that is from the source material or the transfer. I suspect that this is as good as the show has ever looked.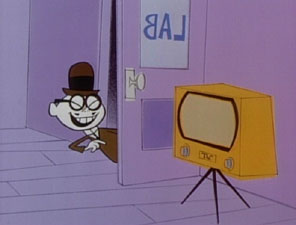 Scratch Tracks:
Now approaching the age of 50, this show cannot be expected to sound anywhere near as good as today's action cartoons. Nevertheless, the audio on this release is fine. There is no noticeable hiss, and no significant distortion.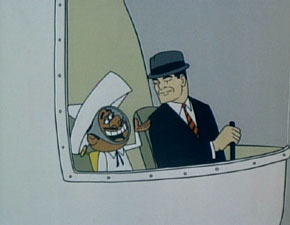 Final Cut:
This is a prized addition to my collection of comic strip adaptations, but the casual viewer would likely find these cartoons of weak interest. They are not particularly well-drawn, animated, designed, or written. They are a good representation of their era, when cartoons were primarily being done for kids, and mass production was far more important than quality. Fans of the comic strip will also find that the strip stands far apart (and above) the cartoon version, although the cartoon show is certainly a neat oddity in its own way. For those who simply wish to enjoy some classic Dick Tracy, I would recommend looking for examples of Chester Gould's original newspaper strip— particularly IDW's just-started full chronological reprinting. The cartoon show watered the strip down considerably (partly necessary for its kiddie audience), but worse it made Dick merely a supporting player. This DVD set is strictly for those with an interest in cartoon animation of the early 1960s, or for those who like to see how to not adapt a famous comic strip property.
Animated Classic or Back To The Drawing Board?