Filmation (1971), Classic Media/Genius (April 29, 2008), 3 discs, 628 mins plus supplements, 1.33:1 original full frame ratio, Dolby Digital 2.0 Mono, Not Rated, Retail: $29.95
Storyboard:
Archie's magical pal Sabrina uses witchcraft to help get through her teenage years, but it doesn't seem to make things any easier.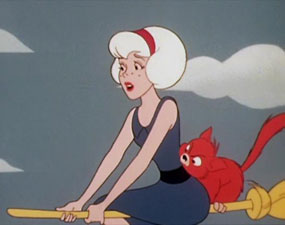 The Sweatbox Review:
With The Archie Show's success in its inaugural 1968 season, a cavalcade of spin-offs was initiated. Generally this meant new iterations of the comic book set-ups in various formats ranging from a half hour to one hour in length, over the next several years. Archie was, essentially, Filmation's Scooby-Doo franchise. The first spin-off was a 1969 special, called Archie And His New Pals, which first brought Sabrina The Teenage Witch into animation. (This special appeared on the Archie's Funhouse DVD.) The Archie Comedy Hour followed immediately after that, with repeats of The Archie Show mixed in with new segments like "The Funhouse," "The Side Show," and "Sabrina." This show was then split up in 1970 to produce the music & gag show Archie's Funhouse (initially an hour long, including more The Archie Show repeats), as well as Sabrina And The Groovie Goolies. This latter program used some of the Comedy Hour "Sabrina" segments, but added in a great deal of new material, much of it featuring Sabrina's cousins, the aforementioned Groovie Goolies. The segments devoted entirely to the Goolies, comic knock-offs of classic horror characters, were spun off into their own show in 1971; this show was released on a DVD set put out by BCI in 2006. Also in 1971, Sabrina was spun off into her own show, Sabrina, The Teenage Witch, and it is this version (which contained new and old material) that has now been released on DVD by Archie rights' licensor Classic Media.
Sabrina Spellman got her start in Archie comics, of course. Specifically, she first appeared in Archie's Mad House #22, in 1962, in a tale illustrated by classic Archie Comics artist Dan DeCarlo (the writer was George Gladir). A series of appearances in that title followed, as well as a back-up strip in Archie's TV Laughout, but she did not get her own comic book until 1971, when the cartoon series was already running. Giving her a cartoon show seemed like a good bet, with the already established popularity of the live action sitcom Bewitched. By this time, a supporting cast had been developed for Sabrina that went well beyond the usual Riverdale High gang of Archie and his friends. Sabrina lived with her two aunts, tall & skinny Hilda, and short & plump Zelda. Sabrina's boyfriend Harvey Kinkle, like her other mortal friends, was unaware of Sabrina's magical powers. Sabrina's cousin Ambrose was a warlock, who often aided Sabrina in her efforts to perform good deeds. Sabrina had a cat named Salem, who in the cartoon uses its own magical powers to zap rivals such as two dogs named Hot Dog, Jr. and Chili Dog. The cartoon show also has a few appearances by a caveman character named Ug, not to mention various creepy cousins of Sabrina.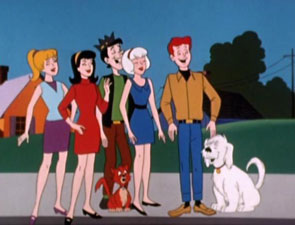 Filmation's Sabrina, The Teenage Witch carried a very similar feel to the other Archie cartoon programs. That is, the stories are pleasant, fun, and inconsequential. Watching this show is like eating a bag of popcorn— the nutritional value is so-so, but you quite enjoy it at the time. There is a sweet innocence present that is oh-so-true to the comic books. The 31 episodes present in this 3-disc DVD set carry two stories each, with Sabrina portrayed as a well-intentioned apprentice witch who tries to help her friends using her magic, but things never go as she intends. Her aunties disapprove of Sabrina trying to do good deeds, and this tendency also gets Sabrina into trouble with Della, The Head Witch, who often pops by to check up on the young witch.
The Riverdale High gang is all present and accounted for, with many stories seeing Sabrina's attempts to help them out, such as when she assists the school team to win at football/track/basketball, or when she tries to help Big Ethel finally catch Jughead. Locales include the school itself, as well as Pop's Chok'lit Shoppe. Two new additions are made to Riverdale High in the show, with Spencer and Ophelia, but they have too little personality to bear much mention. One old-time Archie stalwart, his nemesis Reggie, gets a special role on the show, as he is the only one who suspects that Sabrina is a witch. It's good fun to watch the gang dismiss the blowhard as being overly paranoid, when he is actually right!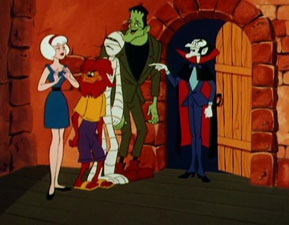 The Groovie Goolies start to appear in the seventh episode of Disc 2 (I'm assuming that most or all prior episodes originally were from The Archie Comedy Hour) in the story Rose-Colored Glasses, where Mr. Weatherby accidentally picks up magical glasses that Sabrina left on his desk. The Goolies have only a small role here, but they do get bigger roles in several of the Sabrina stories that follow, such as when the Goolies try attending Riverdale High, or when they meet the Archie gang at the beach. By the end of the third disc, however, Sabrina gets the episodes to herself once again. I was glad of this, as I find the Goolies grating in their silliness, and if I really want to see more of them, I can always check out their own DVD set.
Jane Webb provided the speaking voice for Sabrina in her show, just as she performed Betty and Veronica. Webb gave Sabrina a sweetness that really carried over the sympathetic qualities the writing was going for. This is a good-natured show that I shall enjoy sharing with my kids.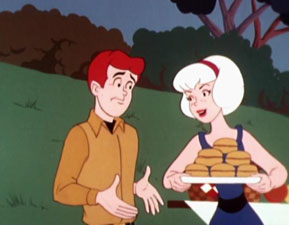 Is This Thing Loaded?
The best bonus feature is the first episode of Archie And Sabrina's Surprise Package (21:21). This show was a half-hour syndicated version of various Archie repeats, including newer half-hour stories made for 1977's The New Archie And Sabrina Hour. The episode included here is actually quite a fun one, with Reggie suspecting Sabrina of a prank at school. In his efforts to expose her, he actually witnesses conclusive evidence that he was right about her witch-y origins all along. While the opening for this show includes graphics from The New Archie And Sabrina Hour, including a new Hispanic character as well as Dilton's pet robot, those characters unfortunately do not appear in the story.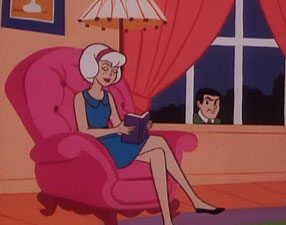 The only other extra on this set is, frankly, useless. The Art Gallery is basically clip art from the Sabrina series. Having just watched 31 episodes, what do I need with a few extra shots from the show?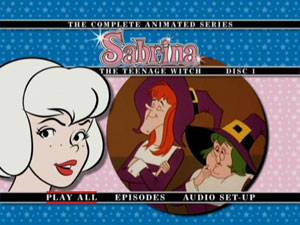 Case Study:
The packaging looks very similar to the design of the two previous Archie DVD sets, with the exception of the slipcover being paper rather than clear plastic. While this robs the set of some of the "cool" factor while on display, since the Sabrina set does not have the same type of "cel" appearance as the other sets, I have to admit that the digipack inside is now waaayy easier to remove. Unlike the Archie sets, the artwork done for Sabrina remains faithful to the show's own designs. The first two discs inside are overlapping, held extremely firmly by locks that must be released (which is great, at least once you figure out how to release the discs), with the third disc sitting in a tray by itself, opposite the other two. There is no insert in this set, nor any chapter listings on the packaging, which is unfortunate— particularly since even the episode menus only list episodes by the first story, with no mention of the second one.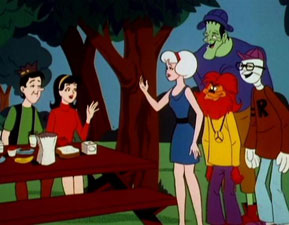 Ink And Paint:
The video presentation is on par with previous Archie sets. Likely, these transfers are PAL-sourced again, giving off the requisite noise and ghosting. Colors are not as vibrant as they could be, though the cartoons are still quite bright overall. A few episodes are fairly muddy looking, but overall most will find these discs quite watchable, particularly since the prints are at least mostly clean, with a few exceptions.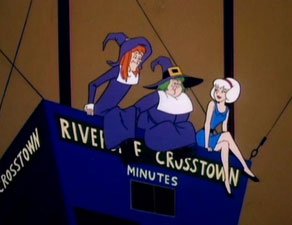 Scratch Tracks:
The two-channel mono, available in English or French, provides surprising "pop" at times, but generally comes off as plainly mediocre. No one would expect more, of course, and as such the audio is quite acceptable.
Final Cut:
This show was not groundbreaking, and its pleasures are simple ones, but one can do much worse in the nostalgia department than watching a little of Sabrina The Teenage Witch. It has standard 1970s limited Filmation animation, and the stories vary from cute to merely fluffy, yet one cannot help but take a shine to the show. I enjoyed the bonus episode, though it would have been great to also get an idea of Sabrina's history from this set. I think it can be said that anyone who liked the previous Archie DVD sets will likely appreciate the charms of this one.
Animated Classic or Back To The Drawing Board?