A Lee Mendelson-Bill Melendez Production (1983-85), Warner Archive (November 20, 2012), 2 discs, 402 mins, 4:3 ratio, Dolby Digital 1.0, Not Rated, Retail: $29.95
Storyboard:
The little round-headed kid and his dog, along with their friends, engage in a series of skits based on the beloved Peanuts comic strip in this Saturday morning classic.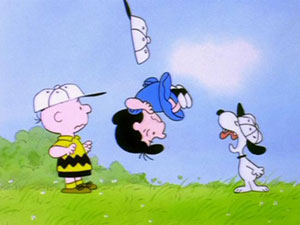 The Sweatbox Review:
At last Warner Bros. is getting back to its promise to serve collectors of the Charlie Brown TV shows. We are still waiting for multi-disc sets of the 1980s specials, but at least they are finally doing right by the 1980s TV show. A few episodes of the show have snuck out onto bargain DVDs the past couple of years, paired with vintage specials, but those were really useless to collectors, who for the most part had the specials already (only as couple of those discs had specials that were new to disc), and wanted more than just a sampling of the Saturday morning cartoon. We are well into the TV-on-DVD era now, folks— go big or go home, right?
After producing 25 TV specials, Lee Mendelson and Bill Melendez got an order from CBS to develop a regular series, to appear on Saturday mornings beginning in the fall of 1983. As was the case with the specials, the TV series was to be a blend of skits based on the newspaper strip, and all-new stories. The quality of the show was evidenced by its earning an Emmy nomination.
Over eighteen episodes broadcast over the course of two seasons (just five were original to the second season), the series presented Peanuts in a mostly distilled format of familiar archetypical skits. It's a pleasant show, if perhaps overly familiar, depending on so many tried-and-true shticks. Anyone who has seen a handful of specials or has read a few years of the strip will find the show comfortably recognizable to the point of being bland. However, those who truly love everything Peanuts will certainly find the show enjoyable enough.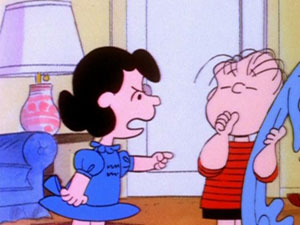 The skits run from a minute to just a few minutes (a little longer in the second season), and are generally given simple titles like Sally And Snoopy, Baseball, or Piano. The stories, such as they are, take place around the usual Peanuts settings: the ball game, school, Snoopy's doghouse, Lucy's psychiatric booth, etc. Name a Peanuts trope, and you'll likely find it here. It's like a travelogue of the newspaper strip, dropping in on stories we've seen told many times, with a steady succession of comments on the foibles of life. That's fine if you love those stories, but anyone looking for sustained plots will find this collection pretty spotty. Rather, it's a close reflection of the actual strip, meant to be enjoyed for a few moments before moving on to the next thing.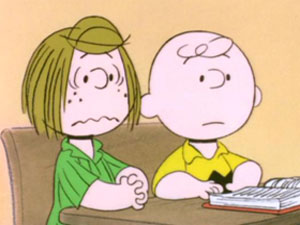 It may be easy to dismiss the shows as a simple series of skits, but as with anything Peanuts, never mix up "simple" and "simplistic." The humanity of these little stories is still remarkable, and one will find more insight on the human condition in a single episode than you will in a whole season of your average cartoon. The plots may be pretty slight, but it's like taking a vacation day to walk on the beach instead of rushing around a theme park. There are pleasures in simple observations, and in small stories; not every journey has to be full of adventure, and not every story worthwhile telling has to be full of plot. Many of the Peanuts TV specials were along the same lines. Just understand that the TV series is more like those anthology specials rather than the ones that contained sustained narratives.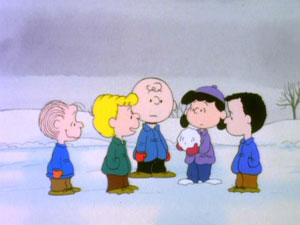 This is a Warner Archive release, so it will only be available online, but at least these well-regarded shows are finally being made available in a single set. For those who adore Peanuts, it's a fine way to dive into their universe.
Is This Thing Loaded?
No bonus features appear on these discs. The menus allow you to pick an individual episode. As the episodes never had titles, it appears that random titles have been given, which reflect the content of the episode if not a specific skit. Each skit does get its own chapter stop, which is nice, and goes way beyond what earlier Warner Archive discs offered.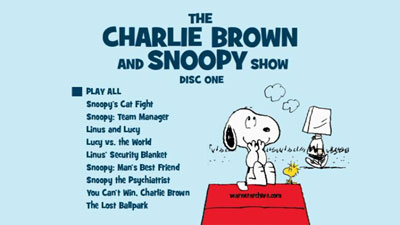 Case Study:
The series appears here on two DVD-R discs, inside a clear keepcase with a suitably restrained cover design. This is a standard-sized case, with a swinging tray for one of the discs. Disappointingly, the Warner Archive staff doesn't know how to spell creator Charles Schulz's name, as they've added a "t" to it. Good grief.
Ink And Paint:
No one would expect pristine video for this set, and expectations are met. That's not entirely a bad thing, as the shows are appropriately subdued in their colors, with a bit of grain showing the age of the material. The source materials are quite clean, and even though the transfers could be sharper, to me they look about like they should. A little restoration might have been nice, maybe just to remove the slight softness of the image and improve on the color consistency, but overall I'm pretty satisfied.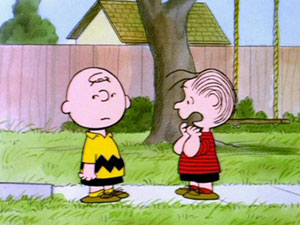 Scratch Tracks:
The modest sound on these discs is true to the material as well. The original mono track is all you need, and even if it's not a full-bodied sound, we wouldn't have it any other way. As a manufacture-on-demand disc, there are no other language tracks or subtitles.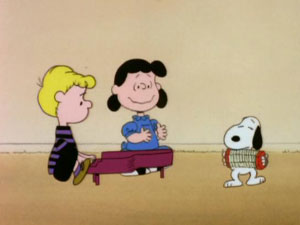 Final Cut:
There is no question that a Peanuts fan would find this series enjoyable. Anyone who has been charmed by Charlie Brown, Snoopy, Linus, Sally, Lucy, Schroeder, Pigpen, and all the rest will find the same qualities they love in the strip to be in evidence here. Gentle humor, angst, and profound thoughts wrapped in metaphysical musings are all on display here. There are no bonus features, but the video and audio are adequate. With dozens of charming little stories here, you can't go wrong with The Charlie Brown And Snoopy Show.
Animated Classic or Back To The Drawing Board?