Melendez/Mendelson Productions (2002), Warner Home Video (December 28, 2010), 1 disc, 25 mins plus supplements, 1.33:1 ratio, Dolby Digital 1.0, Not Rated, Retail: $14.98
Storyboard:
Charlie Brown and friends look at the romantic side of life.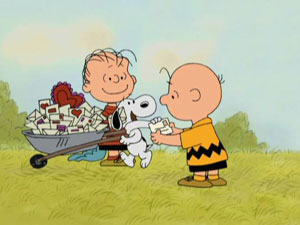 The Sweatbox Review:
(This portion of the review is just slightly modified from our review of the older Paramount disc.)
It can be difficult to compose a fair review of a relatively new Charlie Brown special. Most of us have grown up with all the classic ones, starting with A Charlie Brown Christmas, and remember these specials with the sweet fondness that only nostalgia can offer. Even seeing them again years later, one tends to feel the same appreciation for the specials that were adored during childhood. Viewing newer specials as an adult is a whole other experience— with a more critical eye towards story and animation, a more jaundiced world outlook that comes with age, and countless additional hours of cartoon viewing in the intervening years that have taken much of the edge off the novelty of seeing those funny drawings move.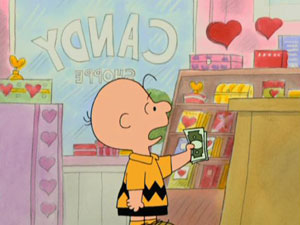 And so, I try to be fair; but as it turns out, the 2002 Valentine special that highlights this DVD isn't half-bad. In fact, it's pretty good. The voices are a little different, but actually surprisingly true to the originals. The animation is just okay, but let's be honest— the earliest Charlie Brown specials had worse animation. What matters with these TV shows is heart, and it is appropriate that this Valentine collection has plenty of it.
True, the Charlie Brown specials have a bittersweet ambience that isn't for everyone, but they are mostly appealing, due to the pen of Peanuts creator Charles Schulz. Schulz was always credited with writing the specials himself, using not just some of the gags from his comic strip but also healthy doses of its thoughtfully restrained brand of mirth. It can be tricky to explain the appeal of Schultz's stories, and yet I am a big fan of them. The uninitiated may not find a given daily Peanuts strip funny, but familiarity (in this case) breeds fondness and admiration. Schultz always managed to access the souls of his readers, whether by having them identify with the foibles of perennial loser Charlie Brown, or by engaging in surprisingly intellectual discourse about the nature of … well, everything— but especially the pangs of childhood. The comic strip, at its best, was a work of quiet genius that juxtaposed simple imagery with profound thought. And man, you just had to feel for that round-headed kid!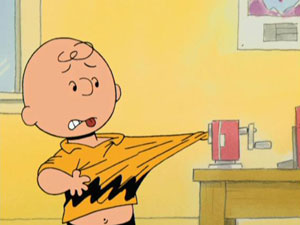 A Charlie Brown Valentine was first was shown in 2002, two years after Schulz's death. It was handled by the men who worked on most of the Peanuts specials, executive producer Lee Mendelson, and producer/director Bill Melendez. As with all the newer specials yet to come, Schulz is still given credit for writing, as the stories and dialog are based directly on the 50-year catalog of newspaper strips (this was a concession worked out with the Schulz estate, as Schulz himself reportedly preferred no more specials made after he died).
As such, it covers some familiar territory, especially since there was an earlier Charlie Brown Valentine special in 1975 (Be My Valentine, Charlie Brown). Charlie Brown is again pining over the Little Red-Haired Girl while failing to find the courage to act on his feelings; Linus tries his best to help, but does not succeed quite how Charlie Brown would like; Charlie Brown consults Lucy at her psychiatric booth; Snoopy's romance writing is getting critiqued by Lucy and Sally; Peppermint Patty discusses Valentines with the oblivious Charlie Brown; Sally pursues Linus; Lucy asks Schroeder how big her Valentine will be; and Marcy also discovers just how thick "Charles" can be; we end with a Valentine's dance… and that's not all, either. As you can tell, this is quite an episodic show that regurgitates what we have seen in previous specials (and obviously the comic strip).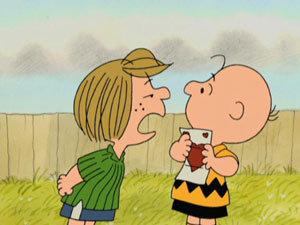 However, taken on its own, it is quite an enjoyable little show. Those looking for a larger story will not find one, but the charm of the strip is definitely there. There are many little quips that are pure, classic Schulz, and the characters stay true to previous appearances. (One exception is the re-designed Little Red-Haired Girl, who now looks more like the other cast members, rather than the overly pretty version that appeared in 1977's It's Your First Kiss Charlie Brown, where she was also not designed by Schulz.) This new special may not have been "necessary", given the existence of the earlier Valentine's special, but I find it cute, funny, and warm. It's also one of those stories where we see that Charlie Brown is really more popular than almost anyone in the cast realizes, giving hope to losers everywhere.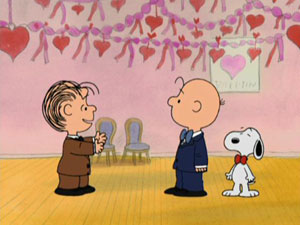 Is This Thing Loaded?
The Paramount release of A Charlie Brown Valentine (back in 2004) included two extra specials, while this Warner Home Video release includes just one. The one that has been dropped is There's No Time For Love, Charlie Brown, which did appear on Warner's Peanuts 1970s Collection Volume One from June 2010, so it's not really a huge loss here.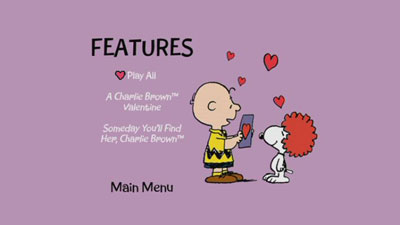 Someday You'll Find Her, Charlie Brown comes from 1981, and this represents its first release from Warner, though it did appear on that old Paramount disc. It has a more linear story than the headlining special, as well as a smaller cast. Because of this, I also found it more rewarding to watch. Charlie Brown falls in love instantly with a girl he sees on television, and enlists an incredulous Linus to help him track her down. They then embark on an odyssey to find this girl, taking them far from home. There are naturally a few missteps along the way, and by the end Linus and Charlie Brown will have had their friendship severely tested. The only other happenings in this episode involve some humorous shenanigans with Snoopy and Woodstock, but otherwise this must be one of the most tightly plotted Peanuts specials out there, with a strong narrative that is evident right from the opening moment of the show. Perhaps it has to do with the directing of Phil Roman, who also manages to treat us to a more abstract sequence covered by a song sung by Judy Munsen.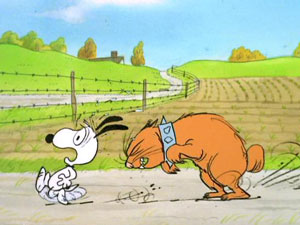 There is also a Trailer for the Warner Premiere release Happiness Is A Warm Blanket, Charlie Brown, a product I look forward to reviewing.
Case Study:
This vanilla release comes in a standard eco keepcase, with no insert, and no cover slip.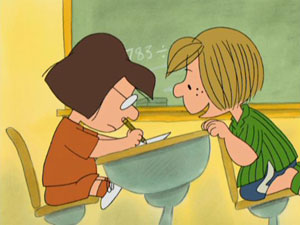 Ink And Paint:
It appears that Warner used the exact same transfer that Paramount did, right down to the tiny sliver of black at the right of the frame (which I cropped off for these screenshots). For the most part, this is fine. The newness of the special, which utilized modern animation techniques, nearly guarantees an image free of any physical artifacts. Colors are bright and stable, though outlines do sometimes show a bit of jaggedness. The situation, though, is worse on the second special, which is more obviously not remastered. Here, colors are a little more faded in some scenes, there is some dirt, and outlines are even less stable. Compared to the remastered specials that we have been seeing from Warner, the picture on Someday You'll Find Her, Charlie Brown just looks, well, yucky.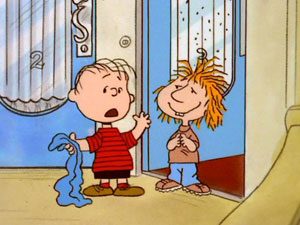 Scratch Tracks:
The stereo track is bright and lively, nicely bringing the special's music to life, and adeptly handling the dialog as well. One of the most popular aspects of the Peanuts specials has always been the music. Fans will be happy to know that the music in this special is still that of Vince Guaraldi, although here it is arranged and performed by David Benoit. The soundtrack is charming and gentle, perfectly underscoring the sweet melancholy of the happenings, although its continuous use makes it occasionally obtrusive.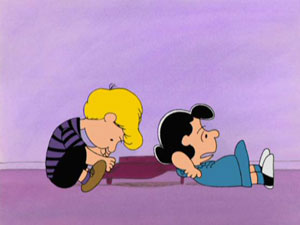 The one area that this Warner disc bests the Paramount one is in the languages department. Aside from the English stereo track, there are also tracks available in Spanish, Japanese, and Portuguese. Subtitles are available in English, French, Japanese, Spanish, Portuguese, and Thai.
Final Cut:
This is a pretty slight release, with less than an hour of content, even including the one trailer on the disc. Anyone with the older Paramount disc gains nothing but language options, but those who are new to these specials can certainly find some enjoyment from this disc if bought on the cheap. Personally, I'm looking forward to seeing these remastered and included in future decade-by-decade sets, if Warner hasn't abandoned that plan yet.
Animated Classic or Back To The Drawing Board?