Melendez/Mendelson Productions (1975), Warner Home Video (January 15, 2008), 1 disc, 25 mins plus supplements, 1.33:1 original full frame ratio, Dolby Digital 1.0 Mono, Not Rated, Retail: $19.98
Storyboard:
The round-headed kid from Peanuts sees his Valentine's dreams dashed, watches the Little Red-Haired Girl get away, and then inexplicably finds himself escorting her at the homecoming dance.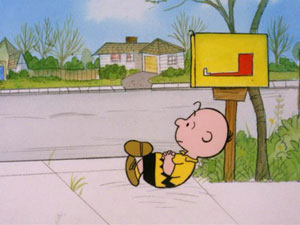 The Sweatbox Review:
The handling of the Peanuts animation property by Paramount Home Video from 1994 to 2007 might be described as apathetic. While I'm sure they had some pride in distributing the many cartoon specials, they really never did much with them. Of the over 40 specials produced, fewer than half made it to DVD, and the ones that did got pretty bare-bones releases. Their releases petered out altogether in 2004, except for the release of a couple of the theatrical Peanuts movies and the This Is America, Charlie Brown miniseries. There was sadly nothing special about Charlie Brown on DVD; the little guy, just as in the comic strip, couldn't seem to get much respect. This looks to be changing now, with Warner Home Video taking over DVD distribution of the Peanuts specials. The initial press release in Fall 2007 promised that WHV would treat the beloved specials right, issuing a select few in deluxe editions, with many more to be included in multi-disc sets. As a long-time Peanuts fan (who isn't?), I have been looking forward to seeing what Warner would do with their Charlie Brown DVDs.
The first of their efforts is now out, and so far it's a modest improvement on what Paramount did. Be My Valentine, Charlie Brown was released previously by Paramount in a very similar presentation, including the same two "bonus" specials as extra features. The packaging is a touch nicer, and there is a featurette added, but otherwise it's much the same disc. Of course, it starts with the 1975 Emmy-nominated special Be My Valentine, Charlie Brown. Charlie Brown, as so often seen in the comic strip, plants himself by his mailbox, torturing himself with the futile anticipation of Valentines being delivered to him. Snoopy plays Cupid, sending out an array of arrows, which naturally have trouble finding Charlie Brown. It's a cute opening before getting to the heart of the story, which is actually fairly episodic, as many of the specials were. There are two main plot points, however— that of Charlie Brown's hoping for Valentines at school, as well as a parallel story of Linus pining after his teacher, Miss Othmar. While Charlie's Valentine wishes come off as a little sad, Linus' enthusiasm over Miss Othmar speaks volumes about his own character. Linus is so smitten with his teacher, that even being asked by her to pound chalk brushes is a great victory.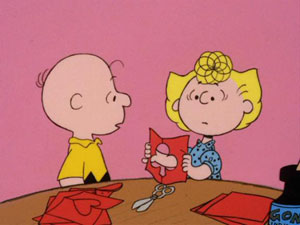 Meanwhile, the viewer is shown vignettes of standard Peanuts set-ups, such as Lucy with Schroeder at his piano, or special bits like Lucy enjoying a "paw-pet" show being put on by Snoopy (though decidedly not enjoying the puppet show's special environmental effects). The story constantly returns, though, to the plights of Charlie Brown and Linus, each of whom has a day of reckoning during the classroom's Valentine festivities. Linus has bought a large box of chocolates (which Sally of course mistakes for being meant for her), but he looks to be taught a hard lesson in love. And as you no doubt guessed, Charlie Brown's hopes for a briefcase full of Valentines are doomed from the start. In the end, though, he enjoys a small victory and gets a boost of self-esteem. It's a pleasant little special, with an appealing story. Scripts for the TV specials were always done by Peanuts creator Charles Schulz, ensuring their authenticity, and this one certainly captures a fair amount of the pathos and poignancy seen in the strip, as well as the humor.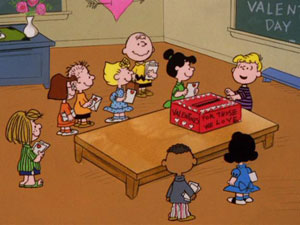 It should be added that this is also the best-looking special on this disc. The characters remain extremely on-model, so much so that I was quite taken by just how well these characters could be adapted to animation when done properly. Director Phil Roman and his crew made this one of the nicest-looking adaptations in the Peanuts oeuvre.
Is This Thing Loaded?
Moving right along, we find two more TV specials on this disc, which the packaging describes as being part of the "Special Features" section, though they do go along with the main feature if you select the "Play All" option from the menus.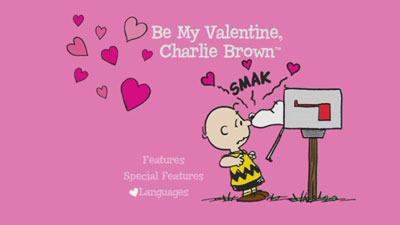 You're in Love, Charlie Brown, a 1967 special directed by Bill Melendez, proves that the older ones were not always the best ones. Though less episodic than the 1975 special, this one feels lesser in many respects. With the focus kept largely on Charlie Brown's longing for The Little Red-Haired Girl (LRHG), there is less going on to hold the viewer's interest for 25 minutes. Very little really happens, except for Charlie' continually failing to get up the nerve to speak to the LRHG before the school year ends. It's cute, and we do get a hopeful ending for the lovable loser, but overall this special is fairly mediocre. It doesn't help that the characters are consistently off-model (even allowing for the different era of the strip this was emulating), and the transfer leaves much to be desired (see video comments below). A comedic highlight is Peppermint Patty's misguided attempt to help ol' "Chuck" meet his dream girl.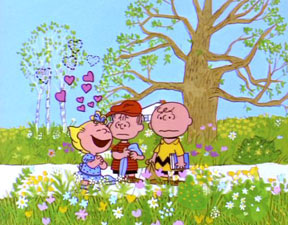 It's Your First Kiss, Charlie Brown is another Roman-directed effort, this time from 1977. Something about this one feels "off," with its story of Charlie Brown and the gang playing in a football game, as Charlie ponders his escorting the LRHG at the Homecoming dance. (Aren't these kids a little young for that?) Naturally, Charlie Brown is the team's place-kicker, and naturally Lucy continually pulls the ball away from him whenever he attempts a kick, frustrating the viewer to no end—- particularly since the rest of the team keeps blaming Charlie Brown for the missed kicks. It's not a bad little story, but by the time we get to Charlie's big moment at the dance, it all feels like a dream story, and even the ending almost suggests this. Charlie Brown wakes up after kissing the LRHG at the dance, but Linus assures him that it all happened, even though Charlie can't remember anything afterwards, as if he has a hangover. This special made me feel kind of the same.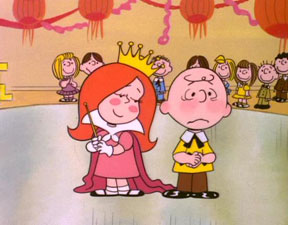 In order to make this disc more special, Warner has produced a brand-new featurette called Unlucky In Love: An Unrequited Love Story, running about 15 minutes. Interview subjects include Charles Schulz's wife and son, as well as Lee Mendelson (producer of the cartoons) and director Phil Roman. Their reminiscing provides a number of neat bits of information about the specials, with the added bonus of seeing the inspiration for the Little Red-Haired Girl, as well as real letters sent to United Feature Syndicate to Charlie Brown after Be My Valentine, Charlie Brown first aired. Cute! Though the scope of this featurette was limited to the love theme, it does look promising for future sets of the Peanuts cartoons, where I expect to learn even more about the production of the various specials.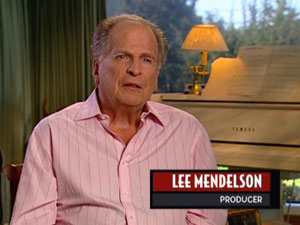 Trailers on this disc include those for The Smurfs (a new one, finally reflecting the correct "Season One, Volume One" image) and Dr. Seuss' Horton Hears A Who: Deluxe Edition (which also includes the other non-Grinch Seuss adaptations Warner owns: Horton Hatches The Egg, The Butter Battle Book, and Daisy Head Maisie).
Case Study:
Standard keepcase, no insert, but we do get… a shiny embossed slipcover! Warner is obviously going for a color scheme that will make these new releases stand out, with the cover being dominated by a deep red, contrasted with clashing, shiny pink. It's either a bold choice, or gaudy as heck. But I think I like it.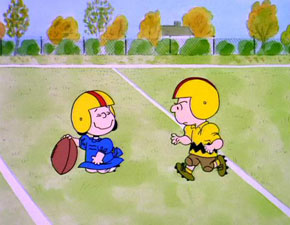 Ink And Paint:
Be My Valentine, Charlie Brown looks the best of the specials by far, befitting its headliner status. The image is remarkably (but not totally) free of dust and smudges, and mostly free of grain, while colors pop, and tones seem spot-on. You're in Love, Charlie Brown looks certainly worse, with some video noise, more grain and physical artifacts, and flesh tones that vary from pink to orange. I also thought I spotted some yucky DVNR effects, with lines that mysteriously faded in and out of existence with character movement. It's Your First Kiss, Charlie Brown lies in the middle, looking quite good but not as eye-popping as the first special on the disc.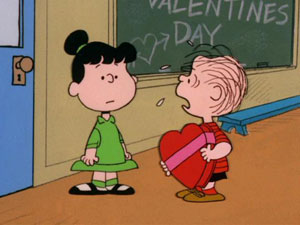 Scratch Tracks:
The mono sound is just fine on all of the specials, but certainly nothing to get excited about. The most interesting thing to note in this section is that Warner has used an edited version of It's Your First Kiss, Charlie Brown. According to the great resource site The Peanuts Animation And Video Page, following this special's initial broadcast, the producers decided to edit out a couple of lines from Peppermint Patty. Her harsh admonishments of Charlie Brown after missed kicks were replaced by quieter, backwards versions of the original lines. It's quite noticeable when you hear it, such that I thought there had been a screw-up on the disc. Apparently, the original lines are intact on the Spanish track, though naturally in Spanish.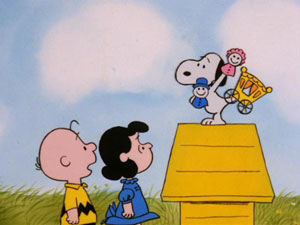 As mentioned, there is a Spanish audio track, and English and Spanish subtitles. (The previous edition had no Spanish audio or subs.)
Final Cut:
If you don't have these specials yet, and you're a Charlie Brown fan, then a purchase is a given. If you have the previous Paramount edition, then the need to upgrade hinges on your interest in the 15-minute featurette. In a way, it's nice that Warner mirrored the previous edition, but in order to really make this a "deluxe" set, it would have been nice to see more, like perhaps a second helping of love-themed specials (Paramount had a second Valentine's disc that came out separately, for example). Nevertheless, I am looking forward to seeing what else Warner has coming up in the Peanuts series, aside from rehashing a competitor's discs. Though I did like the featurette included on this one, I do look forward to collecting programs that I don't already own.
Animated Classic or Back To The Drawing Board?