Melendez/Mendelson Productions (1973), Warner Home Video (October 7, 2008), 1 disc, 25 mins plus supplements, 1.33:1 original full frame ratio, Dolby Digital 1.0 Mono, Not Rated, Retail: $19.98
Storyboard:
Charlie Brown is forced into preparing a Thanksgiving meal for his friends, who all learn the true meaning of the holiday.
The Sweatbox Review:
With nine Peanuts specials already completed, including the Christmas and Halloween ones, it was decided that the tenth one would revisit the realm of holidays in 1973. Producers Lee Mendelson and Bill Melendez knew that they would have to do a Thanksgiving special at some point, in order to help fill out the holiday season properly. Up until then, the specials had always been largely based on sequences from the comic strip, but for this one creator Charles Schulz wrote an original story. Certainly, he was successful, as the script won an Emmy Award for Outstanding Individual Achievement in Children's Programming.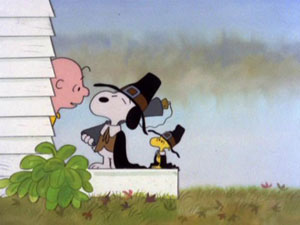 With a singular idea in mind for the special, Schulz did indeed turn in a tight script that, with a few whimsical and comical asides, told the story of Charlie Brown's attempt to serve a Thanksgiving meal to his friends. In the story, he is somewhat forced into playing host when Peppermint Patty invites herself to his home for a holiday supper. Before Charlie Brown can explain that he won't even be home, since his family is going to his grandmother's house, Patty proceeds to invite Marcy and Franklin to "the big turkey party." Charlie Brown and his sister Sally had already been fretting about the arrival of yet another holiday, seeing as how Sally hadn't even finished off her Halloween candy yet. Now, the added anxiety of the Thanksgiving dinner is almost too much to bear.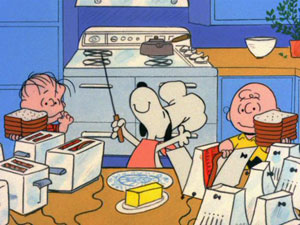 Fortunately, always-steady Linus is there to calm down Charlie Brown and offer a solution. As the Browns will not be leaving until the late afternoon, there will be time to prepare a simple meal for Charlie's friends and to serve it before he has to go out. Linus enlists Snoopy to help, and they all together fix up a feast sure to please any eight-year old— or so they think. As it turns out, a meal of toast, popcorn, and candy doesn't quite cut it, certainly not for Peppermint Patty, who lets Chuck know of her displeasure. Charlie Brown feels devastated that his friends didn't get a proper meal, but several people come to the rescue. Linus and Marcy offer typically good advice, and a last-minute intervention by Grandma Brown salvages the day. Thanksgiving appears to end on a high note after all, with the gang singing together and enjoying each other's company, thankful that they have one another. It's a simple story, but an effective one.
Phil Roman assisted Bill Melendez in directing this special. The main story is inter-cut with scenes of Snoopy fighting a lawn chair and preparing the table, and Snoopy and Woodstock dressing as pilgrims (in a scene cut from some re-broadcasts but seen in full here). Linus, as usual, gets to sound the most erudite as he tells the story of the first Thanksgiving. The special hits all the right notes and leaves you feeling warm and happy. It was another ratings winner for CBS in 1973, and like so many other of the Peanuts specials, it has become a classic enjoyed by generations of fans.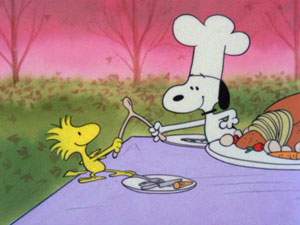 Is This Thing Loaded?
The disc actually starts with promos for the Peanuts holiday DVDs, Jack Frost, and a Scooby-Doo interactive DVD game. More Trailers may be found from the menu, including Scooby-Doo And The Goblin King, Fred Claus, Looney Tunes Golden Collection Volume 6, Popeye The Sailor Volume 2, and The Smurfs: Season One, Volume Two.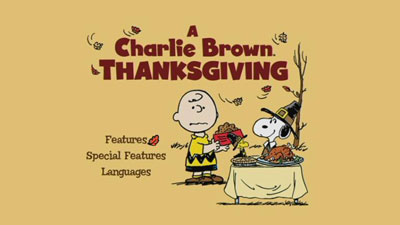 Mirroring the previous Paramount release, this disc also has the same special added as a bonus feature. In this case, it was actually part of the This Is America, Charlie Brown, miniseries, an episode entitled The Mayflower Voyages. The idea of this miniseries was to place the Peanuts kids in historical settings, in order to teach history. This was one of the more effective entries, discussing some of the hard truths of the difficulties the pilgrims faced leading up to the momentous first Thanksgiving supper. This is actually this show's third trip to DVD, as Paramount had it not only on their A Charlie Brown Thanksgiving disc, but also on a two-disc set of the miniseries (which is itself recommended).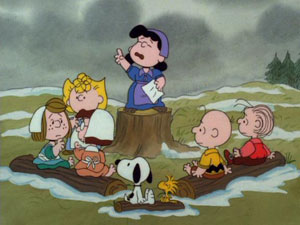 Popcorn And Jellybeans: Making A Thanksgiving Classic (12:27) again gathers all the usual participants (Mendelson & Melendez, Jeannie Schulz, Phil Roman, etc.) to discuss the making of the Thanksgiving special. Several voice actors also appear this time around, as several of the characters were newly cast for this special. (Peppermint Patty even got a boy's voice this time around!) Though this wasn't the first time the "Mwa-Mwa-Mwa" adult voices are heard, the featurette does discuss how Vince Guaraldi came up with the idea for using a trombone to take the place of the off-screen adults' lines. Finally, the participants address the oddness of Snoopy and Woodstock— a bird, obviously— eating turkey at the end of the special.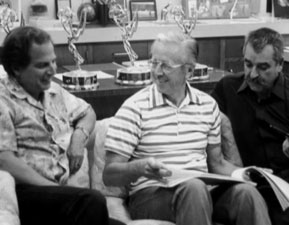 Case Study:
Standard keepcase, with a bright & shiny, foil embossed slip-sleeve. Inside is advertising insert, with instructions for downloading two Guaraldi tunes from Concorde music group. This DVD is also part of the Peanuts Deluxe Holiday Collection. In this set, which also has the Halloween and Christmas DVDs, there are no foil slip-sleeves, but all three discs get the same cases otherwise and are packaged together in a foil embossed slipcase instead.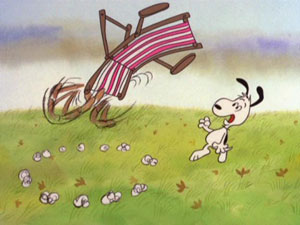 Ink And Paint:
This is my first disappointment with the new Warner line of Peanuts DVDs. The video on the Thanksgiving special does not look as remastered as previous ones did. I don't wish to overstate things, as the special is still quite watchable, but there is a layer of grain here that was not as noticeable as on prior releases. Probably it doesn't help that the backgrounds in this special are rather undistinguished and even gloomy at times, but all the elements of the frame just have a tendency to blur together in this presentation. The foreground characters don't seem terribly distinct from the backgrounds. I can appreciate that compression work here is above par, and the source material has no more than the expected number of blemishes, but this is really a drab looking show. The added This Is America special is marginally better.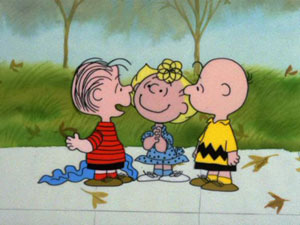 Scratch Tracks:
The mono sound is adequate if not inspiring, though it's always a pleasure to hear the music of Vince Guaraldi. Guaraldi provided another vocal performance for this special, the song Little Birdie. It is also worth noting that the original cast no longer appears at this point. For example, Charlie Brown is no longer Peter Robbins, but is instead played by Todd Barbee. Spanish, Portuguese, and Japanese language tracks are also included, as well as subtitles in English, Spanish, Portuguese, Chinese, Japanese, and Korean.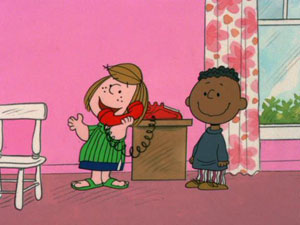 Final Cut:
The story here might be a little slighter than in some of the other shows, but the message is just as warm as ever. Undoubtedly, this is yet another must-own Peanuts animated classic. The video in this release seems to fall short of prior standards, but the rest of the package is certainly as good as what we've come to expect from these Warner releases. The video takes only a little away from the overall score, and one cannot weigh this minor consideration too heavily. This DVD is still recommended to lovers of Charlie Brown.
Animated Classic or Back To The Drawing Board?