Melendez/Mendelson Productions (1965), Warner Home Video (October 7, 2008), 1 disc, 25 mins plus supplements, 1.33:1 original full frame ratio, Dolby Digital 1.0 Mono, Not Rated, Retail: $19.98
Storyboard:
The very first Peanuts special sees Charlie Brown dejected at the commercialization of Christmas, but his friends still manage to help him discover the true meaning of Christmas.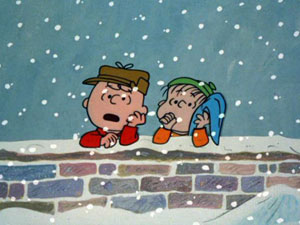 The Sweatbox Review:
It's a little odd to be writing this review at the tail end of reviewing several Peanuts specials. The Christmas one was the very first, back in 1965. It was so successful in establishing a template for future specials that dozens more followed over the next few decades. There was magic right from the start. And, though you'd never know it from watching this DVD, the magic started a couple of years earlier when a documentary producer named Lee Mendelson decided to pursue a professional relationship with Charles Schulz.
Mendelson had done a well-received documentary on Willie Mays, and decided to stick with baseball for his next subject; but this time, he wanted to profile the worst player in the world, Charlie Brown. Schulz lived not far from Mendelson in the bay area of California, and Schulz had himself seen and enjoyed the Mays documentary. This started the Schulz documentary project on the right foot, and then two more men fatefully became involved. Veteran animator Bill Melendez had already been handling the Peanuts characters for a series of Ford commercials, so it was only natural that he be enlisted to provide animation for the documentary. After all, he had already done animation designs for the characters, figured out their walk cycles, and so forth. The last piece of the puzzle was Bay jazz pianist and composer Vince Guaraldi, whose music would provide the perfect accent to the struggle between the joyful and the melancholy in the strip. The resulting documentary was A Boy Named Charlie Brown. It was one of the most important things to ever happen to Charles Schulz and Peanuts— and yet it never aired. No network ever agreed to play it, until it was re-edited and re-formed years later. However, it did get these four men together, which prepared them for a very important phone call in 1965.
Mendelson may not have sold his documentary, but it still attracted plenty of attention while he shopped it around. Coca-Cola became interested in partnering with Mendelson for a TV special, if Mendelson thought he had a Christmas special ready to go. Mendelson said he did, thinking there'd be plenty of time to come up with something. As it turned out, he was only given a few days, which led to what was probably a calm (on the outside) and desperate (on the inside) phone call to Charles Schulz. Melendez proudly informed Schulz that he had just likely sold A Charlie Brown Christmas. When Schulz asked what that was, Mendelson told him that it was what Schulz was going to write over the weekend.
Schulz did the script, while Mendelson and Melendez also helped to shape the planned special. This was new to all of them. After all, the very first animated Christmas special had just been done in 1962, when Mr. Magoo played Ebenezer Scrooge in his own special. They all had to learn the fundamentals of making an animated TV special— pacing, music, and a balance between gags and story. AND, of course, they had to capture the essence of a world-famous comic strip. The fact that they had all worked on A Boy Named Charlie Brown was a big advantage, but there was still much to be worked out.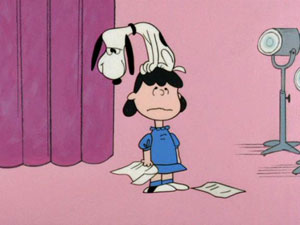 Schulz came up with a story that seemed promising, at least until the details were getting worked out. Charlie Brown, despondent that he feels only depressed during the Christmas season, confides with Linus that he doesn't seem to understand Christmas. This strains even Linus' normally understanding nature, and Charlie gets passed on to Linus' sister Lucy, who is operating a psychiatric booth. Unusually, she actually gives Charlie Brown good advice, and even an opportunity. She invites him to direct the gang's Christmas play, the idea being that this will help him to feel more a part of things this season. This perks Charlie Brown up, but there are still things he sees that bother him. Even his dog Snoopy has fallen in with the commercialization of the holiday, as Snoopy has entered a home decorating contest that has a cash prize. Plus, his sister Sally shows only greed while Charlie helps her to write a letter to Santa. Nevertheless, Charlie Brown looks forward to directing the Christmas play.
The same cannot be said for the rest of the gang, who show a definite lack of enthusiasm when Lucy reveals their new director. Charlie Brown has difficulty getting cooperation, and finally Lucy sends him on an errand to buy a tree with Linus in order to provide inspiration to the players. This naturally goes wrong too, as the gang feels the little tree Charlie Brown chose is too plain and small and ordinary. Linus intervenes by quoting the Bible story of Jesus' birth, and suddenly everything is placed into perspective. Somewhat heartened, Charlie Brown heads out into the night with his tree. With Linus' words echoing in his head and heart, he becomes determined to not let commercialism wreck Christmas for him. Unfortunately, he has to endure just one more heartbreak, but then his friends manage to find the Christmas spirit and bring a smile to Charlie's face. Cue spine tingle.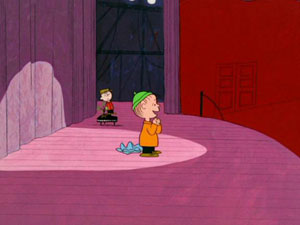 You know, I think that I appreciate this special more every year. As much as it looks like a kids' special, the message is probably even stronger for adults, particularly those with kids of their own. As society becomes ever more secular, the message of A Charlie Brown Christmas becomes more important. After so many showings of this special over the years, it is amazing to consider that its moral seemed so revolutionary in its day. Many involved felt that they had maybe gone too far in using biblical text in the show, not to mention criticizing modern society and reminding everyone that the holiday was really about the birth of the son of God. Fortunately, Charles Schulz insisted. Oddly, Schulz always claimed that he was never preachy in his strip, but the Christian viewpoint comes out loud and clear in both the strip and this Christmas special. And really, where would that be more appropriate than here?
Aside from the classic story that we all remember, I'm amazed every year to be reminded just how deceptively great the animation is (look at Snoopy gliding on the ice in an early scene), and how many funny lines there are throughout. The good humor provides a nice counterbalance to what is otherwise a melancholy story, while suggesting the promise of a happy ending. And of course, the music is just gorgeous. I bought a soundtrack CD for this special a couple of years ago, and the music holds up excellently on its own.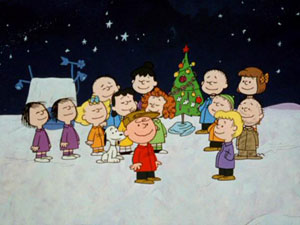 With a balanced script that evokes laughter as easily as pathos, splendid animation, charming voice performances, and superb music, A Charlie Brown Christmas is a classic all the way.
Is This Thing Loaded?
The disc actually starts with promos for the Peanuts holiday DVDs, Jack Frost, and a Scooby-Doo interactive DVD game. More Trailers may be found from the menu, including Scooby-Doo And The Goblin King, Fred Claus, Looney Tunes Golden Collection Volume 6, Popeye The Sailor Volume 2, and The Smurfs: Season One, Volume Two.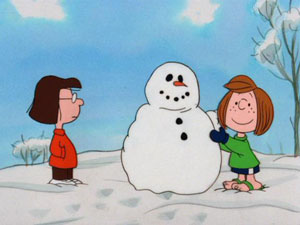 Warner placed another special on this disc, the same one that Paramount chose with their A Charlie Brown Christmas disc. (There were actually a total of four Peanuts Christmas specials produced over the years, though one ran shorter than most; on the other hand, one was an hour.) It's Christmastime Again, Charlie Brown , which appears on this disc, was broadcast in 1992, about two months after being released as an exclusive promotional videotape at Shell gas stations. This special is the epitome of the "episodic" specials that Charlie Brown sometimes got. It includes various ruminations on the Christmas season, obviously directly adapted from the daily strip. Among the many mini-plots are Charlie Brown trying to sell Christmas wreaths door to door, and planning to buy gloves for Peggy Jean, a girl he met at camp that summer. Taken as essentially replacing the reading of the strips from the newspaper, it's quite enjoyable; just don't expect a full story.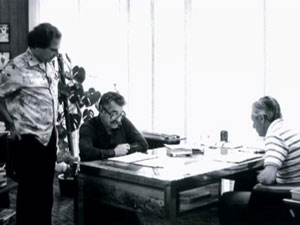 A Christmas Miracle: The Making Of A Charlie Brown Christmas (15:57) is the requisite "Making of" featurette, following in the footsteps of the previous ones found on the Warner-produced discs. While this featurette is a keeper, it is not as rewarding as the "Making of" that aired in 2001 on ABC along with the actual special. The earlier featurette was also included (rather oddly) in the Paramount DVD of I Want A Dog For Christmas, Charlie Brown. The newer version, while it does have some nice interview footage with Mendelson and Melendez, as well as Jeannie Schulz and others, totally ignores the tremendously important role of the A Boy Named Charlie Brown documentary in gathering the team that went on to do the Christmas special. It also barely acknowledges the early TV commercials, whereas the original featurette covered these things quite satisfactorily.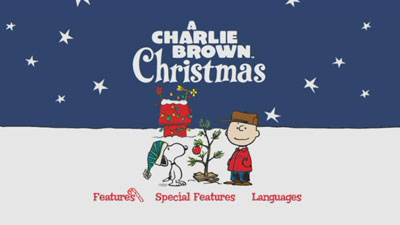 In the Peanuts Holiday Collection box set, this title comes with a second disc that is a soundtrack CD for the special. Six tracks are featured, including Linus And Lucy, but the memorable opening song Christmas Time Is Here is ironically NOT here.
Case Study:
Standard keepcase, with a bright & shiny, foil embossed slip-sleeve. Inside is an advertising insert, with instructions for downloading two Guaraldi tunes from Concorde Music Group. This DVD is also part of the Peanuts Deluxe Holiday Collection. In this set, which also has the Halloween and Thanksgiving DVDs, there are no foil slip-sleeves, but all three discs get the same cases otherwise and are packaged together in a foil embossed slipcase instead. In the box set, the Christmas DVD case has a tray for another disc (actually, the main case holds the music CD, while the tray holds the DVD itself).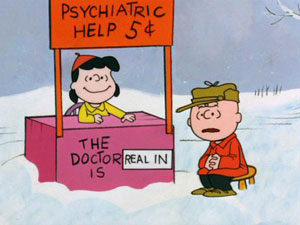 Ink And Paint:
After the disappointment of the video quality in A Charlie brown Thanksgiving, I was braced for another letdown. Fortunately, that was unnecessary, as A Charlie Brown Christmas looks wonderful. It verges on looking brand-new, except for telltale signs that it was cel-animated. But even then, the amount of cel dust is relatively small, and the source material is nearly immaculate. I shouldn't oversell it, I suppose, as this is still an old TV special, with a bit of grain and sometimes too-pink faces; but the picture here is sharp and bright, and A Charlie Brown Christmas has certainly never looked better.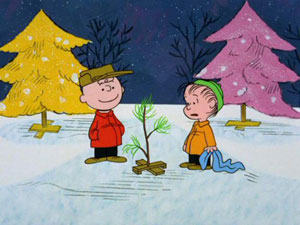 Scratch Tracks:
This was the first time that most people would hear Vince Guaraldi's Peanuts music, including what has become the Peanuts "theme," Linus And Lucy. And it sounds just great here on DVD. I have a remastered CD soundtrack, and to my ears it's no better than what is found here. Listening to this music is just bliss, and brings me back to my childhood. All of the other noises (voices and sound effects) are just fine too, of course. And if the line deliveries sound a little amateurish, there's a reason. Only two of the child actors were professionals, and no adults were allowed to voice the kids. It was a revolutionary idea at the time, but now it's hard to imagine them ever doing it any other way. What studio executives thought sounded amateurish comes off as sincere and genuine to me.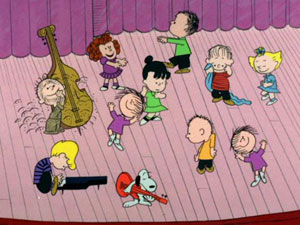 Spanish, Portuguese, and Japanese language tracks are also included, as well as subtitles in English, Spanish, Portuguese, Chinese, Japanese, and Korean.
Final Cut:
It would be nice to get more special features, notably some production artwork or an audio commentary, on the Warner Peanuts discs, but overall they are putting out a consistently good line of products. It's very nice to have A Charlie Brown Christmas with such pristine audio and video, and the featurette is good if not perfect. The added special is a nice bonus, but the extras here are beside the point. This TV special was the very first Peanuts special, and given that it was a smashing success, the creative people involved never bettered it. Amazingly, they still managed to do dozens of specials that often came close; but there is just something about a Christmas special that gives it an advantage over anything else. And this is certainly one of the greatest ever.
Animated Classic or Back To The Drawing Board?