Melendez/Mendelson Productions (2003), Warner Home Video (October 6, 2009), 1 disc, 41 mins plus supplements, 1.33:1 original full frame ratio, Dolby Surround Stereo, Not Rated, Retail: $19.98
Storyboard:
Rerun, who thinks that Charlie Brown has the best dog ever, tries to adopt Snoopy's brother Spike.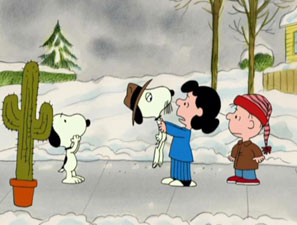 The Sweatbox Review:
(Note: The main body of this review first appeared in our review of the previous DVD release of this TV special.)
Opinions vary on whether or not there should be ongoing Peanuts specials following the death of creator Charles Schulz. I am divided on the issue myself, but if new specials are to be made, I am at least glad that they can be as enjoyable as I Want A Dog For Christmas, Charlie Brown. This 2003 special, thanks to being based on the comic strips of Schulz, is every bit as warm and humorous as most of the specials done in Schulz's lifetime. It aired as the first hour-long Peanuts special since 1988's It's the Girl in the Red Truck, Charlie Brown.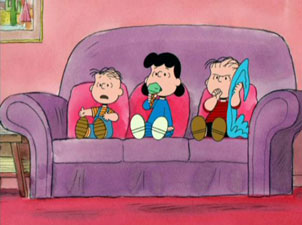 This special, as always, is a production of Lee Mendelson and Bill Melendez (with a co-director credit for Larry Leichliter). Like many Peanuts specials, this one has a main story, along with a succession of largely unrelated skits, held together by a common theme— in this case, Christmas and Wintertime. We see the kids making a snowman, Snoopy and his bird friends tobogganing, Lucy and Schroeder having a typical discussion as he plays his piano, and Snoopy dressed as Santa Claus. We also see other snippets like young Rerun being terrorized on the back of his mother's bike (his soliloquies while fearing for his life are borderline hilarious), speaking to his siblings at home, and "falling in like" with a fascinating girl in kindergarten who keeps changing her name.
The ongoing storyline here centers on Rerun, the little brother of Lucy and Linus Van Pelt. Rerun has an experience similar to many kids, as he feels like he is trapped in a family of oddballs. He has a crabby older sister, and an older brother who still sucks his thumb and carries a security blanket. He craves a playmate that he can relate to, one who will want to play with him and not be an embarrassment. He latches onto the idea that Snoopy would be the perfect companion, but Charlie Brown is not eager to sell Snoopy, and Snoopy seems disinterested in playing with Rerun.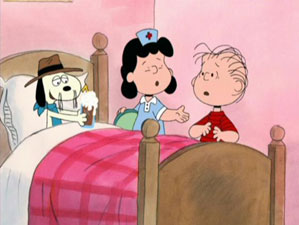 Rerun gets "fired" from Kindergarten for "harassing" the odd little girl in his class, but Christmas vacation is about to begin anyway. He devotes some of his time to writing a letter to Santa, despite knowing that his mom will veto any wishes for a dog. He goes to Charlie Brown to discuss Snoopy some more, and learns more about Snoopy's family. Peanuts fans should get a kick out of seeing flashbacks to Snoopy's brothers, and there is even some Sopwith Camel action to be enjoyed. (There is also another scene later with Snoopy on his doghouse with Sally, which is played almost as if they are actually flying, which felt like a mistake in tone— perhaps my one complaint about this special.) This all leads to Rerun issuing an invitation to a favorite supporting player in the Peanuts universe, a certain desert-dwelling dog. From there, we see what happens when Spike comes to town to be Rerun's pet.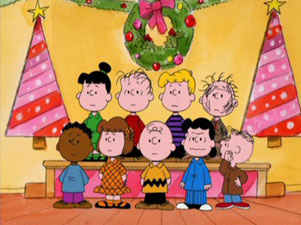 Throughout the special, the one-liners come often and they come funny. This is the advantage behind taking these new specials directly from the daily strips. True, it must be tricky to form a cohesive story, but the benefit of heaping on one funny line after another cannot be overestimated. And naturally, these funny lines carry the trademark Schulz humor, managing to be wise, poignant, melancholy, and uplifting. Not everyone can "get" that Schulz vibe, but for those of us that do, it is a special kind of magic.
This special may not carry the profound message or poignancy of the first Peanuts Christmas special, but it stands on its own as a delightful work of entertainment. As always, Charlie Brown and the gang deliver a story in the traditional Peanuts manner, avoiding modern gimmicks or spoofing, and achieving a timeless quality that should serve it well on future viewings.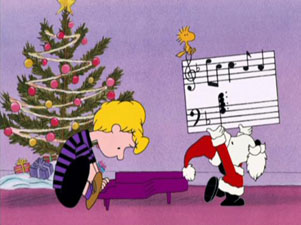 Is This Thing Loaded?
The old Paramount DVD for this special had 2002's minor entry Charlie Brown's Christmas Tales, and also The Making Of A Charlie Brown Christmas, which was great, but obviously on the wrong disc. This time around, Warner offers up a TV special new to DVD, 1985's Happy New Year, Charlie Brown (24:18). Its inclusion here is appropriate not only for the holiday timing, but also for its inclusion of Rerun in a nice gag sequence concerning blowing up square balloons. In this special, Charlie Brown has to read War And Peace during the Christmas school break, which prevents him from fully enjoying a New Year's Eve party his friends are attending. We finally see Peppermint Patty get very jealous over The Little Red Haired Girl, and of course there are some truly unfortunate occurrences for Charlie Brown concerning his love life— but he does get a kiss in the end, anyways. There was just one thing I kept wondering: If the whole class got the War And Peace assignment, then why is Charlie Brown the only one reading it? Aside from that one immense plot hole, this is quite an enjoyable special, which even has a couple of musical numbers.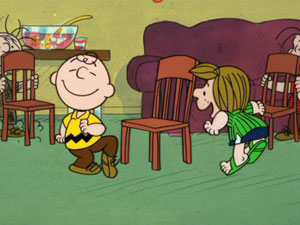 The featurette that Warner includes on this disc concerns Linus and Lucy's little brother. Sibling Rivalry: Growing Up Van Pelt (11:09) looks at Rerun, a character that many fans would be surprised to know has been around since 1972. It's amazing to consider that, since so many people seem shocked to find out that Linus has a baby brother at all. Even Jeannie Schulz remarks that Charles Schulz regretted having Rerun in the strip, since he didn't know what to do with him, which resulted in Rerun being absent for months or years at a time. Later, he re-emerged as a more regular character closer to the end of the strip's run.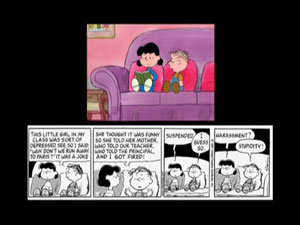 The disc opens with Trailers for Scooby-Doo! The Mystery Begins, and some of the Peanuts holiday DVDs. The Bonus features menu offers further Peanuts trailers, and DVDs for The Wiggles, Charlie And Lola, A Miser Brothers Christmas, and even National Lampoon's Christmas Vacation.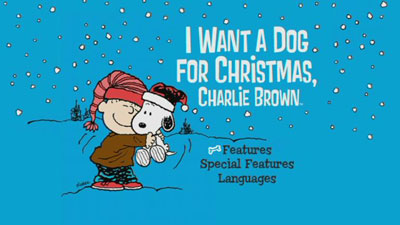 Case Study:
The disc comes in a standard keepcase with no insert. The o-sleeve is of the embossed foil type.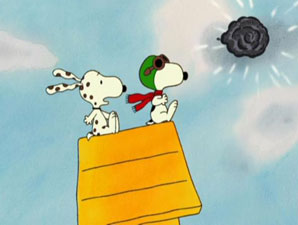 Ink And Paint:
The remastered presentation here easily beats the presentation seen on this title's original release from Paramount. That old DVD had issues with aliasing and used an interlaced transfer. The new DVD looks very good, with no true concerns to be found. The polished look of the newer specials makes them look a little different than the older classics, but the clarity of the resulting image is welcome.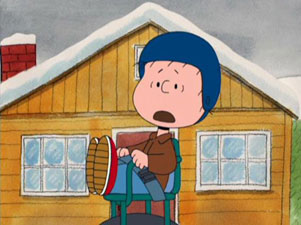 Scratch Tracks:
The other change when compared to the older specials is that this one may be viewed in Surround sound. It's still not state-of-the-art audio, but one does enjoy any widening of the sound field, compared to the narrow-sounding quality of the 1960s shows.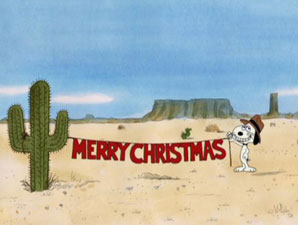 Final Cut:
This unique, hour-long special contains two of my favorite characters from the extended Peanuts cast, Rerun and Spike. With many lines taken right out of the comic strip, the humor quotient is high, and the larger story works well too. With Charlie Brown and the gang having starred in at least four Christmas shows, this one is my second-favorite, next to the classic A Charlie Brown Christmas. Video quality is better the second time around on DVD, and the added special is another winner. The featurette on Rerun shines light on a lesser-known member of the cast as well, making for a nicely rounded DVD experience for Peanuts fans.
Animated Classic or Back To The Drawing Board?