Melendez/Mendelson Productions (1968), Warner Home Video (September 21, 2010), 1 disc, 25 mins plus supplements, 1.33:1 original full frame ratio, Dolby Digital 1.0 Mono, Not Rated, Retail: $19.98
Storyboard:
Snoopy gets sent to obedience school, but—- and Charlie Brown should have seen this coming— he disobeys and instead crashes at Peppermint Patty's home. Even as housemates, Patty still doesn't figure out that Snoopy is actually a dog and not a "big nosed shortstop." Snoopy wears out his welcome at Peppermint Patty's place, but both he and Charlie Brown have a lesson to learn before they can be reunited for good.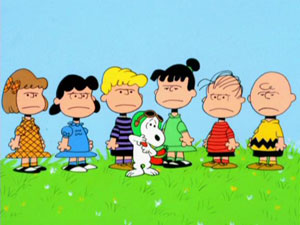 The Sweatbox Review:
With all the many classic Peanuts specials that one could name, it's a little surprising that many of us mostly remember the holiday-oriented ones. While I think one could be forgiven for forgetting some of the later specials, for example, each one of the older 1960s specials is actually a gem. He's Your Dog, Charlie Brown isn't quite the classic that A Charlie Brown Christmas is— what is, after all?— but it stands tall as an entertaining show in its own right. It appeared previously, of course, on the Peanuts 1960s Collection, but now it gets the spotlight with its own disc.
He's Your Dog, Charlie Brown was the fifth Peanuts special, first airing on Valentine's Day, 1968. (Ironically, the previous special was You're In Love, Charlie Brown, obviously more suited to a Valentine's Day airing, but it came out in June!) He's Your Dog was the last special to use the original voice cast first heard in A Charlie Brown Christmas, making it seem more "canon" than later entries. The story concerns the Peanuts gang becoming quite exasperated with Charlie Brown's dog Snoopy, who insists on having fun at the expense of everyone else's sanity.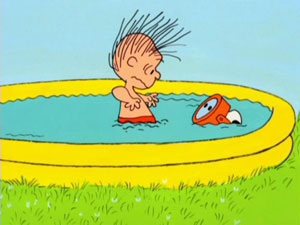 Once the tipping point has been reached, a plea is made to Charlie Brown by his friends to do something about his dog. Seeing no other option, Charlie Brown contacts the Daisy Hill Puppy Farm about accepting Snoopy for obedience school. He also arranges for Snoopy to be allowed to spend a night at Peppermint Patty's home, since Snoopy will not be able to make the trip in a single day. Not surprisingly, Snoopy is disobedient, and instead of simply spending one night at Peppermint Patty's house, he ends up staying there for over a week. Worse, he treats her home like a resort, continuously asking to be served drinks, while enjoying himself tanning or at the pool. Patty's growing frustration with her houseguest provides this special with much of its humor. Finally, Patty and Charlie Brown make contact, and arrange for Snoopy to go back home.
Things still don't go well, though, when Charlie Brown goes too far and shanghais Snoopy by throwing a leash around the dog and dragging him away like a prisoner. Snoopy, insulted and angry, escapes and makes his way back to Patty's (while engaging in some rebellious mischief along the way). Patty takes him back, but only on the condition that Snoopy begins to earn his keep. Patty works him like a dog (oh, the indignity!), until Snoopy finds himself willing to reconsider his actions. That leash is a big sticking point, though, and some compromise will be required before boy and dog are reunited.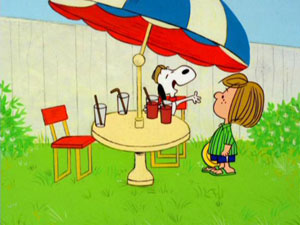 There are lots of opportunities for gags in this story, and writer Charles Schulz makes the most of them. This is truly a funny episode, borne of conflict and divergent agendas; but like the best Peanuts stories, this one soars on the strength of the sentiment. At the heart of the story is the love between a boy and his pooch, as well as the affection that the rest of the kids have for Snoopy. Snoopy always tries to look too cool to care, but by the end of the show there is no doubt that the affection is mutual. Truly, I find this one of the most effective specials that Schulz ever wrote.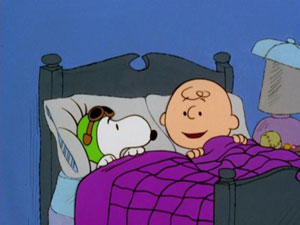 Is This Thing Loaded?
As usual, a second special is included on this disc, and at least this one has never been available before on DVD. Life Is A Circus, Charlie Brown is a 1980 special that fits well with the theme of Snoopy leaving home. This time, it's somewhat inadvertent, as Snoopy happens across a circus that's just come to town, and quickly falls for a lovely poodle. Snoopy is thusly led astray by a pretty tail (hey, we've all been there, right?), as he allows himself to be drafted into the circus' canine performing troop. As his fortunes rise with the circus, and his affection towards the poodle begins to be reciprocated, he begins to forget about going home. Nevertheless, he gets pushed too far by the demands of his trainer, and needs to make a choice between a life with Charlie Brown and a nomadic existence with a pretty poodle. While not quite as effective as He's Your Dog, Life Is A Circus, Charlie Brown is at least a good, average special that gives a fun look at the romantic leanings of Charlie Brown's pooch.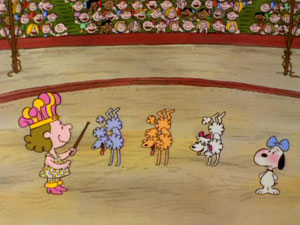 This disc's featurette is Snoopy's Home Ice: The Story Of The Redwood Empire Ice Arena (22 minutes). It may not have much to do specifically with this disc's TV specials, but this is one of my favorite Peanuts DVD featurettes so far. Having read much by and about Charles Schulz, I knew that this arena was a source of great pride and a big part of his daily routine. It is so nice to see this recognized as a DVD special feature, as it makes Warner's coverage seem that much more complete. (Certainly, it's more effective here than it would have been to simply have a bunch of Peanuts experts harp about the philosophical complexities of Snoopy.) Various people associated with the arena get time in front of the camera, forming a set of interviews that gives a somewhat in-depth understanding of what the arena has meant to Santa Rosa and the Schulz Family. Well done.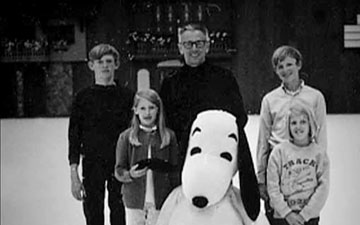 Lastly, we do have to recognize that this disc also has a Trailer for the DVD of You're A Good Man, Charlie Brown and an ad for the LEGO Harry Potter video game.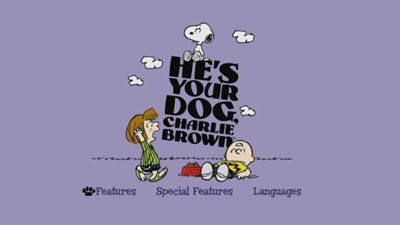 Case Study:
The Warner gang continue their efforts to be more environmentally friendly, while becoming ever less glamorous with their Peanuts line, as this disc comes in an eco-keepcase, with no inserts, and no embossed slipcover. Instead of looking "deluxe," this release looks fairly standard. Otherwise, the "Remastered Deluxe Edition" trade dress at least remains consistent, with a titular banner and monochrome background.
Ink And Paint:
The video for the main feature looks almost impossibly bright, but not so much as to become overly saturated or to cause any blooming. There are the normal physical artifacts of dust and dirt, but nothing to fault the transfer on. It's a very solid presentation of an old TV show. The video on the bonus special is almost as good, only suffering from some occasional and minor artifacting, as well as inconsistent flesh tones that range from natural to overly pink.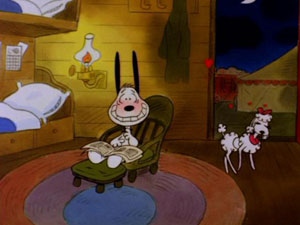 Scratch Tracks:
The mono soundtrack faithfully represents the dialog and music in these specials, both of which sound as good as ever. Other language tracks include Spanish, Japanese, and Portuguese. Subtitles are available in English, French, Spanish, Portuguese, and Japanese.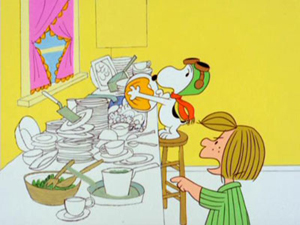 Final Cut:
With the complete 1960s and 1970s Peanuts television output now out in two-disc collections, it becomes harder to recommend picking up individual releases that duplicate what is already available. However, in this case one must consider that the bonus special here is not yet out otherwise (though it should be in the next set, the first to cover the 1980s— not yet announced at this writing). More importantly, Schulz fans may wish to own this disc solely for the featurette on the arena that the Schulz family built for the community of Santa Rosa. Those that know anything of Schulz understand the importance of the arena to Sparky, and the featurette is a first-rate production that brings us one step closer to knowing him. If you can do without this featurette, though, then you can likely stick to your decade-by-decade collections.
Animated Classic or Back To The Drawing Board?