Melendez/Mendelson Productions (2002), Paramount Home Video (January 6, 2004), 1 disc, 25 mins plus supplements, 1.33:1 original full frame ratio, Dolby Digital 2.0 Stereo, Not Rated, Retail: $14.98
Storyboard:
Charlie Brown and the gang are bitten by the love bug, and mistake a supermarket for a museum. Plus, Charlie Brown goes on a quest to meet a girl he saw on television.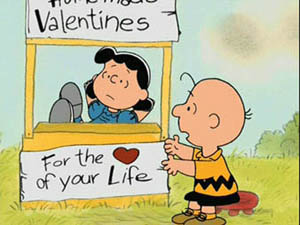 The Sweatbox Review:
It can be difficult to compose a fair review of a relatively new Charlie Brown special. Most of us have grown up with all the classic ones, starting with A Charlie Brown Christmas, and remember these specials with the sweet fondness that only nostalgia can offer. Even seeing them again years later, one tends to feel the same appreciation for the specials that were adored during childhood. Viewing newer specials as an adult is a whole other experience— with a more critical eye towards story and animation, a more jaundiced world outlook that comes with age, and countless additional hours of cartoon viewing in the intervening years that have taken much of the edge off the novelty of seeing those funny drawings move.
And so, I try to be fair; but as it turns out, the new Valentine special that highlights this DVD isn't half-bad. In fact, it's pretty good. The voices are a little different, but actually surprisingly true to the originals. The animation is just okay, but let's be honest— the earliest Charlie Brown specials had worse animation. What matters with these TV shows is heart, and it is appropriate that this Valentine collection has plenty of it.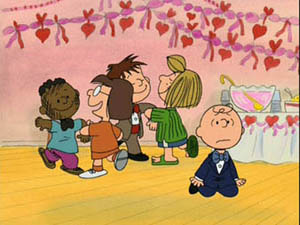 True, the Charlie Brown specials have a bittersweet ambience that isn't for everyone, but they are mostly appealing, due to the pen of Peanuts creator Charles Schulz. Schulz was always credited with writing the specials himself, using not just some of the gags from his comic strip but also healthy doses of its thoughtfully restrained brand of mirth. It can be tricky to explain the appeal of Schultz's stories, and yet I am a big fan of them. The uninitiated may not find a given daily Peanuts strip funny, but familiarity (in this case) breeds fondness and admiration. Schultz always managed to access the souls of his readers, whether by having them identify with the foibles of perennial loser Charlie Brown, or by engaging in surprisingly intellectual discourse about the nature of … well, everything— but especially the pangs of childhood. The comic strip, at its best, was a work of quiet genius that juxtaposed simple imagery with profound thought. And man, you just had to feel for that round-headed kid!
A Charlie Brown Valentine was first was shown in 2002, two years after Schulz's death. (It was supremely fitting that he passed away just hours before his final, farewell Sunday strip was read by its millions of fans worldwide in February 2000.) It was handled by the men who worked on most of the Peanuts specials, executive producer Lee Mendelson, and producer/director Bill Melendez. As with all the newer specials to come, Schulz is still given credit for writing, as the stories and dialog are based directly on the 50-year history of the newspaper strip (this was a concession worked out with the Schulz estate, as Schulz himself reportedly wanted no more specials made after he died).
As such, it covers some familiar territory, especially since there was an earlier Charlie Brown Valentine special in 1975 (Be My Valentine, Charlie Brown). Charlie Brown is again pining over the Little Red-Haired Girl while failing to find the courage to act on his feelings; Linus tries his best to help, but does not succeed quite how Charlie Brown would like; Charlie Brown consults Lucy at her psychiatric booth; Snoopy's romance writing is getting critiqued by Lucy and Sally; Peppermint Patty discusses Valentines with the oblivious Charlie Brown; Sally pursues Linus; Lucy asks Schroeder how big her Valentine will be; and Marcy also discovers just how thick "Charles" can be; we end with a Valentine's dance… and that's not all, either. As you can tell, this is quite an episodic show that regurgitates what we have seen in previous specials (and obviously the comic strip).
However, taken on its own, it is quite an enjoyable little show. Those looking for a larger story will not find one, but the charm of the strip is definitely there. There are many little quips that are pure, classic Schulz, and the characters stay true to previous appearances. (One exception is the re-designed Little Red-Haired Girl, who now looks more like the other cast members, rather than the overly pretty version that appeared in 1977's It's Your First Kiss Charlie Brown, where she was also not designed by Schulz.) This new special may not have been "necessary", given the existence of the earlier Valentine's special, but I found it cute, funny, and warm. It's also one of those stories where we see that Charlie Brown is really more popular than almost anyone in the cast realizes, giving hope to losers everywhere.
One of the most popular aspects of the Peanuts specials has always been the music. Fans will be happy to know that the music in this special is still that of Vince Guaraldi, although here it is arranged and performed by David Benoit. The soundtrack is charming and gentle, perfectly underscoring the sweet melancholy of the happenings, although its continuous use made it occasionally obtrusive.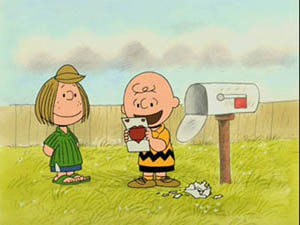 There are two more specials on this disc, but as Paramount chose to call them "extras", I will cover them in the Bonus Material section.
Is This Thing Loaded?
We are first given the option of viewing some Previews. The Previews here are for Peanuts Home Video, Rugrats Go Wild (surprisingly, it did make me curious to see that film), the Charlotte's Web movies, and Nick, Jr. Home Video.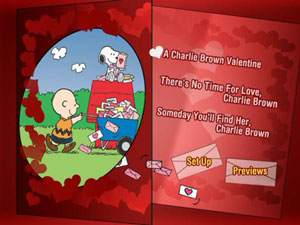 As if feeling guilty about not having any "behind the scenes" materials, Paramount includes lots of menus instead. There is a main menu listing the three Peanuts specials, each special has its own menu, and each special has a scene selection menu split into three screens, for just five chapter selections per episode. Not a big deal, but I am sure that this could have been done more efficiently.
As I stated earlier, Paramount has included two other Peanuts specials on this disc, choosing to call them extras on the packaging, even though they do appear on the Main Menu. To me, they are not so much bonuses as essential inclusions to making the disc a worthwhile purchase. The disc is cheap enough, but having only a half-hour special would mean wasting space, right? Aside from the question of value, I also found the "extras" to be better than the headlining newer special. The older ones, to me, are what really made the disc a worthwhile purchase.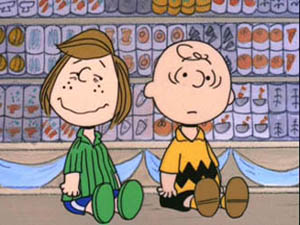 There's No Time for Love, Charlie Brown is a 1973 TV special that is not about Valentine's Day per se, but does include the same themes as those specials. The first act is full of vignettes, and actually focuses mostly on the anxieties that the Peanuts gang has about school— except for Snoopy's Joe Cool persona of course. Peppermint Patty should not have worried so much about studying the metric system, though— despite her prediction that metric would be "official" in the US in a few years, it has yet to happen.
With the second act, the gangs from both schools (Charlie Brown's and Peppermint Patty's) go on a field trip to an art museum. Charlie Brown is especially anxious, since his report on the trip will determine whether or not he will progress in school. In a crucial miscalculation, Charlie Brown leads Patty, Marcy, and Sally into a grocery store instead. While inside, Patty vehemently denies her feelings for "Chuck", leading to hurt feelings. In the end, it somehow all turns out well, thanks to Marcy and what I assume to be a delusional teacher. This is a sweet show, with plenty of the gentle humor and pathos that Peanuts is known for.
Someday You'll Find Her, Charlie Brown comes from 1981. It turns out to have the most linear story of the three specials here, as well as the smallest cast. Because of this, I also found it the most rewarding to watch. Charlie Brown falls in love instantly with a girl he sees on television, and enlists an incredulous Linus to help him track her down. They then embark on an odyssey to find this girl, taking them far from home. There are naturally a few missteps along the way, and by the end Linus and Charlie Brown will have their friendship severely tested. The only other happenings in this episode involve some humorous shenanigans with Snoopy and Woodstock, but otherwise this must be one of the most tightly plotted Peanuts specials out there, with a strong narrative that is evident right from the opening moment of the show. Perhaps it has to do with the directing of Phil Roman, who also manages to treat us to a more abstract sequence covered by a song sung by Judy Munsen.
Case Study:
Standard keepcase, with advertising insert.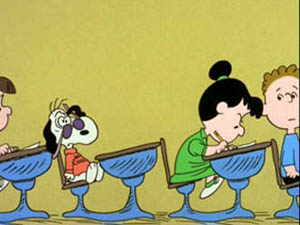 Ink And Paint:
With the disc contents spanning three different decades, it is not surprising that the video quality is variable. The newest special, A Charlie Brown Valentine, is predictably the best looking, although certainly not spectacular. The Peanuts specials have never been about the graphics, though, and the presentation is fine, aside from the odd instance of aliasing. The print is fairly clean, but not as pristine as expected— there are a few specks of dirt here and there, although this could be on the original negative too.
The video on 1973's There's No Time for Love, Charlie Brown is softer and slightly grainy. I did not mind at all, though, as it helped to get that nostalgia vibe going. Otherwise, it is a good presentation, with the expected bits of dust that cling to these things over the years while sitting in a vault. As even the newer specials do not tend to be totally free of physical artifacts, I find their presence on an older show fairly acceptable. Someday You'll Find Her, Charlie Brown, being from 1981, falls in the middle. Overall, the video in these three specials is as good as expected.
Scratch Tracks:
The disc's Set-Up menu is somewhat sparse: We are given the choice of English audio and English subtitles. Nevertheless, the audio is as good as can be. The stereo track gives little sense of depth, but what would you expect? What is important is that there is nothing to complain about. Even the older specials on the disc are free of hiss or distortion.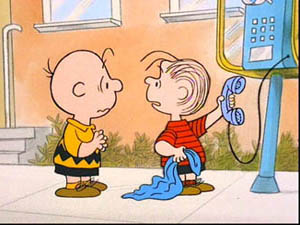 Final Cut:
I almost did not pick this title up, but am very glad that I did. Even if the newest special is derivative of earlier ones, it is still quite enjoyable; and the other two are classics in my eyes, even if they are not as well remembered as some others. When I think of Peanuts, I think of the emotions that the specials on this disc evoke. There is joy and sadness, acceptance and rejection, and above all a sense of having learned that there is still much to learn and experience— and that even our failures can bring something of value to our lives. In short, these are these emotions and experiences of growing up, captured expertly in the works of comics master Charles Schulz.
Animated Classic or Back To The Drawing Board?