Various (1940-1945), Thunderbean (2012), 1 Disc, 145 mins, 4:3 ratio, Dolby Digital Mono, Not Rated, Retail: $15.95
Storyboard:
It's another collection of amazing cartoons made during World War II for either pure propaganda, or to educate US troops.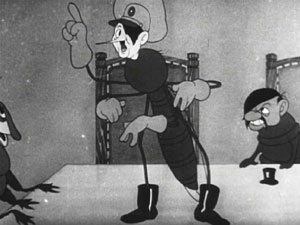 The Sweatbox Review:
I admit that I've taken Thunderbean for granted. I have so many of their discs, that I've become accustomed to being wowed. However, I did find this particular disc extremely cool, owing to my interest in the World War II era and how it was reflected in popular culture of the time. This disc, a follow-up to a previous Thunderbean release, collects several war-era propaganda shorts from both sides of the Atlantic, plus numerous films made for he US military. This is yet another treasure trove from Thunderbean, containing many items I had dreamed of seeing, and a few more that blew my mind just by discovering their existence— never mind having the opportunity to view them. According to the liner notes, many of these films only just became available for viewing in the past few years at the National Archives. Between that institution and a collective of collectors, we have this intriguing and entertaining disc.
The disc menu allows you to Play All, or to start with your choice of either Entertainment/Propaganda Films, or Military/Training Films. On the entertainment side, the disc starts with Leon Schlesinger's cartoon outfit. Tokio Jokio is a 1943 Looney Tunes cartoon directed by Norm McCabe that spoofs both newsreels and the Japanese. Naturally, you may expect to see some ethnic stereotypes that would not be considered at all polite these days, and the gags are more mean-spirited than funny, though of course that was the whole point.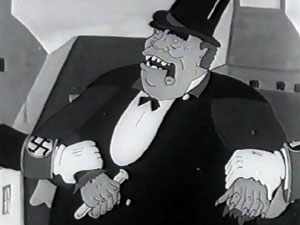 One of my favorite cartoons on this disc is the amazing Dr. Churkill, a 1942 short out of fascist Italy, which tells the Jeckyll & Hyde tale of Britain's prime minister. It is fascinating (pardon me if I keep using that word in this review) to see how Italy's propaganda machine worked, as it attempted to justify its own actions in Africa. Here, Winston Churchill is portrayed as a greedy, monstrous capitalist who exploits other nations, profits unfairly from the Suez Canal, and needs to be taken down with help from "our friends" the Nazis. Aside from having to stomach a distorted view of history (leaving aside any debate about Britain's former imperialistic policies), this is actually a pretty slick cartoon, full of whimsy and even a catchy musical theme.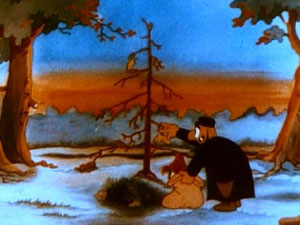 Nazi Germany is represented by Vom Bäumlein, Das Andere Blätter Hat Gewollt (or, The Little Tree That Wished For Different Leaves) from 1940. Based on a poem, it tells the tale of a tree that wishes for golden leaves, only to have them stolen by a Jew, depicted in typical stereotypical fashion.
Odna Iz Mgogih, or One Of Many is a 1943 energy conservation film from the USSR. That may sound boring, but any lover of history or propaganda cartoons is sure to enjoy it. Coaxed by a friendly-looking communist comrade in a live action bridging commentary, the film examines the effect of surpassing one's daily energy quota. The result, of course, is that there is less energy for the munitions factories! Shame, shame! The look at Soviet living, in communal apartments, is also quite interesting. On a similar note is Germany's brief Kohlenklau from 1945, which tells of a mythical coal thief.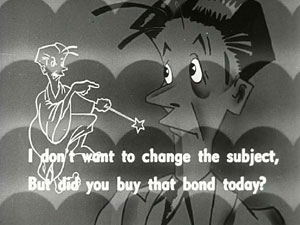 Did You Buy That Bond Today? (USA, 1945) is a post-war short, not so much animated as an illustrated song, featuring a lovely ditty encouraging Americans to still support the bond drive.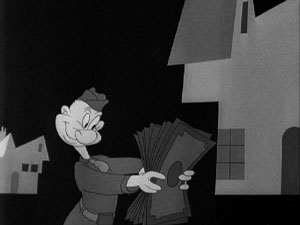 Moving on to Military & Training Films, the disc presents the A Few Quick Facts Series, which was produced for the Army/Navy Screen Magazine. These short cartoons gently educated or reminded the fighting men of their duties and obligations. Some of these shorts even featured Private Snafu, star of his own series of military-specific cartoons (his cartoons are featured on a separate Thunderbean DVD). The topics of the eight cartoons appearing here are as follows: Air/Navy/China/Safety, US Soldier/Bullet /Diarrhea, USS Iowa/Brain/Shoes, Chaplain Corps/Accidents/Gas, Voting for Servicemen, Inflation, Lend-Lease, and Fear. Though their purpose was to instruct, they feature plenty of gags and funny action.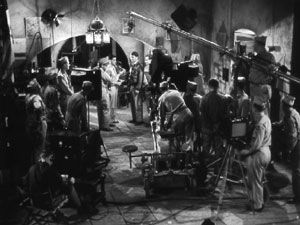 As awesome as it is to finally see some of these storied cartoon shorts, yet another prize on this DVD is The First Motion Picture Unit – Army Air Forces from 1943. This is an essential, live action twenty-minute short that introduces us to the Unit, explaining its purpose in educating fighting men. Behind-the-scenes filming is shown, as well as glances at artists at work in animation. For anyone with an interest in this fabled Unit, this is pure bliss! It's so great to see treasures like this unearthed.
A couple of short films produced by the unit are also here, each one truly interesting in itself. 1944's Weapon of War discusses the Nazi mentality and how they plan to seduce Americans to their point of view. Elementary And Pilon Flights from 1943 instructs pilots in basic flight manoeuvres, using a funny Snafu-like character to show what not to do.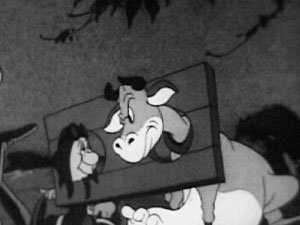 Two films from 1945 educate soldiers on the threat of mosquitoes: Six Legged Saboteurs (from Cartoon Film Ltd), which has insect representations of Axis leaders before giving way to live action documentary footage; and Criminal At Large, which uses illustrations (not animation) to tell the story of a reporter out to tell the story of the threat of malaria and the mosquitoes that spread it. After that, there is a short describing the benefits of the drug Sulfa.
Finally, there are two wonderful entries from two major studios of the time. Another Chance was produced by Disney in 1945 to tell the story of the formation and (planned) benefits of the United Nations. The Disney polish is immediately apparent, with a fine graphic style also seen in the studio's musical compilation features of the time, and foreshadowing the studio's 1950s style. Ironically, a more traditional look accompanies a cartoon here from UPA, a studio that later became known for its modern graphic style— The Sailor and the Seagull is actually from 1949, but fits this collection well, featuring a sailor contemplating civilian life, and being actively tempted into it by a sea bird who is cagier than he lets on.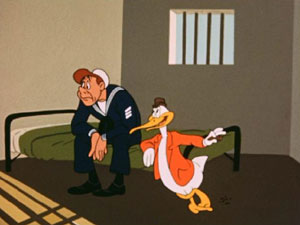 Is This Thing Loaded?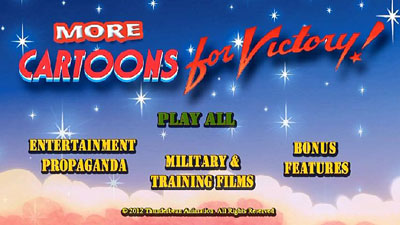 Bonus materials are a little sparse on this disc, but on the other hand, it feels like a bonus to have these films at all! Present here in the extras section are Storyboard Comparisons for Weapon Of War and Bullet/Diarrhea And Dysentery (the latter with partial storyboards). The bonus menu also allows you to select to play the foreign language films without subtitles.

Case Study:
This disc comes in a standard Amaray case. Fortunately, Thunderbean prepared a great 4-page booklet of liner notes that explains more about each cartoon, placing everything in a nice historical context. You may wish to read this even before watching the disc.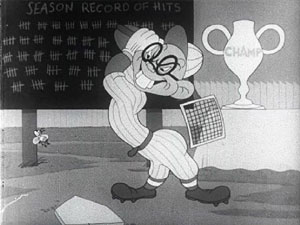 Ink And Paint:
A very high score cannot be given for the video quality, based on the aged source material, but this should not lead one to thinking that the video is any less than a perfect representation of what was available. So, maybe expect less, and perhaps you will be pleasantly surprised. One could not think that these rare, recently rediscovered films would look pristine, and they do not. There are plenty of scratches and various marks indicating wear and aging. However, the transfers are generally quite clear and wonderful to view. Only a couple of shorts look a little fuzzy, while the rest are really quite sharp. Truthfully, it all looks better than I would have expected.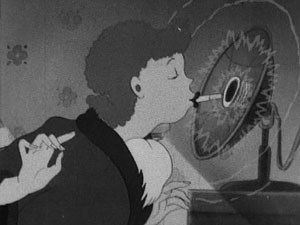 Scratch Tracks:
Mono sound is present in the original language of each short. Many of the films exhibit some hiss and mild distortion, but nothing to really detract from the experience. Subtitles are available for the non-English language films; the subs default to being used, but can be turned off.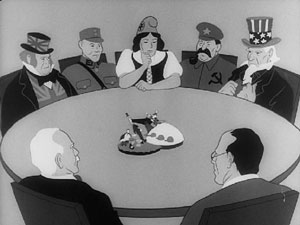 Final Cut:
As someone who has done extensive reading on the time period and its relationship to the animation industry, I found this disc to be a fascinating and insightful treasure. This is the type of collection that historians dream about. Having rare propaganda cartoons, as well as the A Few Quick Facts shorts together is already wonderful. But then to add in a featurette about the First Motion picture Unit and a few of its films…. Wow. Throw in a few more rare shorts from the period, including ones from Disney and UPA, and you have cartoon gold. This DVD deserves to be in the collection of anyone interested in cartoon or wartime history, and is a testament once again to the value of the folks at Thunderbean.
Animated Classic or Back To The Drawing Board?