Various (1970-1979), Warner Home Video (October 27, 2009), 2 discs, 316 mins plus supplements, 1.33:1 original full frame ratio, Dolby Digital Mono 1.0, Not Rated, Retail: $26.98
Storyboard:
An animated Gilligan's Island, a lost world of dinosaurs, and the land of the Arabian Nights are just a few locales explored in shows featured for the first time on DVD. Joining them are old favorites like Batman and Yogi Bear.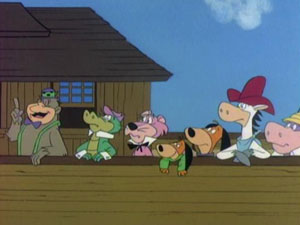 The Sweatbox Review:
This second volume of Saturday morning favorites contains a nice variety of cartoons, including many that did not appear on the previous volume (only three series are repeated). Whether you like comedy, adventure, or a taste of the bizarre, you should be able to find something here that you like.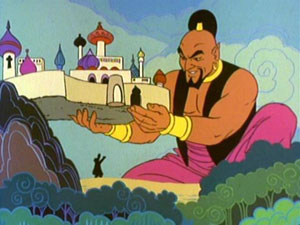 Disc One
HELP! IT'S THE HAIR BEAR BUNCH debuted in 1971 on CBS from Hanna-Barbera Productions, and hung around on the air for two and a half years, during which it aired sixteen episodes in rotation. It concerned the exploits of three fun but nutty bears who lived in a zoo, and— now this sounds familiar— kept escaping to pursue good times or some scheme or other. Like Wally Gator, the Bears had a zookeeper trying to make them stay put, in this case one Mr. Peevly. In this episode, though, they deal with a new zookeeper in Keep Your Keeper.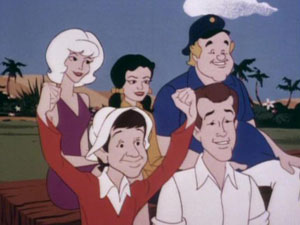 THE NEW ADVENTURES OF GILLIGAN is one I feared would never see the light of day on DVD. But here it is! Yes, this was a cartoon based on the terrible yet great 1960s sitcom classic Gilligan's Island, with animation by Filmation. All the characters but the ladies were voiced by the original actors (in the cartoon, Jane Webb played Mary Ann and Ginger. Tina Louise also did not consent to her likeness being used, so Ginger became a blonde instead of a redhead.) The show was more popular than ever in syndication when the cartoon version came out in 1974. A monkey companion named Snubby was added for Gilligan, as cartoon executives just couldn't get enough of animal sidekicks. The New Adventures Of Gilligan got twenty-four episodes over two seasons, followed by another year of repeats on Sunday mornings. A sequel series, Gilligan's Planet, followed in 1982. The show works extremely well as a cartoon, as one might expect. In Off Limits, the Howells trick the other castaways (except that brainy Professor) into constructing a club for themselves, before revealing that only the Howells will be allowed to be members.
It's so nice to finally see SEALAB 2020, after enjoying (to varying degrees) its spoofy follow-up Sealab 2021 on [adult swim]. Sealab 2020 played things straight back in 1972, with designs by the great Alex Toth, but audiences were bored with the environmental themes and lack of conflict, and the show lasted just thirteen of its planned sixteen episodes before NBC pulled the plug on the underwater adventure show less than three months after its debut. In Deep Threat, the two kid characters get lost while swimming outside the station, at the same time that everyone is searching for the source of radioactivity in the water.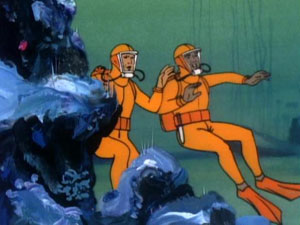 AMAZING CHAN AND THE CHAN CLAN has a catchy name, but the rest of this show bores me to tears. It made an appearance on the 1970s Volume 1 set, and that was plenty for me. The many children of detective Charlie Chan appear here in the episode The Mardi Gras Caper. It's too bad they went back to the Chan well for this DVD set, when I've been dying to finally see These Are The Days.
I'm not sure why SHAZZAN is on this set, as it first came out in 1967. In fact, it was one of the set of Hanna-Barbera shows that Alex Toth designed around the same time, contemporary with Herculoids and Space Ghost. Shazzan had a unique set-up, featuring two teenage siblings from Maine who discover halves of an ancient ring and end up transported to the land of the Arabian Knights. The genie Shazzan appears, and promises to help them, but the teens cannot return home until they find the original owner of the ring. Shazzan was one of the era's more successful shows, getting thirty-six episodes over two seasons. While the all-powerful genie robbed the show of dramatic tension, it did at least have a winged camel named Kaboobie, and that certainly counted for something. Featured here is the episode containing The Living Island/Master Of The Thieves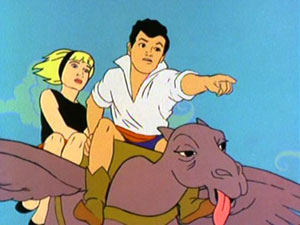 YOGI'S GANG was Hanna-Barbera heaven, the first "all-star" show where H-B brought together bunches of their characters. While aloft in a flying arc, Yogi and his crew of anthropomorphic animals learned various life lessons that they shared with their young audience. Here, they confront Mr. Bigot.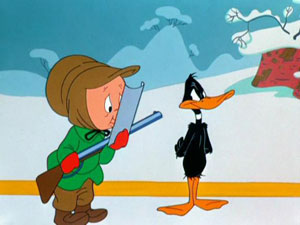 Disc Two
No Saturday morning worth its salt was ever complete without Looney Tunes cartoons, and for a number of years that meant THE BUGS BUNNY/ROAD RUNNER HOUR. No Looney Tunes shows were on the previous 1970s volume, so even though we've seen these a million times it's still very appropriate that they should show up here. This particular episode has Pepe LePew, The Road Runner & Coyote, Marvin Martian, and Bugs Bunny and Daffy Duck in the classics For Scent-imental Reasons/Stop, Look, And Hasten/Hare-way To The Stars/Duck! Rabbit! Duck!
VALLEY OF THE DINOSAURS is, a relatively little remembered Hanna-Barbera show from 1974. Its premise is oddly similar to another Saturday morning show from that year, the much better known live action Land Of The Lost. In Valley Of The Dinosaurs, a family is swept into a whirlpool while riding on the Amazon river, and are swept into an underground cavern, emerging in a world of cavemen and dinosaurs. This episode is called Forbidden Fruit.
1975's THE TOM AND JERRY/GRAPE APE SHOW combined new adventures of the famed cat-and-mouse duo, with decidedly less violence and antagonism than their classic MGM shorts, with stories about a gigantic purple gorilla who would mainly talk by saying his own name. The hour-long program included a total of five alternating cartoons for The New Tom And Jerry and The Great Grape Ape Show. (Grape Ape got only two stories compared to three for the duo, but his stories were a little longer.) This DVD set has the debut episode, which has the cartoons No Way Stowaway, That Was No Idol…, The Ski Bunny, The All American Ape, and Stay Awake Or Else.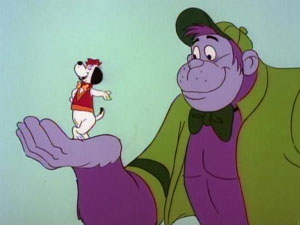 BANANA SPLITS ADVENTURES HOUR actually began airing in 1968, but continued to be shown on Saturday mornings until 1970. The fondly remembered show had thirty-one episodes, which were heavily re-edited and mixed and matched with other Hanna-Barbera shows later on for syndication. Mixing animated segments and live action ones, with animal costumes designed by Sid and Marty Krofft, this diverse anthology attempted to blend music, adventure, and laughs. This first episode has an animated Arabian Knights segment (Joining The Knights), The Three Musketeers (The Littlest Musketeer), and the first part of a live action serial called Danger Island.
INCH HIGH PRIVATE EYE ran only in the 1973-74 season, but its catchy name and the reappearance of its star on Harvey Birdman have given it more longevity in the memories of cartoon fans than one would expect. The titular hero was literally an inch high, and he used his size to get work from his reluctant employer at the Finkerton Detective Agency. His niece Lori and her boyfriend Gator assisted him, which was fortunate since he often got into trouble. Lennie Weinrib (H.R. Pufnstuf, Scrappy Doo) gave Inch his voice. This episode is Diamonds Are A Crook's Best Friend.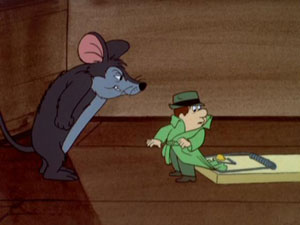 THE NEW ADVENTURES OF BATMAN needs no introduction, does it? The 1977 Filmation favorite starred Adam West and Burt Ward, giving voice to their characters from their immensely popular 1960s Batman show. Sweet Joke On Gotham City has Sweet Tooth as the featured villain. This series has already had a complete series set, and also appeared on the first 1970s volume, so its inclusion here feels a little redundant. Still, it was popular back in the day. You can't say it was included here for commercial reasons, though, since Batman is nowhere on the packaging.
They aren't all classics like Batman, but most Gen X'ers out there will have fond memories of at least one or two of these series. While complete series sets for largely second-tier shows such as these might have been commercially unsuccessful, a compilation like this is an ideal way to experience what childhood was all about back in the 1970s.
Is This Thing Loaded?
The Power Of Shazzan (5:45) is this set's sole featurette, featuring the usual cast of animation commentators (Scott Geralds, Mark Evanier, Jerry Beck, etc.). Aside from hearing a discussion of the difficulties of writing for an omnipotent character and keeping the drama, we also get glimpses of some production art. It's nice, but a few more of these would have been even nicer.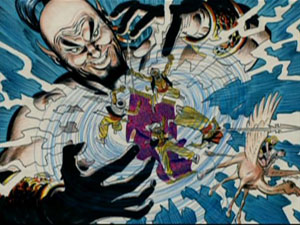 This time around, the Saturday Morning Wake-Up Calls run at the beginning of each disc after selecting "Play All" (and these can also be chosen individually). Casey Kasem narrates an overview of the contents of each disc (1:59 on Disc One, 3:34 on Disc Two).
Warner Home Video has also provided a few Trailers between the two discs, including ones for their Peanuts DVDs, and the previous Saturday Morning Cartoons sets. While all those played automatically, a Secret Saturdays trailer (0:32) actually has its own spot on Disc Two's main menu.
Case Study:
The standard keepcase-with-tray comes with a slipcase, with a modified back cover that has different characters featured. Annoyingly, there is no disc listing provided anywhere in the packaging. One just has to guess at the contents by looking at the artwork or playing the discs themselves. The "adults only" warning on the back of the box is just as ludicrous as it was the last time. I'd almost think that Warner Home Video put that warning on in a tongue-and-cheek fashion, but sadly I don't think that's the case.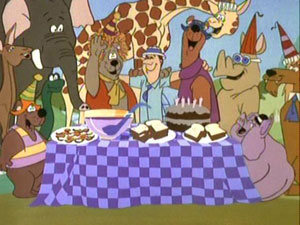 Ink And Paint:
Video quality varies a bit, which is to be expected, and likely no true restoration work was done on these episodes. For the most part, they generally look acceptable, though one must expect a number of scratches and other physical artifacts. The worst looking prints used are probably the ones for two shows in particular: The New Adventures Of Gilligan, which is far more faded looking than prints for the other shows; and The Banana Splits, which looks like it came from a beat-up videotape— with lots of color banding and fuzzy resolution.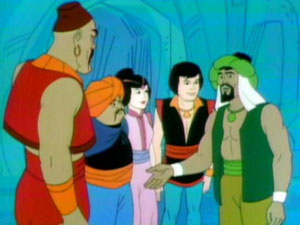 Scratch Tracks:
Mono sound from the 1970s will only sound so impressive, but these tracks are perfectly fine— clean and non-hissy. The only option for audio or subtitles is English.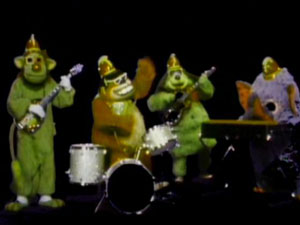 Final Cut:
The shows are largely mediocre, but it's great just to have the chance of seeing some of them, after being buried in the vaults for so long. This is one of those DVDs where the whole is greater than the some of the parts. I had only experienced a number of these shows from reading about them, and now feel that my cartoon education is just that much closer to being complete. Early word is that we'll be getting a third volume, and I know I have my wish list. Let's see These Are The Days, Jabberjaw, Super Globetrotters, and Fred And Barney Meet The Thing! And for Pete's sake, leave The Chan Clan off the next set. If we're to get repeats, I'd really rather see more of The Roman Holidays or Goober And The Ghost Chasers.
Animated Classic or Back To The Drawing Board?