It is really hard to pick the best Pixar film. Everyone has different crieria. The Toy Stories and A Bug's Life started it all and were fun and like nothing we'd seen before. Finding Nemo was so moving and took the studio to new heights of popularity. The Incredibles was the most exciting thing they'd ever done. Cars made us feel all warm and nostalgic. Ratatouille was so classic. And WALL-E was so unique. But if instead we're picking our favorite Pixar film, that is easy for me: Monsters Inc. Pete Docter's first film has bits of all these qualities and is easily the funniest and most re-watchable. Docter does it again with Up — a fun, moving, exciting, nostalgic, classic, unique, and funny film!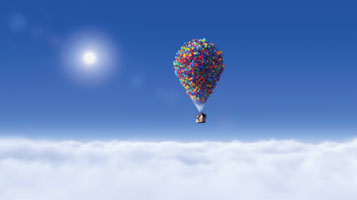 Pixar continues to soar to new heights
with their tenth hit in a row.
Carl Fredricksen promised his bride a life of adventure. Instead they live a much more ordinary, but still happy, life. When Carl is about to be forcibly moved from the house he and his wife lived in for decades, he decides the time has come to start that adventure by getting himself and his beloved home away from it all. However, a stow-away, a rare bird, and a fallen hero make things a lot more adventurous than he had planned.
The first 10 minutes or so of Up might be 10 of the best animated minutes ever put on screen — heart warming and wrenching at the same time. Pixar always says they develop a new technology for each film to help them achieve some effect (Sully's fur and Nemo's watery world, for example). WALL-E must have given the creative team a similar lift because the fact that almost all of those first 10 minutes of Up are done without dialogue makes the feat all the more remarkable. More so than any other Pixar film, Up is first and foremost a fantasy film. And since it takes place in our human world the leap to suspending disbelief has to be done right or else everything will seem off putting. Luckily this is not an issue; whether because of the skill of the writers or maybe because the marketing of the film prepared the audience for what they were going to see — whatever the reason it mostly works. Once you've gotten past the first amazing minutes and then been introduced to the more fantastical elements of the film, everything else flows naturally. The laughs come often and, unlike films from other studios, don't rely on pop culture references or inappropriate jokes that will hopefully go over the kids' heads. The humor of the film may surpass anything else Pixar has done before. But Up's real center is its heart. And that is carried by its lead: an old man named Carl. Pixar has created perhaps its most sympathetic and believable character in Carl. Every emotion he feels the audience feels too. Making the viewers care so much about a character that most Hollywood types would never want cast as a lead in their film (live action or otherwise) could not have been an easy job but it seems effortless on the screen. The writers of Up have really surpassed themselves — humor-, story-, and character development-wise.
Up may be the most beautiful film in the Pixar vault. That may not be fair to the other films since this one features South American waterfalls and tepuis, and thousands of colorful balloons — what could compete with that! Most of the character designs may not have been the most original, but they were entirely serviceable. Carl himself is the best of the cast. From his curmudgeonly mien to his plodding gait, his design helps complete the lifelike connection the audience has to him and his story.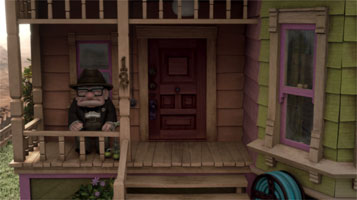 Adventure — and comedy — await,
whether Carl is ready or not!
After outings like Lost, The Incredibles, and Star Trek, Michael Giacchino is easily my new favorite Hollywood composer. And he delivers again in Up. He once again shows his versatility with a score different from what he's done before but with a flair or style that still feels like the rest. From old-timey and quaint to emotive and poignant to high adventure — Giacchino easily slips between each aspect of the script and perfectly matches the tone with music.
Besides their story prowess, perhaps the thing that sets Pixar apart from everyone else is their ability to match a voice to a character. Not content to just find the most popular star of the moment to help their box office clout, they find the right voice for the job regardless of any other concern. Ed Asner is no stranger to voice acting for animation. But he gave the performance of his voice over career in this film. Some might even say it was one of his best performances in any venue. Asner is the third and maybe most important prong that brought this character to life. Jordan Nagai, as the wilderness scout Russell, seems a little stiff but whether that was an acting problem or a character decision I don't know. Either way using a "real kid" gave the role a more genuine quality than if a leading child actor had been hired to "act" the part. Christopher Plummer as the villain is more than up to the part. And co-director and writer Bob Peterson proves the spirit of Joe Ranft (voice of Heimlich and co-writer of A Bug's Life) lives on at Pixar in his hysterical performance as the talking dogs Dug and Alpha.
Director Pete Docter has proven he is the king of comedy at Pixar with the studio's two funniest movies under his name. And Pixar continues to prove they are the best at what they do in the world right now — with great stories, superb animation, and characters that feel real and who make the audience feel real emotions. It'll be hard for anyone else to top Up this year.
Animated Classic or Back To The Drawing Board?
Up
Disney/Pixar
May 29, 2009
96 minutes
Rated PG
directed by Pete Docter & Bob Peterson