Various (1959-1969), Warner Home Video (May 26, 2009), 2 discs, 308 mins plus supplements, 1.33:1 original full frame ratio, Dolby Digital Mono 1.0, Not Rated, Retail: $26.98
Storyboard:
There was a time when Saturday mornings were the best place to watch cartoons. This was before all-day cartoon channels, before DVDs, and before the Internet. Saturday mornings meant cartoons, and nothing else came close. In this DVD set, you can journey back to the birth of Saturday morning cartoon heaven.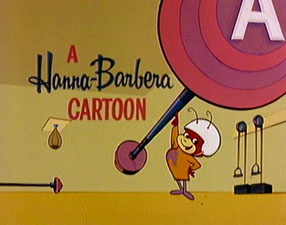 The Sweatbox Review:
THIS is the realization of a dream. I have been saying for years that it would be a great idea to do "Saturday morning cartoon" DVD collections, compiling multiple shows in a single set, representing the best that Saturday mornings had to offer. There are so many shows that I would love to sample, but not all of them are worthy of "complete series" sets; and truthfully, while I have collected most of the complete series sets that have come out to date for classic cartoons, there are many episodes that I have not gotten around to watching, and perhaps never will— and those are largely shows that I love. A compilation set is therefore a perfect way to show off a broad range of what was available in a given decade.
By the end of the 1950s, the glory days of theatrical cartoons were over. The late fifties and early sixties saw syndicated cartoon shows showing up on television around the supper hours during the week, a mixture of new cartoons and compilations of theatrical shorts. During the 1950s, the big three American networks started toying with making Saturday mornings a children's television destination. Shows like Howdy Doody, Shari Lewis, and Tom Corbett, Space Cadet were the norm. By the early 1960s, all three networks began to program Saturday mornings for children nationwide, no longer relying on a mix of local and syndicated shows. Initially, the shows still included live action series like The Lone Ranger and Sky King, as well as shows featuring old theatrical cartoon favorites like Woody Woodpecker and Mighty Mouse. After The Beatles cartoon became a great success in 1965, the networks realized fully just how important new animated programming would become to Saturday mornings. The following year, the only live action show on Saturday mornings was Captain Kangaroo (yes, I know it sounds like a cartoon show, but it wasn't). It was a sad day for supporters of the classic adventure series, kids' puppet shows, and programs with live hosts, but it was also the beginning of a legendary run for the cartoon industry. True, Saturday mornings came to later be regarded as a television "wasteland," but to the kids growing up at the time, there was plenty to love— especially in the 1960s.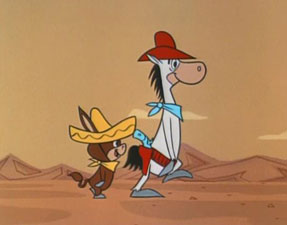 Thus, 1966 became the first big year of a 20-plus year love affair between kids and Saturday morning cartoons. Anyone growing up in those years has fond memories of getting up extremely early, and watching test patterns on TV until the cartoons finally started; and then we sat there for hours, until the cartoons ran out. Much cereal was involved. Yes, those were the days.
What showed up in 1966? The New Adventures Of Superman, Mighty Heroes, Frankenstein Jr. And The Impossibles, King Kong, Space Kiddettes, Space Ghost, and Cool McCool all debuted that year. The Saturday morning schedule in 1966 also saw reruns of The Jetsons and The Flintstones, as well as theatrical compilations like The Porky Pig Show and Casper. The success of Superman in particular spawned several more superhero type of shows the next year (Fantastic Four, Spider-Man, and the notorious Super President, among others), while other action-adventure cartoons debuted such as Herculoids, Shazzan, and Journey To The Center Of The Earth. Then, the backlash against violence in cartoons led to a programming overhaul in 1968. Suddenly, safe new comedy shows like Wacky Races, and Archie began to sneak into the mix. By 1969, superheroes were out, replaced by detectives (Scooby-Doo, Hardy Boys), and chase cartoons (like the Wacky Races spin-offs Perils of Penelope Pitstop and Dastardly & Muttley In Their Flying Machines).
This two-disc DVD sets offers up a pretty nice sampling of the shows that made kids excited in the 1960s. Naturally, as this is a Warner Home Video release, these include only shows owned or otherwise controlled by Warner Bros., so there are unfortunate but necessary exclusions like Archie and Spider-Man. It is our good fortune, though, that Warner does actually have the rights to a great many cartoon shows (particularly Hanna-Barbera cartoons), making this DVD more complete than anyone else could have made it. Some might quibble with the inclusion of series that were just reruns of prime time shows, but their impact on Saturday morning television is undeniable. Of course, the most disappointing aspect of having representative episodes of Top Cat and The Flintstones is that they have already had all of their episodes appear on DVD, as has the true Saturday morning entry Space Ghost and the syndicated holdover Magilla Gorilla (though, read on to see what makes this Saturday Morning DVD set better for Magilla fans). I understand that this set serves as a sampler, and that the inclusion of certain shows might help to lead to sales of existing DVD sets, but I would have preferred to have this set serve more exclusively as an introduction to shows not already available, such as Moby Dick & Mighty Mightor or Space Kiddettes. Still, this set is close to perfect for its purposes.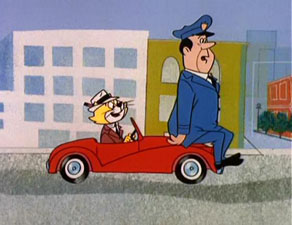 Disc One
TOP CAT was originally a prime time series, Top Cat did have a nice run of reruns on Saturday mornings following its only prime time season in 1961-62. Top Cat is something of a benign hustler, using his buddies to help him pull off countless schemes while trying to evade Officer Dibble. The Tycoon is a fun story, where a rich man mistakes Top Cat and friends for a destitute family and gives them a large check.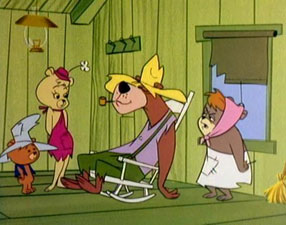 THE ATOM ANT SHOW originally headlined the first half of the hour-long The Atom Ant And Secret Squirrel Show in 1965, but eventually the two half-hours split into separate programs in early 1967; not much difference, really, except for those who enjoy such trivia (myself included). Atom Ant was Hanna-Barbera's first superhero, paving the transition from funny animals to true adventure types. He shared his show with the mischievous Precious Pup and a group of Hillbilly Bears. This episode's stories are Up & Atom, Precious Jewels and Woodpecked.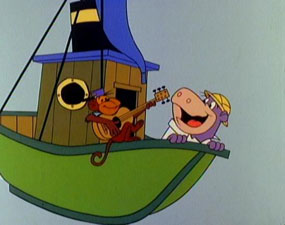 THE PETER POTAMUS SHOW started out in syndication in 1964, featuring a big purple hippopotamus who journeyed in a time travelling balloon with his monkey friend So-So. Now that is a fun premise! The show also had two other segments, which changed over the years, but here they have North Pole dwellers Breezly And Sneezly, and the musketeers Yippee, Yappee And Yahooey. Story titles: Fe-Fi-Fo Fun / All Riot On The Northern Front / The Volunteers. Note: The end credits are actually for a different incarnation of the show, from when Ricochet Rabbit (from The Magilla Gorilla Show) was used instead of the Breezly And Sneezly segment.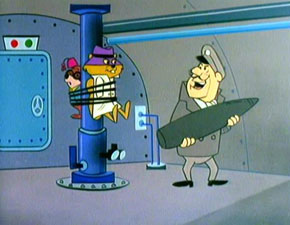 THE SECRET SQUIRREL SHOW, as mentioned, was originally paired with Atom Ant's show to create a full hour of fun. While Atom Ant parodied superheroes, Secret Squirrel was spoofing the spy craze, battling all sorts of evildoers with his sidekick Morocco Mole. His story here is Sub Swiper, and this episode also has Sqiddly Diddly in Way Out Squiddly, and Winsome Witch in Prince Of A Pup.
THE FLINTSTONES, as you most likely know, was the first primetime animated series, beginning in 1960. While it had numerous spin-offs appearing for years on Saturday mornings, its run in that part of the week began with reruns of the original shows. The Happy Household initially appeared near the end of the show's second season, and has Wilma as the hostess of a TV show.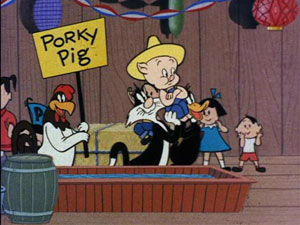 THE PORKY PIG SHOW was run by ABC in the mid-1960s as a Looney Tunes/ Merrie Melodies compilation package. Its inclusion here is a nice pick, as Saturday mornings never would have seemed complete without some Looney Tunes. Often An Orphan has Porky Pig and Charlie Dog, Mice Follies was Robert McKimson's third and final Honeymooners parody, and The Super Snooper is a Daffy Duck vehicle from McKimson. The complete episode is intact here, including interstitials.
THE QUICK DRAW McGRAW SHOW entered syndication in 1959, a year after Hanna-Barbera's first original animated half-hour, The Huckleberry Hound Show. After a 45-episode run in syndication, Quickdraw made its way to Saturday mornings from 1963-1966. This is classic, old-time Hanna-Barbera, with fun characters, sharp writing, and of course superb voice acting. Quickdraw's story in this episode is Dynamite Fright (where he faces the outlaw "Dynamite Kaboom"), but this episode also has cat & mouse detectives Snooper & Blabber in Outer Space Case, and Augie Doggie and Doggie Daddy in Growing Growing Gone. Quickdraw's alter ego, El Kabong, does not appear in this episode, but he can be found elsewhere on this set.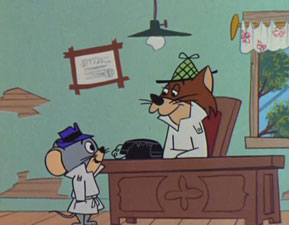 Disc Two
THE JETSONS – Hanna-Barbera's third prime time series, from 1962, had a lengthy run on Saturday mornings as well. The space age family here stars in the episode that introduced their maid, Rosey The Robot.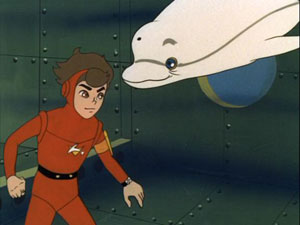 MARINE BOY – This Japanese series was one of the first anime to be dubbed for US audiences (via co-producer Seven Arts, in this case), appearing on television Stateside in 1968. By chewing "oxygum," Marine Boy was able to spend extended periods underwater, which came in handy while taking on sea-based threats. The sampled episode here is Battle To Save The World.
SPACE GHOST AND DINO BOY – The classic Alex Toth-designed sci-fi superhero show was part of the legendary 1966 Saturday morning cartoon lineup. Space Ghost's stories The Heat Thing and Zorak sandwich the Dino Boy story The Worm.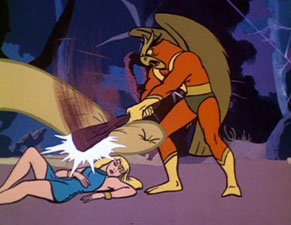 HERCULOIDS – After the success of Space Ghost, Hanna-Barbera had Alex Toth design a number of adventure shows in 1967. Perhaps the best remembered of these is Herculoids, who were comprised of a human family and some weird yet interesting alien creatures. The episode here has the stories The Beaked People and The Raider Apes.
FRANKENSTEIN JR. AND THE IMPOSSIBLES – This 1966 Hanna-Barbera program combined the striking heroics of Space Ghost with the whimsy of Atom Ant. The next year, H-B dumped the whimsy almost altogether in favor of the harder-edged action shows. The headliner for this series, but appearing only in the middle segment, was Frankenstein Jr., a creation of Professor Conroy. His son Buzz palled around with the giant creation, in stories reminiscent of the "boy and his robot" tales of Gigantor. The opening and closing segments of the show had The Impossibles, rock musicians who turned into superheroes. This episode has segments Shocking Electric Monster/The Bibbler /The Spinner.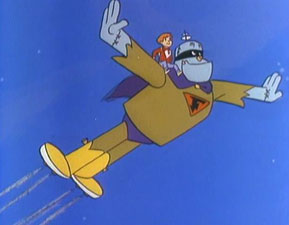 THE MAGILLA GORILLA SHOW – Hanna-Barbera produced this show with Ideal Toys for syndication in 1964; and, like so many other H-B shows, it received reruns on Saturday mornings. The gorilla living in a pet store shared his show with Punkin Puss and Ricochet Rabbit. Their respective stories here are: Gridiron Gorilla/Small Change/Atchison Topeka And Sam Jose. And here's something that will make fans very happy: Unlike, Magilla's "Complete Series" DVD set, this episode does actually have the opening and the closing credit sequences— with the little girl asking how much Magilla will cost to take home.
Watching this set has been such a blast. Growing up, shows like these were what cartoons were all about for myself and many others. I wasn't actually around in the 1960s, but many of these characters stuck around into my 1970s childhood. The exuberance, unpretentiousness, and general sense of fun cannot be beat. While I adored the early Hanna-Barbera shows, however, their presence in this set overwhelms the single Looney Tunes and anime outings. It would have been nice to see, in addition, something here from Filmation, another big player of the era. This would have been a nice opportunity to show off their The New Adventures Of Superman or the currently unreleased on DVD The Adventures Of Batman from 1969. Well, at least we'll see Filmation and Batman on the 1970s set. Likewise, Scooby-Doo— perhaps the most famous original character to come out of the 1960s— does not appear here, but he does show up in the 1970s set. (Of course, Scoob only came out in the latter half of 1969, so he really did make his mark more in the Seventies.) Overall, though, this DVD set is a nearly perfect time trip to the glorious 1960s, and the beginning of Saturday morning cartoons.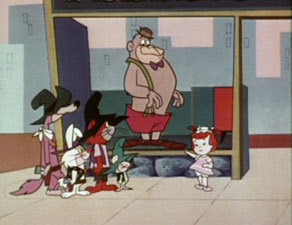 Is This Thing Loaded?
Saturday Morning Wake-Up Call is a synopsis of all the stories on each disc, with video highlights. That sounds lame, perhaps, but the genius here is that it's narrated by voice man supreme Gary Owens, in a style reminiscent of what one might have heard back in the good old days of Saturday morning cartoons. (He does note that Space Ghost, the character he voiced, is his favorite, then discusses him in the first person before dissing Dino Boy!) Each disc's Wake-Up Call lasts about three minutes.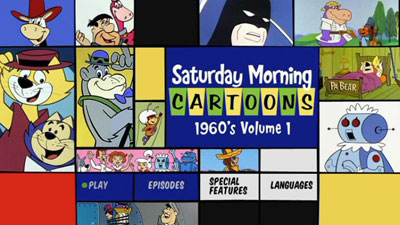 Disc one's featurette is The Good, The Bad & The El Kabong (5:57), which uses Paul Dini, Mark Evanier, and other animation experts to delve into the greatness of The Quickdraw McGraw Show. Disc Two offers two more similar featurettes, the first of which is The Herculoids: First Family Of Planet Quasar (4:35); the final featurette is Monster Rock: The Adventures Of Frankenstein, Jr. And The Impossibles (5:23).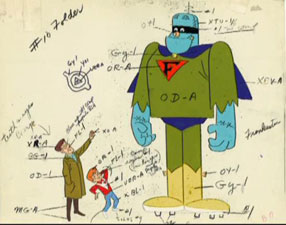 And, because Warner just knew that fans wanted a sampling of El Kabong, they gave us a Bonus Episode of The Quick Draw McGraw Show, featuring Quickdraw's heroic alter ego (plus the other two regular segments).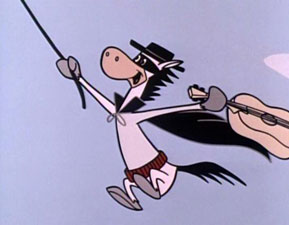 Disc One actually begins with a promo for The Real Adventures Of Jonny Quest and a three-minute promo for the Green Lantern animated movie; and Disc Two has a spot for Peanuts: 1960s Collection. From the second disc's menu, you can choose from such Trailers as Smurfs, The Jetsons, The Zeta Project, Saturday Morning Cartoons, Snoopy's Reunion, Wonder Woman, and Tom And Jerry's Greatest Chases.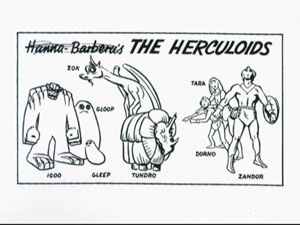 Case Study:
This set comes in Warner's current preference for two-disc packaging. The discs are housed in a standard keepcase, with a tray to hold one of the discs. The keepcase fits inside a slipcase, which is nearly identical, except for switching out some characters on the back cover. The primary color motif is quite appropriate for these classic era cartoons. Now here's something to note: I find it downright weird to see a disclaimer on the set that these cartoons are intended for the "adult collector," when these are the epitome of kids' cartoon paradise. It's kind of appalling to think that some might consider these cartoons to be "dangerous" for kids to see these days. Honestly!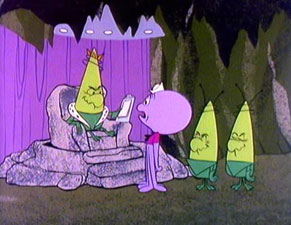 Though we don't get an episode listing in the packaging, and no insert of any sort, the episodes menus on the discs do list every story offered in every show, and each one is selectable. However, if you select from the Episodes menu, you do not get the full show—only the segment selected (obviously, the exception being for full-length stories like those from Top Cat or The Flintstones). There is a Play All option, however, where you get to see each episode at its full length.
Ink And Paint:
Prior to the main menu, each disc offers an apology of sorts, explaining that portions of the programs on the DVD did not have original elements in pristine condition; so, Warner Home Video basically did the best from what they had. Fair enough. Consequently, parts of the presentation look shoddier than other parts. The worst would be segments for The Porky Pig Show; the opening and the closing credits, and the interstitials, look really grainy and scratchy, but the cartoons themselves are in good shape. Similarly, the resurfaced Magilla Gorilla opening and closing credits show more age than the other episode segments. All of the Secret Squirrel segments look a little rough, too, needing some color correction and sharpening. Aside from that, the cartoons on this set look pretty darn good, in keeping with what we have seen on previous Hanna-Barbera (and Looney Tunes) collections. One must expect a certain amount of cel dust and age-related debris, but on the whole most of these cartoons likely look better on DVD than they did on 1960s televisions. And the ones that don't… well, they're not so bad as to hurt my enjoyment. In a sense, it's nice for some of them to show their age a little.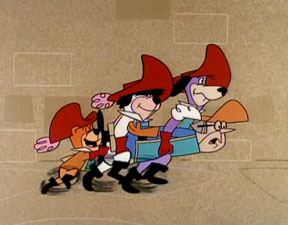 Scratch Tracks:
The mono sound is predictably mediocre. While several of the cartoons sound fine, some suffer from flat or even mildly distorted soundtracks. Ah, but the vocalizations of such masters as Paul Frees, Don Messick, and of course Daws Butler take precedence in making the discs a pleasure to listen to. A Portuguese language track is also available, as are English and Portuguese subtitles.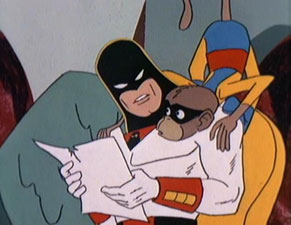 Final Cut:
I would go so far as to say that these Saturday Mornings Cartoons DVD sets are a dream come true. Short of having several different DVD season sets handy, there is no other way to replicate so well what youngsters experienced growing up in the 1960s. Having so many shows in one set is very handy. All that's missing are some classic toy and cereal commercials. The cartoons are still astoundingly entertaining, and we get a few more bonus features than one might expect for a release such as this. One can see that some care and thought went into this set. From a bonus "El Kabong" episode of Quickdraw McGraw, to the restored credits for Magilla Gorilla, it's obvious that Warner wanted to please the fans. I have to admit that I'd still buy season sets for all of these shows, but in the meantime, I hope to see future collections like this.
Animated Classic or Back To The Drawing Board?