Various (1970-1979), Warner Home Video (May 26, 2009), 2 discs, 352 mins plus supplements, 1.33:1 original full frame ratio, Dolby Digital Mono 1.0, Not Rated, Retail: $26.98
Storyboard:
The cartoons of Generation X find a home in this fun compilation of the best of 1970s cartoons.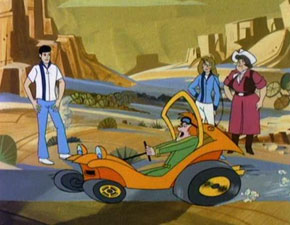 The Sweatbox Review:
I consider the 1960s to be the true golden era of Saturday morning cartoons, even though I grew up in the 1970s. I have a supreme fondness for the cartoons of my childhood, but by then they were often just copies of what had come before. The Saturday mornings of the 1970s had some good shows, but overall they also saw countless spin-offs, adaptations of live action shows, and lame humor and action. Aside from network demands for "more of the same," the dip in quality was largely due to the neutering of cartoons that began in the late 1960s, when parent groups demanded that cartoons have less violence, less action, and less fun (Okay, that turned into an editorial comment.) The shows of the 1970s often come off as bland as a result. Complicating matters further, the main cartoon studios (particularly Hanna-Barbera) got so overwhelmed by demand for product, that their talent pool was getting stretched pretty thin, in an industry where quick turnaround was required.
Looking at the list of content on this set, I have mixed feelings. There are a couple of shows that I was very anxious to see, as I was too young to remember some of them. On the other hand, many of these programs are simply alternate versions of what had come before. Originality was not what the networks wanted; they preferred shows that had built-in interest, which often meant making a new show a lot like an old show. The one blessing on this set is that (unlike the 1960s set) there is only a single series that originated away from Saturday mornings, and we get that one over with first.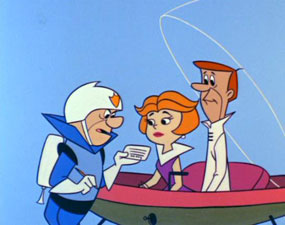 Disc #1
THE JETSONS – I have no idea why they decided to place a Jetsons episode on here, but you can watch the story The Space Car. Aside from this episode already being available in the Jetsons' first season set, and aside from the fact that it is a Sixties show (not the Seventies), another Jetsons episode appeared on the Sixties DVD set! As far as I'm concerned, as good an episode that it may be, it took a slot from another show that should have been here.
THE BATMAN TARZAN ADVENTURE HOUR – This show combined stories from The New Adventures Of Batman and Tarzan, Lord Of The Jungle. They appear here with their own openings and closing credits, which if I recall was not how this program originally aired. Regardless, it wouldn't be a Seventies set without some DC Comics cartoons, and this was a good way to include Filmation (every other series on this DVD set is from Hanna-Barbera). I was surprised that Warner had the home video rights for Tarzan— now we'll really have to bug them for a complete series set! Lord Greystoke's adventure here is Tarzan And The Colossus Of Zome, which has elements of Gulliver's Travels, as Tarzan is first tied up by and then asked for help by tiny people. Batman's story has Bat-Mite helping against the Joker in The Pest. Personally, I would have preferred to go with Tarzan And The Super 7, with its many other characters, as Batman already has its own DVD set. (Come to think of it, I don't think Warner has the rights to the other Super 7 segments. So, never mind. Still ,Tarzan could have stood on its own and we could have had another show instead of Batman. )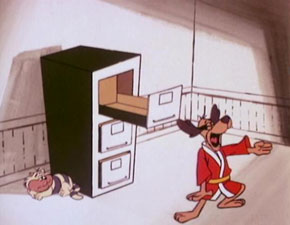 HONG KONG PHOONEY – Like the The Jetsons and Batman, Hong Kong Phooey has already seen all of his shows appear on a complete series set, but it's more understandable to want to have him represented here, as he is a product of his time and many wouldn't have purchased his DVD set. If you are not yet familiar with him, you should enjoy these 1974 adventures of a somewhat inept but well-meaning martial arts hero, who is aided by his striped cat Spot (a good gag, done years before they did the same thing on Star Trek: The Next Generation). This episode has Car Thieves and Zoo Story.
GOOBER AND THE GHOST CHASERS – This was one of many rip-offs (and one of the more blatant ones) of Scooby-Doo requested by the networks back in the 1970s. (A few more appear later in this set!) Hey, you can't blame Hanna-Barbera for giving the networks what they wanted. The kids investigating paranormal mysteries in this 1973 show are journalists, and their dog turns invisible when scared, but otherwise there's not a lot to distinguish this show from Scooby-Doo. What is cool, however, is that the episode they picked— Assignment: The Ahab Apparition— guest-stars the kids from The Partridge Family! Animated Partridge kids— now that brings back memories! (But wouldn't you know it… Believe it or not, I actually already have a VHS tape with the same episode. What are the chances?)
SPEED BUGGY – While this 1973 show may be a little reminiscent of Scooby-Doo, it has a thing or two in common with Speed Racer too. The talking dune buggy and his human friends appear in Speed Buggy Went That-A-Way, which also has a pinch of Wild Wild West.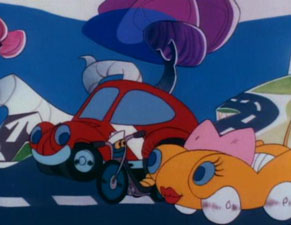 WHEELIE AND THE CHOPPER BUNCH – I have no personal memory of this 1974 program, and after watching some of it here, I still have trouble remembering it. For small fry only, this show has talking cars, a rival motorcycle gang (literally a gang of motorcycles), and a hero who is the only member of the cast who doesn't speak. With three stories per show, they are cute, but not all that engaging.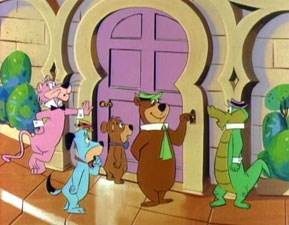 Disc #2
YOGI'S GANG – This series actually premiered as an hour-long special called Yogi's Ark Lark on The ABC Saturday Superstar Movie in 1972. It was the first of several attempts to place together all the older Hanna-Barbera stars into one program. The series itself then began in 1973, and saw Yogi and his friends travelling the world in a flying ark, encountering individuals whose names described their bad traits (Mr. Bigot, Gossipy Witch, etc.). In this set's episode, they meet The Greedy Genie. The heavy-handed moralism may get to you as an adult, but it's a nice show for kids, with lots of classic characters.
AMAZING CHAN AND THE CHAN CLAN – Charlie Chan appeared in a whole bunch of movies in prior decades, but it took a cartoon show before he was actually played by someone of Chinese descent. Keye Luke played him in this show, which was a return of sorts, since he had portrayed Chan's Number One Son in a few of the films. The 1972 cartoon gave him a whopping ten children, with the older ones forming a rock band. They also solved mysteries with their dog, making this a mishmash of Archie and Scooby-Doo (and maybe Cheaper By The Dozen). The episode Scotland Yard sees the family in the UK, with the same problem as all the other episodes— too many characters, too little plot!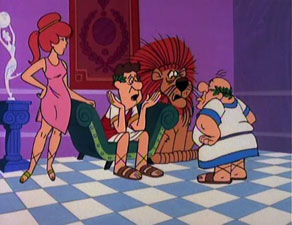 ROMAN HOLIDAYS – This one is also from 1972, but rips off a different Hanna-Barbera show. Simply put, this is The Flintstones in ancient Rome. It must help to steal from a better source, because I found this show more enjoyable than any of the Scooby rip-offs. The gags may be corny (sundial wristwatches, snail lawn mowers), but in a good way, and the warm family dynamic is pleasant to watch. Double Date sees the Romans on the verge of being kicked out of their home by their landlord Mr. Evictus (see, everyone here adds "us" to their name, instead of using "stone" or "rock" like in The Flintstones). They strike a deal, though, to ensure that Mr. Evictus's daughter has a good time at the prom, in exchange for being allowed to keep their home. Unfortunately, while this is one of the better-scripted shows on the set, it has some of the yuckiest drawing and animation, as the animation had been farmed out to an Australian company. It reminded me most of Hanna-Barbera's primetime series Wait Till Your Father Gets Home— not your typical H-B-looking project.
JOSIE AND THE PUSSYCATS – Last seen in their own series set, Josie and her singing friends star in The Nemo's A No-No Affair. I got excited for a second when I saw the episode menu, as it stated that this episode was from Josie And The Pussycats In Outer Space, but alas we have indeed seen this one in the original series' set. On the plus side, with the 1960s Saturday Morning set, I lamented the fact that Warner didn't have the rights to any Archie cartoons, so it's kind of nice to see the spin-off show here. Still, it would have been even better to have an Outer Space episode instead.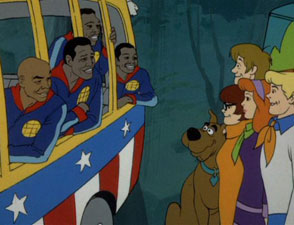 THE NEW SCOOBY DOO MOVIES – Yet another show that has been seen on DVD before— in fact, you can now get this 1972 episode on four different DVDs! Really, what is the point? Sure, there's lots of nostalgia in seeing the Harlem Globetrotters in animation, as they team here with Scooby in The Ghostly Creep From The Deep, and we surely needed to fit in Scooby somewhere; but I would have much rather gotten an episode from the Globetrotter's own 1970 cartoon show. (Or better yet, 1979's The Super Globetrotters!)
FUNKY PHANTOM – And here's our final Scooby clone in this set. This 1971 program had three teenagers, their dog and, as the title suggests, a ghost. They solved mysteries, and got into all sorts of wacky trouble. The Australian animation is sub par, but there is a certain something about this show— maybe it's how un-funky the Revolutionary-era ghost really is. He is kind of fun, though, sporting Daws Butler's impression of Bert Lahr, essentially the same as Snaggletooth's voice, right down to his unique speech mannerisms.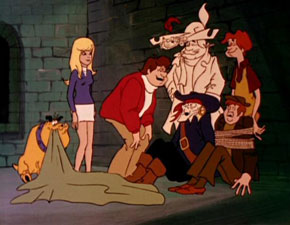 To be honest, this may have been the most profitable decade for Hanna-Barbera (though I'm only guessing, based on the amount of shows they were doing), but it was not the most critically successful. They did have some decent shows, but this era will largely be remembered for over-saturating the "teens solve mysteries" genre. Farming out their animation overseas might have been a necessity, but it's a matter of being a victim of their own success; too many of their 1970s shows just didn't look that great— Chan Clan being a particularly ugly example. Looking at this DVD set, I was also disappointed at how many of these episodes I've seen on DVD before.
On the other hand…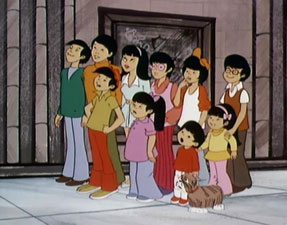 This set was also a wonderful opportunity to experience six shows that I had only read about and had never seen. I grew up in the 1970s, but had never seen the early 70s shows. For that half of the set, I give it a hearty recommend, though more from a historic standpoint, as an archive of what was happening on television during the Nixon era. Even the derivative shows can be a lot of fun, though, and my kids like them too!
Is This Thing Loaded?
Saturday Morning Wake-Up Call is a synopsis of all the stories on each disc, with video highlights. Running about three minutes each, these segments are narrated by none other than Casey Kasem, who did voices for Hanna-Barbera back in their heyday (as well as more recently). He's sounding older, with a little less zip in his voice, but he's still one of the classic voices out there. For some reason, though, the clips shown and described for Tarzan do not match the episode featured on the disc.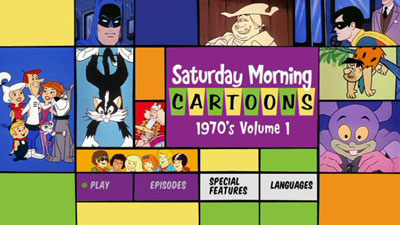 The meat of the special features is in the form of two Bonus Documentaries, both of which appear on the second disc. Solving Crimes The Chan Clan Way (5:24) and Heavens To Betsy Ross: The Spirit Of The Funky Phantom (4:53) each use cartoon experts to shed light on how these shows came to be, with plenty of neat bits of information. It's just too bad that every show could not have had a featurette like these. They may be short, but they are filled with good information… such as Chan Clan being the only wiring that Jamie Farr did for Hanna-Barbera!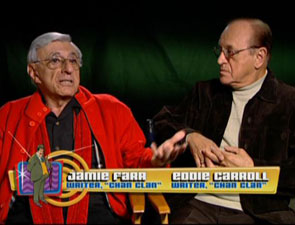 Disc One actually begins with a promo for The Real Adventures Of Jonny Quest and a three-minute promo for the Green Lantern animated movie. Disc Two opens with trailers for Ben 10 Alien Force and Bakugan. Trailers from the disc's menu include those for Smurfs, The Jetsons, The Zeta Project, Saturday Morning Cartoons, Snoopy's Reunion, Wonder Woman, and Challenge Of The Superfriends.
Case Study:
This set comes in Warner's current preference for two-disc packaging. The discs are housed in a standard keepcase, with a tray to hold one of the discs. The keepcase fits inside a slipcase, which is nearly identical, except for switching out some characters on the back cover (Chan Clan kids for the Holiday's pet lion and landlord). The non-primary color motif is quite appropriate for these 1970s cartoons. Like the 1960s set, there is a disclaimer on the cover that these cartoons are intended for the "adult collector," even saying (I kid you not) that they are "Not Suitable For Children." HUH?!?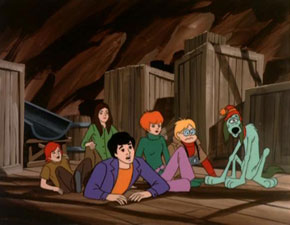 In a mildly frustrating decision, Warner Home Video decided not to give us any episode listing in the packaging, and no insert of any sort. There is no way of knowing what is on each disc without going to the disc's menu. At least the "Episodes" menus on the discs do list every story offered in every show, and each one is selectable.
Ink And Paint:
Prior to the main menu, each disc offers an apology of sorts, explaining that portions of the programs on the DVD did not have original elements in pristine condition. There is more good than bad on these discs, fortunately. The Roman Holidays probably looks the roughest of all, though I wonder if that is partially due to it being one show that was shipped overseas for animation. Regardless, Holidays has way more dust and damage than the other shows. Tarzan looks grainier and more faded than the other shows, as well. Most the programs look surprisingly good, though; Goober And The Ghost Chasers especially looked nearly perfect, with a sharp, colorful transfer. There are bits of dust and such on all the episodes to be sure, and most transfers are on the soft side, but I was more than happy with most of the shows. For those programs with poorer video, I can accept that we're just lucky to get to see some of these obscure shows again in whatever form we can get them. (If Tarzan gets a full series set, though, I'll certainly be wanting the episodes remastered!) As usual, though, Warner's people do a great job on the compression, making every show look faithful to the elements that were used.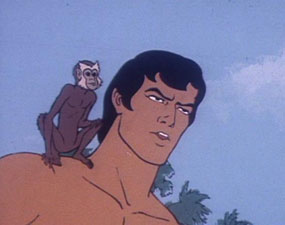 Scratch Tracks:
Hmmm… Cheap Saturday morning cartoons from the 1970s. What are our expectations here? Low? Yes. The soundtracks are properly presented in one-channel mono, with quality ranging from acceptable to mildly harsh and distorted. There's no significant hissing, at least.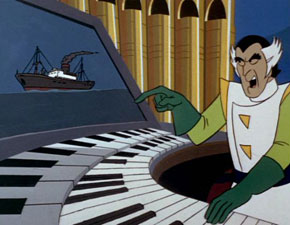 Final Cut:
There are too many episodes we've seen on DVD before, but even for those that bought previous series sets, this two-disc set is wonderful way to experience Saturday morning cartoons, 1970s style. By necessity (due to rights issues), Hanna-Barbera dominates this set, with only one Filmation outing; too bad, as adding in Fat Albert and Flash Gordon would have made the set even more representational of the 1970s experience. The entertainment value of this set is not as high as in the 1960s set, by my estimation, but the rarity of the shows presented here still make it one of my favorite releases so far this year.
Animated Classic or Back To The Drawing Board?