Various (1960-1969), Warner Home Video (October 27, 2009), 2 discs, 299 mins plus supplements, 1.33:1 original full frame ratio, Dolby Digital Mono 1.0, Not Rated, Retail: $26.98
Storyboard:
With an emphasis on Looney Tunes and Hanna-Barbera subjects, we explore the golden age of Saturday morning cartoons.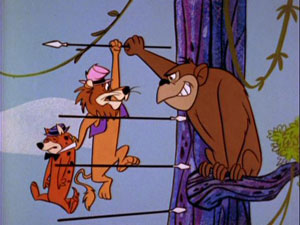 The Sweatbox Review:
The first volume of this series was one of my favorite releases of the year. Sure, we all like to see season sets of our most treasured shows, but not every show is really worthy. Sometimes, I just want to see one or two examples of an older show, just to get a feel for it. Oh, who am I kidding? I'd like a season set for every show, but truthfully there just aren't enough hours in the day to ever get through so many sets. So, I see the value of a compilation, and the previous 1960s volume was a fantastic selection of the best the decade had to offer. When I heard another volume was forthcoming, I was jazzed. Details on the exact contents were encouraging initially, but obviously incorrect, as they included episodes seen on the last set. Still, I had hoped that some of that initial listing was correct, so that I could see Johnny Cypher In Dimension Zero and maybe more of Herculoids or Frankenstein Jr. And The Impossibles. Alas, it was not to be. It turns that that the initial listing was entirely wrong, and instead we got… this.
I do actually like that each disc begins with Quickdraw McGraw, as he has been painfully neglected in terms of a complete series set, for various reasons. There are also a couple of shows here that I'd never seen before, so that's nice. However, there are also no less than three different shows with repeatedly seen Looney Tunes cartoons, not to mention a show containing old Tom And Jerry theatrical cartoons, when we could have instead seen one of the shows I just mentioned, or one of many that have never made it to DVD. It wasn't necessarily wrong to program the package like this, just disappointing to me personally.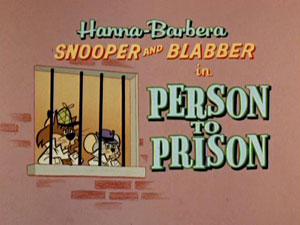 Disc One
QUICKDRAW MCGRAW SHOW – As I said, I won't complain about seeing this classic and important Hanna-Barbera show well-represented. Lawmen Quickdraw and Baba Louie are joined by detectives Snooper and Blabber, and some bumbling Musketeers in Person To Prison/Vacation Tripped/Mine Your Manners.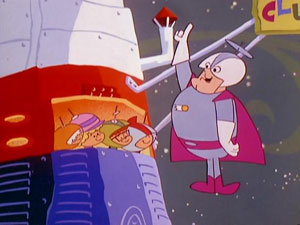 SPACE KIDDETTES/YOUNG SAMSON AND GOLIATH – This is one of those first-time-to-DVD shows, and certainly one I'd never had the opportunity to see before. Debuting in 1966 and aimed at a definitely young audience, a cute sci-fi show for kiddies is paired with a Captain Marvel-like hero who transforms from a boy to a muscle-bound, mythological based superhero. This episode's stories are Space Heroes and SSX-19.
THE BUGS BUNNY SHOW – And here we begin the Looney Tunes onslaught. Now, we realistically needed to see some Warner Bros. cartoons on a set such has this, but three episodes worth seems to be pushing it. The cartoons aren't even restored, so while these shows make for nice extras on the Looney Tunes Golden Collection sets, their appearance here is more than redundant to big-time collectors. Still those who haven't gotten the big sets will still find the included cartoons here to be suitably wonderful. Included in this episode are Bugs' tussle with Yosemite Sam in Big House Bunny, a desperate Sylvester taking on a mouse who is hoarding cans of food in Canned Feud, and then Sylvester is paired with his most famous co-star in Home Tweet Home.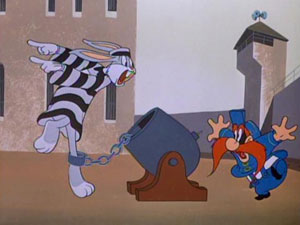 THE PORKY PIG SHOW – Back to back Looney Tunes, instead of, oh, say— Moby Dick And The Mighty Mightor?! Snarky remarks aside, you've still gotta love the Porky and Sylvester, old dark house starrer Scaredy Cat, the hilarious Bugs-as-conductor cartoon Baton Bunny, and Foghorn Leghorn's stab at fatherhood in Feather Dusted. And it is cool to see this show intact, with the original opening and bumpers.
THE ADVENTURES OF GULLIVER – We now get back on track with this little-seen 1968 literary adaptation (called The Adventures Of Young Gulliver in the menu). This first episode, Dangerous Journey, shows how young Gary Gulliver is separated from his dad before coming ashore on Lilliput, the land of tiny cartoony people.
THE WALLY GATOR SHOW originally dates back to 1962, placing these characters contemporary with the rest of the classic Hanna-Barbera menagerie. Here, Wally leaves the zoo but finds himself facing a rich man who mistakes him for a dragon in Droopy Dragon; Touché Turtle and Dum Dum star in Whale Of A Tale; and Lippy The lion and Hardee Har Har take on a pirate on a desert island in Sea-Saw.
THE JETSONS – After already being over-represented in the last wave (appearing on both the 1960s and 1970s sets) The Jetsons come back yet again in Elroy's Mob. Someone at Warner Home Video is definitely a Jetsons fan, but perhaps this set would have been better served by having one of the Filmation superhero shows represented instead?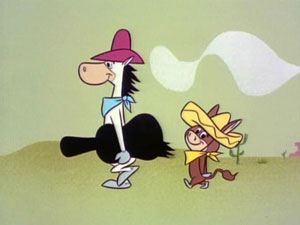 Disc Two
THE QUICKDRAW MCGRAW SHOW returns, and this time we finally get to see Quickdraw's alter ego, the masked avenger El Kabong, in The Mark Of El Kabong. Also, Snooper and Blabber check out a haunted house in Chilly Chiller, and Augie Doggie reluctantly attends a birthday party in Party Pooper Pop.
THE PETER POTAMUS SHOW starts with Peter surrounded by cowboys and some non-politically correct Indians in Wagon Train Storm. Breezly and Sneezly continue their annoyance of the colonel at Camp Frostbite in Missile Fizzle, but the colonel finds himself asking them to be mascots instead when a magazine article is being prepared. Then, Yippee, Yappee, and Yahooey take on Black Bart, who tries to kidnap the king.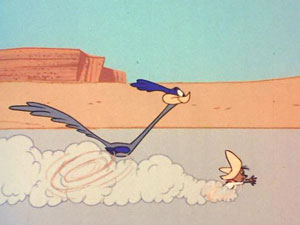 THE ROAD RUNNER SHOW starts with a typical Coyote/Road Runner outing in Zip 'n Snort; Tweety evades Sylvester in style in The Jet Cage; and then we get an uncommonly fun scenario, as both the Coyote and Sylvester chase Speedy Gonzales and the Road Runner as the latter two race each other in The Wild Chase.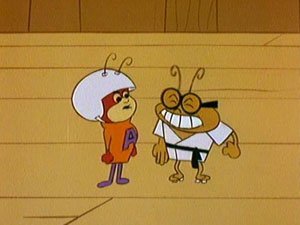 THE ATOM ANT SHOW sees an interesting pairing as Atom Ant Meets Karate Ant; Precious Pup's owner challenges the town bowling champ in Bowling Pinned; and The Hillbilly Bears find themselves Picnic Panicked.
THE TOM AND JERRY SHOW featured old theatrical cartoons, presented in better quality elsewhere on DVD. However, it is again fun to see this old show's opening and bumpers intact. In this episode, between Saltwater Tabby and Just Ducky, we get a Droopy effort from director Michael Lah, Mutts About Racing.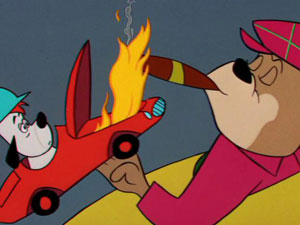 THE MAGILLA GORILLA SHOW is shown in its entirety, including opening and closing sequences, unlike his own "complete" series set . Magilla gets drafted in Private Magilla, Mushmouse gets help from the Army against Punkin' Puss in Army Nervy Game; and a television western gets shot in Ricochet Rabbit's town in TV Show.
Is This Thing Loaded?
Completely Bananas: The Magilla Gorilla Story (5:15) sees animation historians, as well as Magilla's voice himself, Allan Melvin, discuss Magilla's series, with pre-production artwork an added bonus.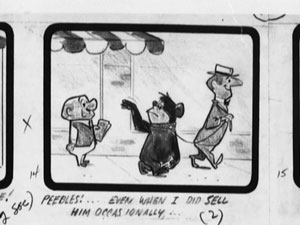 Saturday Morning Wake-Up Calls are integrated with the main shows this time, playing before the various series when selecting Play All from the menu (or separately from the episodes menu). Gary Owens returns to offer a synopsis of each program in his inimitable style (3:45 on Disc One, 3:01 on Disc 2).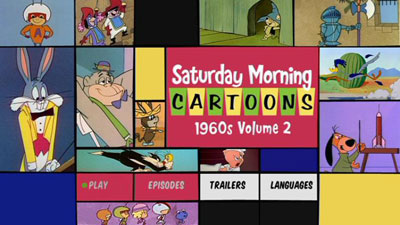 There are also Trailers for Green Lantern: First Flight, Tom And Jerry: Greatest Chases, Peanuts Holiday Collection, and the previous Saturday Morning Cartoons collections.
Case Study:
The standard keepcase-with-tray comes with a slipcase, with a modified back cover that has different characters featured. Annoyingly, there is no disc listing provided anywhere in the packaging. The "adult collectors only" warning on the back of the box is more meaningful this time around, as there could be real concern with some depictions in these cartoons, particularly the Indians on The Peter Potamus Show, and the Japanese ant on Atom Ant.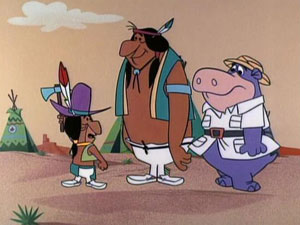 Ink And Paint:
As before, each disc pre-menu has a text screen warning the viewer that the elements used for these collections were not pristine. In fact, sometimes a lot of re-editing likely had to take place to recreate these shows, which were often chopped up into different versions for syndication. As such, video quality varies wildly, though is often acceptable, all things considered. The Looney Tunes compilations fair about the worst, with most of their segments looking quite faded and scratchy. Touché Turtle's short is worst of all, though— indistinct and discoloured, as well as marked by numerous physical artifacts.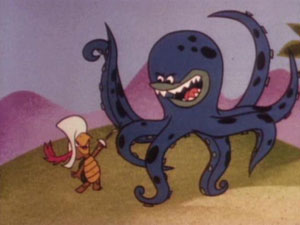 Scratch Tracks:
Only English mono sound and subtitles are offered. Though the picture may sometimes suffer, the cartoons on this set generally sound fine. Dynamic range is non-existent, but at least the cartoons don't sound muffled or hissy.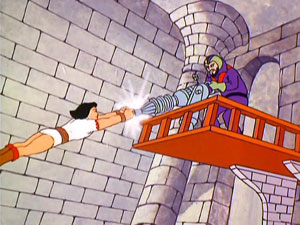 Final Cut:
Last time out, I felt that the first volume of 1960s cartoons was far stronger than the 1970s set, though I appreciated seeing a number of 1970s cartoons for the first time too. For these second volumes, I'm forced to say that the 1970s release is the stronger one, with more shows dug out of the vaults for the first time. This 1960s set does have some classic shows to be sure, but an over-reliance on well-worn Looney Tunes, as well as shows from the previous volume, make this set a disappointment. It is rumoured that we will see no more 1960s Saturday Morning Cartoons collections, and that might be just as well if this is what we are to get. Truthfully, I'd be much happier with season sets of some of the 1960s shows, especially any of the anthropomorphic animal ones, or the adventure shows designed by Alex Toth.
Animated Classic or Back To The Drawing Board?