FAI Films/Youngheart Productions/20th Century Fox Film Corporation (April 10, 1992), Twentieth Century Fox Home Entertainment (October 18, 2005), 2 discs, 76 mins plus supplements, 1.85:1 anamorphic widescreen/1.33:1 pan-and-scan, Dolby Digital 5.1 Mono/Stereo/Surround, Rated G, Retail: $19.98
Storyboard:
A human and a fairy must face an ancient evil that threatens the rainforest.
The Sweatbox Review:
While it's always nice to view a big new Disney Platinum release like Cinderella, one of the real treats of collecting DVDs is to see the lesser-known films receive nice new special editions. DVDs offer such a wonderful opportunity to see a film in the best possible light, if the bonus features provide insight into what the filmmakers were trying to achieve. After all, no one ever tries to make a bad film, and seeing the enthusiasm of the creators for their work helps one to enjoy the film all the more.
I watched FernGully: The Last Rainforest for the first time recently, and I found it quite enjoyable. I was wary about this 1992 film maybe being too preachy, but despite its unapologetically pro-environment message threatening to overwhelm the narrative, there is also plenty of good animation, some nice songs, and good voice performances. Once I had viewed the special features, I found myself gaining new appreciation for the film. The sincerity of the filmmakers and the unique production history earn FernGully a special place in the annals of animated films.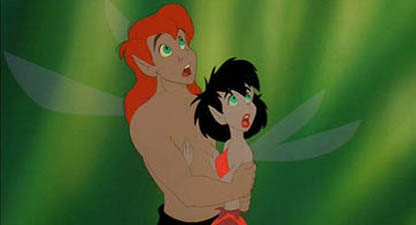 Diana Young was the author of some stories concerning an Australian rainforest and its inhabitants. The fairies of the rainforest tell tales of humans, generally considered to be legends— fairy tales, you might say. Diana's husband Wayne, a producer on Crocodile Dundee, brought her stories to the attention of two firms. FAI was the first, an insurance company in Australia looking for a tax credit and a good deed to perform. The second company was Hyperion Films, a California animation company headed by Disney-trained director Bill Kroyer. Hyperion had been doing advertising pieces to that point, so the prospect of doing a fully-animated feature was daunting, not to mention exciting. Hyperion took on the job, expanding its staff from thirteen to two hundred. Some of the animation was subcontracted to studios in Toronto, Denmark, London, Seoul (most of the film's ink and paint), and Thailand. In a progressive move, more complex forms were animated on a computer, then printed out and inked and painted traditionally. The resulting animation throughout the film is very professional; but ironically, there is very little rain in the movie, due to it being too expensive to animate! While the history of the film in intriguing, the film itself issues a strong message about man's responsibility to the environment.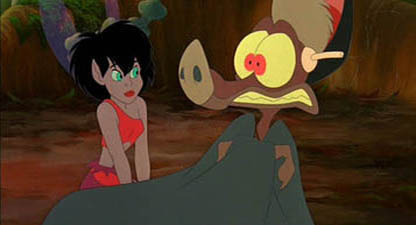 The movie opens with a myth being told, supported by tribal paintings, of an ancient evil spirit named Hexxus being trapped in a tree in the Australian rainforest. Humans have long been absent from the rainforest, and the forest's fairies debate their very existence. One young fairy named Crysta learns these stories while training with an older mystic named Magi. Later, while Crysta is with other fairies, their frolicking is interrupted by the appearance of an escaped lab animal— a bat named Batty Koda. Batty, who has wires sticking out of his head that contribute to him channeling various personalities, describes his encounters with humans. The fairies are reluctant to believe his wild tales, but Crysta in enticed into checking out a plume of smoke above the forest canopy.
Crysta zooms ahead towards the smoke, and spots a tree-clearing crew that horrifies her. Nearby, a young man named Zak is marking trees for clearing, including THE creepy black tree that holds Hexxus. Through a kooky chain of events, Crysta shrinks Zak to fairy size, and she befriends him, not realizing that he was part of the tree-clearing crew. Batty enters the scene, and immediately forms an antagonistic relationship with the human. Meanwhile, the tree-clearing machine known as the "Leveler" frees Hexxus from his woody prison. Hexxus commandeers the clearing crew, and heads for FernGully to exact his revenge on its inhabitants.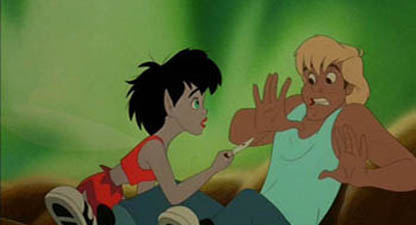 Zak and Crysta, not yet knowledgeable of the threat, begin a courtship. They are clearly from different worlds, with Crysta being much more in tune with nature than Zak. This saddens her, but she still feels affection for him. She introduces Zak to the other fairies, including her friend Pips, whose jealousy is quite apparent. Soon, though, the threat of the approaching Leveler is known, sending the fairies into a panic. Crysta searches out Magi to find out more about the Leveler— leading to some unwelcome revelations.
Man and nature must work together to end the threat of Hexxus, but a larger meaning to the story emerges. Zak, representative of the viewer, finds a new mission in life, thanks to his gaining a better understanding of man's role in the world. The movie ends with the dedication, "For our children and our children's children."
From beginning to end, this story is about living in harmony with nature and respecting the careful balance that exists in our environment. True, it comes off as "enlightened Disney", but it stands on its own as a good quality film produced with amazing professionalism given its humble origins and short two-year production period. It does not reach the soaring heights of the very best animated films, not quite managing to reach that highest level of dynamic animation and stunning imagery. Nonetheless, it is a solid effort that has very expressive animation, and this was doubtlessly an important part of the careers of the people involved. (It will interest you to know that, at the time of its release, the film was thought important enough to be the very first film shown at the United Nations General Assembly Hall— on Earth Day, introduced by Olivia Newton-John!) The goal of the creators was to tell a story that every child and adult could relate to, a story that gave gentle instruction on the proper way for humans to behave— and to their credit they succeeded in every way that is important.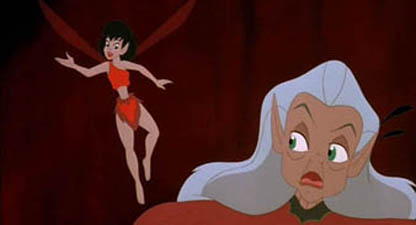 Is This Thing Loaded?
The movie's Audio Commentary with Director Bill Kroyer, Coordinating Art Director Susan Kroyer, and Art Director Ralph Eggleston covers all aspects of the film's creation. Any info about the film's production history or specific scenes that is not found in the featurettes can be found here, or is explained in more detail than elsewhere. The only other extra on Disc 1 is a Script To Screen Comparison, which covers five scenes with optional audio commentary by screenwriter Jim Cox. On-screen is a nice presentation featuring storyboards, finished film, and script.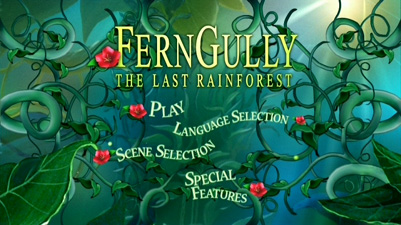 Moving on to Disc 2, there are a number of bonuses that are substantial, though not quite as heavy as a good Disney Platinum Edition. It was with a small amount of frustration that I discovered that none of these extras were time-coded, limiting one's ability to tell just how long each one is when it starts. Aside from this, Disc 2's contents are quite satisfying.
The first featurette is From Paper To Tree, a new "Making of" piece running about half an hour. It begins with author Diana Young, but it is Director Bill Kroyer who appears throughout the featurette to carry the viewer through the making of FernGully. Tons of people including executives, artists, and technical people appear, as do the voice actors— either in new footage, or in older footage of recording sessions. The best part of this featurette is that it is very light on clips, making it a meaty look at the film for film buffs. The Making Of FernGully, the film's original puff piece from 1992, serves the purpose of giving a lighter overview of the film, obviously having been used as a marketing tool for those who had not seen the film. Though not as in-depth, and running under ten minutes, it is worth watching due to the different behind-the-scenes footage included here that is not in the new featurette.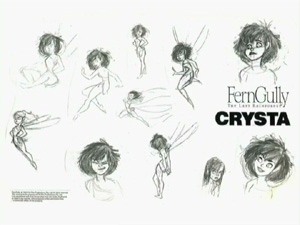 Behind The Voice: "Toxic Love" is a multi-angle presentation of one of the film's songs, showing the finished scene, rough animation, the Tim Curry recording session, or a split-screen of all three versions. Another song gets a look in theIf I'm Going To Eat Somebody (It Might As Well Be You) Music Video.
There are Theatrical Trailers And TV Spots, three each. The earliest of each shows an alternate title, FernGully: The Adventures Of Zak And Crysta. Oddly, each of the three trailers is in a different aspect ratio.
Fox bills this set as a "Family Fun Edition", which is appropriate since this is indeed a true family film that parents will want to encourage their kids to watch. To make this an official "Family Fun Edition", though, Fox has added eight Set-Top Games. These games are all pretty basic, but okay for kids who play games on movie DVDs. (Do they actually do that?)
Case Study:
Keepcase with tray; may come with a slipcover.
Ink And Paint:
Although the very odd shot is dusty or grainy, most of the film looks very nice. Most of the print is clean, and I did not notice any compression problems. There are two options for viewing, a 1.85:1 anamorphic widescreen version, and a 4:3 "full screen" version, "modified to fit your screen"—unless you have a widescreen set, in which case you have no reason to view the movie in pan & scan mode. The tricky thing here is that you must select which version you want to see right off the bat. There's no changing your mind later, unless you eject the DVD from your player and start all over.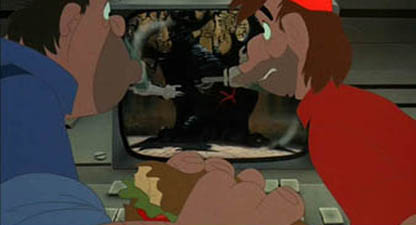 Scratch Tracks:
From the opening moments of rain coming through all your speakers, you know that the 5.1 sound mix is going to be a treat. This is a lively audio mix, with the action punctuated very well by the sound effects, such as when a hawk swoops across the screen (and your speakers) to snatch Crysta. The music also comes through in sparkling clarity. The sound mix only scores lower than some since there is not as much bass coming through as in some films; but make no mistake this is a first class effort. There is also a Spanish Stereo mix, as well as a French Dolby Surround track.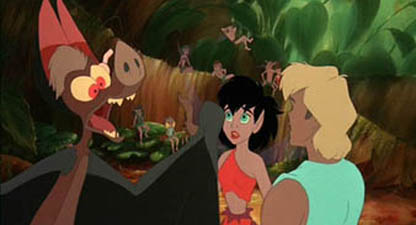 I had forgotten that FernGully featured the animation debut of Robin Williams— as the voice of Batty— a year before Aladdin was released. I almost think his voice work here is more appropriate than that found in Aladdin, since his contemporary riffs seem much more in tune with a modern-day story. Samantha Mathis is appropriately perky as Crysta, Jonathan Ward is the down-to-earth Zak, and Tim Curry is his malevolent best as Hexxus. The one actor I didn't care for in this was Christian Slater, who gives Pips a too-smarmy delivery. Williams and Curry both shine in their musical solos, although having Batty break out into an introductory rap was a bit weird. Cheech and Chong have bit parts.
The movie has a strong musical pedigree, with songs by Elton John (pre-Lion King), Raffi, and Sheena Easton.
Final Cut:
Even though this was my first time watching FernGully, I felt a sense of thankfulness to Twentieth Century Fox for giving it a proper special edition after all these years. This film was made with the purpose of being important, and while one can argue at the pretentiousness of such an effort, or whether it succeeded, one cannot listen to the creators in the special features without developing a sense that they were extremely earnest. For that reason alone, it is comforting to see their efforts recognized in this two-disc set. Fortunately, the film turned out pretty good in the end, managing to be both instructive and entertaining. Some solid special features make this a tidy little special edition that should please fans of the film, whether long-time or new.
Animated Classic or Back To The Drawing Board?