Thunderbean Animation, 1.33:1 original full frame ratios, Not Rated, Average Retail: $15
Storyboard:
Steve Stanchfield's independent Thunderbean Animation label collects more entertaining rarities and curios in five vintage and brand new titles. Ben Simon and Randall Cyrenne review Uncensored Animation From The Van Beuren Studio, The Complete Animated Adventures Of Van Beuren's Tom And Jerry, The Strangest Cartoons Ever Made, Van Beuren Studio's Toddle Tales & Rainbow Parades Cartoons and Cartoon Commercials!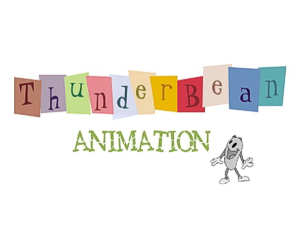 The Sweatbox Review:
Animation preservationist Steve Stanchfield, through his Thunderbean distribution company, has for several years now been bringing vintage animated cartoons to DVD, in packages that appeal to collectors wishing to experience the golden days of animation. Offerings naturally focus on some of the more obscure cartoon companies, whose works have long resided in the public domain, although for hardcore cartoon buffs, Thunderbean's DVDs have, along with those of Inkwell Images' Pay Pointer, been mandatory purchases – these practically forgotten treasures can be nearly as historically significant, in their way, as the cartoons of Warner Bros. and Walt Disney. One studio in particular has seen its vaults mined by Thunderbean – a studio who used to employ artists whose work would later be featured in the output of much more prominent studios.
The name Van Beuren may mean little to most people these days, but they were a major player during the golden age of animation, if even for just a few years. Based in the then hotbed of animation production, New York (opposite Max Fleischer's setup), the studio was originally Paul Terry's Aesop's Fables company, but he only had a ten percent stake in it, as most of the backing had come from the Keith-Albee vaudeville circuit. When that other ninety percent got sold to Amadee J. Van Beuren in 1928, changes were planned that did not suit Terry. He went off on his own and continued to make the professional but somewhat bland TerryToons cartoons, while Van Beuren went forward and added things that Terry had objected to – oh, only small things, like sound and story!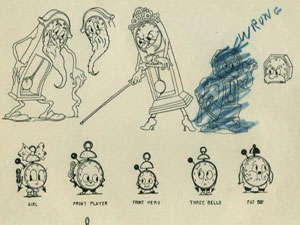 Of course, Terry had the last laugh in a way, as his new company became successful throughout many productive years, while Van Beuren would fade away from memory within just a few. With the addition of two recent DVDs to the Thunderbean collection, all of Van Beuren's major series have now been brought to DVD, and we review them, and a couple of other titles from Thunderbean's archives, below…
---
Uncensored Animation From The Van Beuren Studio
Single disc, 109 mins plus supplements, 1.33:1, Mono, Not Rated, All Regions, $15
Ben Simon writes… Despite the knocking over the years for their sometimes suspect production values, the Van Beuren cartoons have always had a reputation for the strange and surrealistic, even from when they first left the "factory" back at the time of their creation. But they must have been doing something right, as out of the many cartoon outfits populating New York in the early days of animation, they are one of the more remembered (perhaps more infamously than most!) alongside other such producers as TerryToons and, on an entirely different level of quality output, the Fleischer Studios, which were originally right across the street from Van Beuren.
As Stanchfield's back packaging notes remark, the Van Beuren shorts often "reflected New York during the Great Depression, including adult themes, outlandish gags involving sex and violence as well as ethnic stereotypes", and they're all pretty much in check here. The sleeve also notes that later prints naturally removed much of these elements, and that Thunderbean is proud to present this collection from original 16mm and 35mm prints – the implication being that these fourteen selections are rare and uncut. Main titles have been restored or recreated, and a "bonus" are the two Amos 'n' Andy cartoons produced in 1933 and 1934 that never led to an intended series.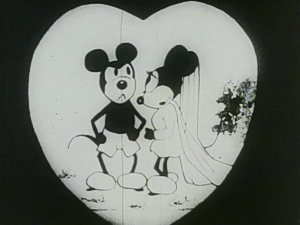 The collection begins with A Close Call from 1929, an Aesop's Fables cartoon produced for distributor Pathé. The impact from Walt Disney's Mickey Mouse, who had hit sound screens just a year earlier, is immediately clear, with the film opening on the antics of a rather scrawny rodent character (quickly joined by his sweetheart) that actually led to Disney filing a lawsuit against the Studio. But Mickey clones were two-a-penny in this age and it has to be said that for a sound cartoon released in 1929, it's as proficient as they were back then, and even if the story is as basic as they come, this is an accusation that could easily be levelled at anything coming from any other studio too. It's actually quite good, with a nice attempt at a perspective shot at one point, and – dare I say it – more edgy and exciting than even some of Disney's Mouse adventures from the same time.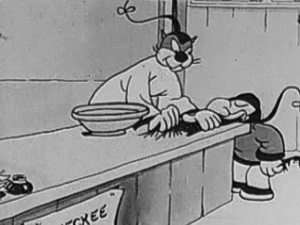 Stereotypes come center frame for 1930's Laundry Blues, set in a musical Chinese Laundry – one could argue that it's all in good fun if one can simply remember the context of the times, though it's clearly racially insensitive today, especially when a Jewish customer turns up to have his beard washed. Considering what Disney was doing with the Silly Symphonies at this point, the animation isn't as advanced, but it's still very competent, even if the "plot" isn't anything more than a collection of gags. Sex is the selling point for Circus Capers, in which a sexed-up Minnie clone flirts with a dastardly ringmaster, and there's some smart invention on show in the same year's similar The Office Boy.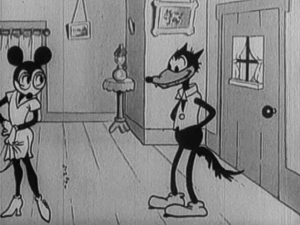 The actually quite excellent Red Riding Hood is far racier than anything Disney or even Tex Avery would later come up with, with a pretty jiggy Grandma puffing on the cigarettes and dolling herself up to attract the Wolf ("Some Grandma!"), with a couple of fun twists thrown in. If there was one character series that defined the Van Beuren Studio, it was the original Tom & Jerry series (no cat and mouse need apply!) and Jungle Jam is a 1931 musical short that plays with archetypal cannibal stereotypes – and sex: indeed there are a couple of near the knuckle gags here including one very suggestive remark.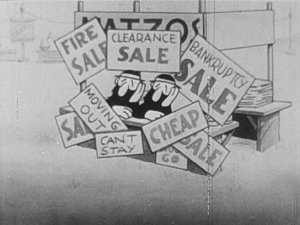 1932's Nursery Scandal is (like much of this collection, actually) only slightly risqué in terms of sex, though the following year's Panicky Pup alludes to drunken behavior and murder, which would have been hot topics at the time, and although it can be typically surreal, it's a quite elaborate cartoon. Tom and Jerry return in Doughnuts, again cut in later release prints due to racial stereotyping. The re-inserted footage isn't quite of the quality of the rest of the print, though this is actually a bonus in easily being able to spot those shots that were removed, which adds a fascinating angle to an otherwise routine outing.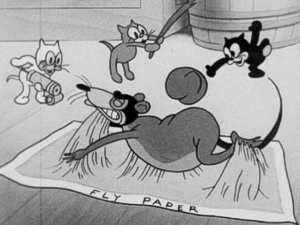 Likewise, Rough On Rats starts off as a typical Silly Symphony wannabe (though it does anticipate the later Three Orphan Kittens), spiced up by some brutal violence towards an admittedly villainous rat (and a cute flypaper gag that again predates Playful Pluto by a good few months). Another Van Beuren character that gained a modicum of fame but didn't really breakthrough to the mainstream was Cubby Bear, and though Galloping Fanny isn't the best example to showcase him, it's understandably here due to a pre-Code combination of degradation of various ethnic races, sex and violence!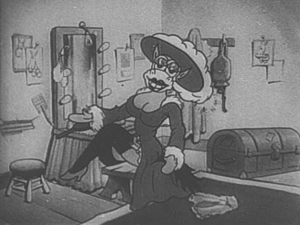 The collection rounds out with another minor series character, The Little King, in the 1934 short Sultan Pepper – a title if ever I saw one. Here, a whole harem descends upon Otto Soglow's strip panel creation's palace, and the King is shown to have a very cheeky side to him; the gags involving his visitor the Sultan's girls are certainly risqué in a knowing way, sneaking under the Code's radar (as an aside, the Little King series is a Van Beuren highpoint, and Thunderbean's previous collection is also well worth seeking out). Finally, pair of radio personalities turned animated stars, the black characters Amos and Andy, feature in the two aforementioned "bonus" cartoons, The Rasslin' Match, in which Andy enters the ring for a bout of wrestling, and The Lion Tamer, both of which are longer than usual and sport better than average production values.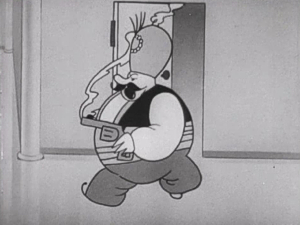 Previously brought to film by RKO in the 1930 feature Check And Double Check, featuring the white actor-creators Freeman Gosden and Charles Correll in "blackface", the duo again provide their famous voices. The heavy racial stereotyping is indeed still in double check, and although it has been noted that the radio program was more respectful than it is usually given credit for, we are now aware it is a couple of white people voicing the characters, and instead of taking the opportunity to depict them as true African Americans, the hint of blackface is still evident. However, they don't seem to be specifically made up comedy characters: the audience appears to be being asked to laugh with them instead of at them, but unlike Tom & Jerry before them, Amos 'n' Andy's cartoon hopes didn't amount to much, and they didn't catch on as well as their radio show had done with the public.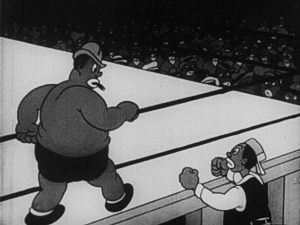 Without having to answer to nervous studio distributors, Stanchfield is free to include these cartoons without the standard disclaimers (though the liner notes provide suitable context), and it will be down to how sensitive one is to these issues on how jittery one reacts to some of the themes and imagery here. While the majority of the cartoons here don't depict the high levels of sex, violence, racial stereotyping or generally booze-soaked raucousness that the title might suggest, there's still the occasional thing that wouldn't even be dreamed of being acceptable today, though it's all part and parcel of the archival nature of the material.
---
The Complete Animated Adventures Of Van Beuren Studio's Tom And Jerry
Two discs, 180 mins approx. plus supplements, 1.33:1, Mono, Not Rated, All Regions, $23
Randall Cyrenne writes… After initially struggling to develop methods of adding sound to their cartoons, the Van Beuren studio identified a further need – they had no marketable characters! The staff was joined in 1931 by experienced artists George Stallings and George Rufle, who assisted animation director John Foster in developing the studio's first headliners. Even then, the pair they came up with was somewhat derivative, clearly evoking Mutt and Jeff (as well as resembling earlier Van Beuren characters Waffles and Don), with one being tall and skinny, the other being short and round. Still, their Tom and Jerry did star in twenty-six cartoons over two years (Foster was then fired, and Tom and Jerry were replaced by the Felix/Mickey rip-off Cubby Bear), and the Tom and Jerry cartoons were later marketed for television and the home market (the duo then re-dubbed "Dick and Larry" to avoid confusion with MGM's later Tom and Jerry team), so they did have some staying power. However, once even television shifted to color broadcast, Tom and Jerry (and Dick and Larry) faded into obscurity.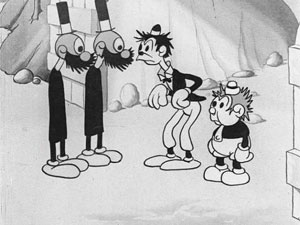 They did have their moments, though. The two DVDs in Thunderbean's compilation plays their shorts in chronological order, which means that one of their best appears first. Wot A Night was their debut, and certainly one of their strongest films. Watching it, I was reminded of Fleischer's Bimbo's Initiation. Though lacking the polish and character of the Fleischer film, Wot A Night does employ a similar sense of the surreal, in which Tom and Jerry pick up a pair of odd, thin men and take them to what is essentially a haunted house. There, they meet up with an assortment of skeletons and spooks before discovering that they are skeletons themselves.
It's a fun cartoon, rife with surprising moments, even if its stars exhibit little in the way of personality, as they simply react to events that unfold without actively participating. Things go a little downhill from that cartoon, with a series of fairly uninspired escapades that find the pair goofing it up with seals and penguins (Polar Pals), looking for legal clients (Trouble), escaping from desert island savages (Jungle Jam), and cavorting in the Alps (A Swiss Trick). I had hoped that things would get interesting in their next one, Rocketeers, but the seeming promise of a grand aerial or even outer space adventure proved to be a less interesting underwater jaunt.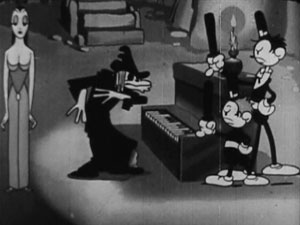 There's not really much wrong with the basic plots of these cartoons, or the next ones involving a western outlaw, being plumbers, fighting bulls, going to the circus, babysitting, and the like. These were standard settings for many a cartoon character. The gags are also funny at times, and each enterprise is generally enjoyable. A few of the cartoons get more adventurous, such as when the boys' drawings come to life in Pencil Mania. In The Magic Mummy, Tom and Jerry are radio patrolmen (their fellow cops are actually doing a radio show) who track a stolen mummy to the cemetery, where a ghoul revives the beautiful mummy to participate in an underground vaudeville act for skeletons.
Unfortunately, there is little to impress the viewer visually (aside from some clever gags), and worst of all – Tom and Jerry still have no discernable personality traits. They rarely speak, and even their rubber hose actions show little more than toying with whatever scenario comes up. There is no true sense of motivation, and no personal quirks. Even something simple like just making one guy sad and the other grumpy would have been an improvement over their blandness. Nevertheless, these are professional and competent cartoons that do what they were designed to do, which is to entertain one for a few minutes. I wouldn't plan to watch too many in succession, though, as interest does tend to fade after a few.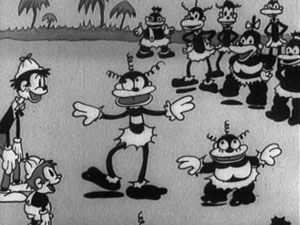 One should also be aware of what is a common issue in cartoons of this era, as racial gags pop up in many of the cartoons. Wot A Night has stereotypically "black" skeletons for example, and even if you could tolerate the "savages" in Jungle Jam, you may cringe a lot more when you see Tom and Jerry don blackface when they head to Africa in Plane Dumb, or witness their plight as prisoners of American Indians in the next cartoon, Redskin Blues. Such depictions would naturally not be acceptable today, but in the context of old cartoons they make for an interesting study in cultural mores.
While one can see why Tom and Jerry never saw a fraction of the success of some of their contemporaries, their cartoons are still certainly worth a look for cartoon buffs. The best of them are no worse than some of the more mediocre Fleischer or Warner Bros. product, and I would prefer to watch a Tom and Jerry cartoon over a lot of TerryToons or the later Famous Studios stuff. The Van Beuren people were just finding their way, but at least they were trying.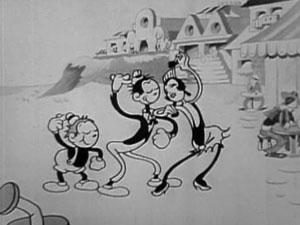 ---
The Strangest Cartoons Ever Made: Volume 1
Single disc, 95 mins plus supplements, 1.33:1, Mono, Not Rated, All Regions, $11
Ben writes… Sticking with the surreal cartoon format, but breaking away from the Van Beuren Studio output for a moment, this compendium of the rare and obscure describes its contents as some of the "strangest, most bizarre and downright confusing cartoons ever". That's quite a tall order to fulfil, but fulfil it Stave Stanchfield does, with a Thunderbean collection that is one of the most fun platters of animated chaos that I've yet come across! Those that have made the pilgrimage to San Diego's Comic-Con each year and experienced Jerry Beck's annual selection of some of the worst cartoons ever will have a hint of what to expect here, and if you thought some of the Van Beuren shorts described so far sounded off the wall, you ain't seen nothin' yet!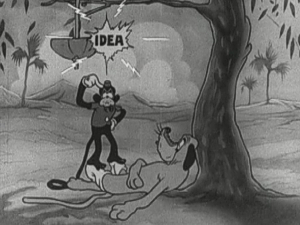 Spanning 1928 to 1966, the selection of fourteen cartoons offered here begin with Monkey Doodle (1931), created by sports cartoonist turned animator Les Elton. True to the disc's mission, this is a bizarre short that obviously has some sort of mixed up history since the version presented here was comprised of no less than four different print sources, even including some short silent passages where the sound prints had been cut. Seemingly trying to introduce Simon The Monk as a star – he even gets an animated title card treatment – this is a tremendously detailed picture, often feeling like the early solo work of Ub Iwerks. There's some good perspective animation touches, angled shots and character animation that really brings Simon and his hound opposite to life realistically for cartoon interpretations of their species, even if the bonkers plot throws almost everything into the mix!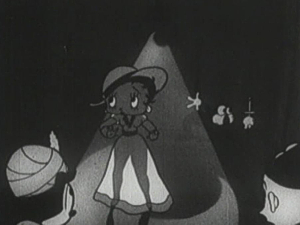 The Fleischer Studio was of course famed for the occasional random moment, and they're represented by Is My Palm Red?, a 1933 Betty Boop cartoon that as well as being naturally well produced, has always been one of my favorites: a perfect example of what made Betty so appealing in the pre-Code era, full of surreal and risqué moments, though Boop herself is as cute as she ever was. Not being cut out of this release completely is the Van Beuren Studio, which gets most studio coverage with no less than four entries in this selection, the first of which is Gypped In Egypt (1930), when two dopey cat characters are lost in the desert and go through a series of increasingly bizarre mirages and where the stream of gag consciousness outweighs any resemblance to a plot, though it is indeed strange fun!
The next, Old Manor House, clearly comes from a later black and white home movie print (as opposed to its "Colour by Technicolor" note in the title card), but is well worth the inclusion; a 1948 effort from Britain that literally just doesn't make any sense!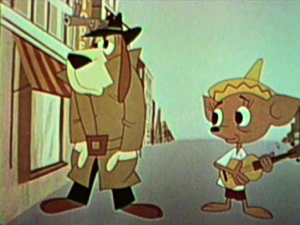 Of the other cartoons, The Case Of The Kangaroo Kid (1961) is a nice color sampler for Thunderbean's Sam Bassett collection, being a typically limited animation curiosity featuring the hard-boiled hound and his guitar strumming Chihuahua associate, and The Peanut Vendor (1933) turns out to be something quite spooky: a stop-motion puppet short by Len Lye that isn't quite, as the packaging notes, "unintentionally terrifying", though still pretty peculiar all the same – but then what did you expect for something marked as "Experimental Animation"!?
Otto Soglow's The Little King returns to make his Van Beuren debut in 1933's The Fatal Note and it remains perhaps one of my favorite cartoons from this era. An entire town of folk are animated professing their love and admiration for their King and, after a suitably pretentious build up, the reveal of their ruler playing in his royal bubble bath brings a big smile. There's even a good stab at plot, setting up a villain who's out to rob the Little King of his crown in a way that doesn't seem generic even now. Even if you haven't been too wowed by much of the Van Beuren output, the work here is a revelation. The layouts, though plain, are nicely detailed, while an exciting sword fight up the palace steps features some of the smoothest three dimensional perspective cartooning I've come across in "second tier" studio animation, even if they do get maximum usage out of it four times. With fluid animation that must have marked this out as An Event at the time, and some good synchronization, this is less an actually "strange" cartoon and more a very entertaining one – again, Thunderbean's Complete Little King release is also recommended.
From the entertaining to the out and out weird, Sniffy Escapes Poisoning, from 1965, is unintentionally hilarious. It shouldn't be, as a PSA cartoon cautioning children against using pharmaceuticals without adult supervision, but the oddly sleepy tone of the little boy in the film and the sight of dancing drugs is amusing. Johnnie And The DK Robot (not noted on the sleeve) is the most recent title in the collection, coming as it does from 1966, and another educational film, this time from Britain, about a live-action boy who sleeps without brushing his teeth, leading to all sorts of hallucinations, though it's a bit drawn out and they can't even decide on a definitive spelling for the hero's name!
1948's PM Picnic is a promo intended to sell blended whiskey to store owners, with Art Carney as one of the credited vocalists, and this color cartoon is actually nicely made; perhaps it was just the fact that it was promotional meant it had money spent on it, even if it now feels like a terrifically long-winded way to go about making alcohol seem "cute". The film resembles one of David Hand's Animaland shorts, with a little bee all a-buzz at the prospect of the clear clean taste of the deluxe whiskey, but even as a commercial endeavor this feels disjointed and seems to only serve to introduce the little fluffy bunnies and forest creatures that would be used in the print ads for the drink, though it's films like this that really show how animation was essentially part of the adult culture back then.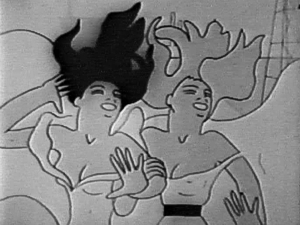 A final four shorts finish things up, with Joie de Vivre (1934) perhaps the oddest in this selection. I've seen it before, and though it is slightly risqué and fully surreal, this is a hard stab at animation as an art form, highly art nouveau stylized with a transfixing quality that keeps us watching. Two more Van Beuren titles, 1933's Candytown and One Man Dog, ostensibly a silent from when Paul Terry was still part of the Studio in 1928, just about provide the required levels of strangeness, while the best is perhaps saved for last. Ted Eshbaugh's 1933 classic The Snowman starts off just as any other sweet cartoon, with a cute Eskimo and his animal friends creating a perfectly jolly snowman – that then takes on a life of his own and proceeds to terrorize them!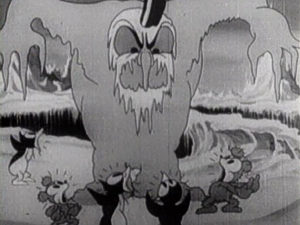 You may well have heard about this short, and this is your chance to see it; if such a thing was attempted now (imagine the penguins of Happy Feet being hunted down by the Abominable Snowman and the entire tone of the movie changing from cute to Predator half way through), it would scare the pants off any children in the audience (not that Happy Feet didn't manage to do that for a few adults anyway)! Though there's some substantial overlap with some other Thunderbean collections, Strangest Cartoons brings together a fun selection of curios from animation's golden age and supplements them with a few hand-picked rarities that make the disc worth looking at.
---
Van Beuren Studio's Toddle Tales & Rainbow Parades Cartoons
Single disc, 100 mins plus supplements, 1.33:1, Mono, Not Rated, All Regions, $15
Randall writes… In Mr. Van Beuren's ongoing quest to improve the fortunes of the studio, he hired Burt Gillett, who had seen great success for his direction of Walt Disney's The Three Little Pigs, to direct the cartoons. Additionally, he brought aboard Ted Eshbaugh, who had produced a few independent color cartoons (including The Wizard Of Oz, and the aforementioned The Snowman). Between these two men, Van Beuren hoped he had found the guiding lights that would turn the studio around. Van Beuren wanted his cartoons to be of high quality, and he wanted them in color. Unfortunately, Disney had the exclusive rights to three-strip Technicolor in terms of cartoon production at that time, so the Van Beuren product initially had to be created using the two-strip version – meaning no yellows or greens. Still, it was a step up from black and white.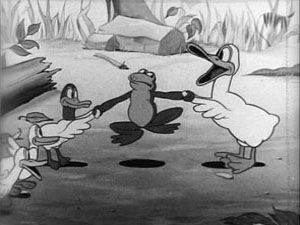 Before moving on to color, though, Gillett's first project was Toddle Tales, a short-lived series of three shorts that had animated stories with morals, book-ended by scenes of cute children. The series was the last of Van Beuren's black and white shorts, and though they were largely nondescript, they did contain a little more magic to them than previous Van Beuren product. They are reminiscent of the most cute and cloying of Disney's Silly Symphonies, but with live-action segments that rob each picture of roughly half its running time. Consequently, even though these shorts ran a little longer than the norm, the stories are even less well developed than in other shorts.
The first two are particularly non-noteworthy; The Grandfather Clock has a simple story of a school full of anthropomorphic clock children, and Along Came A Duck sees a frog spending time with a duck family. A Little Bird Told Me is much closer to the mark for which Gillett was aiming, melding a story of a naughty little boy and his sister with an inventive look at a newspaper run by birds. The stories intersect nicely, and one has the feeling that the series would have met a higher standard if Gillett had continued the experiment. All three Toddle Tales appear on this DVD, mixed in with the first few Rainbow Parades.
The Rainbow Parades series was Gillett's major project, the series that was truly meant to compete with Disney. Budgets were raised accordingly, two-strip Technicolor was used (and later three-strip Technicolor as Disney's monopoly ended), and new artists were hired (and fired and hired). Gillett was not necessarily popular with his crew, but the quality of the cartoons certainly went up. Still, they never really reached to the heights of the Disney product, and when Van Beuren's distributor RKO had a chance to sign with Walt, the Van Beuren studio was dropped and subsequently shut down. But for a couple of years (1934-1936), the Rainbow Parades series looked like a real competitor for Disney and the others. What prevented them from going further was a combination of not having seasoned, innovative directors, and a lack of star power.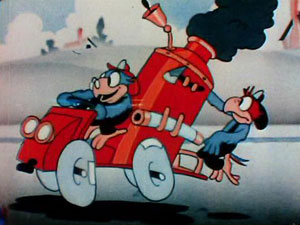 This DVD includes, in addition to the three Toddle Tales, thirteen Rainbow Parades. The Rainbow Parades are presented in chronological order, with the only one from this time period apparently "missing" being a cartoon called The Foxy Terrier. The Foxy Terrier does appear in the Filmography of Leonard Maltin's Of Mice And Magic and other sources, but Stanchfield believes that this is actually just a working title for The Rag Dog. Following this disc's last entry (Bird Scouts), all subsequent Rainbow Parades can be found on the Image DVD Cartoons That Time Forgot: The Van Beuren Studio. (The only cartoon that appears on both collections is The Sunshine Makers.) So, as far as is known, one can now view all Rainbow Parades on DVD. Many of us find that pretty cool.
Looking over the Rainbow Parades output, one finds quite a few delightful cartoons that were obviously using the Silly Symphonies as a template. Of course, the same can be said for MGM's Happy Harmonies and the Warner Bros. Merrie Melodies, but Van Beuren's cartoons stack up fairly well. Pastry Town Wedding tells the tale just as you would expect from its title, and it is just as lush, detailed, and imaginative as a Silly Symphonies cartoon. There is so much to take in, one almost does not realize the limited color pallet of blues and reds. Then, The Parrotville Fire Department introduces not just a character, but a whole town, which would be seen in two subsequent cartoons. The parrots may not have much in the way of individual personalities, but they are charming to watch. Continuing on a good roll, we then get Eshbaugh's The Sunshine Makers, widely regarded as a classic, with its peppy songs and well-realized fantasy world of sun-elves and their gloomy neighbors.
Parrotville Old Folks is another delightful outing for the feathered folk, as their seniors get to have a party. Eshbaugh contributes one more unique cartoon, Japanese Lanterns (later re-titled Chinese Lanterns due to post-war sentiments), before leaving the studio. This cartoon is styled quite differently than the rest and features a mostly human cast. Unfortunately, it is only presented via a black and white print for this DVD. Spinning Mice returns to the Toddle Tales format, with live action book-ends. Its exciting and interesting animated story of a wizard who accidentally creates tiny devils out of mice is wonderful, and lends credence to the idea that there was potential in the Toddle Tales idea.
The same construction is used again for A Picnic Panic, which also appears to introduce Molly Moo Cow, who would star in subsequent shorts not on this DVD. That is all we see of the too-cute children, then, as the rest of the cartoons feature strictly animation. Merry Kittens is a run-of-the-mill cartoon that sees the eponymous kittens play with a puppy, but then we come back to those charming parrots. Parrotville Post Office is a grand little tale of two parrot kids hounding a postmaster as he guards a railway post office from a mail crook. The Rag Doll returns with more kittens and puppies – likeable but forgettable. The Hunting Season brings back Molly Moo Cow, who takes the Bugs Bunny role, battling a hunter and helping the animals of the forest. (Why a farm cow is in the forest is not explained!)
The collection finishes somewhat weakly with Scottie Finds A Home and Bird Scouts, two cartoons that struggle to surpass mediocrity. Not every cartoon in this collection is a winner, but they are all interesting, and a few of them are terrific. And if you want to know anything of this forgotten studio, this disc is essential.
---
Cartoon Commercials! Volume 1
Single disc, 96 mins plus supplements, 1.33:1, Mono, Not Rated, All Regions, $13
Our Thunderbean review roundup concludes with a genuine potpourri of cartoon characters, clips and commercials featuring stars both obscure and well known, from studios big and small. As soon as television proved to be a major force in advertising, sponsors, retailers and manufacturers saw the potential in selling their wares to the public using recognisable faces…and very often those faces were animated, either created especially to sell a particular brand (allowing the owner to retain copyright in print ads and even on the product boxes) or licensed from other producers.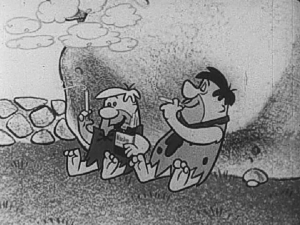 We've all heard about or seen the commercials where Fred Flintstone and Barney Rubble light up their favorite Winston's Cigarettes – just the thing to make smoking cool to the adults that made The Flintstones a prime-time success in the 1960s. Unfortunately, the children watching also got the wrong idea, which is why these adverts have been seen very rarely in recent years. Bootleg copies of some of these ads regularly do the festival and convention rounds, but this is a rare "official" release of some more general examples that presents as good quality 16mm and 35mm prints of these spots as probably now exist.
Of course, it would probably be insane to sit and watch over an hour and a half of commercials in one sitting – a hefty commercial break if ever I saw one! – and even Stanchfield hasn't the stamina to go through and label up each one, grouping them together in ten minute chunks, but I did scan through to pick out some highlights. These include spots for Wild Root Cream Oil (many examples from various studios including Shamus Culhane Productions), a nice live-action/animation combo for Kellogg's Corn Flakes, Phillip Morris (with Lucy and Desi), toe-tapping Boy-ar-dee Pizza Mix, Betty Crocker cakes, Tootsie Rolls (by TerryToons, with Farmer Al Falfa), and Woody Woodpecker in a Rice Krispies spot by Walter Lantz.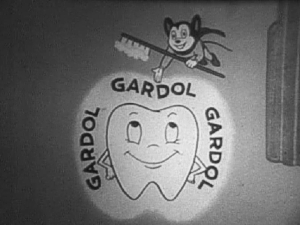 As television characters became more popular in the 1960s, it's interesting to see more of them populating these spots: Bugs, Daffy and Yosemite Sam pop up in commercials for Tang and Post Sugar Crisp, Tex Avery directs Frito's Corn Chips (with Mel Blanc, who naturally turns up as a voice on a healthy selection of spots), and there's that infamous Flintstones Winston ad, too. Mr Magoo pops up in a UPA promo for General Electric lightbulbs, plus numerous products featuring the amusing Carnation Rabbits by Bill Melendez, Lucky Charms, TerryToons' Mighty Mouse professing the values of Colgate, a cuckoo Cocoa Puffs spot animated by Grim Natwick, Cheerios with Rocky & Bullwinkle, a creepy plug for Sominex, Bugs and Elmer in several Kool-Aid adverts (with work by Avery among others), a Yellow Submarine styled psychedelic PSA for non-smoking, Bugs again in live-action/animation combos for Yellow Pages and Kool-Aid, with The Monkees!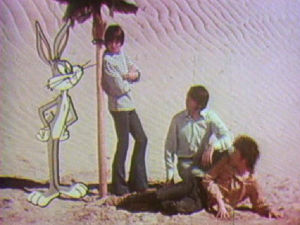 Of course, there's lots of star power behind the camera too, such as the spots for Curad comic strip Wizard Of Oz bandages by Chuck Jones' Tower 12, Tender Vittles by Richard Williams, Jay Ward's Cap'n Crunch and others, as well as DePatie-Freleng's Pink Panther Flakes and tons more. Naturally, such created-for-commercial stars as Tony The Tiger also put in appearances, and it's interesting to see how little animated advertising has actually changed since producers seem to have found a groove in the mid-1970s, going by the handful of g-r-r-r-eat Frosted Flakes (by Mike Lah), Nestlé Quick, Rice Krispies and Willy Wonka inspired M&Ms examples towards the latter end of this selection, which poignantly ends with Mel Blanc's on-camera endorsement for American Express.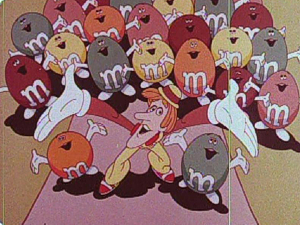 Cartoon Commercials! won't be for everyone: it's clearly not a straight through narrative program – being filled with all the types of stuff that normally come between the programming! – and the interest level will be down to how interested you really are in seeing some popular characters out of their day jobs and actually working for a living. But it's also a fascinating chronological pictorial of the times, with examples reaching from some antiquated 1950s spots to the 60s and 70s that show not only how commercials evolved, but the various changes in animation styles that occurred during these periods. They're also well crafted, with television characters often getting better treatment than they did on their own shows thanks to the extra budgets that made sure the selling looked classy, even if they were plugging such now inappropriate products as cigarettes and alcohol!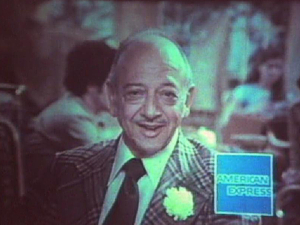 I'd have liked for each commercial to have been indexed (having to memorize where a particular spot is, even within a ten minute chunk, is frustrating) or even a simple list of what was in each chunk, but ultimately for all those that have glimpsed the likes of these in animation documentaries or books, this is a minor treasure chest of rare moments.
Is This Thing Loaded?
Uncensored Animation
Thunderbean always delight with their full-motion animated menus and this release is no different, with some clear attention and detail gone into producing transitions between the screen options, and unlike some bigger, deeper pocketed distributors, Stanchfield finds a way to add some very welcome supplements to his packages. Uncensored Animation offers a pair of text essays, the first of which, Sense And Insensitivity by Chris Buchman and Rex Schneider, providing some context of the times in which these cartoons were released, and exploring many of the themes that support the "uncensored" label of this collection.
Many of their observations will have been noted during a viewing of the cartoons, but there are one or two highlights that I guarantee will raise an eyebrow or two in astonishment, before the text moves on to elaborate on pre-Code ethics and depictions of ethnic stereotypes. Defending Those Ugly, Badly Produced Cartoons make up the Liner Notes by producer Stanchfield, here delivered via screen text rather than a printed insert, who puts in a decent argument that these films are just an important part of the animation history landscape as those from larger studios and don't deserve to be overlooked or swept away. It makes a number of points about animation quality and story that I particularly agree with, as well as delving into the history of the Van Beuren Studio, its transition to sound, and remarks on each of the cartoons in the collection.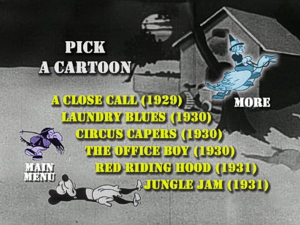 The always fascinating to listen to Mark Kaulser pops up to provide one of two commentary tracks. On Rough On Rats, he makes his usual insightful observations, all of them spot on, and he's clearly a fan of the Studio's work. Jerry Beck's remarks for the second Amos 'n' Andy cartoon The Lion Tamer reverts to being a history lesson on the creation of the characters and their early radio and initial feature film days, speaking more about other failed character series that didn't take off for Van Beuren rather than anything substantial on this particular cartoon. Many of these cartoons exist today thanks to later home movie releases from such companies as Official Films, and the supplements finish up with two still galleries, for various Official promotional advertisements, and the real-life Rough On Rats exterminator product, plus a page of disc production credits.
---
Van Beuren's Tom And Jerry
Don't look for an insert giving the promised Liner Notes, because they are once again all on the disc itself. For Tom And Jerry, we learn not only about the cartoon series, but also how their cartoons were transferred to DVD. Another text section is Tom And Jerry Precursors, which gives further information on Waffles The Cat and Don Dog, who came out of the Aesop's Fables series. Waffles dates back to the late 1920s, but received his partner in a 1930 short entitled The Haunted Ship. That cartoon and Jungle Jazz are presented in their entirety on he first Tom And Jerry disc under the menu description Waffles And Don Bonus Cartoons, while Frozen Frolics and Gypped In Egypt appear on Disc Two.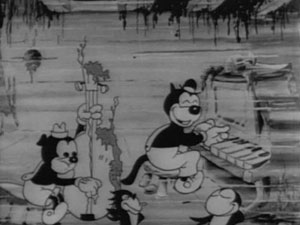 Original Title Card For All Wet is an oddity, apparently created for a never-completed version of Tom and Jerry's Plane Dumb that was to utilize the voices of the comic team Miller and Lyles.
Who would have guessed that there was a Jolly Plumbers Storybook, but here it is, presented as page-by-page stills. Very neat. Also enjoyable to see are Original Trade Ads And Home Movie Boxes.
Tom & Jerry And The Frenkel Brothers Animation Sequence Comparisons (2:17) shows how Egyptian animators used Tom And Jerry footage in their own cartoons. The 1936 Egyptian short Mafish Fayda is shown alongside footage from Wot A Night and In The Bag, and the comparisons are pretty obvious.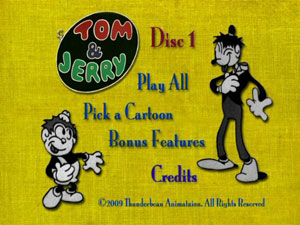 ---
Strangest Cartoons
Not as packed as the other releases being discussed in this review roundup, Strangest Cartoons does still manage to inform us via Stanchfield's usual disc-based liner notes, which offer up a reasonable amount of Information On The Cartoons And Their Creators over several pages of text. There isn't the level of depth to be found on the other Thunderbean releases, though one might find the odd bit of trivia interesting. A page of DVD production credits is accompanied by the vintage soundtrack music from the One Man Dog cartoon – all six minutes of it including the spot effects, which I'm not quite sure I see the point of.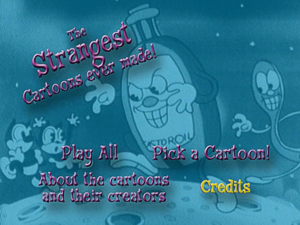 ---
Toddle Tales & Rainbow Parades
Van Beuren's Final Adventures Liner Notes goes to the trouble of explaining the origins of the film series, as well as what materials were utilized for the DVD. In terms of still galleries on this release, we start with about forty Original Model Sheets. On The Home Screen – Boxes And Ads looks at the packaging for the home movie versions, which were put out on 16mm. Aside from box covers and ads, we also get to see some of the alternate title cards produced for these versions.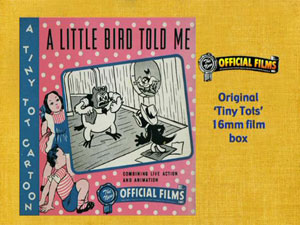 Music buffs may enjoy the Along Came A Duck musical score only version, as well as Selected Scenes musical score only versions (4:44) for four of the Rainbow Parades cartoons.
Cushman Flour Footage from Pastry Town Wedding (1:19) has additional animation that was found on Official Films' home movie version. The animation is in black and white, and apparently denotes a commercial sponsorship. It's extras like these that show how Thunderbean goes the extra mile on their DVDs.
---
Cartoon Commercials
It's another winning bit of extra thought from Thunderbean to include an additional Special Subtitle Feature that pops up information on the studios, voice artists, directors and animators behind the advertisements on the disc, as well as date identification. With such a wealth of material to caption, we'll overlook the occasional typo, since this optional trivia track is worth its weight in Lucky Charms! Another menu option also presents a page of DVD production credits.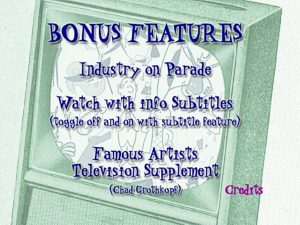 Also included is a black and white vintage Industry On Parade: Speaking For The Sponsor! documentary film. There's no context, but this looks to have been produced in the 1950s as part of a wider series on industry and manufacturing, highlighting the process of making animated commercials by the Alexander Film Company of Colorado Springs. Obviously staged, this is no less a welcome peek into the workings of a small independent outfit producing a non-stop stream of advertisements, and the short length (at 2:20) and typical hyped up 50s voice over provides the amusing feeling that this is an promotional advertisement that actually seems to be selling commercials!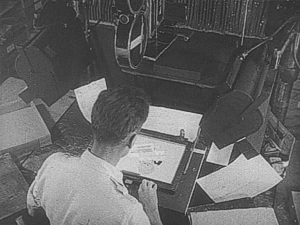 Lastly, a still gallery of selections from the Famous Artists Cartoon Course Television Supplement provides a dated but fun look at the dos and don'ts for creating animated ads for TV. Written in the 1960s and illustrated by Chad Grothkopf, who credits himself as creating the first animated television commercial in 1938, it's interesting stuff, and though it belongs to the time in which it was written, some basic rules still apply, made all the more frustrating in that despite being scanned full screen, much of the smaller text is impossible to read. I would have appreciated a breakdown of the pages to make not all but a little bit more of it accessible, but still, it's another bonus that is more welcome than not.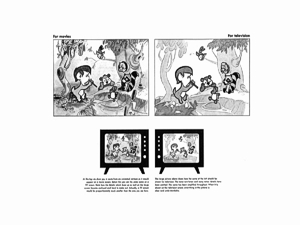 The only extra touches that would have benefited the disc would have been an option to return to the main menu from the bonus options (rather than wait for it to automatically revert), and as mentioned above, the commercials are grouped in ten minute chunks that makes finding a specific one nigh on impossible. I know it's a lot of work, but chapter indexing each one would have been a real boon, and even better might have been a chapter listing, even if it was again within the ten minute chunks. Nevertheless, this is not only an entertaining exercise in nostalgia but an education trip through the changing faces of animation, and with the "Volume 1" tag on the cover, hopefully we'll see a second helping that may address some of these matters.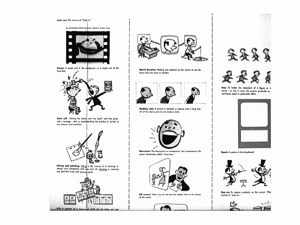 Case Study:
Though the disc menus and overall presentation is extremely professional (presenting the DVDs in standard keepcases), it's unfortunate when they can sometimes be marred by not quite there package artwork. The Toddle Tales & Rainbow Parades cover doesn't quite work from a design standpoint, but for the most part, Thunderbean's sleeves are top-notch – Tom & Jerry is really wonderful – all following a similar theme and looking nice on the shelf. Nit-pickers will notice the occasional typo or formatting inconsistency which doesn't come with a bigger studio's budget, and the quality of printing can also a bit pot-luck, though most come in high quality gloss paper printouts and nevertheless look as professional as the product they contain.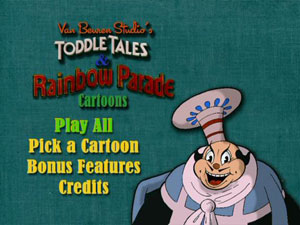 Depending on each title, the discs themselves are likewise a combination of factory pressed discs (for earlier, more widely appealing titles) and good quality DVD-Rs, typically set aside for the more obscure and niche attracting collections, though there have been no technical differences or issues with these. We certainly had no problems playing them on any of our drives and set-top players. No frills, but excellent all around, and a cost-cutting device that proves to be a successful choice is the serving up of the "liner notes" on the disc itself, which adds another bonus feature to the list.
Ink And Paint / Scratch Tracks
Considering the age and the lack of big, studio-funded vault preserved conditions, one has to simple marvel at the state of quality that the films in the Uncensored Animation have been presented. Print debris and specks come and go throughout, but the stability of the images are consistent, as is the sound, which is reproduced without any muffling or over processing to remove the age of the tracks, though some fare better than others, of course. If there's one thing we'd like to see distributors do on these early titles, however, it's to desaturate the color from the black and white images. It sounds like an unnecessary step, but is a simple click of one or two buttons that will produce a "cleaner" image without any color cross-talk and give the compression an easier job.
However, as usual, collectors must understand that these are rare films, gathered from a variety of sources, and without a large studio budget one can only expect so much restoration. Because of this, print quality ranges from decent to weak. Additionally, some of the Tom and Jerry cartoons get a little cropped on the tops and bottoms due to a lack of window-boxing, most of these cartoons coming from 16mm prints made from 35mm. As the liner notes on Rainbow Parades state, "Most of the color material on this DVD is from non-theatrical 16mm Cinecolor prints", though Thunderbean was able to license a restored print of The Sunshine Makers, so that looks better than the others.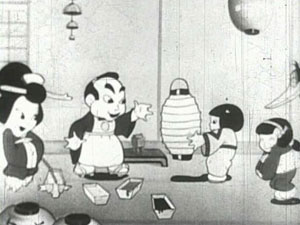 Most of the cartoons have very obvious projector wear, and colors in the Rainbow Parades tend to bleed. However, we have no doubt that these are the best collections possible, and salute Thunderbean for making them available; years of work went into getting these materials together, and we're truthfully happy just to have the chance to own these cartoons at all. As mentioned earlier, the greatest disappointment is that Japanese Lanterns appears only in black and white (from the Official Films Chinese Lanterns version), but again we're just happy to see it.
The collection of Strange Cartoons is likewise a mixture of very good and "wherever a print can be sourced", with three titles (Old Manor House, Joie de Vivre and The Snowman) looking like they have been transferred from previous VHS editions. Old Manor House looks particularly beaten up, but the content outweighs those problems, and the remastering does its best to bring stability to even the tape-based transfers. Similarly, expectations should be kept fairly low for the audio side of things. Sounds across all five titles here can be alternately range from the very clear (especially on the Commercials disc) to being muffled, distorted, or hissy. Occasional track pops happen too, but overall all of these cartoons are quite intelligible.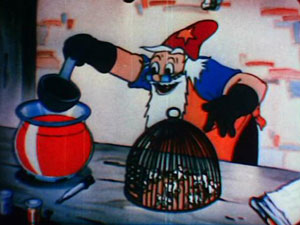 Considering the nature of these DVDs, we have no real complaints, and again, these discs are a mixture of various styles, ages and print sources. In particular, the age and sources used for the Commercials disc meant it was never going to be what one could call consistent, but it actually is, a lot of the time, with the prints being treated to very nice transfers that while, yes, pick out every bit of dirt, also offer the clearest examples of these films without having gone through the multi-generational copying that plaques fan-made compilations. Stanchfield is of course just as big a fan, but he has the means to make sure both overlooked, classic animated shorts and even commercial fodder is presented in the best way possible, and that many of these prints still survive intact is enough of a reason to raise a cheer for all five of these collections.
Final Cut:
Often more surreal and full of random "what the?" moments than even the Fleischer Studio, the Van Beuren cartoons are often too overlooked. It's true that they weren't always the most prominent or successfully produced of shorts, but it's always good to note the competition and Van Beuren was better than most. We see the same argument happening today with such studios as Pixar and DreamWorks dominating the CG landscape when the likes of Blue Sky produce just as much work and, sometimes, impress more. The Uncensored Animation disc suffers from overlapping with some other Thunderbean titles but does serve up some curious of its own, while the Complete Tom And Jerry and Toddle Tales & Rainbow Parades Cartoons provide fascinating looks that chart the development of the Studio from the beginning to the end of its run.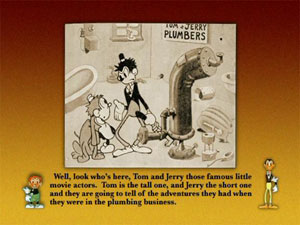 Appealing to even more niche audiences, The Strangest Cartoons Ever Made offers the chance to compare the Van Beuren Studio's work to other artists and companies of the time, and while Cartoon Commercials! won't be on everyone's list, if you're such a fan of early animation as to have read this review right to the end, then you're sure to find it of interest if even from a historical perspective. We are lucky to be able to view these films at all, and there can't be enough kudos awarded to Thunderbean for continuing to make them widely available after years of being preserved by a select number of fortunate film collectors. Disregarding any ultimately minor shortcomings in presentation, Steve Stanchfield continues to put out high quality, studio-shaming product on zero budgets, and in short all of these titles belong on any serious collector's shelves. Essential, and we can't wait to watch another batch!
Animated Classic or Back To The Drawing Board?