Walt Disney Pictures (1923-1962), Buena Vista Home Entertainment (December 6, 2005), 2 discs, 326 mins plus supplements, 1.33:1 original full frame ratio/2.35:1 Letterbox, Dolby Digital 2.0 Mono, Rated G, Retail: $32.99
Storyboard:
Disney treats animation buffs with a wide assortment of little-seen shorts that begin with his "Alice Comedies" and then ventures into his studio's numerous and varied "Specials". It's a wild ride through decades of studio history!
The Sweatbox Review:
To date, the Walt Disney Treasures series has offered Disney animation fans a wonderful opportunity to collect complete runs of Mickey Mouse and Goofy, and we have had a good start on Donald Duck as well. A few years ago, this had been an unheard-of opportunity. To think of all those years I spent tracking down fuzzy videotapes of perhaps three cartoons each, and the money I paid for those slightly better Limited Gold Edition tapes! Those, my friends, were the dark, early days of home video; we were just happy to get a few scraps thrown our way. Thank goodness for Leonard Maltin, the super-fan who convinced Disney to start putting its hidden treasures out in deluxe DVD offerings, beginning a few years ago. The Walt Disney Treasures DVD sets represent nirvana for the Disney collector. But you know what? As much as I adore the Classic Trio of mouse, duck, and goof, one of my favorites of the Treasures sets was the Silly Symphonies edition. I just love seeing those one-off cartoons, which were largely unseen on television in my youth.
And that is why I LOVE the new Disney Rarities set. I did have a few of these cartoons on laserdisc or videotape, but this set also contains many cartoons that I have only previously read about, often just listings in a filmography— listings which left me to wonder, "Gee, I wonder what that one's about? I'd sure love to see it someday!"
And now, that day has come! Walt Disney Treasures: Disney Rarities contains almost six hours of mostly-obscure but delightful cartoons, finally getting their moment in the sun on home video. Commence rejoicing!!
Looking over the list of cartoons on this set is like discovering a whole new Disney Studio. Those only familiar with the character series may be astonished by what they find here. In fact, the first seven cartoons were made before there even was a Walt Disney Studio as we now know it!
As usual, cartoons can played via "Play All", or may be chosen from a chronological or alphabetical list. (Note: Where I indicate dates, I am using what is stated on the DVDs; the copyright years are sometimes different.)
Walt Disney got his start in Kansas City, with some of his earliest works known as Newman Laugh-o-Grams. By the early 1920s, he hit upon the idea for an ongoing series of films that would star a real little girl, and set in a cartoon world. This was essentially the reverse of the already popular Out of the Inkwell shorts that Max and Dave Fleischer were doing in New York. His Alice comedies were distributed by Ms. M.J. Winkler, with little Virginia Davis his first star. Among those working with Walt at that time were fellow future animation greats Ub Iwerks, Rudy Ising, and Hugh Harman. There would eventually be 56 Alice films, with the later ones starring different girls. On this set, we get seven early Alice shorts.
1923's Alice's Wonderland (12:32) is delightful for its inclusion of a very young Walt, welcoming Alice to his cartoon studio. During her visit, a number of cartoon characters come to life and clown around in the studio. When Alice sleeps that night, she herself enters a cartoon world, somewhat reminiscent of Little Nemo. The cartoon denizens welcome her, and a good time is had by all, until a lion escapes from and terrorizes everyone. The animation here is surprisingly sophisticated, although still not up to the technical expertise of the Mickey Mouse cartoons to come. Backgrounds are sometimes quite simple, but at least as often they are multi-toned and relatively detailed. Continuity, drama, and comedy are just as good as the Felix cartoons of that era, if not better. Even today, the Alice comedies provide pretty good entertainment.
The next cartoon is ample proof of that. Alice's Wild West Show (12:43) came out in 1924, and is probably my favorite of the silents included on this set. Alice and her friends perform in a live show for the neighborhood kids, but bullies come and scare off most of the performers. Alice resorts to telling a tall tale of her time as a cowgirl, with those scenes taking place in Cartoonland. Little Virginia Davis is SO cute in this one. Just adorable!! The next five Alice cartoons, from 1924 to 1927, come off as just "average", each running between six and ten minutes. These ones are more like "animal antic" cartoons, with the added novelty of a live little girl, and include the following: Alice Gets In Dutch, another one which (unlike the next few) uses a surprising amount of live action footage, where Alice daydreams about getting back at her schoolteacher who has disciplined her; Alice's Egg Plant, with Alice as the operator of a henhouse; the generic and self-descriptive Alice In The Jungle; Alice's Mysterious Mystery, taking place at a sausage factory; and Alice The Whaler.
Disc One then jumps ahead significantly to 1938, essentially skipping past the ongoing character series and Silly Symphonies that dominated the previous decade's worth of cartoons. Ferdinand The Bull (7:55) was the first of the "Specials", a category the Disney company uses to classify its non-character cartoons that appeared while and after the Silly Symphonies were phased out (the final Silly Symphony being 1939's The Ugly Duckling). Ferdinand was a deserving Oscar winner, a tale of a gentle bull who is mistaken for a savage beast and brought to Madrid for the bullfights. The cartoon is also notable for having several Disney staffers caricatured, not the least of which being Walt himself as a matador.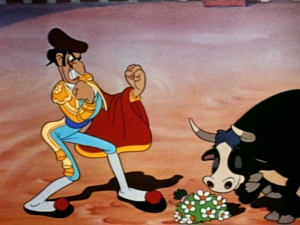 Chicken Little (8:50), the 1943 WWII propaganda allegory, also appeared on the Walt Disney Treasures: On the Front Lines set, but it is also welcome here. Although it has a somber ending, it somehow manages to be one of the more charming of the Specials. The other war-themed Specials, however, do not appear here again. I can only guess that Chicken Little showed up here since it is closer to being a typical Disney cartoon. 1944's The Pelican And The Snipe (9:40) is next; this fun story about two bird pals (with some incidental WWII happenings) was originally developed to be a part of The Three Caballeros, and as such has a slightly Latin feel and takes place in Uruguay. This is the first of several shorts on this set narrated by Sterling Holloway (Winnie The Pooh's voice).
We then settle in for a long run of Specials from the 1950s. Kicking off the decade is The Brave Engineer (7:40), based on The Ballad of Casey Jones. This amiable short previously appeared on the American Legends DVD, but gets a higher profile by showing up on this set.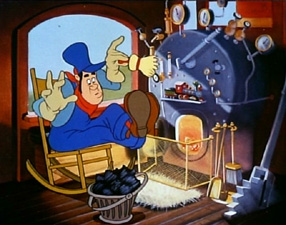 Morris The Midget Moose (8:00) is also from 1950, and has a memorable tale of a tiny moose with humungous antlers, who has to take on Thunderclap— the "moose champion". Following along in this "ugly duckling" mould is Lambert The Sheepish Lion (8:18) from 1952; this one is notable for Sterling Holloway's reprise of the Stork character from Dumbo, as the stork mistakenly (and quite amusingly) brings a lion to a sheep herd. The charm just keeps on coming with that same year's The Little House (8:21), the saga of a modest home in the country overtaken by progress. At this point, the look of these films begins to take on a new look. Naturalism is replaced with bolder graphics, here notably inspired by the designs of Mary Blair.
By 1953, the studio style had evolved even farther, as evidenced by the modernistic designs of Adventures In Music: Melody (10:06). This one is highly stylized, apparently inspired by the graphic quality of the contemporary UPA cartoons. Still, it is much less sparse-looking than some of the UPA animations, and clearly was the work of detail-oriented Disney craftspeople. In fact, the short has a variety of styles in it, making it a great showcase for the experimentation that was going on at Disney at the time. This short, incidentally, features a learned owl teaching a classroom of birds about music. It previously appeared on the Fantasia DVD.
Football Then And Now (7:30), despite being released only five months later in 1953, appears almost like a throwback. Its tone and animation is consistent with that of the Goofy "How to Play" series, as a discussion between grandfather and grandson leads to a game between an old-style football team and a modern one.
According to my Disney database, the last two films on Disc One premiered on the same day in November 1953. Toot Whistle, Plunk And Boom (10:18) is a sequel to Melody, starring the same cast of school-birds. This time, the storyline is more linear, the picture's in widescreen, and the sound is in stereo. Melody was a fun exploration, but Toot is even more educational and fun, chronicling the evolution of four classes of musical instruments— the horn, whistle, strings, and percussion. (Toot was also on the Fantasia disc previously.)

Lastly, Ben And Me (21:03) is a featurette-length account of how a mouse named Amos is actually responsible for all the achievements of Benjamin Franklin. There may to lots to admire about the short— such as the terrific animation, and interesting looks at typesetting and a printing press— but even as a non-American, I felt that this film diminished and ridiculed a great man. Still, I'm glad that I finally had the opportunity to see it.
Moving on to Disc Two, which includes six Oscar nominees, we start with Pigs Is Pigs (9:43) from 1954, a fairly hilarious and whimsical musical telling of a story concerning a stubborn train station attendant and a client arguing over the freight charge on two guinea pigs. This one features narration by Gary Owens, and a very graphic style more reminiscent of the recent music shorts than the next few entries.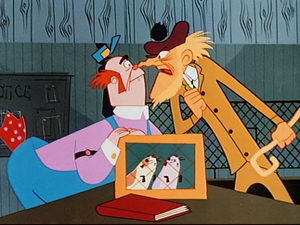 1954's The Social Lion (3:50) is a minor but enjoyable tale of a lion who is transferred from his jungle home to the big city. Next up is the debut of a very obscure Disney headliner, Humphrey Bear. Humphrey had only two shorts, the first of which was Hooked Bear (6:16) in 1956. Humphrey was a less-articulate precursor to Yogi Bear, matching wits against Ranger Woodlore at a national park. The first entry is about Humphrey trying to fish in the park; and the next one, In The Bag (7:35), came out that same year and saw the Ranger fool Humphrey and his friends into cleaning the park (with a surprise appearance by Smokey the Bear!).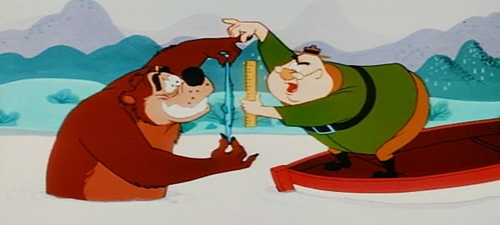 It is too bad that Humphrey never took off. True, he seemed like a desperate attempt to find a new star for the studio, but his cartoons are well crafted and funny, with direction by studio vet Jack Hannah (he did about 50 Donald Duck cartoons, for example) and voice work by Bill Thompson ("Droopy") as the Ranger. The Humphrey cartoons are, to the best of my knowledge, not considered "Specials", as he headlined his own cartoons and was a continuing character (although the same could be said for Winnie the Pooh; but then those were more like featurettes and not shorts, and they came out much later).
In-between the two Humphrey cartoons is Jack And Old Mac (7:03). This might be considered a "package short", since it feels like a part of Make Mine Music or Melody Time, showcasing two songs in two different visual styles— words come to life in "The House That Jack Built", and "Old MacDonald" has a band segment. The animation in this short is both simple and sophisticated. It was probably relatively cheap to produce, but the artistry is certainly there.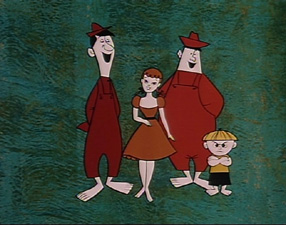 A Cowboy Needs A Horse (6:54) is also from 1956. Here, a small boy dreams of being a cowboy. We arrive at 1957 for The Story Of Anyburg, USA (10:30), where a town puts the automobile on trial. This is a neat cartoon in itself, but the voices in it set it a cut above. Listen for the distinctive voices of Hans Conried ("Captain Hook") and Thurl Ravenscroft ("Tony the Tiger").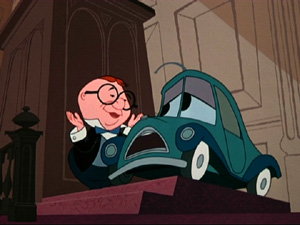 The Truth About Mother Goose (14:42) is a longer entry from 1957. Three nursery rhymes are given more-or-less historical explanations. The results are very interesting, at least for history buffs. The animation is quite nice, even is there are a few seconds of recycled Cinderella animation (running down the stairs of the palace). Paul Bunyan (16:58) is another longer one, this time from 1958. This one also appeared on the "American Legends" DVD, but fits in nicely here as well. The broad telling of this folk tale is energetic, imaginative, and plain fun, and features more vocal stylings of Thurl Ravenscroft as Paul.
Perhaps the most curious piece in this collection is 1959's Noah's Ark (20:46). Why? Because it is animated via stop-motion animation! Bill Justice and Xavier Atencio were the men behind this drastic change of pace for Disney. The people puppets are relatively simple, while the animals are cleverly constructed out of simple household items. While it is enjoyable in its own right, I admit that it is most worth watching just for the novelty.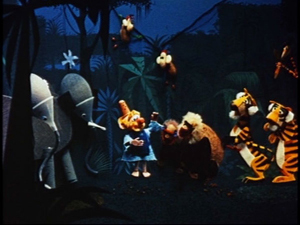 Goliath II (15:05) returns to the ugly duckling formula once again in 1960, in yet another film narrated by Sterling Holloway. The traditional nature of the film may make it seem that this is a lateral move for Disney, but here they were working with an important new experimental technique. The animation has evolved again here, now taking on the scratchy Xeroxed art look that would soon be seen in the features (101 Dalmatians would come out almost exactly a year later; the previous feature had been 1959's precise-looking Sleeping Beauty).
The Saga Of Windwagon Smith (13:24), from 1961, is another stylistic departure. The character designs of the mains in this one look like none other in the Disney canon. The story concerns a "prairie sailor", a man who uses a wagon with a sail to cross the Old West, much to the amazement and eventual consternation of some locals.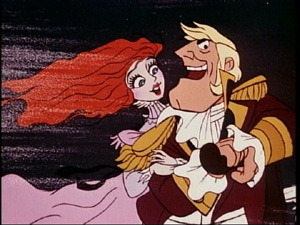 And lastly, we end with a bang, with the only theatrical appearance by the great Ludwig von Drake, that wonderful creation from NBC's Disney's Wonderful World Of Color. Ludwig made numerous television appearances, showcasing his unique blend of egotism, brilliance, and absent-mindedness, all brought to life by the superb voice actor Paul Frees. A year after Ludwig's 1961 TV debut, he appeared in A Symposium On Popular Songs (19:46). For a rather dry-sounding cartoon, this one is a revelation. Not only does Ludwig take us through the history of 20th century popular music, not only are the wonderful songs by the Disney house team of the Sherman brothers, but the song segments are done in stop-motion animation! This time, the puppets of Justice and Atencio are fairly two-dimensional in design, essentially cutouts; but there are also animated vegetables, in a show-stopping Rutabaga Rag.
So What's Missing?: In case you are curious… If we consider this to be a de facto collection of the Specials done under the supervision of Walt Disney, then this set may be considered very nearly complete. A few of the Wartime ones are not here, but that's okay since they were in the On the Front Lines Treasures set for those that would be interested. A more curious exclusion is the sequel to Make Mine Music's "Casey At The Bat" sequence, the Special Casey Bats Again— but then, one can find that on the Melody Time DVD (it's weird, but that's where it is); not to mention the very unfortunate absence of Susie, The Little Blue Coupe, a nice companion to The Little House. (I know I have that somewhere, but on laserdisc. DVD owners can find it on the disc for The Adventures Of Ichabod And Mr. Toad.) Freewayphobia is also AWOL, but may be better suited to an upcoming Treasures set. The no-shows for the Winnie the Pooh featurettes are understandable, since they have their own DVD, more or less, albeit in feature form as The Many Adventures Of Winnie The Pooh.
In short, this is still a simply wonderful collection of marvelous cartoons on these two discs. Any Disney fan should want this set. I mean it.
Is This Thing Loaded?
Leonard Maltin Introductions start off each disc, running just over three minutes each. He does a nice job of setting the stage for the viewer to better appreciate what is to come, placing the cartoons in a historical context. This is a simple thing, but essential for one to get the most out of one's viewing. The only weird thing is that Maltin mentions, on his second disc introduction, that we will get to see a Disneyland clip about stop motion animation, but it is not on the disc.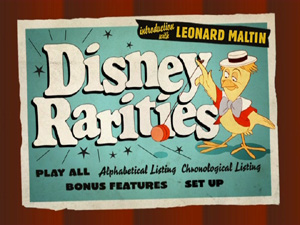 The first disc also has Alice's Cartoon World: An Interview With Virginia Davis (11:32). Ms. Davis looks unbelievably young for someone who must be pushing ninety years old. Maltin interviews her, and her answers are well thought out, articulate, and interesting. Wow, it is amazing that they were able to get such an interview done. During the interview, we see a handwritten letter that Walt wrote to her mother, and Ms. Davis discusses her experiences with Walt, including the pleasant ones as well as the contract disputes that led to her being replaced as both Alice, and (years later) Snow White!
From Kansas City To Hollywood: A Timeline of Disney's Silent Era (8:27) provides a nice overview of Walt's early career, touching lightly on the Laugh-o-Grams, Oswald the Rabbit, his collaborators, and finally the birth of Mickey Mouse. While a whole feature could be enjoyably done on this, even a small featurette is nice. Those wanting more info can read a book, I suppose.
The second disc has a very nice commentary track by Maltin and Richard Sherman for A Symposium On Popular Songs. Then, we have the opportunity to view A Feather In His Collar, a brief 1946 spot with Pluto done for Community Chest (1:21, plus a Maltin introduction running 22 seconds). Finally, Galleries offers production art for seven of the shorts.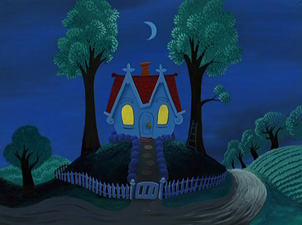 Case Study:
The packaging this time is similar to the previous wave of Treasures. The cardboard strip from earlier is gone, and there is nothing printed on the back of the metal tin that houses the set. Instead, a poorly glued paper is placed on the back to describe the contents. Inside, a black case (not white this time) houses the two discs; but now we have a unique case design, thicker than a normal single disc case, but with a tray to hold one of the discs (rather than the "opening" design of previous cases). A little consistency from year to year would be nice, but… whatever. An 8-page booklet, a Certificate of Authenticity, and a reproduction of a cel setup featuring Paul Bunyan and his ox, Blue, is also included.
Ink And Paint:
The Alice films are slightly windowboxed, with rounded corners, to allow the entire filmed image to be seen. These films have varying print quality, with Alice's Egg Plant looking about the worst, dark and fuzzy with uneven tones and some physical artifacts, but even this one has only minor print damage (although this one's windowboxed more than the others, perhaps indicating more peripheral damage). The print of Alice's Wild West Show is particularly clean, with the rest of the Alices falling somewhere in the middle.
Except for the exceptions noted below, all the other films are presented in their original 4:3 ratios. The quality of prints is fairly uniform, and consistent with previous Disney Treasures sets. There is no significant damage, and only a small amount of dust that is mostly native to the original camera work. Colors are vibrant, and I noticed no examples of halos or compression artifacts for the most part.
Now here are the exceptions, which some will find very important: Toot, Whistle, Plunk And Boom is in its original 2.35:1 widescreen image, but it is non-anamorphic, just as on the Fantasia disc. There is a disappointing amount of shimmering in the picture, so I wish a new anamorphic transfer had been done. The two Humphrey Bear shorts are also in non-anamorphic widescreen, although I measured those ones to be 1.9:1. Again, an anamorphic transfer could likely have helped out the softness and image instability seen in those shorts.
Additionally, Noah's Ark just looks dark and lacking in detail, although that may be due to how it was photographed.
Scratch Tracks:
A full musical score was given to the Alice films, recorded in two channels (stereo, I think). The rest of the films, naturally, come with their original soundtracks, and all tracks are presented in two channels. For the most part, that means two-channel mono, but Toot, Whistle, Plunk And Boom is stereophonic (the first Disney short to have that honor). There is no denying it either, as the sound ping-pongs back and forth in the speakers and makes for a very effective presentation. On the other shorts, the much simpler sound is no less clear and distinct. English captions are provided.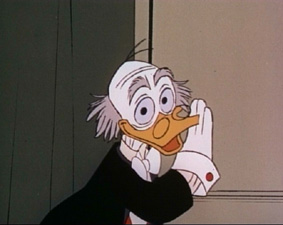 Listening to these films, I gained a new appreciation for the talents of George Bruns, who is credited with the music for many of them. I have seen his name numerous times before, but these shorts, many experimental or relying heavily on music, really do show off the man's large talent.
Final Cut:
You can likely tell by now that this set is getting a huge recommendation from me. As someone who has yearned to see a great many of these cartoons for years now, I was staggered to find so many obscure titles on these discs. From the Alice silents to the experimental films of the 50s and 60s, one can see an evolution in the art of animation, and the Disney studio along with it. The absence of anamorphic enhancement on the widescreen shorts is regrettable, but not enough to make me feel too grumpy. We are still left with an unprecedented variety of largely unseen (by my generation) Disney animation. Overall, this is a terrific set and extremely worthy of being referred to as "treasure".
Animated Classic or Back To The Drawing Board?