Studio Ghibli (2012), GKIDS/Cinedigm (February 10, 2013), 1 Blu-ray + 1 DVD, 91 mins, 1.85:1 ratio, Dolby Digital, Rated , Retail: $34.95
Storyboard:
Two teenagers are witness to societal changes occurring in Japan during the 1960s. As they become involved with a battle to save an older school building, they become closer, only to find out that a family secret may keep them from bringing their relationship where they would like to take it.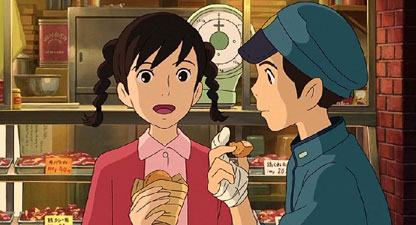 The Sweatbox Review:
While Hayao Miyazaki is a revered icon in the animation field, his son Goro failed to meet expectation when he directed his first Studio Ghibli film, Tales From Earthsea, in 2006. Many critics were remarkably unkind in their estimation of the film's value, and declared the junior Miyazaki a failure who might never be allowed to direct again. Rumors also swirled, suggesting that production on Earthsea had been so rocky, that the father and son were no longer on speaking terms. While that part of the story is only gossip, the truth is that Tales From Earthsea was not exactly the cinematic disaster it was depicted to be in the press. True, it was an under whelming film fraught with missed opportunities and clumsy execution, but it was not quite so bad as to warrant the attacks it received. Sure, it was a relative disaster for the studio— but there are far worse anime films out there. Goro's father must have also come around in his thinking, because Goro was given another opportunity, and the result can be viewed as a personal triumph.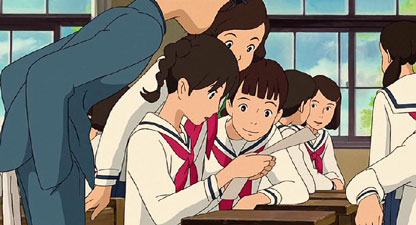 From Up On Poppy Hill would seem to confirm that Goro Miyazaki does in fact have the chops to become a successful film director. His father may have co-written the screenplay (based on a 1980 manga), as well as the original film proposal, but it was Goro who handled the storyboards and direction. The improvement over Tales From Earthsea, is remarkable. In From Up On Poppy Hill, the plot is clear, and the story is told visually where possible, taking much better advantage of the medium than the tedious Earthsea.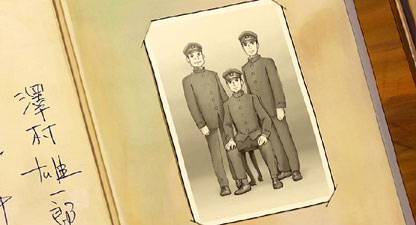 American audiences used to seeing Ghibli's fantasies may be surprised as to how down to earth the story is, but those that have managed to get overseas copies of Only Yesterday or Ocean Waves will recognize the Ghibli tradition of nostalgic tales of girls of high school age learning about life and love. Of the Ghibli films released in North America on home video, From Up On Poppy Hill certainly comes closest to Whisper Of The Heart in its subject matter and tone. What makes Poppy Hill unique, however, is the importance of its historical setting.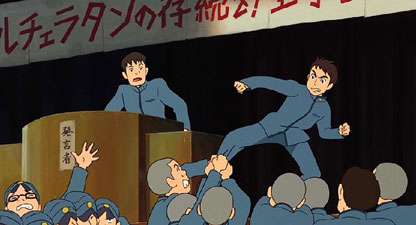 From Up On Poppy Hill takes place in Yokohama, Japan, about a year before the 1964 Tokyo Olympics, an era that saw the country still struggling to find its identity in the post-war era. Much of the rebuilding had been done, but there were opposing views on how much to honor the past. World War II might not have ended well for the Japanese, but a country as rich in history and tradition could not easily put aside its cultural heritage. The dichotomy between progressives and traditionalists is at the heart of this story. Naturally, though, the audience needs characters to identify with, and this story gives us two young people who represent a youth who values their country's past. It is clear where the screenplay's sympathies lie.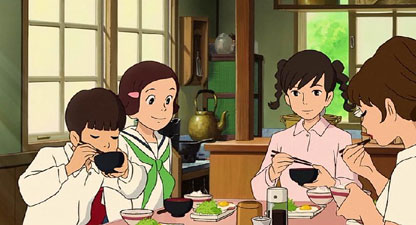 Umi is a girl of about 15 who helps her grandmother run a boarding house. Her father passed away in a sea accident years earlier, and her mother is studying in America. Every day, Umi raises a pair of flags, in honor of her departed father, who instructed her years ago to raise the flags to help guide him home when he was away on a sea voyage. Umi is busy with chores before and after school, looking after the nutritional needs of their pleasant boarders, though her grandmother is concerned that she maybe has taken on too much. Umi's time is placed under further demand when she becomes friends with a boy at school who is a leading voice in favor of preserving a school building. The building, known as the Latin Quarter, houses many boys' clubs on the school campus; but the boys' passion for their clubs does not extend to housekeeping or home repair. They have neglected the building for generations. The Latin Quarter is now little more than a dump, covered in dust and in sad disrepair. Nevertheless, the boys love their "clubhouse," and treasure its traditions. Shun's passion for saving the Latin Quarter is infectious, and Umi becomes involved with the movement to save it.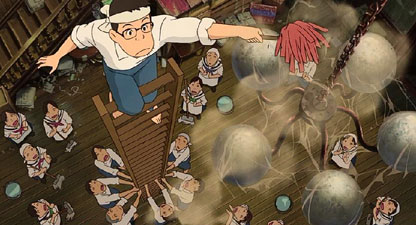 In fact, she does more than become involved. She somehow becomes known as the boys' "lucky charm," providing them with a positive attitude and a spirit of hope and fortitude. She engages the other girls at the school to help the boys clean up the place, and travels with Shun and his friend to Tokyo to appeal to the school's Chairman.
In the midst of these efforts, Umi and Shun grow in their admiration for each other, and inevitably fall in love. Their relationship hits a crisis moment, though, when a mystery from their shared past comes up, placing a large strain on their growing romance, to say the least. These are the types of events that can challenge even the most mature adults, so seeing teenagers go through it makes it all the more poignant.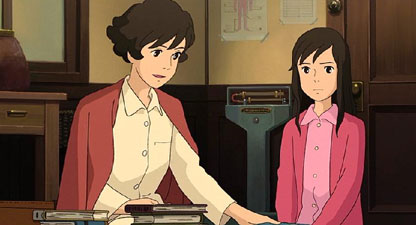 The twin threads of the Latin Quarter campaign and the family mysteries come to a head with the arrival of Umi's mother, home from the United States, and then the Chairman's visit to the school. It's a satisfying resolution (if a tiny bit abrupt at the very end), and ends what has been an enlightening journey through Japanese history and a special friendship. The pace of the film is leisurely, but never did I find the film anything less than captivating. Though the film has no villains, there is plenty of conflict in the clash between ideologies and the challenge faced by the young lovers. The storylines weave in and out of the narrative, capturing a portrait of a special time in the life of Umi and Shun, a time that undoubtedly will have immense meaning to them both for the rest of their lives.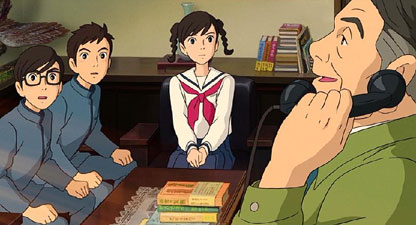 I couldn't help but feel almost proud of Goro Miyazaki, and certainly happy for him. It could not have been easy to come back after the poisonous reception for Tales From Earthsea, and here he has succeeded admirably. It is all the more impressive when you consider that Poppy Hill's production was slowed by Japan's tragic tsunami and nuclear disaster, and in the end it looked doubtful that the film could be completed in time for its planned release (both Miyazakis have also taken responsibility for slowness of delivering script and storyboards). In footage I have seen of young Goro, he still seems uncertain of himself, so I hope that the success of this film will give him the confidence to progress to becoming a master filmmaker.
From Up On Poppy Hill comes to home video in the U.S. from GKIDS, who have made a very welcome effort the past couple of year in bringing world animation cinema to our homes. It is not clear why Disney is not handling this release, especially since Walt Disney Japan was a production partner. Disney did previously pass on Only Yesterday and Ocean Waves, likely due to some content issues, but that should not have been a factor here. They have already attained the rights to Hayao Miyazaki's final film, The Wind Rises, so for now GKIDS can look at From Up On Poppy Hill as a feather in its cap.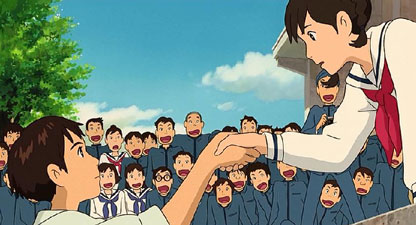 Is This Thing Loaded?
Compared to what we usually got from Disney on their Studio Ghibli releases, GKIDS has really been able to provide us with an exceptional suite of extras. I'm not sure if this is due to their own efforts, or if Studio Ghibli has simply provided them with better material, but it's nice to see such a comprehensive package.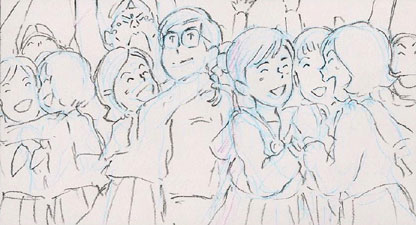 Per usual for Ghibli releases, we do get the Original Storyboards in their entirety, but this time that's only the beginning. We also get some historical and geographical background, such as in the featurette Director Goro Miyazaki On Yokohama (17:37), in which the director gives his impression of the city, based on his perceptions as a boy, as well as what his research taught him. This theme continues in Yokohama: Stories Of The Past And Present (22:36), which gives us a wonderful survey of the city in which From Up On Poppy Hill takes place. We learn that Yokohama has always been known as the gate to the Sea Of Japan, and we are given what feels like a comprehensive tour of the city, including new footage, as well as archival video from the 1950s and 1960s.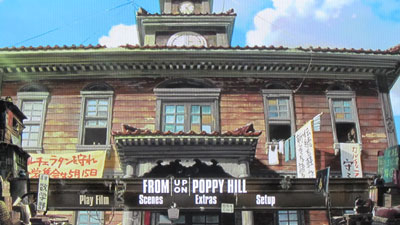 The presence of the music video for Summer Of Farewells (5:45) has special importance, as we will soon learn. From Up On Poppy Hill: To Hollywood – The Voiceover Sessions (21:48) largely uses English production director Gary Rydstrom to give us a look at the process of adapting the film for English language audiences, as he comments enthusiastically about such actors as Sarah Bolger and Anton Yelchin. We also get insightful comments from the writer of the adaptation, and lots of looks at such actors as Beau Bridges, Ron Howard, and Jamie Lee Curtis performing their roles.
Press Conference – Theme Song Announcement (39:33) features the Miyazakis and the people behind the film's music, talking in particular about the film's theme song. Hayao Miyazaki recounts his nieces' manga that he saw thirty years ago, and how he had tried to conceive of how to turn its story into an animated film. The idea matured more fully once listening to the song Summer Of Farewells, as he decided it should become the theme song for the movie. The song originally was used for a television show over thirty years ago, but perfectly suited the feel he wanted for the film. The press conference is heavily influenced by the then-recent events of the tsunami and subsequent nuclear disaster of 2011, adding some melancholy and emotion to the affair.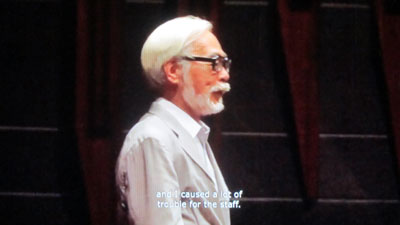 More emotion is seen in Hayao Miyazaki's Speech After the Staff Screening (6:14). Miyazaki relates some of his feelings about the film, and mentions his regrets about how it needed to be rushed due to his own slowness with the script. He introduces some of the creative staff, and even berates some of them for their unsatisfactory efforts. Goro speaks as well, looking somewhat apologetic. At this time, it seems no one was all that pleased with the film, which is funny considering how well it turned out in the end.
We then get to see Japanese Trailers And Teasers (7:11), which surprisingly focus on giving away the movie's main plot twist; plus a US Trailer (2:25), which basically uses the opening narration of the film to help set the mood.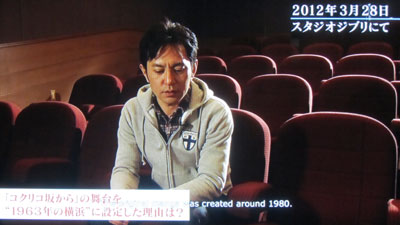 More Animation From GKIDS includes several trailers for other DVD releases, such as The Painting, The Secret Of Kells, Chico & Rita, A Cat In Paris, Tales Of The Night, and The Rabbi's Cat.
The DVD in this set only includes the storyboards, and none of the other special features. There is also a two-disc DVD set available that covers most of the ground that the Blu-ray does, excepting the news conference and the booklet.
Case Study:
This release has both a Blu-ray and a DVD copy, sitting on opposite sides of a Blu-ray keepcase. A foil, non-embossed cover slip makes the package that much more attractive. Inside, a 20-page booklet includes Hayao Miyazaki's original proposal for the film, some preliminary artwork, and a very frank and honest note from Goro Miyazaki, facing his own insecurities but also taking pride in the finished film— for which he gives much credit to his co-creators. Another insert in the case advertises GKIDS' growing line of animated films from mostly Europe.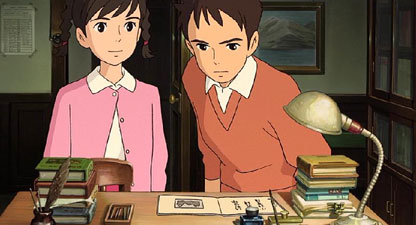 Ink And Paint:
Only one thing keeps this from being a reference quality release, and that's some aliasing in a few instances. This may actually be more of an issue with the animation, as the aliasing is seen on passing ships that could be cel-mapped CGI models. Other than that, the image is totally clear of any dust or scratches, and nicely shows off the bright but naturalistic color design.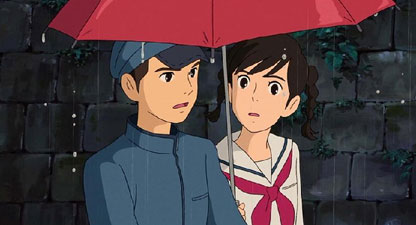 Scratch Tracks:
The Blu-ray comes with both Japanese and English audio, in DTS-HD Master Audio. Both tracks provide nice ambiance, and perfect clarity. Don't expect too much bass, as these tracks don't include a subwoofer channel. The music provides an immense amount of atmosphere to this film, and it comes off nicely. These are not showy tracks in term of sound effects, however, due to the type of film this is, but they do well to provide a realistic environment for our players to carry on their story. Toggling between the two, we find out that the English version provides an opening narration that provides exposition that enhances our understanding of the era, as well as our characters' set-up. I found it more helpful than condescending, and it feels natural. In fact, I was quite surprised that it wasn't in the Japanese language version. I mostly liked the English dub just fine, but was especially taken with the voice of Umi, Sarah Bolger. Umi is a girl not prone to wild displays of emotion, and is often drawn with suitably subtle expressions— thus necessitating an actress who can bring a lot to her voiced portrayal, and Bolger nails it.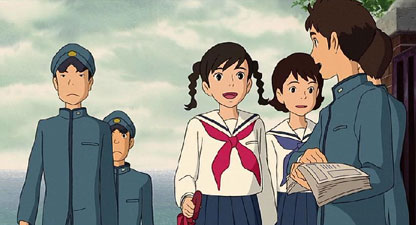 The interesting thing is the subtitles. Two different English subs are available, one reflecting the original Japanese, and the other the English adaptation. It is neat to watch the film with its English language audio, while running the subtitles of the original Japanese translation. Subtle differences are present, reflecting how the adaptors made an effort to customize the experience for western audiences. From what I saw, there are no egregious or unfortunate changes; mostly they are subtle.
Final Cut:
Having not been impressed with Tales From Earthsea, I was apprehensive about seeing Goro Miyazaki's next film. I am delighted now to report that he rose to the challenge admirably, and has made a wonderful movie that fits well within the Ghibli canon of realistic teen-oriented movies. Having seen Goro's success here, I'd like to see him again take on the challenge of a fantasy epic, as those are my favourite Ghibli films. The Blu-ray for From Up On Poppy Hill has strong video and audio, and a wealth of fine supplements, making this an easy recommendation.
Animated Classic or Back To The Drawing Board?