Leon Schlesinger Studios / Warner Bros. Animation (1936-2003), Warner Home Video (November 15 2011), 3 disc set, 357 mins plus supplements, 1080p high-definition 1.37:1 original Academy frame ratio, Dolby Digital Mono, Not Rated ("Intended for the adult collector and may not be suitable for children"), Retail: DigiBook $59.96, Limited Edition $79.98
Storyboard:
The absolute cream of the classic Looney Tunes and Merrie Melodies cartoon crop comes to high-definition Blu-ray. And that's not all, folks!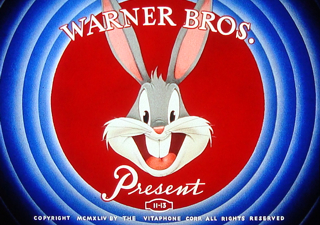 The Sweatbox Review:
So much has been written about the now almost legendary antics of the original Termite Terrace crew and the short films they produced over a certain period (a period that constantly changes if including the very early cartoons, the central Golden Age of Warner Bros. Animation, or the later, less artistically successful cartoons), that any critique of this collection of those films in drastically new and improved transfers is basically redundant before it has even realty begun.
In short there is, essentially, nothing else you need to know except that, if The Looney Tunes Platinum Collection wasn't on your 2011 holiday wish-list, then it should downright be top of your 2012 must-have purchases. Gathering, as it does, the best of the best from the first couple or so volumes of the original Golden Collection DVD series, there's just as much reason to get excited all over again at what is fundamentally a double-dip, but one laden with so much Looney goodness that easily outweighs any such grumbles.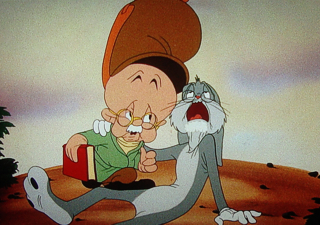 We've been waiting a while for the Blu-ray format to reach a saturation point close enough for the major studios to start gambling on releasing these kinds of animation anthologies. Back in the DVD days, Disney Home Video was at the forefront, serving up the wonderful Treasures line of character collections featuring their top-tier animated stars: Mickey Mouse, Goofy, Donald Duck and Pluto, alongside the pick of other series from their vaults.
Warners were not that quick to jump on the same bandwagon, but when they did they did so with the effect of a stick of dynamite being shoved down Yosemite Sam's pants, turning out an annual selection of remastered cartoons accompanied by some truly great supplemental material, much of it rarely seen from the archives. Now, almost ten years after those collections began, Blu-ray advocate Warners is now leader of the pack, the almost-concurrently released Tom & Jerry Golden Collection being the first such animation anthology release that I am aware of on the format.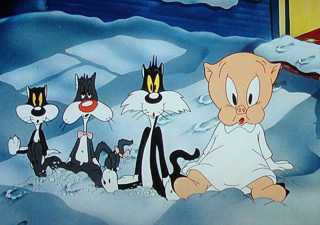 Starting from scratch, the Platinum's masterstroke is not to simply repeat the same collections albeit in hi-def. Nope, the fans have been listened to and, rather than waiting for Volumes Two, Three and so on to arrive for favorite toons, the selection here is (slightly) more reaching. Unlike the sometimes uniform approach of the Disney shorts, the best Warners cartoons were often the results of individual directors and their dedicated units, which is why we now associate such names as Chuck Jones, Friz Freleng, Tex Avery, Bob Clampett and Robert McKimson, among others, with various styles.
In the past, much of the onus has been centered on Jones, for a long while the last surviving original member of the Termite Terrace crew and so perhaps understandably so as he was the only one around to promote the work. Although the net has been wider cast here, if there is anything that mars this initial Platinum selection it's that this same leaning is in evidence, albeit less so. Not that this is all "bad news": Jones' shorts are often among the very best in the series, if your tastes run towards the comedically slyer and somewhat satirical, and they can be pretty looney in their own right.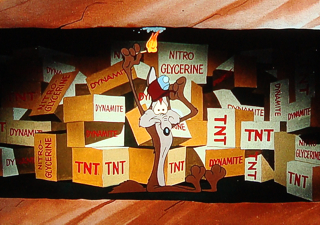 The other directors are encompassed as well, of course, but one does hope future collections decide the shine the spotlight on them with a little more vigor. Not all the Looney Tunes and Merrie Melodies were winners, naturally, and there is much "fan" disdain for the much later cartoons produced when the Studio was essentially on its knees, which is why a chronological collection would never make sense: although there are those keen to see and own those shorts, Warners' approach has always been to mix in the not-so-good with the very best.
As such, the strike rate here is remarkably high: as well as some of the most well remembered cartoons featuring the established characters, we also get individual one-shot gems and full sets of appearances for a handful of characters who didn't get long-running dedicated series of their own or simply turned up in the more traditional stars' cartoons. This is a nice, welcome touch, that jettisons the "best of" discs that could somewhat weight down the early Golden sets, offering more scope and less dedicated focus on any one or two characters.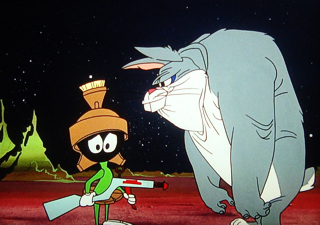 For the record, Disc One offers up a remarkable 25 shorts: Hare Tonic, Baseball Bugs, Buccaneer Bunny, The Old Grey Hare, Rabbit Hood, 8 Ball Bunny, Rabbit Of Seville, What's Opera Doc?, The Great Piggy Bank Robbery, A Pest In The House, The Scarlet Pumpernickel, Duck Amuck, Robin Hood Daffy, Baby Bottleneck, Kitty Kornered, Scaredy Cat, Porky Chops, Old Glory, A Tale Of Two Kitties, Tweetie Pie, Fast And Furry-ous, Beep Beep, Lovelorn Leghorn, For Scent-imental Reasons and Speedy Gonzales.
On Disc Two, you'll find a further 25 cartoons: One Froggy Evening, The Three Little Bops, I Love To Singa, Katnip Kollege, The Dover Boys At Pimento University, Chow Hound, Haredevil Hare, The Hasty Hare, Duck Dodgers In The 24½th Century, Hare-way To The Stars, Mad As A Mars Hare, Devil May Hare, Bedevilled Rabbit, Ducking The Devil, Bill Of Hare, Dr Devil And Mr Hare, Bewitched Bunny, Broom-stick Bunny, A Witch's Tangled Hare, A-Haunting We Will Go, Feed The Kitty, Kiss Me Kat, Feline Frame-Up, From A To Z-z-z-z and Boyhood Daze.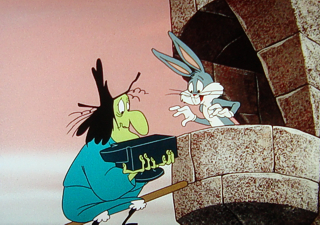 The usual, slight leaning to Jones aside, this represents a very fair selection of truly classic Looney Tunes cartoons. If you're a fan, you'll know if these titles get you excited, and if you're not – yet – then let me assure you you're in for some truly classic cartoons of the kind they just don't make anymore. I do hope sales push along at least another volume, and more from Warners' other owned cartoon vaults as well, but as a one-off Blu-ray debut, fans couldn't really ask for much more than this.
Is This Thing Loaded?
In a word, yes! Again there may be some that grumble about the porting over of most of this material from the previously released Golden Collection sets, but for my money this assemblage is much more available to hand and, given Blu-ray's massive storage capabilities, the lengthier programs are now no longer split between discs. And the configuration is neater, too: the first two discs have their own share of extras, but the majority (still all mostly in standard definition as per their original production) have been saved for a third platter, resulting in literally hours of vintage documentaries and featurettes to wade through.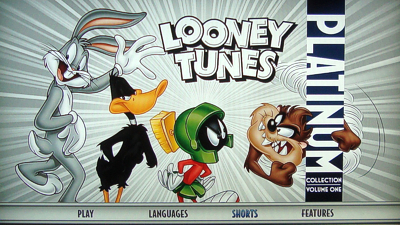 Disc One's Select Audio Commentaries are the big draw here, featuring original crew, fans and current directors speaking about their favorite Tunes. The list is phenomenal (this first disc has 23 such tracks alone) and include such luminaries as Eric Goldberg, Greg Ford, Jerry Beck, Mike Barrier, Daniel Goldmark and Paul Dini, joined in archival recordings by the likes of Chuck Jones, Mike Maltese, Maurice Noble, Mel Blanc, Bob Clampett, Treg Brown and even an Ink and Paint girl Martha Sigall. Although heard in previous collections, these are all great tracks worth revisiting.
A collection of Alternate Audio Programs feature a selection of Music Only tracks (What's Opera, Doc?, The Scarlet Pumpernickel, Duck Amuck, Robin Hood Daffy, Speedy Gonzales) and the Vocal Recording Session by Blanc and Arthur Q. Bryan for What's Opera, Doc?. The terrific Behind The Tunes featurettes are back, too, this first disc featuring explorations of What's Opera, Doc?, the music of Raymond Scott and the use of his Powerhouse piece in the Warners pictures, the Tweety & Sylvester partnership, and the "charm" of Pepe LePew.
From the original DVD release of the documentary Chuck Jones: Extremes And Inbetweens, the additional featurette A Chuck Jones Tutorial: Tricks Of The Cartoon Trade makes for a very nice companion piece to that program. It's a 14-minute look at Jones' actual cartoon technique, featuring subjects such as Zip Outs, Anticipation, Exaggeration and Anthropomorphism, and features comments from new generation artists Glen Keane, Eric Goldberg and Rob Minkoff among those participants from the feature documentary, though I still feel it does end rather abruptly.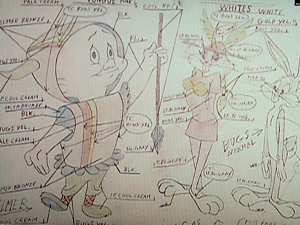 Disc Two's Select Audio Commentaries serve up another, impressive, 14 offerings. Such titles as One Froggy Evening, The Dover Boys, Duck Dodgers and the Ralph Phillips shorts are covered again by a varied selection of notables, including Barrier, Beck, Ford, vocalists Stan Freburg and June Foray, author Amid Amidi and director-fan Goldberg, who enthuses over five of the offerings here. They're joined once more from the archives by some of the original crews, Jones, Maltese and Noble among them.
Some more Alternate Audio Programs offer up a mix of Music Only tracks (One Froggy Evening, Three Little Bops, Hare-way To The Stars, Ducking The Devil, A Witch's Tangled Hare, Feed The Kitty, Boyhood Daze), Music And Effects (Bewitched Bunny, Broom-stick Bunny, Feline Frame-Up) and the Vocal Recording Session for Three Little Bops by Freburg. The insightful and perceptive Behind The Tunes featurettes here cover One Froggy Evening and a trio of characters: Marvin The Martian, the Tasmanian Devil and Ralph Phillips, and often show the pre-restored state of some of the films.
From the fifth volume of the original Golden Collection DVDs, the nine-minute Tunes featurette Wacky Warner One-Shots is perhaps the most unique on this disc, looking at the many cartoons that told a story without the intention of branching out into a series, as well as how certain characters found fame "by accident", the most famous being the Coyote and Road Runner. The use of experimentation by the directors in these one-shots is discussed, though one can't help think this great little featurette has been somewhat misplaced here, given the lack of many good examples otherwise contained in this set.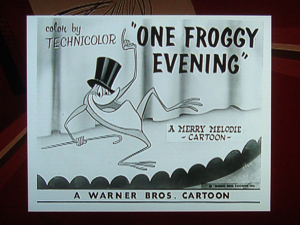 Disc Three is where all the really nourishing Looney Tunes goodness is at, a five-hour-plus assortment of previously seen Golden supplements, vintage documentaries and additional bonus cartoons. It's here that the onus is squarely and firmly placed on Chuck Jones, the disc almost playing as a dedicated salute to him at the expense of his director colleagues (one hopes that future sets redress the balance one director at a time). However, it is as such an excellent assemblage of some much-seen material, all finally gathered under one roof and about as definitive as it gets.
From the very first Golden Collection, a Greeting From Chuck Jones (3:47) includes some early, pre-cleaned up material (such as Bugs' first appearance and Porky Pig in the brilliant 1940 animation/live-action combo You Ought To Be In Pictures). Jones sets up the world of the Looney Tunes and the characters that populate it, touching on the various ways that they have entertained us throughout the years. Next up are three well regarded documentaries that pretty much cover similar ground, but are equally all worth revisiting one more time.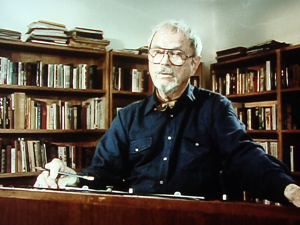 From 1989, Chuck Amuck: The Movie (51 min) originally accompanied a book on Jones' career, released to tie in with a retrospective of the director's work at England's Museum Of the Moving Image. The documentary itself opens at MOMI, where we find Chuck entertaining the crowds with images of Bugs and company in the animation section. He's in a mellow mood, reflecting in an on-camera interview about his life and career at an interesting stage from when his perspectives hadn't yet fully become too cosy and the sly wit is all in place.
Cleverly using Duck Amuck as a framing device, Chuck Amuck is really all about Jones' personal recollections, with Chuck reminiscing about his upbringing and time at Warners. Naturally, there's a lot of ground covered that has since been expounded on in more recent documentaries, but there are unique aspects, too (including a lovely Jones character tutorial), and at the time of its production there just weren't any such serious discussions of animation like this being made. The slower, welcome, pacing allows us to hear Chuck without interruption, and Blu-ray's AVC coding means the program is better compressed than on DVD, upscaling quite nicely.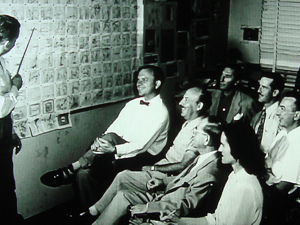 Featuring a more recent interview with the man himself, the inclusion of the feature length documentary Chuck Jones: Extremes And Inbetweens, A Life In Animation will either please you (as in having it easy to hand) or annoy in that this is its third or fourth home video release. Previously available in the Golden Collection and as a very nice single disc edition of its own; its inclusion is welcome but perhaps has come again at the cost of some other instances of rarer archival footage that remains unavailable (there's a 1980 film on Mel Blanc referenced in Chuck Amuck that has not yet been made available).
Nevertheless, I can appreciate that many new fans may well have missed this documentary first time around in 2000, and it does remain a very valid supplement. My main gripe here is that it's still only presented in letterboxed widescreen, and again from an interlace master, meaning the Academy format cartoon clips are windowboxed on all sides. However, the AVC coding helps to overcome the softness of the DVDs to look okay blown up to fill a 16:9 display, and for those without the original single disc, the main reason to welcome its inclusion is in its reversing of how the Golden Collection cut it in two halves: here it is in one uninterrupted piece running its full 85 minute length.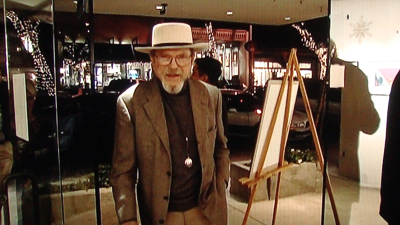 Part interview, part retrospective, Extremes And Inbetweens is testament to the life, work and vigour of the legendary cartoon director, from animation's pioneering days to some of the last footage of Jones before his passing. There's obviously some same ground covered as by Chuck Amuck, but this is a faster, slicker, more contemporary produced product and as well as Chuck offering up his insights into the characters he helped make famous, there are contributions and tributes from an all-star line up of colleagues, competitors and fans who have found inspiration in his early WB shorts.
Joining the likes of Ron Howard (director of the live-action Grinch) and Robin Williams are Whoopi Goldberg, Joe Dante, Steven Spielberg (who considers One Froggy Evening the "Citizen Kane of animated shorts"), John Lasseter and Matt Groening. Extremes also covers some of the vocal talent behind the drawings (though no real mention of Mel Blanc), their use of music, and that classic exaggerated-line WB style. The story doesn't end when Jones left the Warners lot either, following his post-Studio achievements with The Grinch, the re-invention of Tom & Jerry, and triumph at the 68th Oscar ceremony when he won a Lifetime Achievement award.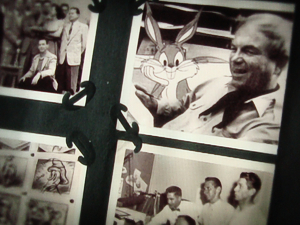 We then jump back to the very early days for Peggy Stern's Chuck Jones: Memories Of Childhood from 2008, featuring Chuck himself in surely one of the last interviews he must have given before he died in 2002, new animation by co-producer John Canemaker, and of course a healthy dosage of classic clips. Jones' career has obviously been more than well documented in the previous documentaries, so that this takes a unique angle is one aspect that sets Memories Of Childhood from the rest of the pack. Running 26 minutes, the film focuses on Jones' formative years, his raising in Los Angeles and early influences in the many books he read as a child and the sneaky peeks at watching Charlie Chaplin filming at his Studio.
Topics include, on the professional side, the source of Jones' often used Acme trademark and, on a personal level, his own family relationships, with Chuck enjoying traveling back through his life and loves, his warm observational nature as fine-tuned as ever. I love listening to Chuck imparting his words of wisdom – on any subject – as unlike Walt Disney, who was the consummate showman and never really let anyone get too close in interviews, he is always candidly open with his comments, and although Memories (previously of Jones' Tom & Jerry set) ends shortly after he arrives at Warners, it's perfectly welcome here and provides another piece of the Chuck Jones puzzle for fans to collect and savor.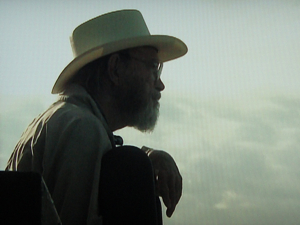 The Animated World Of Chuck Jones offers up some further examples of Jones' work outside of the Looney Tunes canon. Although the previously seen titles are seemingly from the same restored versions as seen on DVD, some may again lament that they haven't been saved for future high definition release (especially The Dot And The Line). Most of these films appear in standard definition only, but the AVC coding again provides a much cleaner transfer of this material, which does upscale quite well in most cases, and some excellent new-to-disc titles are pleasingly presented in HD from fairly good prints.
The cartoons featured include the rarely seen wartime shorts Point Rationing Of Foods (looking as best it can from what seems to be a VHS print), the rather brilliant mini-masterpiece Hell-Bent For Election and So Much For So Little, a public health film from just post-wartime directed by Chuck and the recipient of the 1949 Oscar for Best Documentary Short. The live-action comedy Orange Blossoms For Violet is a completely nuts early 1950s Freleng/Jones curio, an absolute blast with the "stars" being dressed up animals that act and speak to each other in the various voices of Mel Blanc: ludicrous and no doubt impossible to pull off today where CG has replaced the means used here.
The Private Snafu-like A Hitch In Time, again from the 1950s, explores the options of a military man's choice to leave the Air Force, as do the Ralph Phillips sequels-of-sorts 90 Day Wondering, doing the same promotional job for the Army, and Drafty, Isn't It?. Also included are two works from Jones' later Tower 12 days, an avant-garde period when running his own Studio meant he could play with form a little more. Released by MGM in 1965, the dazzling, aforementioned Best Animated Short Oscar-winner (with credited co-director Maurice Noble) The Dot And The Line: A Romance In Lower Mathematics is about as experimental as mainstream animation gets.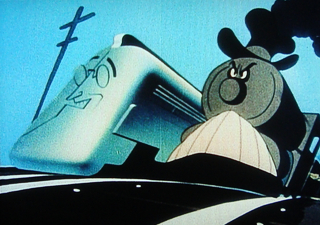 Narrated by the terrifically British Robert Morley (Those Magnificent Men In Their Flying Machines), the short is an exploration of boring stiffness vs. reckless abandon, development and change, as a straight Line learns to gradually embrace evolution, impressing the Dot who previously only had eyes for the wild Squiggle. Apart from the philosophical musings, the many shapes and complex patterns the Line finds himself able to create leaves the animators much room to generate stunning designs of their own – all the more reason that their work should really have been presented in HD.
Jones adapted his old Termite Terrace stable mate Frank Tashlin's 1946 children's book The Bear That Wasn't into a 1967 animated short, with much of the same team as behind Dot And The Line. It would have been interesting to see what the same story's translation to animation might have been like had it been adapted by Jones or Tashlin in their 1940s heyday, but the result here is typical of the later, dryer Jones cartoons that are a little more ponderous, and its attempts to be frantic seem at odds with its otherwise deeper exploration of what is essentially conformist mind-control: big themes for little kids (and just as it should be)!
More redundant since it keeps turning up on almost any Jones-related release is the much-seen (and much-worn) The Grinch Pencil Test, which does overbalance the disc in Jones' favor – this is supposed to be a Looney Tunes collection after all! This seven-minute look at a work-in-progress version of Jones' special has much of the animation completed, and the clip does condense the first half of the story down adequately for the purposes here but, while when the footage reverts to the pencil stage it is fascinating stuff (and where "safe" theatrical framing is evident), it just seems more than a little at odds in this specific collection.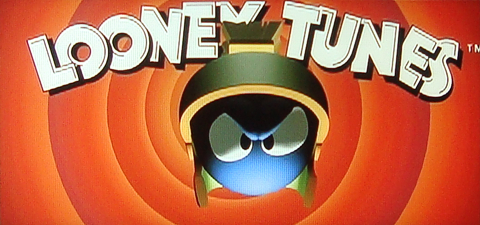 So does the Bill Cosby co-produced curio The Door, an anti-war sentiment from 1967 directed by Ken Mundie that, despite all the symbolism and its high art ambitions, just comes over as disjointed and again typical of its era. Important it may be, but it's also dated, and not very well, and even if it is of interest to be able to see it, without any context I'm just not sure it works here. Much better are a final selection of Bonus Cartoons, which do their job of rounding out some additional character appearances and bring the Looney Tunes up to date "outside their golden age appearances" as the packaging informs.
They're not all great: The Fright Before Christmas is simply an extract from the albeit well-animated Bugs Bunny's Looney Christmas Tales television special that features the Tasmanian Devil, and Marvin The Martian (together with Hugo the Abominable Snowman) turns up in the Spaced-Out Bunny sequence of another special, Bugs Bunny's Bustin' Out All Over, both previously included in full on the Essential Bugs Bunny DVD. The Duck Dodgers And The Return Of The 24½th Century sequence from Daffy Duck's Thanks-for-giving Special, as seen on the recent Essential Daffy Duck disc, was actually recut and released as a theatrical short in 1980, and it's that unique edition included here.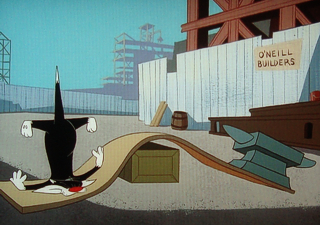 From 1995, Another Froggy Evening, a Jones-directed follow-up to his classic short, is apparently intended as a prequel to the earlier film, but its title and ending suggest otherwise, while it's a real shame that Marvin The Martian In The Third Dimension, the first CG-animated Looney Tunes cartoon and originally created for 3D theme-park viewing, isn't included in HD. Presented in 2.35:1 letterboxed 4:3, this is quite visually spectacular in terms of its authentically fluid animation, but the standard definition interlaced video looks pretty ugly, especially if blown up to 16:9 or upscaled to HD resolution.
The 1996 Superior Duck again acts as a quasi-sequel to some of Daffy's most popular cartoons, trading mostly on the Duck Dodgers persona (Daffy wears that series' costume) but strangely giving him genuine superpowers which, while the short is amusing enough, I couldn't help think mixed up the influences. The obvious one is from a previous Daffy Superman pastiche from the 1940s (the big blue boy scout even turns up for a short cameo), and the running gag is certainly aimed at Cluck Trent's alter ego, but the outfit definitely screams "Dodgers".
Still, it's an important cartoon for finding Chuck helming his last Daffy short, and it's always a bizzarro trivia fact to know Daffy is voiced by 1960s Batman Riddler Frank Gorshin (Daffy's green shirt even sports an exclamation point instead of Riddler's usual question mark)! From Hare To Eternity has Jones directing Bugs and Yosemite Sam in a characteristic Friz Freleng homage, while Father Of The Bird has Sylvester in a classic cartoon set-up when he decides to protect a baby bird. Finally, the cat is back, this time with Tweety, in Museum Scream, one of the contemporary Looney Tunes (in widescreen HD) that rounds out this package and its collection of extras.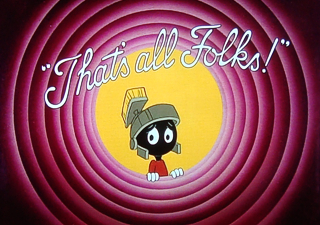 Originally intended for theatrical release, a small number of attempts at returns to past glories were produced to introduce the characters to new audiences, although they were never shown following the unfortunately poor audience reaction to the 2003 Looney Tunes: Back In Action feature. Museum Scream did play with that movie in some theatrical releases, and while the only thing that might smudge things a bit is the sometimes off-model cartooning, it's authentic in feel and largely successful artistically, leaving only the Daffy Duck short Attack Of The Drones and the Road-Runner/Coyote cartoon The Whizzard Of Ow as no shows in the more recent stakes.
As always with big studio product, previews for associated titles are also included, and here the cartoon and family push is for the updated, modern (and not funny-looking) The Looney Tunes Show, Happiness Is A Warm Blanket Charlie Brown, and a very fun spot for the 40th Anniversary Willy Wonka And The Chocolate Factory Ultimate Edition (featuring a gorgeously pristine print of the movie and a couple of trinkets well worth the asking price for big fans).
Case Study: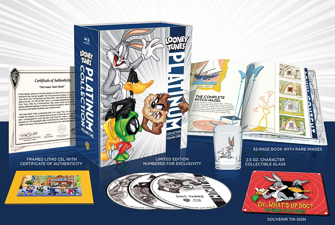 Now, here's the thing… The Looney Tunes Platinum Collection comes packed in two ways: as a typical Warners' collectors' bound DigiBook (a "book" that encompasses plastic disc trays at both ends to hold the BDs) and a deluxe Limited Edition package that throws in some collectibles and trinkets [right].
It's this LE set – limited to 36,000 copies – under review here, but the question is: is it worth the extra twenty buck premium being asked for? The answer is both yes and no, and will inevitably depend on how much you love these cartoons and how significant you want them to look on your shelf. A big, thick case held shut by a nifty magnetized edge, the regular DigiBook finds itself held inside neatly.
Underneath, you'll find a pull-ribbon that lifts up the collectibles: a Bugs 'n' Daffy fridge magnet (approx. 4.5"x4.5"), and a "Looney Tunes March" Litho Cell of the characters treading across the WB lot, Abbey Road style, that would be much cooler if it wasn't just 4.5" x 2.5" without the three-quarter inch frame matting. A Ruth Clampett-"signed" Certificate Of Authenticity for the litho is also included, but although the WB logo is nicely embossed, there's no indication of the limited edition figures (found only a sticker on the base of the box).
That these three items are held in one single themed envelope doesn't really add up to too much excitement when drawing it out of the box, the effect being of there being just three elements to the set: the DigiBook, the envelope, and an also enclosed drinking glass. Featuring Bugs Bunny on its side, the glass would also be more impressive – and practical – if it were larger than just 2.5-oz, making it too small to fill up with a can of soda for the kids and not much use other than for shots of spirits. I know this set is intended for the "adult collector", but it seems a slightly uneasy fit for me.
However, it's the housing for the glass that gives the overall set its weight and size, and in this aspect it is most impressive. So you have a choice: either go for the good-looking regular DigiBook, which features a wealth of poster, storyboard and final frame imagery and information from Jerry Beck (including disc contents, but no director and still no release date information!), or widen up the look of the set on your shelf with the LE box. I don't, personally, feel the extra trinkets are worth the price hike, but the box itself does give the collection a very substantial feel.
Ink And Paint:
Who knew the original Looney Tunes elements could spruce up to look as exceptionally fantastic as they do here? Representing these films as never before, it seems the highest grade of print (the original negatives?) have been utilized, genuinely offering these cartoons as they have never been seen before. The memories of faded, red-tinted old TV showings or even the then state-of-the-art video-painted LaserDisc remasters will be a distant memory as you see the non-DVNR'd clarity and the sheer vibrancy of the color in these transfers, which almost literally pops from the screen.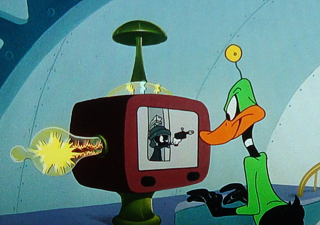 Pleasingly, the backgrounds have not been so wiped clean of the cel scuffs and marks as to approach the modern Disney look of their classic features. While I do appreciate the efforts in those cases, the Warners cartoons were always more rough around the edges, often painted on pre-used cels and shot to cheap film stock. The results here would have you questioning that: they're sharp as a tack and rock steady to boot. Print debris is gone, but a layer of authentic grain and cel marks aplenty remain – just as they should do – making these cartoons look as good, if not better, than they did in original release!
Scratch Tracks:
Almost as eye-popping as the new video transfers are the monaural soundtracks, again representing authentically exactly what audiences would have heard all those years ago. Again given modern preservation and reproduction technology, they're actually probably better than those audiences heard them, with audio pops and signal noise removed to offer these fine mixes with full richness and fidelity. Unlike the Tom & Jerry Blu-ray, the tracks don't sound as blanketed in softening techniques, the often violent and always dynamic sound blasting its way clear out of your speakers!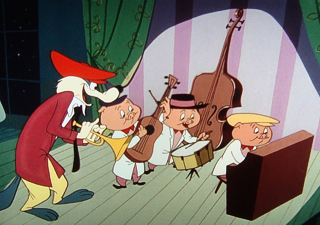 Final Cut:
Some may complain that the onus on Chuck Jones could be seen as overwhelming once again, although I would put it forward that, in approaching the tenth anniversary of his passing, there could be no better tribute. Whether revisiting these cartoons for the umpteenth time or coming to them new for the first time, The Looney Tunes Platinum Collection is an essential purchase not only for those eager to own these cartoons in what is simply the finest way they have ever been presented, but also to show your support for these kinds of anthology releases. The gates have been opened: let's hope a flood of classic cartoons pour out – from Warners and other Studios – to bring them up to date while preserving the vintage feel. Excellent.
Animated Classic or Back To The Drawing Board?