Warner Bros. Pictures (1930 – 1968), Warner Home Video (October 21 2008), 4 disc set, 413 mins plus supplements, 1.33:1 original full frame ratio, Dolby Digital Mono, Not Rated (noted is that the volume is "intended for the adult collector"), Retail: $65
Storyboard:
Wacky wabbits, screwey ducks and the rest of the inmates of the Termite Terrace asylum make their way to DVD with 60 more of their much requested and outrageous animated antics. Four discs featuring such gems as Hare Trigger, Birth Of A Notion, My Little Duckaroo, Satan's Waitin', Herr Meets Hare, The Ducktators, Rocket-bye Baby, a disc full of Bosko and much more – all of them fully uncut, restored and remastered, plus a surprise Acme package of new and old extras from the vaults of the Brothers Warner that should hit collectors with all the subtlety of an anvil!
The Sweatbox Review:
"That's all, folks!" we must inevitably say; this volume of Looney Tunes is the sixth and, by all accounts, final entry in the Golden Collection series – but fret not! Word is that Warner Bros. is still promising a steady stream of classic cartoons to make their way to disc via alternate routes, even if we're not likely to see such exhaustive compilations such as these lavish and very welcome sets in the near future. It's understandable, if a disappointment; as studios release the cream of the crop it falls to more and more niche titles to keep collections like these running, and the amount of units that end up being shifted aren't enough to warrant the restoration costs and bonus feature expenditure.
It also has to be said, in whatever hushed and whispered words one wishes, that not all of the Warners Looney Tunes and Merrie Melodies quite make the Golden cut, so it's perhaps possible that a new, more general line of compilations, akin to the themed collections found on VHS tape and LaserDisc, might be the way things go forward, being less to clean up and without anything other than token extras. Better than nuttin', right? However, WB's searching the archives has pulled together this one last outing, and it's a great celebration of Leon Schlesinger's unit during some unique eras: the formative years of the series' first breakout star character, Bosko, and the later patriotism of World War II, among a terrific selection of shorts, many of them pre-1948 toons rescued from the public domain. Lights, camera…roll 'em!
Disc One continues the "all-star" trend of previous volumes, being a catch-all disc of cartoons featuring a variety of characters. Warners animation figurehead Bugs Bunny gets us off to a fine start with Hare Trigger, a Friz Freleng cartoon that's one of my favorites, and the debut of Yosemite Sam. "Draw!" yells Sam in the wild west setting, pulling out his weapon and aiming it at Bugs. Naturally, the rabbit grabs pen and paper, "drawing" a perfect illustration of a gun! Daffy quacks up in To Duck Or Not To Duck, Birth Of A Notion – both of them very silly winners – and My Little Duckaroo, a later era cartoon which seems to recycle a number of ideas, funny as they are. Foghorn Leghorn drops in for the next couple, Crowing Pains (one of the simply all time funniest of this character's shorts, this print even includes the opening title animation of the brutal Henery Hawk unseen for years) and Raw! Raw! Rooster! (a later cartoon from when the series was growing tired, but still with its moments).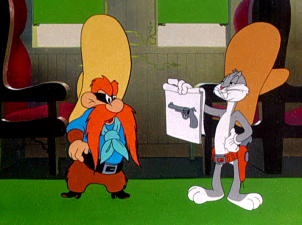 Heaven Scent (a pretty standard Pepe Le Pew cartoon), My Favorite Duck (Chuck Jones playing with Daffy at his looniest) and Jumpin' Jupiter (a pretty surreal Jones effort) follow, but it's Freleng's Satan's Waitin' that really stands out, mainly for the animation of a surprisingly deeply layered Sylvester the cat. Great design work plus an interesting exploration of an animated character's death – in particular a cat of nine lives – makes this a series highlight. The Road Runner cartoons can run into a blur, and Hook Line And Stinker features everything that was great and not so great about the series: some wonderfully loopy gags but also some that come over as flatly timed duds. There's a lot of Chuck on this disc, but Bear Feat finds him an a bit of a Tex Avery mood, with another spoof on characters from The Three Bears. Next is Jones' Dog Gone South, while A Ham In A Role is ostensibly a Bob McKimson Goofy Gophers cartoon, but also toys with the nature of "animated celebrity" and the more serious thespian ambitions of a stooge. The disc ends the first 15 cartoons with Often An Orphan, a Jones outing featuring the return of Charlie Dog, who latches on to Porky Pig – his new owner whether the pig wants him or not! – leading to one of the funniest "takes" ever seen on the character.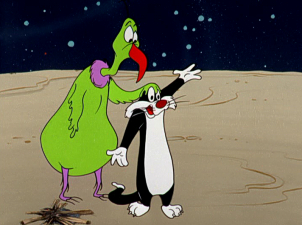 Disc Two of the Golden Collections usually contains material centered around a certain subject or featured director, and here it's the Wartime theme that gives the entire set's packaging its 1940s feel. Those perhaps disappointed with the small smatterings of the more recognisable characters and hoping for more Bugs and Daffy will be satisfied, even if these cartoons do find them in a more cynical mood. These cartoons aren't for everyone or all ages, being filled with much propaganda of the time, including some quite sadistic pokes at Adolph Hitler (ahh, the guy had it comin') and some now questionable stereotyping as topical figures come under fire. Herr Meets Hare starts us off, with Bob Clampett's brilliant "Gremlins from the Kremlin" (caricatures of the Termite Terrace crew!) in Russian Rhapsody a highly elaborate affair.
After Daffy – The Commando, we hit our first black and white short: Bosko The Doughboy, starring Schlesinger's first Looney star. A product of the rubber hose era of animation, this 1931 film is, as one would expect from directors Harmon-Ising, rather well drawn, with good backgrounds and lots of explosive effects. Rookie Revue (with a cameo by what might be Private Snafu's only color appearance), and the very Clampett-esque Jones cartoon The Draft Horse continue the theme, Wacky Blackout shows life back on the home front, while The Ducktators is a genuine classic of this or any other time. Perhaps The Weakly Reporter is too topical for its own good nowadays, but for anyone with an appreciation of what went on back home while the fighting raged on may get a few hearty laughs from the spoofing, and it's true that some things never change!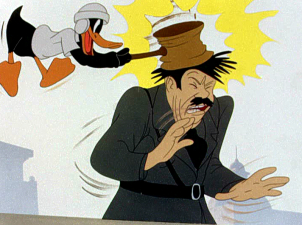 Clampett's Fifth Column Mouse is just as sedate but trades on an allegorical wartime theme of a cat trying to invade a mouse's party paradise. Meet John Doughboy and Hollywood Canine Canteen are fairly mild but contain one or two chuckles among them, leaving the disc to end up with three enlightening shorts from director Freleng: By Word Of Mouse, Heir Conditioned and Yankee Dood It. Using economic issues as a springboard, the cartoons are curious oddities in the Looney Tunes library for combining semi-serious instructional advice with the usual crazed shenanigans, making them not one thing or the other. Fans keeping track of these things may notice that with this disc, the cartoons previous featured in Leonard Maltin's Bugs And Daffy: The Wartime Cartoons have all now made it to DVD, spread across this and the previous Golden Collections, though obviously Mr Maltin's interstitial material hasn't been carried over.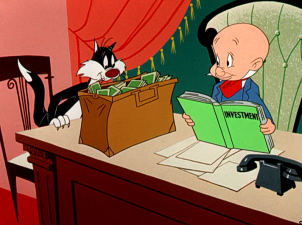 We've already had a taster of Bosko, but Disc Three really makes a meal out of the character, presenting some of the Looney Tunes cartoons from the beginning of the series. Those with Image Entertainment's Uncensored Bosko volumes needn't be peeved: although there is a very small selection of repeated cartoons, the versions here are completely restored and the disc also features a number of other black and white shorts including outings for Buddy and a handful of one-shot cartoons. Bosko came to fame in the demo test film Bosko The Talk-Ink Kid, seen on the first Golden Collection but his first official short was Congo Jazz, also the first cartoon here.
I've never understood how anyone could call themselves a true animation aficionado and not enjoy or be at least interested in the medium's black and white beginnings. While it's true that back in the days of a cartoon churned out each week that there was a lot of dross, many of these films have stood the test of time in their own way. These early Harmon-Ising (before their move to MGM) shorts may not have the spark and punch of what became hallmarks in the Looney Tunes and Merrie Melodies series, but they are the foundations of what was to come and more often than not fun and intriguing to experience. The rubber hose style noticeably develops and the humor is more refined and timed in later cartoons, but one thing is constant: the heavy use of WB's musical catalog – these cartoons are singing with the hits of the day, some of them even being named after the songs they feature: early MTV!
The Foxy cartoon Smile, Darn Ya, Smile! should indeed bring a smile to the face, featuring the title track that became something of a cartoon anthem, used as the unofficial theme of ToonTown in the paean to these such cartoons, Who Framed Roger Rabbit. It's still an impressive film, exactly the kind of thing that represents why Walt Disney remained a supporter of the Harmon-Ising outfit and later outsourced a Silly Symphony to the pair. Bosko stars again in The Booze Hangs High, and Foxy is a cop on the beat in One More Time which includes some terrific perspective animation and an obvious Mickey Mouse gag (although all cartoon mice for any studio looked much the same around this time).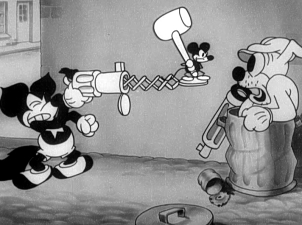 Most interesting to fans will be Bosko's Picture Show, a somewhat infamous cartoon that is not only very elaborately drawn and features some remarkably good Hollywood caricatures of the day, but supposedly includes a very naughty word in the dialog! On spying the film's oily villain, Bosko's choice of descriptive word has been debated on and off over the years: the subtitles here play the safe route and go with "fox", but just remember that this is a pre-Code short! As is You Don't Know What You're Doin'!, which features a pretty wild hallucinogenic sequence as a character attempts to drunkenly drive his car home! We're In The Money is Toy Story circa 1933, while Ride Him, Bosko! isn't as bad as it sounds, being a positively epic wild western. Shuffle Off To Buffalo is simply so bizarre it has to be seen to be believed (and greatly enhanced by its commentary track in the extras), while Bosko In Person is essentially the star and his girlfriend Honey performing a harmless stage review of songs and impersonations, including some pretty neat effects in the jazzy closing.
The Dish Ran Away With The Spoon is the typical Silly Symphony, cutesy Disney style of cartoon that the Looney Tunes would eventually break away from completely, and a short lived character, an odd little human man-child gets to show off why he never made it to a full series in Buddy's Day Out, a cartoon so labored that it apparently almost killed off Harmon, Ising and Schlesinger's fledgling studio before it got established! It's fascinating to see both sides of the quality being churned out, but things don't get much better in Buddy's Beer Garden or Buddy's Circus, both variations on a theme that just become streams of unconnected scenes in which Buddy actually hardly features!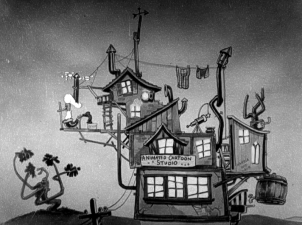 The 1935 A Cartoonist's Nightmare ends the disc and finds the Studio now well recognised and confident enough to take a pot shot at their working practices, even setting the action at a studio that doesn't look a million miles off what a real Termite Terrace might be depicted as! A highly inventive dream fantasy, it's a great entry in which Beans the Cat's artist is dragged into the world he has created, with only his pencil, wits – and Beans – to help him! What's great and not so great about Bosko has been often debated: he's a stereotype, yes; he's a Mickey Mouse knock-off, perhaps; but he's also a valid character in his own right, and the films are jaunty excursions that expose a clarity in storytelling that they might lack in rambunctious humor. If anything, it's Foxy and his gal pal that are the real Mickey and Minnie clones, their adventures often standard fare for the time, but charming all the same, while the Buddy cartoons are odd little pictures that are at least neat to finally experience.
Heading into the final run, and Disc Four's selection is a much welcomed home stretch spurt of one-shots, curios and rarities. If you're a true Warners animation fan, you already have last year's deluxe edition of Chuck Jones' Horton Hears A Who, which included the earlier 1942 Clampett cartoon Horton Hatches The Egg, as a comparison to how the character was previously handled in animation. From the then-recent Suess book, it might have been the pilot for a series, but as such this was the only other time Horton came to the screen. Mike Maltese's scripting isn't as literal a conversion from the book as Jones' later Suess programs, and what chiefly makes this cartoon notable is Clampett's oft-used lampooning of Katherine Hepburn and Peter Lorre – as on the Horton disc, this is the restored (Blue Ribbon) full-length version, lengthier than usual at almost ten minutes, with those scenes intact. Although most will have it in their collections already, Horton Hatches The Egg opens the disc, and even if the elephant is bigger and pinker than in Jones' later film, it's full of nutty Clampett touches.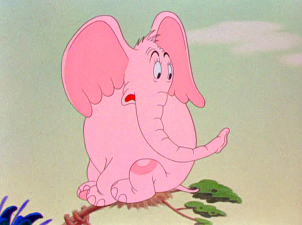 Lights Fantastic is pretty indicative of the more bizarre takes and obscure cartoons in the set, a strangely alluring pastiche of the neon signs of Broadway by Freleng. Jones' next two, Fresh Airedale and Chow Hound, turn a couple of standard cartoon setups on their head, featuring two brilliantly twisted examples of criminal canines that will not endear the animals to those already mistrusting of "man's best friend"! The Oily American is a delightfully surreal McKimson short full of peculiar occurrences, as is It's Hummer Time ("I hate that!"), which puts a spin on the old cat and bulldog routine, with increasingly bonkers consequences for the cat who keeps bothering the dog as he attempts to catch a hummingbird. Rocket-bye Baby is Chuck Jones at play with 50s sci-fi, as a super-intelligent Martian toddler is mistakenly sent to Earth in place of an expectant father's son.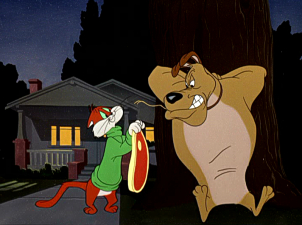 Infant switching is also the basis for the next toon, as a baby intended for delivery to the top of a beanstalk is instead dropped off at an average suburban house in Goo Goo Goliath. The rise of the UPA Studio in the late 40s and early 50s certainly made an impression on all of the other Hollywood cartoon studios, but perhaps it's in this short, from Freleng's unit, that takes the thick black outlined designs to their limit, something a little askew against the more refined character animation, though it's often very funny. Satires on the 50s lifestyle crept in to more and more of the one-shot Looney Tunes as the artists found themselves settling down, and Wild Wife's battle of the sexes works as a salutation to woman's ingenuity as well as a gentle lampoon that's still no doubt just as valid today. Jones' Much Ado About Nutting manages to wring six or so minutes from a very simple situation, a squirrel trying to obtain and then crack open a coconut, which would clearly later inspire such offerings as Pixar's Knick-Knack and Blue Sky's Ice Age Scrat shorts.
Spotlighted on the previous Golden Collection, Robert McKimson seems to finally be getting his due as one of the great Tunes directors, and it doesn't appear to be a coincidence that this entire collection seems to be fairly split between his and Freleng's output. The Hole Idea is one of his best, directed and animated by McKimson, a clever slice of whimsy as a little old scientist perfects that ultimate of cartoon gags: the portable hole, which comes in handy in many situations ("Here we have a baby locked in a safe") until it's stolen by a hysterically amusing bank robber! Those who brought home the Warner Bros. Academy Award Animation Collection will find they have the second double-dip cartoon in this set, Now Hear This, Chuck Jones' 1962 nominated cartoon notable for several reasons: it was the first to use the later abstract opening for the Looney Tunes cartoons, and the soundtrack is often left silent for long stretches, recalling Sh-h-h-h-h-h, Tex Avery's 1955 classic for Universal. Bill Lava's music score is as abstract as the UPA inspired images, while long-time WB editor Treg Brown even gets credit for creating the sound effects, though it's all surprisingly coherent for a stream of consciousness.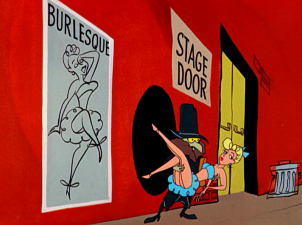 Martian Through Georgia finds Jones experimenting with a balance of the sparse look he would use throughout much of his later career with stylised character animation. It's a typically erudite outing from Jones, featuring a depressed alien who travels to Earth in order to try and find himself and narrowly misses suicide by realising there are those that love him. Page Miss Glory doesn't find Tex Avery at his most funny or furious, being an early 1936 color effort, but it's gorgeously animated with striking Art Deco "moderne art" designed by Leadora Congdon. Apparently, Avery himself didn't care for it, which isn't a surprise as it's an overly musical short atypical of his output, though he does pack in a number of animator caricatures (Jones is especially noticeable) in lieu of the lack of credits. Closing out this sixth Golden Collection is 1968s Norman Normal, a very irregular cartoon (indeed, it's billed as a Warner Bros. Seven Arts Special) which, given its obvious theme song and limited Filmation style, might well have been intended as a pilot for a television show. "Hi, I'm your hero", Norman says dryly (Lorenzo Music would have been a perfect choice for an 80s revival) to camera as he progresses to let us in on his somewhat drab life, before literally closing the door to us. The many doors in Norman's mind, which could of course lead to any situation, is a clever invention cooked up by the writers, but director Alex Lovy's social commentary piece may have been too ambiguous for the networks to consider running it as a continuing program. For some reason it feels like it's actually missing a laugh track, the title song seemingly outliving the cartoon, being a most notable footnote to Peter, Paul and Mary's career.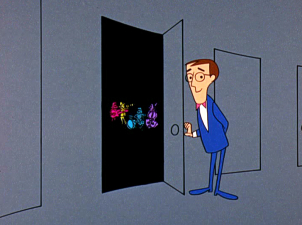 These now often rarely screened shorts make up what might be the most unique disc in all of the Golden Collections, and our thanks go to WB animation historian Jerry Beck for making the "much-requested" selection (though clearly a list of cartoons Beck just wants to see made available while he has the chance)! With the Golden Collections, Warners are really stuck between a rock and a hard place: they're never going to please everyone and someone will always complain that their all-time favorite is a no-show. Some collectors even blasted earlier sets for not running the cartoons chronologically, a frankly impractical suggestion that would see sales rise and dip more violently than a cartoon rollercoaster that the hope of even three or four collections would have been dreamland thinking. The Studio and its advisors have done very well to split the differences between the all-time greats, well-known hits and some delightfully obscure rarities, keeping out a lot of the – let's face it – poorer shorts of the later limited animation and imagination years.
Volume 6 follows suit, treading a careful line between pleasing the masses while also catering to aficionados. Some may wish for more mainstream characters over the likes of Bosko and Honey, while others might actually prefer some of that kind of material unavailable anywhere else. While future compilations may well feature more of the recognisable faces, there's a chance they'll also include those faces in some of their lesser respected outings. The Golden Collection's primary achievement has been to expose fans of Bugs and Daffy to the magic of their stable of lesser-known co-stars: Volume 6 admirably continues the trend and arguably stands out for being the most successful in this regard. They won't be appreciated by everyone, but these volumes are for the avid collector, and as such I think they will be most satisfied.
Is This Thing Loaded?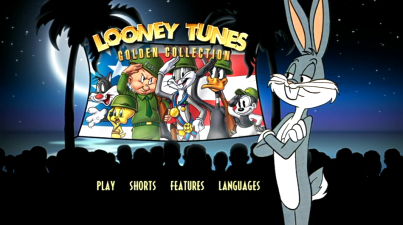 As usual, Warners have packed the Golden Collection with a heap of bonuses, though the onus is a little different this time out. Rather than a traditional slew of Behind The Tunes featurettes that focus on a specific area of the Looney Tunes productions (and honestly, the choices for the topics had been so exhaustively covered previously that we'd be stretching things here anyway), we're offered instead…more cartoons! In fact given the additional number of bonus shorts over the four discs, this easily makes up a total of 75 cartoons in this collection. It's not all fantastic news, however, as some of the cartoons have been picked for their rarity value and, in a bid to get them out onto DVD at all, have not yet undergone any restoration work. It's fair to say that the results are none too bad though and as bonuses, make up a very decent selection that one can hardly complain about.
Disc One, having booted up with WB's Blu-ray promo and an "of their time" disclaimer to some of the cartoons' subject matter, selects as its additional shorts Sniffles Takes A Trip (Jones in full Disney mode, though it's exceptionally animated), Hippety Hopper, the Duck Amuck follow up Rabbit Rampage with Bugs as the victim under the pen of another disgruntled co-star, and Boyhood Daze, a Ralph Phillips cartoon in which the young daydreamer finds himself on safari, as a test pilot and an inmate – all from the comfort of his own bed! A couple of Looney Tunes Television Specials are exactly what I'd hoped for after the previous volume included a handful.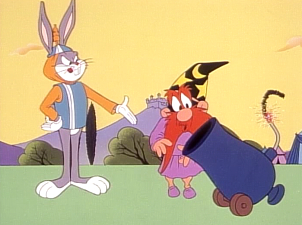 Though these are by no means the greatest achievements for the characters or the directors, they are a part of the Looney Tunes history and important for being among the last works produced by the original creators. Bugs Bunny In King Arthur's Court (from 1978, and originally known as A Connecticut Rabbit In King Arthur's Court, by Chuck Jones) is perhaps the most faithful to the later Tunes, even if the pacing over its 24 minutes is slower than usual. I'm not sure why the name change though, but it does make an on-screen credit gag redundant in not using the Mark Twain's more correct title, which it spoofs. Daffy Duck's Easter Egg-citement (1980, from Friz Freleng's DePatie-Freleng company) is less successful: a fairly episodic and drawn out show that mixes some Duck Amuck shenanigans with new cartoon segments.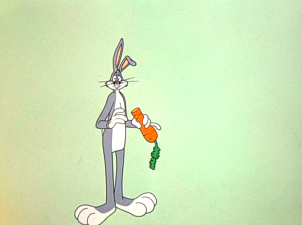 But it's not just all extra toons: though smaller in scope, the usual suspects line up to provide sporadic audio commentaries, both on the main cartoons and some bonus shorts, and this first disc features Greg Ford on Hare Trigger, Mark Kausler on Birth Of A Notion and Jerry Beck speaking for My Favorite Duck, supplemented on occasion by archive recordings with the original talents involved. Providing a fantastic opportunity to listen to original recording cues and the often unsung job of the composers on these cartoons, a series of Alternate Music Only Tracks are included for Raw! Raw! Rooster!, Jumpin'Jupiter, Rabbit Rampage and Boyhood Daze.
On Disc Two, Friz Freleng At MGM presents five of the director's Captain And The Kids cartoons from Warners' rival Studio, created in the two years (1938-1939) that Friz hopped over to the Lion before heading back to WB, unsatisfied at the films he was being asked to make. Based on the Katzenjammer Kids comic strips, Poultry Pirates, A Day At The Beach, The Captain's Christmas (in color), Seal Skinners and Mama's New Hat are all typically well animated with the MGM budgets but also suffer from perhaps needing to adhere to the comics characters, nudging out the spontaneity of Friz's Warners' work.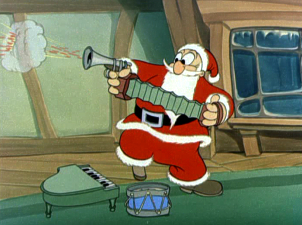 Three further Bonus Cartoons are included: The Fighting 69½th is an epic war of the ants, Pinto Colvig voices Hop And Go, and Porky Pig in Confusions Of A Nutzy Spy is a self-explanatory classic. Select commentaries are again provided, for Herr Meets Herr and The Draft Horse by Greg Ford, and Russian Rhapsody by Mark Kausler, with some great remarks by both that highlight the animation and real history that these cartoons depict. The DVD packaging indicates a Jerry Beck commentary for Fifth Column Mouse, which I would have been interested in, but it's a no-show on the disc itself. I checked the cartoon to see if the track was there but not listed on the menu, but it seems not…maybe the cat got to it? A Music Only track is also provided for Yankee Dood It.
Beck's audio remarks do turn in Disc Three's supplements, with commentaries for Shuffle Off To Buffalo and A Cartoonist's Nightmare, two of the most unique cartoons in the entire set, and which benefit greatly from having someone in the know offering up some information on them. Beck also pops up in The World Of Leon Schlesinger, a "gallery" tribute to the Looney Tunes producer that isn't really a documentary but instead a series of related clips and cuttings that shed a little bit of light on other aspects of the man's business rather than the man himself. An Introduction by Beck, who is joined by Martha Sigall, sets us up for the material ahead: a six minute 1930 Vitaphone short Crying For The Carolines, the opening titles for Haunted Gold (lasting around one minute and animated by his animation department), and the Schlesinger Productions Christmas Party reels from 1939 and 1940. In his intro, it sounds as if, and correct me if I'm wrong, Any Bonds Today, the Bugs Bunny War Bonds rally, might have been included as well, but it's not here, perhaps because it did turn up in a previous volume.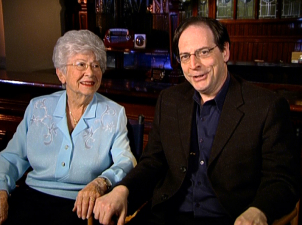 Beck suggests the Christmas footage hasn't been seen in public for over 50 years, but scenes from the 1939 reel have been heavily referenced since 1975's feature documentary compilation Bugs Bunny Superstar and I do believe I have seen them crop up on another more recent DVD release, but here they are in their 18 minute entirety! Even better is the optional commentary with Beck and ink and paint artist Sigall (also author of Living Life Inside The Lines: Tales From The Golden Age Of Animation), who is able to heartily reel off an impressive roster of names! The reel was obviously never intended for outside viewing, like the Warner Breakdowns, and as such there's a smattering of slightly risqué humor that's typical in stuff like this. What's very clear is that Termite Terrace's work environment was a very significant part of the looney cartoons the unit turned out, with everyone up to Schlesinger willing to get in on the fun! Gwreat stuff, gwreat stuff!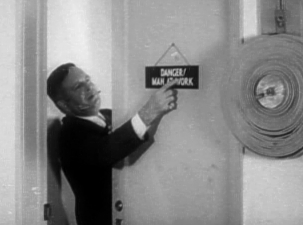 Four Bonus Cartoons add more fun: the Circus set I Love A Parade (1932), another Hollywood pastiche, I Like Mountain Music, and Sittin' On A Backyard Fence (both 1933), plus How Do I Know It's Sunday, from 1934, all of which are fairly standard music and dance pictures. On Disc Four, the Bonus Cartoons are Sleepy Time Possum, Punch Trunk (a very funny Disney-esque short about a teeny tiny elephant in the city being blown out of all Chuck Jones proportions that really should be treated to a restoration), Wild Wild World (a 1954 cartoon that predates The Flintstones by over five years and which might be a double-dip…I seem to recall seeing it on DVD recently) and the 1963 Bartholomew Versus The Wheel, a lovely McKimson cartoon that has a wonderful children's storybook style very different to the usual Looney Tunes, which has been preserved by a nice restoration here. The commentaries on Disc Four are for two of the best on the disc: Fresh Airedale gets jovial remarks from Greg Ford, while Mark Kausler covers The Hole Idea without losing any details in any portable holes. Other alternate audio tracks include a Music Only track for The Hole Idea as well as Martian Through Georgia (which actually features a few spot effects), while of the bonus shorts, Wild Wild World has a Music Only option and Punch Trunk a Music and Effects track.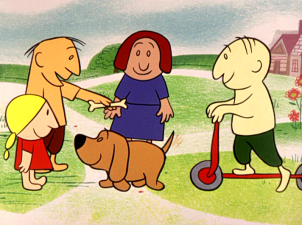 We save the most substantial until last: a 70 minute feature documentary Mel Blanc: Man Of A Thousand Voices. Produced by Constantine Nasr and the great folks at New Wave Entertainment, previously responsible for much of Warners' catalog title supplements including the Looney Tunes, this is just as good as one would expect, a top-notch retrospective that takes a well-rounded account of Blanc's life into consideration. Though the documentary opts to go with Blanc's not always spot on recollections of a handful of milestone events, therefore seeming to confirm a few inaccuracies, what's clear is that without his talents the Warner Bros. cartoons, and those from other studios for that matter, including most notably Hanna-Barbera, wouldn't have had the kind of zippy characters they did without the vocals to match the outrageous visuals.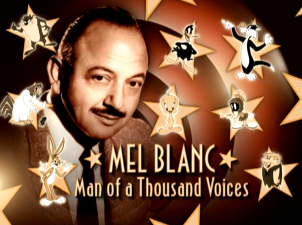 Narrated by Maurice LaMarshe (nice!), the film also includes a good range of new interviews (with several historians, fans, voice artists and those who knew him, including Keith Scott, son Noel Blanc, Mark Kausler, Billy West, Terry Gilliam, Chuck Jones, Hank Azaria, Friz Freleng, Bob Kurtz, June Foray, Stan Freberg, David DePatie and an inspiring Kirk Douglas among others), vintage interviews and clips (including Mel's live-action role on The Jack Benny Show) and reveals Blanc's humanitarian side and the extent of his 1961 car accident: I was aware he had been involved in a collision, I didn't know it had knocked him out of action for a full couple of years, during which he recorded his vocals from his recovery bed! A fine documentary that illuminates as much as it pays tribute to Blanc himself, Man Of A Thousand Voices is an absolutely fitting way to reminisce on Looney Tunes history and wrap up the Golden Collection with class.
Previews for other WB animated releases include trailers for the Peanuts Holiday Collection, It's The Great Pumpkin Charlie Brown and Smurfs: Season One, Volume Two, all found in their own selection on Disc One.
Case Study:
After the thicker digipacks of the initial three volumes, The Looney Tunes Golden Collection Volume 6 now makes the number of slimmer, overlapping disc packages the same. At least these past three releases have been digipacks as opposed to slipcovered thin cases, so they all match up on a shelf. Each of the two disc trays hold two platters apiece, as before, while the artwork goes all out on promoting the Wartime theme of the second disc with some fun themed posters, possibly placing too much emphasis on this content and suggesting more of these kinds of shorts than are actually included. The packaging notes the "adult collector" aspect, as opposed to the more casual fan and kid-friendly Spotlight Collection released concurrently. The digipack's foldouts list the cartoons and extras to be found on each disc; there are no other inserts or text pieces.
Ink And Paint:
For anyone who's seen Warners' previous restoration efforts on these cartoons, you'll know what to expect here: extremely sharp and lively images that don't try and mask the fact that these were quickie cartoons shot on film stock that could never be called premium grade. As such, a sprinkling of cel scuffs and print debris remains in spots here and there, as does an authentic level of grain; refreshingly these cartoons look like products of their time and have not been clinically digitised, with DVNR pleasingly failing to raise its smudgy head.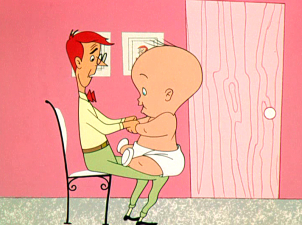 Main titles – mostly from restored original title cards although a few Blue Ribbon reissues creep in – are often windowboxed to retain maximum screen information, though the horrific orange border on the bonus Daffy Duck Easter special is a crime! As noted above, most bonus cartoons are not restored and some appear from later television reissues, meaning interlaced and composite video masters, but that's why they're bonuses. Of them all, the earliest black and white cartoons on Disc Three look stunning, easily matching the best of the Popeye restorations: Bosko's Picture Show is virtually spotless!
Scratch Tracks:
With 60-75 animated shorts to be keeping quality levels suitably high on, one might forgive an audio slip here and there and while the majority of the cartoons feature excellently reproduced fidelity, there are one or two that don't fare as well. Sniffles Takes A Trip sounds like it was compressed into a box from which it hasn't yet been released, and a small number of cartoons feature slightly alternate soundtracks: it seems reissue tracks were more suitable for remastering purposes in these cases, which ultimately given only a line or two in difference, can be no cause for complaint. The exception is Hop And Go, which looks and sounds awful and is almost ruined by incessant additional music. A note also to listen out on the Daffy Duck Easter special: after a commercial fadeout at 16 minutes, the remainder of the soundtrack is dramatically louder, so adjust your volume accordingly and don't let a duck blow your speakers!
Final Cut:
The six volume Golden Collection comes to an end in style, with a healthy selection of cartoons aimed at aficionados while the going is still good. It's true that not all the shorts here are pure gold, and as such the Studio is probably correct to curtail the series in this format at this point, before fatigue and a higher level of revolt sets in. I'd love the Golden Collection to continue, but can see the reasoning behind the economics too: ultimately I believe WB has the best intentions for its famed library of animated characters and have done well to stretch the series this far – perhaps we could ask for an official Censored 11 as a last hurrah? It's fair to say that casual animation fans probably dropped off from collecting these sets from the third or fourth volume, gearing the series towards the hard-core nuts, and certainly this isn't the place to start if one is just discovering the Looney Tunes for the first time. But for those with a solid grounding in these cartoons, and interested in seeing and learning a bit more, this is ultimately a worthy addition to the series and a more than fine parting volume. For now at least, that really is all, folks!
Animated Classic or Back To The Drawing Board?