Warner Bros. Pictures (1936 – 1957), Warner Home Video (November 2 2004), 4 disc set, 320 mins plus supplements, 1.33:1 original full frame ratio, Dolby Digital Mono, Rated G, Retail: $65
Storyboard:
60 more fully uncut and restored cartoon classics from the studios of the Brothers Warner including such iconic shorts as Gorilla My Dreams, The Heckling Hare, Beep Beep, The Dover Boys, Ain't She Tweet, Porky In Wackyland, A Corny Concerto, I Love To Singa, The Three Little Bops, One Froggy Evening, Rhapsody Rabbit, What's Opera, Doc? and You Ought To Be In Pictures. Plus another array of fantastic bonus features geared directly between collectors' eyes!
The Sweatbox Review:
The Looneys are back! And with what a collection! Many of the most requested titles have been packed in this time around, and with some great special features on those very titles (a Chuck Jones commentary on What's Opera, Doc? folks!) – and with plenty of mileage still to go if they continue like this, Warners will see us collectors coming back for more for a good few years yet! As with Volume One, I won't even try to begin to highlight each and every cartoon on the four discs that make up the new collection – the sheer anticipation and fan-hunger surrounding this release means that you already know if you want it (you do!) and what the shorts packed in are. This time, the WB pile on an extra handful to beat the first edition's 56 cartoons and round things up to an even 60 – all fully restored and completely uncut!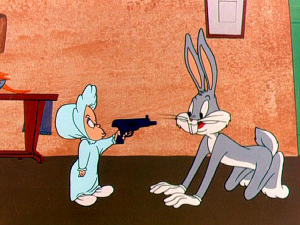 Disc One is again themed around the crew's biggest star, a certain Mr Bunny. Setting the tone for the collection are his 15 classic shorts (most of which are from earlier-period Bugs): The Big Snooze (you'll believe that even Elmer Fudd looks good in a dress!), Broomstick Bunny (the intro of Witch Hazel), Bugs Bunny Rides Again (a sequel to Yosemite Sam's first cartoon, and one of my favorites), Bunny Hugged, French Rarebit (another fave, for the crazed chefs), Gorilla My Dreams, The Hare-Brained Hypnotist, Hare Conditioned, The Heckling Hare (the one with the longest drop in cinema history), Little Red Riding Rabbit (simply a classic, with a truly Looney Red, and the closest Friz Freleng got to aping Tex Avery's style), Tortoise Beats Hare (an Avery take on Disney's Silly Symphony, with its Max Hare itself the basis for Bugs), Rabbit Transit (another Bunny vs. Tortoise), the Hollywood pastiche picture Slick Hare, Baby Buggy Bunny (with a cigar-chomping infant – Baby Herman, anyone?) and Hyde And Hare. Of these, a healthy selection are bone fide classic Wabbit (mostly Avery and Freleng shorts), quite a few are long time favorites of mine, and the majority of them will be familiar to even the most casual cartoon viewer.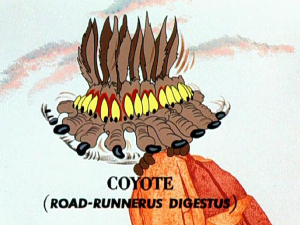 Disc Two, as before, focuses on another character, this time the Road Runner (and Friends, as the sleeve notes). Shorts to be found here all contain some pun on speed with their titles (a traditional Chuck Jones/Road Runner touch) and include Beep Beep, Going! Going! Gosh!, Zipping Along, Stop! Look! And Hasten!, Ready Set Zoom, Guided Muscle, Gee Whiz-z-z, There's The Go-Go-Go, Scrambled Aches, Zoom And Bored, and Whoa Be-Gone! These are all Jones-directed, though after a number of such cartoons in one sitting, it does get hard to differentiate them all! However, they all feature several great gags and at least two or three all-time classic Wile E Coyote moments in each one – some of his most painful procedures are to be found within… Rounding up the disc are the "Friends" cartoons, shorts that feature various characters in non official series pictures: the fantastically brilliant (and Wile E co-starring) The Dover Boys (an early Jones directorial short, featuring the voice of Goofy's narrator John McLeish), the Hubie and Bertie featured Cheese Chasers and Mouse Wreckers, and the Three Bears parody A Bear For Punishment – all adding up to another 15 slices of Looney gold.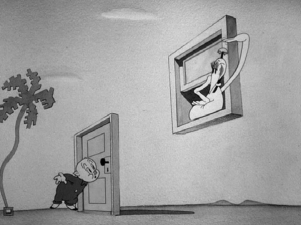 On to Disc Three, and it's the turn of Tweety And Sylvester to entertain us. 15 more cartoons featuring those merry melodies include most of the best of the cat and bird double-act's films. Packed in are Bad Ol' Putty Tat, All Abir-r-r-d, Room And Bird, Tweet Tweet Tweety, Gift Wrapped, Ain't She Tweet, A Bird In A Guilty Cage, Snow Business, Tweetie Pie (the little yellow bird's debut), Kitty Kornered, Baby Bottleneck, Old Glory, The Great Piggy Bank Robbery, Duck Soup To Nuts, and another absolutely maxed-out classic, the much requested Porky In Wackyland, presented as it should be, in black and white, and not in the colorized version glimpsed at in the extras. As with the Road Runner, the Tweety shorts can blur into one, and are chiefly memorable for their set ups, though there are again some fondly remembered shorts here, and some more personal favorites (All Abir-r-r-d, Gift Wrapped, Tweety Pie, the gorgeously detailed Old Glory, the Duck Twacy Piggy Bank cartoon, and, of course, Wackyland, which led to an unusual role for the otherwise forgotten Do-Do character in the later Tiny Toons Adventures).
Finally, Disc Four offers even more of the same, but with bells and whistles on: a grouping of not only great cartoons, but among the absolute cream of the crop of the best Looney Tunes ever exposed to film. Check out this little lot: Back Alley Oproar, Book Revue, the Fantasia spoof A Corny Concerto, Have You Got Any Castles?, Hollywood Steps Out, I Love To Singa, Katnip Kollege, The Hep Cat, The Three Little Bops, One Froggy Evening, Rhapsody Rabbit, Show Biz Bugs, Stage Door Cartoon, What's Opera, Doc? and You Ought To Be In Pictures. The real question here is: "where to start"? More so than even perhaps the first set, this single disc represents the pinnacle of the Warner Brothers cartoon. The real gems here are surrounded by important and popular cartoons, and I wouldn't be surprised if this is the disc most went for first. And if you've never seen the black and white You Ought To Be In Pictures before, then my suggestion is to jump right for that one…they've quite literally possibly saved the best for last!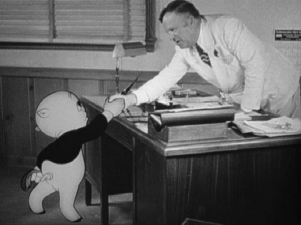 That a handful of the cartoons on the fourth disc alone makes the set worthy of purchase is a good indication that Warners know what they're doing when it comes to their classic library (both in live-action and animation). Quite rightly, if all the gems had been included on Volume One, what would we have really had to get so excited about this time around, save more of the best cartoon shorts ever made? The fact that there are some genuine masterpieces of any animation studio contained within these discs' packaging only adds to the excitement, and the clarity in image and sound which these toons have now been awarded makes 'em feel fresh and new all over again.
Whereas last year's – and still not to be sniffed at – collection was a fairly predictable selection, the choices here will open up the minds of the casual Looney Tunes fan, while also satisfying the insatiable addict. Unlike last year's box, there seem to be a few more "firsts" present and correct this time around, which I'm always fascinated to see in order to watch the evolution of a character. These DVD sets still have a ways to go before LaserDisc fans need start to worry about their Golden Age Of Looney Tunes box sets becoming obsolete, though the versions found here truly are superior, with pristine prints brushed up and looking as good as new.
The word again is to go for the Gold – don't be tempted by the simultaneous release of The Spotlight Collection, a 2-disc affair that only includes half of the cartoon material in this 4-disc extravaganza and scant extras. Why skimp on that when this one offers so much more? WB have done it again with this set, and again confirmed that there's no one quite like them putting out these kind of releases. While the Disney Treasures will always be fondly looked on, the sheer rampant nature of the Looney Tunes always earns them an extra mark, and with treatment like this, it's another winner for Bugs and co!
Is This Thing Loaded?
And…"that's NOT all folks"! Now on to the real reason many of us get excited with such releases. Sure the cartoons are nice (and to be honest the impetus for making a purchase of course), but when a series is as lovingly cared for and admired by such a large amount of people, a small smattering of extras can go a long way. We're in luck once again here with a huge array of bonus material, some of it old, some of it new, but all of it very welcome, informative and rewarding stuff.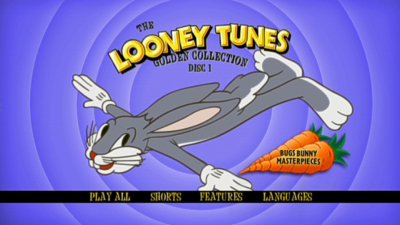 While not quite as packed as Volume One, this new edition still manages to raise a surprise or three, though one must lament that Chuck Amuck, the great documentary on the legendary Mr Jones, is NOT included here despite rumors (unless it's a really, really, really hard to find Easter Egg). It's certainly not mentioned on the packaging, though this small disappointment can only mean great things for Volume Three, no?
Spread across the four discs, the bountiful bonuses come in all shapes, sizes and flavors. Going on a disc-by-disc approach, the extras actually begin on the cartoons themselves, with a healthy dose of alternate audio tracks taking in music-and-effects only or newly recorded commentaries. On this first disc, we are given commentary by animator Bill Melendez on The Big Snooze, Greg Ford on Bugs Bunny Rides Again and The Heckling Hare, June Foray on Broomstick Bunny, Chuck Jones (via edited interview comments) on Tortoise Beats Hare, Jerry Beck on Gorilla My Dreams, and Mike Barrier on Tortoise Beats Hare and Slick Hare. All offer insightful comments, especially Ford, who points out some additional things to look out for along the way. Music And Effects tracks are available for Broomstick Bunny, Bunny Hugged, Baby Buggy Bunny and Hyde And Hare (music only here). A handy Play All option runs through the cartoons in sequence.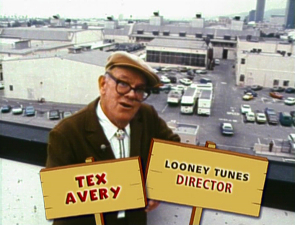 By far the best of the disc's video-based bonus material is A Conversation With Tex Avery. The title had me guessing at what could have been in store, and at best I was hoping for some TV interviews spiced up with some clips. What we get is less an interview and rather a direct-to-camera history lesson on the Studio with Avery as our host (perhaps a better title would have been "Looking Back With Tex", to give you an indication). This all too brief seven minute Behind The Tunes featurette, taken from Cinema Arts' 1970s footage, has Avery explaining his various tricks of his particular brand of cartoon trade, from where the "What's Up Doc?" expression came from, to his days at MGM and King Sized Canary. Interspersed with clips that show up what he's talking about, I really was left wanting more from this unexpected surprise inclusion!
As with Volume One, a selection of Bugs Bunny Show Bridging Sequences have been included, here for the Do Or Diet episode, lasting around six minutes. The show, originally, had a lot of repeating sections anyway (the opening and closing segments are the same), and the effect of seeing them this time around isn't as appealing. Good fun to see the mid-section "new" sequences, which were animated for the show, but it's very much a case of "more of the same" rather than anything with any real wow factor. Better are the Audio Recording Sessions for another episode, No Business Like Slow Business, with the legendary Mel Blanc in the recording studio, running off his lines, accompanied by associated still photographs and screen shots. Lasting just over four minutes, this piece is especially welcome as it gives Speedy Gonzales the most exposure in the set.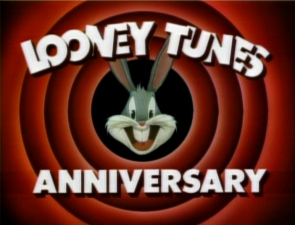 Finally, the Bugs Bunny Looney Tunes All Star 50th Anniversary Show gets the biggest push on the packaging. Originally a 50-minute TV special, the show has been sliced exactly in half and spread over two discs, so that it doesn't take up too much disc space and mean less cartoons. To be honest, and although there seems to be some fan anticipation for this, I wasn't that enthralled, since it takes the "Bugs and co are real stars and hard to work with" approach that may have been fresh in 1985, but really seems overworked and fairly humorless now.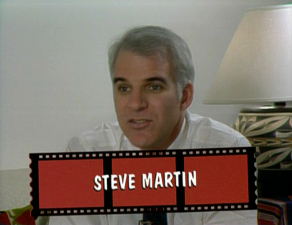 Various big names parade about how they love working with so and so, or what a diva they were, or how depressed they can be, but only Bill Murray comes off with really having something funny to say. Clips are cut in to try and lift the energy level and only these are interesting as they paint a picture of how good the new restored versions of the shorts really are. The joke is pretty fun, but a full hour of it is overkill, and it never quite works since the characters themselves can not be around to agree or argue their points. It made me more than wary of checking out part two on the other disc, and left a little disappointed since this was supposed to be the big extra for this release. Oh well, how's about Chuck Amuck and the 1990 What's Up Doc? A Salute To Bugs Bunny (which included the 50 Years Of Bugs Bunny In 3½ Minutes short) on the next set, boys?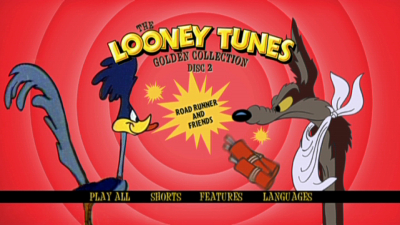 Disc Two's extras are a little more satisfying. Commentaries by Greg Ford are featured on Stop Look And Listen, Whoa Be Gone and Mouse Wreckers, while Mike Barrier returns to comment on Beep Beep, The Dover Boys and A Bear For Punishment – more insightful tracks even for those who know these toons inside and out. Music-only tracks are available for Guided Muscle, Gee Whiz-z-z, There They Go-Go-Go, Scrambles Aches and Zoom And Bored, while A Bear For Punishment gets a Music-and-Effects track to itself. This compliments the Behind The Tunes featurette Crash! Bang! Boom! The Wild Sounds Of Treg Brown, an eleven-minute look at the lunacy behind the Looney effects heard onscreen. This great piece gives praise to the rarely spoken of Brown who, credited as being an editor on the cartoons, gave the shorts their distinct audio qualities. Among those speaking in admiration of Brown's work is Ben Burtt, himself no mean slouch in the sound editing department, having overseen the Star Wars saga's intricate effects work. Brown is seen in archive footage, as well as a clip or two that were included as in-jokes in the cartoons themselves – great stuff!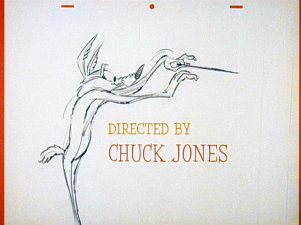 The Adventures Of The Road Runner TV Pilot is the initial idea for a half-hour television compilation of Road Runner/Wile E Coyote shorts. Unlike the Bugs Bunny show interstitials, we're presented the entire program uncut (though also unrestored it must be added), which includes moments from a couple of shorts also included on the disc. The only mark against the inclusion here is that the show is simply presented without any context, and other than making out the copyright on the title cards to be 1962, we are not given any additional information. As a show, it's quite fun, with Wile E taking a look back on where his numerous schemes to trap the Road Runner went wrong. This is what saves it from being a simple re-hash of classic moments, and any new animation is well in keeping with the style of the shorts (unlike, say, the "harsher" look of the 1970s WB cartoons). Director Chuck Jones keeps things interesting with a diversion or two along the way, too, such as the relatively off-beat inclusion of the Ralph Phillips-starrer From A To Z-z-z-z, and the whole 25 minutes actually feels more like a theatrical special, which it was later shown as when the series failed to gel. Another winning bonus!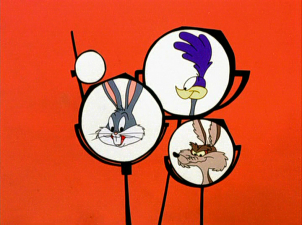 Although that Road Runner show didn't sell, there was, of course another compilation series that was a big hit: next up are the main titles for The Bugs Bunny/Road Runner Show, which combined the front ends of The Bugs Bunny Show and the Road Runner Show (with its famous "Coyote's After You" theme song) into one section. Although Bob McKimson animated some new footage for the titles, these are eventually nothing much more than a re-hash combination, meaning only a few seconds of unseen scenes (and by this time, the Bugs Bunny theme song starts to grate a little!), but it's an interesting curio addition that's most welcome, lasting just over two minutes.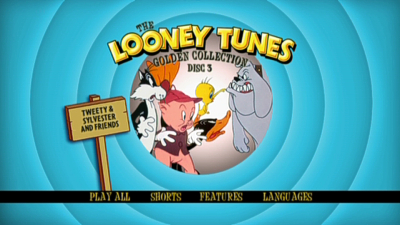 Disc Three kicks off by presenting the second half of The Bugs Bunny Looney Tunes All Stars TV special, and I have to admit to being close to just skimming through this, partly due to what I have already said about the program above. However, there's a little more serious stuff from Chuck Jones and Mel Blanc on the genesis of Bugs this time around. Though it does slide back into the predictable co-star shenanigans before the end again, it's nice that the show is here for completion's sake, and there is comic mileage to be had out of seeing David Bowie talking Wabbits. Music and Effects tracks for the shorts on the disc include Tweet Tweet Tweety and A Bird In A Guilty Cage, with the commentary tracks made up of Greg Ford speaking about Ain't She Tweet and Tweetie Pie, Jerry Beck and Martha Sigall on Old Glory, Ren And Stimpy's John Kricfalusi (identified as "contemporary animator" in the packaging) on The Great Piggy Bank Robbery and Mike Barrier on Kitty Kornered, Baby Bottleneck and Porky In Wackyland.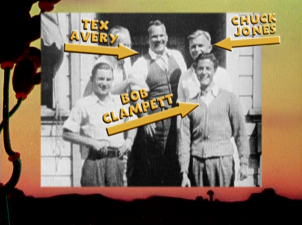 The Great Piggy Bank Robbery and Porky In Wackyland are also the centerpieces to The Man From Wackyland: The Art Of Bob Clampett Behind The Tunes featurette. This one primarily looks at the ultimate Looney-man's WB output, being the usual collection of talking head interviews with admirers (among them John Kricfalusi, Clampett's daughter Ruth, Leonard Maltin and Frank Darabont) coupled with plentiful cartoon clips. Intelligent discussion of the man's work, plus a non-too stingy running time of 21 minutes pushed this up on the scale of decent extras, and it's a worthy inclusion, especially when placed in context next to those two classic cartoons, included on the disc.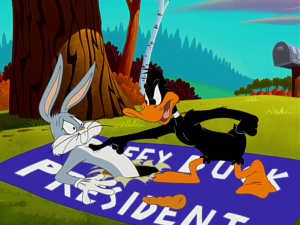 Next up is the highly publicised new animated short Daffy Duck For President, completed just for this set and based on Chuck Jones book of the same name. In truth, there isn't really much to get excited about with this four-minute short (plus an extra 30 seconds of credits), as it never really amounts to much more than Bugs and Daffy bickering about how Daffy's plan to run for President and sanction Rabbit Hunting 365 days of the year is doomed to fail. There are none of the zip and spark in the characters, but the delivery, and certainly the look of the short is very memorable against the "real deal", and even more impressive when one considers this is packed in with some of the best in that bunch. Nevertheless, this will ultimately, I feel, be a one shot view, but the multiplane backgrounds keep it interesting and having something with more of a leisurely pace to it rather than the explosive sight gags does fall in keeping with Jones' later, more gentler output.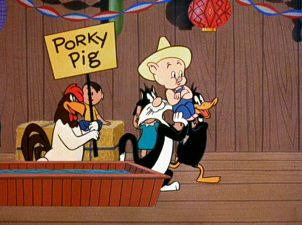 Rounding up Disc Three are more TV Opening Sequences, this time for The Porky Pig Show and The Bugs Bunny And Tweety Show. A brief introduction does use the oft-heard Bugs theme again, but beyond that there's some delightfully kitsch animation to be found here. It seems that by the time Warners were ready to package the series for television, the animation unit had been disbanded, leading to the titles for Porky's half hour compilations to be handled by Hal Seegar Productions. Surprisingly on model, the characters are depicted entering Porky's barn to watch some toons – a pretty straightforward arrangement, it seems, but you have to hear the theme tune and pick out the lyrics to believe it!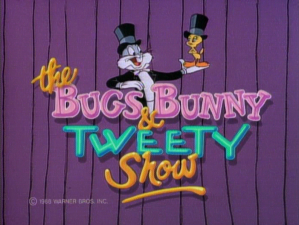 The Bugs And Tweety variation is better yet, and we're given two alternate versions. The first, for the 1988 series, updates that Bugs Bunny show theme again, with re-animated costumes and setting replacing the vaudeville routine for a variety-show idea, while the second clip contains practically all-new animation, from a "morphing" opening to a new parade of characters.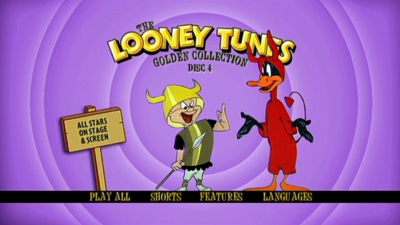 Onto the final platter, and Disc Four rounds things off in a grand manner that's only right for the amount of classic cartoons on offer here. There are commentary tracks for practically all of the shorts on the disc, with Greg Ford speaking on Back Alley Oproar, Hollywood Steps Out and Show Biz Bugs (including some temp score music), Mike Barrier on Book Revue, Corny Concerto and One Froggy Evening, Jerry Beck on Three Little Bops (joined by original voice Stan Freburg) and You Ought To Be In Pictures, while Rhapsody Rabbit and What's Opera, Doc? feature cartoon music historian Daniel Goldmark and What's Opera, Doc? gets another track, dedicated to Chuck Jones, Michael Maltese and Maurice Noble! Music-only tracks are included for Three Little Bops, One Froggy Evening and What's Opera, Doc? and there are vocal-only tracks for Three Little Bops and What's Opera, Doc? – phew!
Of these alternate audio tracks, and as with the cartoons, it's hard to pick out any that offer real distinctions – they're all great. I have to admit to jumping to Beck's take on You Ought To Be In Pictures first, with Chuck Jones on What's Opera, Doc? and Beck again on Three Little Bops being close seconds. The first offers lots of information on the bountiful movie and in-joke references, while What's Opera, Doc? is made up of several edited interviews, and Three Little Bops has an audio interview inserted with voice actor Freburg that explains how he got screen credit over Mel Blanc in the short. The vocal-only tracks are great, being voice recording sessions matched up to the films themselves – pure magic!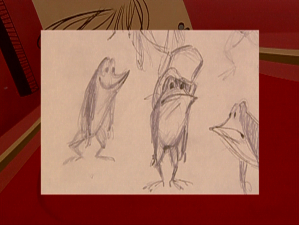 Three Behind The Tunes featurettes add even more info to these cartoons. The first, Looney Tunes Go Hollywood, lasting nine minutes, touches on the Termite Terrace unit's passion for sending up the Hollywood of the time and explains the stories behind many of the toons' delicious parodies, how they expanded into even the musical scores for those pictures, and the tradition of spoofing celebrities that lives on in the movie references in cartoon shows today. Two of the most widely admired cartoons on the final disc get featurettes of their own: the seven-minute It Hopped One Night: A Look At One Froggy Evening goes in-depth into exploring what went into making the Chuck Jones masterpiece and its influential effect (though there's no mention of the hilarious homage in Mel Brooks' SpaceBalls, nor Jones' own many-years-later sequel, Another Froggy Evening, or even as Michigan J Frog's current role as general WB mascot).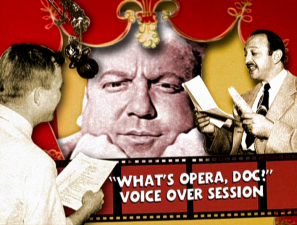 Next up is a discussion on another Jones masterpiece, Wagnerian Wabbits: The Making Of What's Opera, Doc? Many years ago, I think around 1990, the BBC ran a film television program here in the UK that would look at different sequences in film history each week, and I was hoping that it might be this segment that would turn up here. It had Chuck going through every scene in the entire short, and turning it inside out, revealing everything about the production that one could imagine – exceptional stuff which, at the time, gave my young self much more reverence for the Looney Tunes I had, up to that time, taken for granted. Alas, and though Warners have been pretty nifty in tracking down such rarities to include in their sets, it's not the documentary featurette found here, though this Behind The Tunes piece does convey much of the same information and then some, with the participants we have met in earlier features on the set relaying the history and impact of the cartoon. Lasting just over nine minutes, it's a fitting tribute to a great short.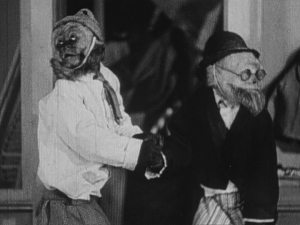 And last, but not by any means least, we are treated to a couple of more shorts From The Vaults. The ten-minute So Much For So Little is just-past-wartime propaganda, a public health film of a similar ilk that will be familiar in tone to those who caught Disney's On The Front Lines collection. Again, the shorts have been presented "as is", with no historical context, nor how or why they were produced being attributed to them. A little digging on the IMDB revealed that this 1949 Chuck Jones cartoon actually won an Oscar for Best Documentary Short! The second film, a live-action comedy called Orange Blossoms For Violet, needs a little more information, something that the IMDB failed to help with this go around. As it is, this 1952 Freleng/Jones curio is an absolute blast, with the live-action "stars" being dressed up animals that act and speak to each other in the various voices of Mel Blanc. Years before CGI allowed such things to appear "realistic", the boys manage it quite perfectly here, and the plot is as ludicrous as the staging, which includes a whole street built in amazing "animal scale". Why this short was made, and made in live-action for that matter, we are not told, but it's certainly looney, and a fun way to finish off another stunning collection of animated genius.
Case Study:
The packaging for this year's Looney Tunes set is very much in keeping with Volume One's approach. In fact, the only thing that stops it from being a cut and paste job (and no arguments here for keeping everything in line) is that the box front, with Bugs and Daffy in the center hole, is a cut-out, and as one slides the disc holder out, more characters are revealed on a red-colored background around them. Simple, but elaborate enough to provide a classy touch! An additional printed voucher, loose inside, offers up to $15 back on purchases of multiple Warners Cartoon DVD titles.
Ink And Paint:
As with last year's collection, image quality is reliant on the prints and how well they clean up. Certainly, this selection of cartoons has never looked better, even perhaps when then premiered! All have benefited from extensive clean up and restoration work, and when it comes to this sort of thing, Warners have again been making waves with their proprietary technology. What's nice is that they let the film "breathe", and do not stifle every tiny piece of grain out of the image. Regular readers of this site will perhaps have picked up on the fact that, while the digital-to-digital transfers can sometimes be things of beauty, I do find them overly clinical, with little leftovers that one is watching "film". The picture here achieves a fine balance, looking clean and sharp, but retaining the essence of film – excellent work!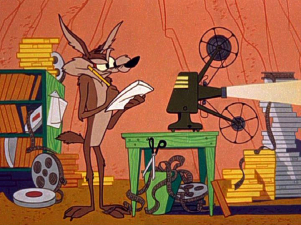 Scratch Tracks:
Like image, like sound…the WB restorers have to work with what has been left in the archives all these years when it comes to the soundtracks. Luckily, WB have been pretty careful with their cartoon tracks, leading not only to some nice reproduction work here, but also to the various included bonus tracks and a long-running series of musical CDs. The crystal clear mono sound is beefy, and none too distorted, with good dynamic range and a punch in the bass when it's needed. The strong musical presence in the shorts never fails to open up the soundstage and create a wider feeling anyway, and doing a fake stereo spread on these tracks is potentially a catastrophic decision anyway. The soundtracks here are light, free of noise and sonically very pleasing. Top marks given the material at play.
Final Cut:
Somehow, I managed to sit through this collection of fantastic cartoons in one sitting, though I would very much recommend taking longer to go through the set and savor the many layers that the discs offer. It's an exhaustive collection, and well worth any animation nut's time and hard earned cash, perfectly complimenting last year's Volume One and even perhaps beating it in the selection of classic shorts, if not the extras (which one has to admit were pretty tough to top). Some of the best of the best are here, backed up with lots of info, some interesting rare footage and a couple of real curiosity pieces. A lot of "bang for your Bugs", if ever there was such an expression!
Animated Classic or Back To The Drawing Board?