Warner Bros. Pictures (1933 – 1964), Warner Home Video (October 30 2007), 4 disc set, 417 mins plus supplements, 1.33:1 original full frame ratio, Dolby Digital Mono, Rated G, Retail: $65
Storyboard:
Bugs and pals are back with a fifth grouping of classic animated shorts! Among the selection are all time Looney greats including Ali Baba Bunny, Buccaneer Bunny, Transylvania 6-5000, Stupor Duck, The Abominable Snow Rabbit and Hollywood Daffy, plus a collection of fairytale spoofs including Bewitched Bunny and Little Red Walking Hood, a dedicated disc of Clampett classics (Buckaroo Bugs, Hare Ribbin', The Old Grey Hare, A Tale Of Two Kitties) and a platter of early black and white shorts from directors including Tashlin and Avery (Porky At The Crocadero, Scrap Happy Daffy and Wholly Smoke). 15×4 = 60 Tuneful encounters!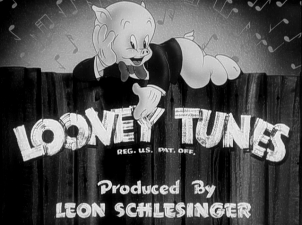 The Sweatbox Review:
As sure as clockwork, Warner Brothers have delivered another wonderful collection of 60 classic cartoons from the Merrie Melodies and Looney Tunes library right on time, and although there might not be quite as many choice selections as before, there's a strong case for even casual fans to keep collecting. The series really seemed to have gotten into its stride with Volume Three, which both Volume Four and this new collection (making it to five volumes) follow along the same lines in terms of cartoon selections, extras and menu design.
Like before, each disc takes on a collection of character shorts, a theme or a salute to a particular Termite Terrace director and, like before, this Disc One kicks off with the focus squarely on a certain Mr Bunny, joined in some cartoons by his ultimate foil Daffy Duck as well as some additional solo outings for his feathered friend. Friz Freleng's 14 Carrot Rabbit, from 1951, isn't classic Bugs, being a pretty standard encounter with Yosemite Sam that recycles plenty of older gags, though still admittedly to comic effect. The rest of the disc packs in some much better bona fide classics, of which Ali Baba Bunny is certainly one. A fantastic Chuck Jones short which demonstrates Bugs 'n' Daffy's always tempestuous relationship, this one has the pair making the usual wrong turn at Albuquerque and finding themselves in a hidden cave of treasures.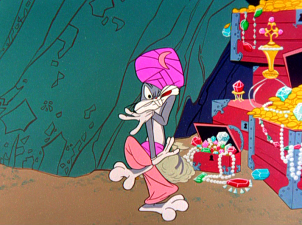 Freleng brings back Sam to battle Bugs on the high pirate seas in Buccaneer Bunny while the rest of the disc includes (highlights in bold): Bugs Bonnets, A Star Is Bored, A Pest In The House, Transylvania 6-5000, Oily Hare, Stupor Duck, The Stupor Salesman (directed by the underrated Art Davis), The Abominable Snow Rabbit, The Super Snooper ("What's on your mind besides your hat?"), The Up-Standing Sitter, Hollywood Daffy and You Were Never Duckier. While this first disc isn't all 24-carrot Looney Gold, the handful of all true greats – Ali Baba Bunny, Transylvania 6-5000, Stupor Duck ("Oops! Wrong costume!"), The Abominable Snow Rabbit, Hollywood Daffy – more than make up for any duds. Interestingly, it's the cleverer Chuck Jones and Bob McKimson cartoons that really shine, while Freleng's outings, at least on the evidence here, rely more on routine set-ups, basic character dynamics and tried and tested gags.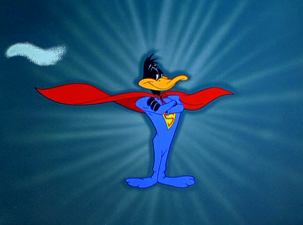 Reaching into the library of the many fairytale riffs the Warner artists were justly celebrated for, Disc Two features a plethora of such shorts, created long before the likes of Shrek began to turn these stories on their heads. Most of the assorted characters feature in these ones, from Bugs and Tweety & Sylvester to Porky Pig and multiple variations on Little Red Riding Hood. The included spoofs are: Bewitched Bunny (Bugs' take on Hansel And Gretel, with a hilarious "Witch Craft" gag that gets me every time), Paying The Piper, Tex Avery's The Bear's Tale (in which Goldilocks and Red Riding Hood get mixed up as only Tex can), Foney Fables, Goldimouse And The Three Cats, Holiday For Shoestrings, Little Red Rodent Hood, and Little Red Walking Hood – Avery again, and an absolutely gorgeous cartoon that just goes to show both how he had a Red fixation (a theme he would return to over and over throughout his career) and how he could bend fairytales into his own brand of modernized updates, with outlandish jokes that only Jones could perhaps match with his puns.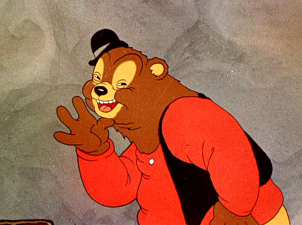 The disc continues with a pair of perhaps the best Freleng shorts here, Red Riding Hoodwinked and The Trial Of Mr Wolf (with another Kathryn Hepburn Riding Hood) which retells the often plundered story from the "innocent" Wolf's perspective; an earlier and also very good looking cartoon from Friz. In The Turn Tale Wolf this time it's Big Bad's version of events against the Three Little Pigs, and Tom Thumb In Trouble feels much less Merrie Melody and more Silly Symphony, in an obvious but very sweet attempt by Chuck Jones to capture Disney's cuteness. Tweety And The Beanstalk, and Avery's A Gander At Mother Goose ("The heck with the water!") are next, followed lastly by the Mexican-themed Señorella And The Glass Huarache.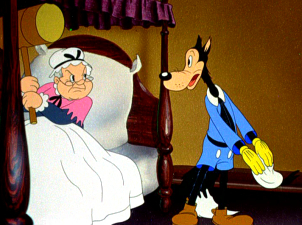 There are a whole bunch of later, not so good Looney Tunes that we're inevitably in for in these sets, and if you've never come across them they can feel a bit "odd". There's a "funky" new opening logo (those weird spinning lines instead of the rounded neon-like circles) and what could be mistaken for an off-key version of The Merry Go Round Broke Down, the WB cartoon theme. This batch of cartoons were made at a time when theatrical shorts were on the way out and the Studios were looking to their back catalogs to fill any of those needs. While not as soulless as the Gene Deitch produced Tom & Jerry cartoons, these Looney Tunes lack the pace, comic quality and values of even the mediocre earlier shorts. The 1963 Señorella is one from this period, though to be fair this isn't as tired as some of the later Speedy and Daffy outings. However, I think it is the first example of these shorts to pop up on these prestige collections, and as the cream of the crop begin to thin out, expect to see more of them in future sets. This one is, as the title suggests, a spin on Cinderella, this time with a much put upon young senorita wowing a hunky bullfighter, in a pretty straight retelling that only really has one good joke – a punchline fade out right at the end.
Renowned director Bob Clampett is celebrated on Disc Three, with an entire selection of cartoons helmed by perhaps Termite Terrace's most outrageous creator. Though Chuck Jones would later play with intellectual humor, and Tex Avery from the off was all about breaking conventions, practically no-one went as all out as Clampett, and as a result his films are by turns as confusing as they are timeless! Clampett, who had started at WB as an animator for Avery, bounced off Tex's ideas constantly. When Avery left WB, eventually for MGM, Clampett inherited his unit, and some might say he was trying to top his old supervisor in terms of irreverence. It's certainly no mistake that both of their cartoons were the most successful in terms of what the Looney Tunes banner stood for in the early days. Clampett was also responsible for taking minor and secondary characters and developing them for pushing as animated stars, and this disc also features a couple of firsts in this respect.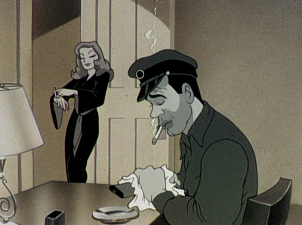 Starting off with the Hollywood lampoon Bacall To Arms, I was intrigued to see some gags used over from a previous cartoon short, which left me bemused at first because I thought I was seeing an uncut version of something I'd seen years earlier. It's a terrifically intricately animated opening seat shifting gag with a visual poke at MGM that turns out to have been cribbed from a previous short and was apparently used several times in other cartoons. Interestingly, this first cartoon isn't even a genuine Clampett, having been one of three shorts completed after his departure from the Schlesinger unit. It's still funny though – Bogie clearly checking out Bacall solidly places Clampett's work in the "we made these for adults" category, and it's just nuts enough to work! Buckaroo Bugs is just brilliantly directed and finds Bob working with Looney Tunes' famous Rabbit in only his second official appearance: an intelligently bonkers outing that's part wise-cracking Bugs at his most mischievous and part Red Ryder/Lone Ranger spoof.
Clampett's cartoons continue (highlights again in bold) with Crazy Cruise (where we visit Veronica Lake!), Farm Frolics, Hare Ribbin' and Patient Porky, the first of the black and white shorts we come across in this set, and featuring a whole hospital of Loonies who do nothing to help the then-porkier Pig to feel any better! Prehistoric Porky is next, followed by The Bashful Buzzard ("I am not Dumbo"!) and the brilliant 2000-set showdown between a very aged Elmer and Bugs, The Old Grey Hare. An experimental "chubby little rascal" Elmer features in The Wacky Wabbit and in The Wise Quacking Duck the earlier, truly daffy Duck that Clampett was famous for performs the most suggestive striptease of his career! Wagon Heels and The Daffy Doc follow, finding Porky back in the hospital with Daffy as a quack doctor, leading to an infamous iron lung gag. A Tale Of Two Kitties is the classic introduction of the Abbott & Costello cats, Babbit & Catstello, though it became more notable for the first appearance of a featherless Tweety Bird. The disc ends with Porky's Pooch, which, if nothing else, is an interesting experiment in using largely live-action still photographic backgrounds, including a very familiar sounding apartment block for Porky's address!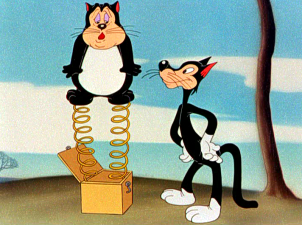 Despite the sheer lunacy there's also a clear maturity to these films and it's obvious why, all these years later, and without the exposure that Avery and Jones continue to garner, Clampett's name remains known amongst fans and why his original Warner's output remains their best kept secret weapon. Because the Clampett cartoons come from an earlier period before budget cuts and minimal stylisation meant limited animation and sparse, broader backgrounds, these shorts are gorgeous by design and with beautiful animation that's among the best to come out from any WB unit. Clampett also develops the personalities from their more innocent personas into the lunatics we know and love while also providing them with fully rounded characteristics and setting up the many conventions and character dynamics that would come to epitomise the series.
The final collection found on Disc Four swings back time to the beginning of the Looney Tunes for some rarely seen earlier era cartoons. Directed by the likes of Frank Tashlin, Tex Avery and the other young directors who would go on to make names for themselves, the earliest Merrie Melodies and Looney Tunes were different creations to the later lunacy inspired by Bugs and Daffy. Back then, the idea was to create more usage for the large library of songs that the Warner Brothers controlled, meaning that many of these cartoons are built around songs and sequences from the WB musicals of the 1930s, and some of these shorts even predate the introduction of The Merry Go Round Broke Down and Merrily We Roll Along as each series' theme music. As with the Clampett shorts, one will often find Porky Pig the star of the show, and it's true to say that, apart from the Harman-Ising character Bosko, Porky was the first of the Looney Tunes characters to show real staying power, working with most of the Termite Terrace directors over the years and still a paid up member of the gang all this time later.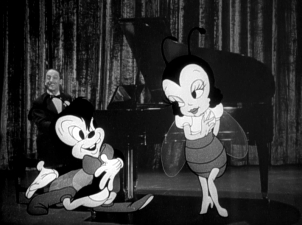 The black and white collection starts off with Jack King's Alpine Antics, which finds Bosko's successor Beans on the slopes in a ski race against a Peg-Leg Pete clone in a well animated but pretty standard outing. Eatin' On The Cuff (Or The Moth Who Came To Dinner) is an elaborate Clampett short with some fun attempts at mixing animation with live-action and a suitable looney ending, while Milk And Money is an all-star line up of director Avery with animation by Jones and Virgil Ross, with Porky Pig. I've Got To Sing A Torch Song, based around the tune written for Warners' live-action feature Gold Diggers Of 1933, is mainly interesting as a not entirely successful early attempt at Hollywood pastiche, with caricatures of Mae West, Bing Crosby, and Greta Garbo on screen to close with the famous "That's All, Folks!" quote. Porky At The Crocadero is a typically strong musical short from Frank Tashlin, while Clampett's Polar Pals features, for a moment, a naked Porky Pig! Scrap Happy Daffy is a great example of a wartime Tashlin ("Non Aryan Duck"!), as is Tashlin's Porky's Double Trouble, which turns the Pig into a real kickin' action hero and ends with one of this set's most subversive gags. Gold Diggers Of '49 (that's 1849, from 1935 with animation by Jones and Clampett) again features Beans, in Tex Avery's first cartoon for Warners. The disc continues with more bacon: Pilgrim Porky, Wise Quacks and Porky's Preview – Avery's terrifically surreal presentation of Porky's own stick-figure effort, which is, of course, actually more sophisticated than early rubber hose cartooning and includes a brilliant gag that plays on the amateur animator's cycled animation of a steam train. Porky's Poppa is Clampett's take on Old MacDonald Had A Farm ("And on this farm he had a mortgage") and in Wholly Smoke Porky extols the dangers of tobacco from the smoky Nick O'Teen. What Price Porky isn't a great cartoon to end on, but comes loaded with quite the epic battle between Porky and a rogue ducktator: a pre-white collared Daffy.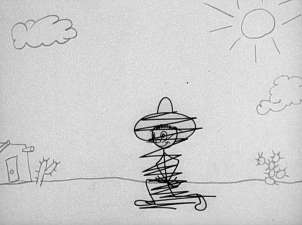 There is a danger of wearing tired of this sheer amount of classic animation in one or two sittings that can affect the actual effectiveness of the shorts themselves, but it is also fair to say that while the majority of cartoons here aren't all first rate, they aren't exactly second tier either. The set is saved by Jones' visual puns, McKimson's genre spoofs, Clampett's absurdness and the solid disc of fairytale pastiches, with the platter of early cartoons serving up only sporadic gems and even then most featuring Porky, a one-joke character whose joke can be hard to sit through in a continuous run. By now casual Looney Tunes viewers have probably gotten their fill of Bugs and company and this collection could well end up being where many might feel they've enough examples in their collections. Though there are many more wonderful shorts left in the WB vaults, it'll likely be the hard-core collectors that now keep the series running, year in year out, in order to stock up on as many cartoons as they can lay their hands on. As such, fans will already know if this Looney Tunes Golden Collection is on their wish lists and while not every cartoon is a winner, there's still some solid knockouts among the bunch.
Is This Thing Loaded?
Like the Disney Treasures, the Looney Tunes Golden Collections have amazingly strong brand recognition, and the classy, classic nature of the cartoons have always been carried through to the design of the discs and menu options, where a static page disclaiming any racial stereotyping makes the point quickly and unobtrusively. Here, as usual, I would question the use of 16×9 menu pages when all the content on the discs is presented in original 4×3 but it's a small quibble. Unlike the Disney Treasures, however, and as has become tradition with these sets, there's a wealth of supplements sprinkled throughout the discs.
The first of these extras you're likely to come across are selected cartoon Commentaries from valid animation names or artist fans. As always, be they historians, admirers – or both! – these words, usually ones of wisdom, are well worth a listen, accompanied as they are with descriptive insights, intelligent discussion and the occasional archived interview clip. Once again it's almost as enjoyable as watching the cartoons themselves to hear such people elaborate knowledgably about the Looney Tunes process, and there's John Kricfalusi's usual appearance, infectiously expressing his exuberantly enthusiastic awe, wonder and praise once again. Disc One's tracks include Ali Baba Bunny by Greg Ford, A Pest In The House by Paul Dini, Jerry Beck on Transylvania 6-5000 and Looney Tunes: Back In Action animation director Eric Goldberg on You Were Never Duckier.
The commentaries are matched by some selected Alternate Audio Programs, which is a fancy way of announcing the isolated music, and music and sound effects, tracks. These are much, much more exciting than they may sound, being original scoring session tapes complete in some cases with the orchestra conductor's vocal banter and, better still, coming presented from gorgeous two-track recordings that sound as truly lush as if they were captured yesterday. It's simply a wonderful way to hear the composers' work and appreciate how much of the stories and mood they were able to convey in their music alone. The tracks with added effects also go some way to highlight the exceptional job the sound editors did in giving the complete crazy on (and off) screen happenings a resonance and sonic reference to our own world so as to better believe in theirs. Isolated tracks on Disc One are for Ali Baba Bunny, Stupor Duck, The Abominable Snow Rabbit and The Super Snooper.
I have mixed feelings over the inclusion of the feature length documentary Chuck Jones: Extremes And Inbetweens, A Life In Animation for varied reasons. For one, it again places what could be too much of an onus on just one man's contribution to Warner Bros. Cartoons, but the program is also available as a very nice single disc edition of its own and seems to have come to disc again in place of many other instances of rarer archival footage that remains unavailable. Nevertheless, I can appreciate that many new fans may well have missed this doc first time around in 2000, and it is a very valid supplement. My main gripe here is that it's still only presented in letterboxed widescreen, meaning the cartoon clips are windowboxed on all sides on standard screens. For those with the original single disc, there's still a good reason to keep that release: in keeping with how extended programs have before been presented in these Golden Collections, and to shore up disc space, Extremes And Inbetweens is presented in two halves, cut across discs one and two.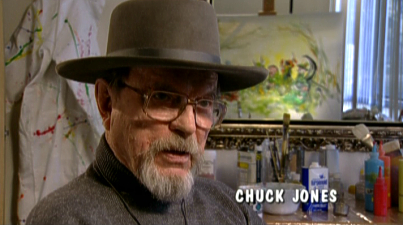 Presented in sometimes soft looking interlaced video, Extremes And Inbetweens is a testament to the life, work and vigour of the legendary cartoon director, from animation's pioneering days to some of the last footage of Jones before his passing. He offers up his insights into the characters he helped make famous, and there are contributions and tributes from an all-star line up of colleagues, competitors and fans who have found inspiration in Chuck's early WB shorts. Joining the likes of Ron Howard (who directed the live-action version of Jones' The Grinch) and Robin Williams are Whoopi Goldberg, Joe Dante, Steven Spielberg (who considers One Froggy Evening the "Citizen Kane of animated shorts"), John Lasseter and Simpsons creator Matt Groening. The documentary also covers some of the vocal talent behind the drawings (though no real mention of Mel Blanc), the use of music in the cartoons, and that classic exaggerated-line WB style. But the story does not end when Jones finally left the Warners lot, following his post-Bugs-and-co. achievements with The Grinch, his rather less successful re-invention of Tom & Jerry, and triumph at the 68th annual Oscars when he won a Lifetime Achievement award.
We've been introduced to scenes from The Bugs Bunny Show before, and in many cases they've replicated as much material as to be overly repetitive, but here we get some really cool stuff: a reconstruction of the bridging sequences for the episode Bed Time Story (in a mix of color and the only available black and white footage), Mel Blanc's dialogue session for the episode What's Up, Dog?, and some original Bugs Bunny Show commercials! With an on-camera intro by historian Jerry Beck, these are animated advertisements for various products, including the show itself, breakfast cereal and energy drinks – all delightful, rarely seen clips that make for really fun extras.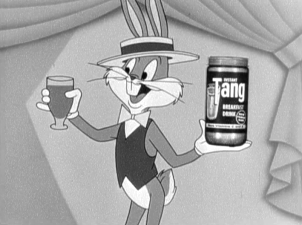 On Disc Two, the first thing one might want to finish up is the second half of Chuck Jones: Extremes And Inbetweens. While I can forgive the inclusion of this documentary, what perhaps narks me a little more is the inclusion of A Chuck Jones Tutorial: Tricks Of The Cartoon Trade, a 14-minute featurette that was already that original disc's bonus feature and it might have been nice to leave a little something like that to keep that disc special itself. Ho hum, its here too and as such is an obvious follow on from the feature program (presented again in non-anamorphic widescreen), being a look at Jones' actual cartoon technique, featuring subjects such as Zip Outs, Anticipation, Exaggeration and Anthropomorphism, and comments from new generation artists Glen Keane, Eric Goldberg and Rob Minkoff. Slightly redundant for the fans that already own this, it's nevertheless a very nice addition, entertaining enough for casual admirers as it is for animation artists and buffs, even if it does end rather abruptly.
The alternate audio track commentaries also continue, of course, with Eric Goldberg confirming my thinking that Bewitched Bunny was the first time we met Witch Hazel, among remarks set to Holiday For Shoestrings (music historian Daniel Goldmark), Little Red Walking Hood (with animator Mark Kausler), Red Riding Hoodwinked (Greg Ford) and Jerry Beck on Tom Thumb In Trouble. Further music and sound effects mixes are included for Bewitched Bunny, Goldimouse And The Three Cats, Red Riding Hoodwinked, Tweety And The Beanstalk and The Turn Tale Wolf. Finally two Behind The Tunes documentary featurettes highlight the work and nature of the fairytale spoofs and one of the finest WB directors.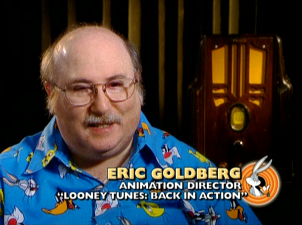 Once Upon A Looney Tune (9:50) nicely recaps the fairytale spoofs, talking to many of the audio commentary participants and other faces including Ray Harryhausen about the WB style and approach to these often told stories. The featurette includes a peek at the infamous Coal Black And De Sebben Dwarfs – we've heard rumours that Warners are looking for a way to bring the infamous "Censored 11" films to DVD – could the few seconds peeked at here be testing the waters? A nice "extra" is that "Bullwinkle" actor Keith Scott confirms the Father Bear in The Bear's Tale is a caricature of director Avery, voiced by the man himself. Drawn To Life: The Art Of Robert McKimson (16:50) tracks the director from his time as an animator in 1931 to fully fledged director, where he became WBs longest serving staff member until the unit closed in 1963. Son Robert McKimson Jr is just the man to speak about his Dad, among others, and praise is rightfully heaped on his work, which took in model designing on The Wild Hare, generally accepted as the first officially named Bugs Bunny cartoon. McKimson's collaborations with Avery and Clampett reveal him to have been an integral part to the success of those shorts, and he became a director in 1944, taking over from Frank Tashlin's unit.
This is a just salute to an often overlooked but important and actually very versatile figure in WB animation history, and the featurette goes to great pains to express the recognition that should come McKimson's way: he directed the all-time Bugs classic Hillbilly Hare and created many of the characters in the Looney Tunes stable, including Foghorn Leghorn, Sylvester Jr, Speedy Gonzales and the Tasmanian Devil, all of whom have their origins explained. McKimson also pioneered the use of big name vocal stars with his Jack Benny cartoons in which the original cast carried out vocal duties, before he moved on to working again with Friz Freleng on the Pink Panther and the later, not so good, WB cartoons, for which he did the best he could given the limited budgets. Both these Behind The Tunes fill their running lengths to good effect.
On Disc Three, the audio commentaries rule, with no less than nine tracks: Michael Barrier (with archival Clampett comments) on A Tale Of Two Kitties and Buckaroo Bugs (with a second Buckaroo track by John K, Eddie Fitzgerald and cartoonist Kali Fontecchio, who does little but giggle along), Bacall To Arms with Jerry Beck, Farm Frolics (Keith Scott), The Bashful Buzzard (Paul Dini), The Old Grey Hare (Greg Ford), The Wacky Wabbit (Eric Goldberg) and The Daffy Doc with Mark Kausler. On Bacall To Arms, Beck confirms Clampett's departure and director Arthur Davis' taking over of the short is the reason for the messy editing, among many other insights, and Clampett's interview segment during A Tale Of Two Kitties recounts the origin of Tweety to amusing effect.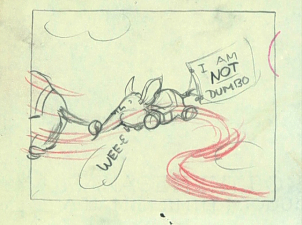 A Hare Ribbin' Director's Cut offers up a pre-restored edition of Bob Clampett's short which is a few seconds longer than the release version and is chiefly different because of an inserted short of Bugs in the rabbit sandwich which seems to have been added in as opposed to Clampett playing it as a potentially real ending for the wabbit. There are no alternate music and effects tracks on this platter, but we do get The Bashful Buzzard Storyboard Reel, which presents a version of the cartoon with dropped in story sketches to illustrate how the short developed, including ideas for song placements in the eventual score and just how close the little elephant might have originally been intended to resemble another flying pachyderm!
An Original Opening Music cue for The Bashful Buzzard presents Carl Stalling's intended title orchestration for the short, which was lost in the later Blue Ribbon re-issue. Title cards have been re-created to synthesize what the opening might have felt like and even at only 20 seconds it's a nice touch. Another audio bonus and a real find are Milt Franklin's re-imagined opening title cues for the 1960s, new logo'd WB Looney Tunes. These takes were never used – Franklin, who had been Stalling's orchestrator – unfortunately died and the composition of the new shorts, and their new theme, was left to Bill Lava, whose discordant version grates with long time fans. In his introduction here, even Greg Ford announces it as "flat". These raw takes present what might have been: new versions of the Merrily We Roll Along tune used for the Merrie Melodies that altogether sounds both modern and just as classic as they always should.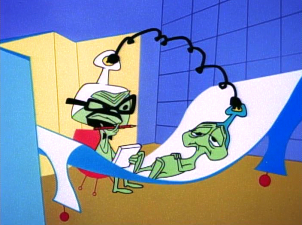 The Behind The Tunes strike back with two more new featurettes. Wacky Warner One-Shots looks at the many single cartoons that told a story without the intention to branch out into a series, as well as how certain characters found fame "by accident", the most famous examples being the Coyote and Road Runner. The use of experimentation by the directors in these one-shots is discussed, though this great little featurette, running 9:10, is somewhat wasted as there are hardly any good examples contained in this set to compare – a call for a separate release perhaps? In Real American Zero: The Adventures Of Private SNAFU (9:10), Mark Kausler explains how the Private SNAFU (Situation Normal All Fouled Up, though the F was usually replaced with something a little stronger!) character started out in an Army and Navy movie magazine reel sent out to World War II forces. Celebrated director Frank Capra was installed as the head of a military film unit based in Hollywood and was put in charge of commissioning material from the major Studios to boost Services' morale. Capra felt a cartoon character would be an asset and asked Walt Disney to animate the series, but when Disney's budget proved too high, Leon Schlesinger won the series and the SNAFU shorts were passed around all of the director's units working at the studio at the time, as well as including contributions by Capra's writer, Ted "Dr Seuss" Geisel.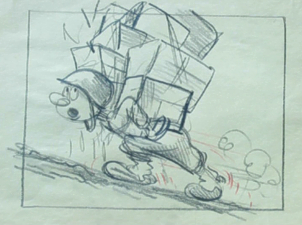 From The Vault offers up two of these SNAFU short shorts (both from 1943) as well as SNAFU's Navy pal Mr Hook in three of his only four outings. Coming!! SNAFU (3:00) is the first, designed and directed by Chuck Jones, running half as a preview introduction to SNAFU and half as a regular cartoon. The second short, Gripes (4:09), is the first series cartoon proper, directed by Friz Freleng and with the clear influence of Geisel's rhyming dialogue. Although there's no added content provided, Mr Hook was essentially SNAFU's Naval counterpart, though Hook wasn't as entertaining a character as SNAFU and by the time of his introduction the War was all but over. The three shorts here (The Good Egg, The Return Of Mr Hook and Tokyo Woes) are all 1945 propaganda cartoons and obviously examples of their unsure times. Tokyo Woes, clearly even from the title alone, features the most racial stereotyping, but it is also the most elaborate short of the three, which add up to a total of over eleven minutes playing time (with a couple of instances of nasty audio breaks that may crack harshly in your speakers, so adjust your volume accordingly).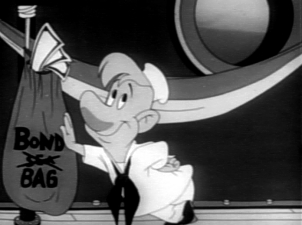 The prints look and sound to be from the same fine tape transfers as made their debuts on The Golden Age Of Looney Tunes Volume 5 LaserDisc collection a good few years ago now, though it's important to remember that these cartoons were only intended for services viewing from 16mm prints, so the quality here is pretty good, considering. The SNAFU duo seem to have had a SNAFU of their own, though: the sound is prone to some digital artifacting that doesn't seem present on Image Entertainment's single disc release of those cartoons, which also boasts cleaner pictures. Because these films were made by young men and intended for those cooped up or under fire in the armed forces, there's a broadness to these films that passes way beyond even the gentle risqué humor found in the regular Looney Tunes, which, if anything, makes them even funnier. Despite being made in black and white for cost reasons, the values in each short are top notch.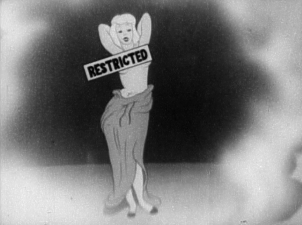 Disc Four contains a unique mix of very old and new: as well as the selection of early cartoons, we're brought right up to date with the final helpings from the original Termite Terrace gang. First, though, are more commentaries, with the usual suspects speaking on Eatin' On The Cuff (Beck), Porky At The Crocadero and Wholly Smoke (both Goldmark), plus Scrap Happy Daffy and Porky's Preview (both Ford). Though not a designated Behind The Tunes featurette, Unsung Maestros: A Director's Tribute follows along the same lines and touches on those familiar names that worked at the Leon Schlesinger unit but only for short tenures. This 20 minute documentary serves as a good companion to the vintage cartoons on the disc, looking at the early days of WB animation and the pioneers who started out in the unit, particularly Hugh Harman and Rudy Ising, whose Bosko The Talk-Ink Kid actually founded the unit and started animation at Warner Brothers in 1930. Mark Kausler and Eric Goldberg discuss the interesting dynamics between Walt Disney and his old workpals, particularly Harman and how he felt they had to compete with the old Mousetro. Jack King made the fat Porky and Buddy cartoons between 1934 and 1936, before later making more of an impression at Disney's on the Donald Duck series, and another Disney-associated name, Ub Iwerks, was contracted to WB, for 1937 only, when Schlesinger needed two extra cartoons but found his units were all busy. Iwerks took a Supervisor credit on Porky's Super Service and Porky And Gabby, though both were animated at his studio by Chuck Jones and Bob Clampett. Ben "Bugs" Hardaway is a little known name but made a major contribution between 1934 and 1940 in the way of introducing a certain prototype bunny to the studio, and here he's credited alongside Tex Avery for refining the Looney Tunes tone and style. When Friz Freleng returned to WB after a stint at MGM, Bugs was pushed back into the story department until he landed a later break at the Walter Lantz Studio where he developed a crazy Woodpecker… Through 1940-43, Norm McCabe made only the black and white Clampett Porky cartoons, and since these ones are rarely seen now it is explained as why his name isn't as well known today. Last but by no means least, Art Davis was an industry veteran who'd worked since the silent animation days. He became a director in 1945 when Clampett moved on, inheriting the same old approach and continuing until 1949. As Jerry Beck points out, Davis is a bit of a geek favorite and out of all of the under-appreciated names highlighted here, I'm happy that he gets his due. This is a very nice salute to some forgotten figures that deserve much better recognition and a good reminder that Avery, Clampett, Jones et al, were not the only guiding forces in Termite Terrace and that the Looney Tunes as we came to know them were built on the work of other very fine artists.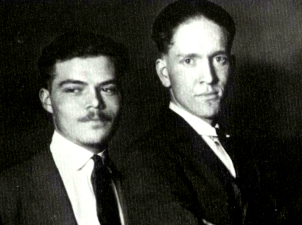 Finally, and quite a treat for those who were born after their original airings, are three uncut Looney Tunes Television Specials, presented from good quality later re-run transfers. In the 1970s, a popular trend was the recutting of classic material and introducing new linking footage for framing. The Warners characters had been used in this way since The Bugs Bunny Show in the 1960s, but the popularity of half-hour programs that were produced more in the mold of the feature compilations such as The Looney, Looney, Looney Bugs Bunny Movie and The Bugs Bunny/Road Runner Movie led to commissions for completely newly created programs. Although the classic characters had never really been missing from our screens, the assorted shows that often popped up offered regurgitated versions of original cartoons, usually re-cut and re-voiced to emphasize the intention of the episode's new plot.
Though those programs kept Looney Tunes alive on TV, what we instead have here are even better: three of a handful of shows that were created by Chuck Jones himself as brand new, featurette styled outings for the Looney Tunes gang, and though the zip may now have been replaced with an older, slower moving mindset, these are among the last projects produced by one of the series' original creators. Bugs And Daffy's Carnival Of The Animals, (24:24, from 1976), should be pure fun…a comical Fantasia take on Saint-Saens' ever popular music, which seems perfect for an animated spin. However, after the animated introduction there's too much of an onus on Michael Tilson Thomas' live-action conductor and orchestra, whatever spark Bugs and Daffy once had is resorted to little more than barbed wit, and even Mel Blanc's exuberance seems blanketed under lower-pitched impersonations of the classic characters (this from the period where his Daffy and Sylvester were virtually indistinguishable). Jones also has his arty hat on, and what unique but limited animation there is comes too sporadically and is fatefully uneventful, though the fabulous music manages to carry things along.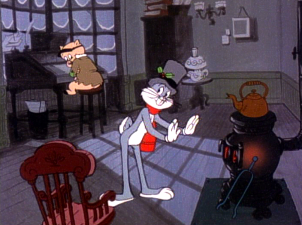 Much, much more entertaining is the 1979 Bugs Bunny's Looney Christmas Tales (23:28). Perhaps the best of the bunch, this originally beat Mickey's Christmas Carol to the same trick of recreating the old Scrooge story with the Looney Tunes gang, with Yosemite Sam as the miser, Porky as Cratchitt, etc. Friz Freleng's animation is also pretty nifty too, though there's one odd shot of Bugs kissin' Sam in which the rabbit's red scarf goes missing and is replaced with coat tails!? It's not quite a straight translation, spinning A Christmas Carol as only the Looney Tunes could, packing everything into around half the show's length, leaving the rest of the program open for two more segments: Chuck Jones takes over for a snowy showdown when the Coyote eyes up the Road Runner for a festive dinner, and Freleng's Bugs recounts a typically mixed up version of The Night Before Christmas – with the Tasmanian Devil as Santy Claus – ending with a final Christmas carol singalong. Who said the Looney Tunes didn't have heart?
Rather lacklustre is the final outing, Bugs Bunny's Bustin' Out All Over (23:43), a 1980 celebration of spring/summer, that again finds itself struggling to capture the old magic. It's no less well animated than any other Warners' cartoons and well above the average television output of the time but just lacks the haphazard nature of the originals even if it does feature some nice ideas that recall Looney Tunes of old: Bugs and Elmer as kids, the return of Marvin The Martian and the Abominable Snowman, now named Hugo, and, this being a Jones-produced featurette, another extended Road Runner/Coyote sequence, where the poor "Nemesis Rediculii" eventually catches the "Ultra-Sonicus Ad Infinitum" beeping bird, but finds himself unable to do anything with him! Even if the characters aren't as sprightly as we remember them, these shows are particularly valid examples of the Looney Tunes legacy, and as such I hope we see more of them in these collections, including one in which Bugs travels back to King Arthur's Court and Daffy Duck's Thanks-For-NOT-Giving special, among others. Heck, I'd even love to retire my taped collections and welcome the chance to see those old compilation shows in future volumes too, such was their uniqueness!
Four minutes of preview trailers round out the extensive package, for the pretty dire looking direct-to-disc live-action Warner Premier A Dennis The Menace Christmas, the return of The Smurfs: Season One, Volume One, and a pretty nuts looking Looney Tunes video game, Acme Arsenal (for all the major platforms) and the Nintendo DS-only Duck Amuck, plus a game code to unlock extra powers. Pretty fun!
Case Study:
Aesthetically, the package for The Looney Tunes Golden Collection Volume 5 continues the "overlap" disc trend introduced in the previous volume: a slimmer set (still rightfully digi-packed) with each of the two trays holding two discs apiece. The artwork comes as themed as before, placing these cartoons in the realm of the "adult collector", as the packaging notes, rather than as the more kid-friendly Spotlight Collection that arrives at the same time and aimed more at casual family audiences. The packaging flaps list the cartoons and extras to be found on each disc; there are no other inserts or text pieces.
Ink And Paint: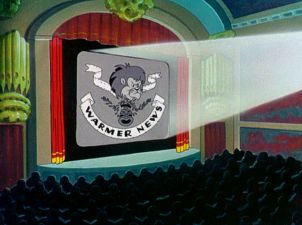 As with previous Looney Tunes restorations, the colors just pop off the screen (perhaps even more so) without eliminating the very elements that make these cartoons products of the film age. Whatever some might think about Warner's use of DVNR on their other animated properties, there's no question that they handle these crown jewels indupidadibilily [sic]. With around two hours of cartoons and well over an hour of extras per the four discs here, compression isn't ugly but is evident in places – as usual with block-colored animated fare its most noticeable on heavy contrasting lines – though a jump to five disc configurations to hold off these anomalies in future might well be costly enough to prove prohibitive (that is, if the idea isn't to convince us all to go hi-def). But sharpness is impressive and, essentially, these toons have never looked duckier!
Scratch Tracks:
I'm always astounded at how great vintage material can sound when it's handled correctly, and the films here are amazingly crisp, with a lack of background noise and hiss that's pretty impressive. Disc One's Stupor Duck noticeably has some super-nice warm bass, though Disc Two's Red Riding Hoodwinked suffers from some nasty vocal distortion which might be a call for a disc remaster and replacement. As for the rest of 'em, the original mixes, with more often than not composer Carl Stalling's amazingly frantic scores, are well reproduced and sound every bit as good as new.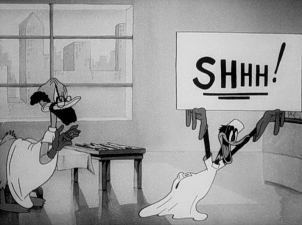 Final Cut:
Though some might start to hold back more and more with each successive volume in the Looney Tunes Golden Collection series, this collection still packs a mighty punch in the form of a good two disc's worth of classic must own shorts and a selection of terrific bonus features. I'll stop quibbling about the inclusion of the Chuck Jones documentary Extremes And Inbetweens and award it the points it deserves for the excellent retrospective it is, which of course is right at home amongst these cartoons. I continue to hope for an expansion on other directors' inputs in future volumes however, especially a call for the wonderful documentary Tex Avery, which might have made a great bonus for the recent Droopy Theatrical Collection but would just as well fit alongside a helping of his cartoons in a Looney Tunes selection. So, in short, more of what we love, even if, for some, the pickings may have dropped a tad to what they really, really like. Where the set scores is in variety…gone are the showstopping fan favorites, leaving a few undiscovered gems to shine. An entire disc dedicated to the early black and whites is either a good thing or bad depending what you're looking for in a selection like this, but for the collectors who lap this stuff up, you'll be as looney as me over them!
Animated Classic or Back To The Drawing Board?