Warner Bros. Pictures (1940–1959), Warner Home Video (October 28 2003), 4 disc set, 411 mins plus supplements, 1.33:1 original full frame ratio, Dolby Digital Mono, Not Rated, Retail: $65
Storyboard:
56 restored, remastered and uncut original and authentic Looney Tunes cartoons, featuring all-time series highlights Rabbit Seasoning, What's Up Doc?, Ballot Box Bunny, The Rabbit of Seville, The Scarlet Pumpernickel, Yankee Doodle Daffy, Rabbit Fire, Duck Dodgers In The 24½ Century! Fast And Furry-ous, Hair-Raising Hare, and many more, plus a collectors stash of excellent extras!
The Sweatbox Review:
What's up, doc? The Looney Tunes gang has finally made it to DVD – that's what!
As with many recent animated releases, purchasing this set is a no-brainer for animation fans – or anyone who wants quality animated entertainment served up with fun, spice and exploding mannequin rabbits in their toons! And, as with those recent sets (Lion King, Sleeping Beauty, Finding Nemo), you pretty much know if you're going pick this up, right? I mean, it's Bugs and the gang. On disc. Looking and sounding great!
Rather than go to great lengths to describe each of the 56 – count 'em! – fully restored and completely uncut cartoons (we all have our favorites, and you'll already know if yours are present and correct), I'll simply list what the discs have to offer and jump right to what you really want to find out: has it been worth the wait? Well, I can tell you going in right now that yes, this is a set designed to knock your socks off!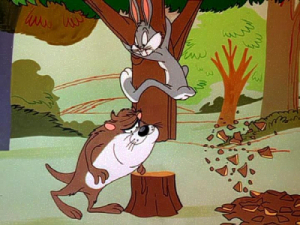 Disc One kicks off with Warner's biggest star, The Best Of Bugs Bunny. The 14 cartoons presented are Baseball Bugs, Rabbit Seasoning, Long-Haired Hare, High Diving Hare, Bully for Bugs, What's Up Doc?, Rabbit's Kin, Water Water Every Hare, Big House Bunny, Big Top Bunny, My Bunny Lies Over The Sea, Wabbit Twouble, Ballot Box Bunny, and The Rabbit of Seville – all "middle-Bugs" cartoons that probably do best define his character.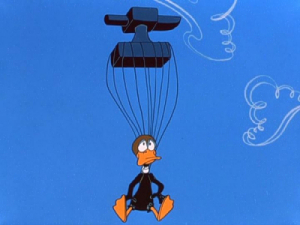 The Best Of Daffy And Porky continues Disc Two, a mixture of solo cartoons as well as those in which they teamed up. Another 14 shorts include the brilliant Duck Amuck, Dough For The Do-Do, Drip-Along Daffy, Scaredy Cat, The Ducksters, The Scarlet Pumpernickel, Yankee Doodle Daffy, Porky Chops, Wearing Of The Grin, Deduce You Say, Boobs In The Woods, Golden Yeggs, Rabbit Fire, and perhaps their finest moment, Duck Dodgers In The 24½ Century!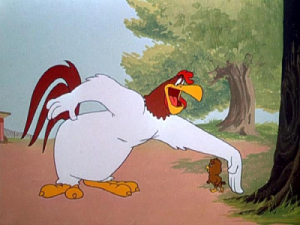 Next up, and comprising 14 cartoons featuring characters from across the board, is The Looney Tunes All Stars. Here, Bugs, Daffy and Porky mix with the other greats, in a selection which features: Elmer's Candid Camera, Bugs Bunny And The Three Bears, Fast And Furry-ous, Hair-Raising Hare, The Awful Orphan, Haredevil Hare, For Scent-imental Reasons, Frigid Hare, The Hypo-Chondri-Cat, Baton Bunny, Feed The Kitty, Don't Give Up The Sheep, Bugs Bunny Gets The Boid, and Tortoise Wins By A Hare.
Finishing with the All Stars theme on Disc Four are the final 14 cartoons picked for inclusion: Canary Row, Bunker Hill Bunny, Kit For Cat, Putty Tat Trouble, Bugs And Thugs, Canned Feud, Lumber Jerks, Speedy Gonzales, Tweety's S.O.S., The Foghorn Leghorn, Daffy Duck Hunt, Early To Bet, Broken Leghorn, and Devil May Hare – titles that may not be instantly recognizable at first, but chances are that you've seen these a thousand times before, and they're still as fresh as ever.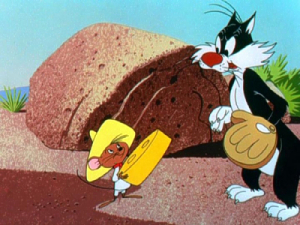 These are fairly decent, if predictable, choices, but ones that should please long-time devotees and newcomers to the series. However, any selection would never have satisfied everyone, and I'd have liked to see some of the older cartoons; a few more "firsts" would have been great, or maybe even a couple more Academy Award winners? LaserDisc owners, like myself, of the mega-box set Golden Age Of Looney Tunes collections rest assured – these toons would only fill half of one of those tomes, so there is still a huge amount that LD owners can call "exclusive". The DVD does win out however, thanks to absolutely pristine prints and a genuine wealth of supplemental material. Don't forget that Warners are also issuing the final two "All Stars" discs in this set as The Premiere Collection – but why skimp on that when this Golden set offers so much more? Plus, strong sales of the four-disc collection will convince the WB to issue more Bugs and company in the future. And with a line up like this, there can only be one choice: go for Gold!
Is This Thing Loaded?
Just opening the set and reading what is in store is enough to make even the most avid animation nut's mouth water (but be careful not to drool on the packaging)! Spread across the four discs, the extras span the entire Looney Tunes spectrum, with additional specific featurettes for Bugs and Daffy on their respective discs. The 16×9 menus are fun, being animated stills with overlaid text that pops about, accompanied by the immortal The Merry Go Round Broke Down theme tune. We are treated to much more than we deserve when it comes to the 4×3 video-based extras on Disc One, the first being an Introduction to the series by influential director, the much missed Chuck Jones (3:47 minutes) which includes some early, pre-cleaned up material (such as Bugs' first appearance and Porky Pig in the brilliant 1940 animation/live-action combo You Ought To Be In Pictures). Jones sets up the world of the Looney Tunes and the characters that populate it, touching on the various ways that the Looneys have entertained us through the years.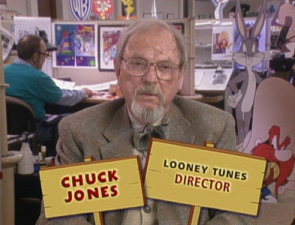 A series of Behind The Tunes featurettes also pop out throughout the set, highlighting various aspects. Bugs: A Rabbit For All Seasonings gets up close and personal with our favorite bunny, with a bunch of clips and new interviews digging under and revealing his character. The 5:37-minute clip features Ruth Clampett (daughter of Bob), Stan Freberg, Friz Freleng and daughter Sybil, Don Hahn (who surely is becoming a fixture on almost every classic animation disc nowadays!), Leonard Maltin (moonlighting from the Disney Treasures!), Chuck and daughter Linda Jones Clough, Noel Blanc, Bill Melendez, Jerry Beck and current Bugs director Joe Dante. Additional names David H DePatie, June Foray, Robert Givens and Art Leonardi contribute to the three minute Short Fuse Shootout: The Small Tale Of Yosemite Sam clip, which covers the same bases for Bugs' sworn enemy. Finally, the 3:23 minute Forever Befuddled has a similar take on the Elmer Fudd character, again with new interviews including current voice Joe Alaskey, and showing pencil tests, model sheets and tracing his roots back to his original incarnation as Egghead.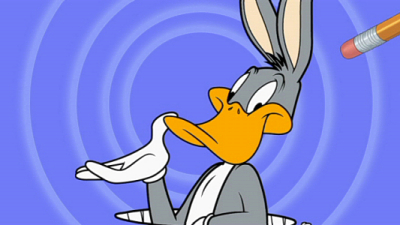 Bugs Bunny At The Movies showcases two scenes from the movies Two Guys From Texas and My Dream Is Yours (featuring Doris Day in an early role), both from 1949. While these two films have become somewhat forgotten over time, the sequences look like they would have been the highlights in each and are classic Looney Tunes in tone and execution. The second clip, combining live-action and animation, is not a particularly technical marvel, but it's a shame that it remains rarely seen and is one of the only times I've heard lyrics put to Lizst's Hungarian Rhapsody, that oft-used cartoon anthem. Image seems to have had a minor remaster, with both clips running a combined 8:15 minutes, including intros.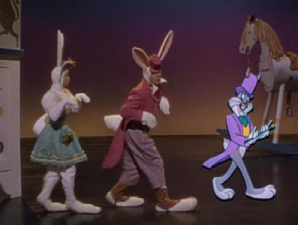 The Bugs Bunny Show highlights another two clips, this time being the bridging sequences produced for the original television screenings of the shorts. Directors Jones, Freleng and Robert McKimson created new scenes to link the cartoons, and this reconstruction (minus the actual shorts) of the A Star Is Bored show uses what color elements still remain. The animation is top-notch, produced as the theatrical series was just winding down, and it's interesting to see Bugs explaining the techniques of animation to the audience, as this style obviously paved the way to the later full-length compilation TV specials and 1980s features. The black and white footage shows its age, but the color segments used, while being a little soft, looks pretty clean and this is an intriguing and entertaining six minutes, with a fair few top talents involved in the production. There's more Bugs Bunny Show archive material, with the inclusion of a four minute audio recording session from The Astro-Nuts episode. Nicely presented, by alternating stills of Mel Blanc, cartoon artwork and storyboards, it's a great way to really pick out Blanc's performance and demonstrates his vocal genius.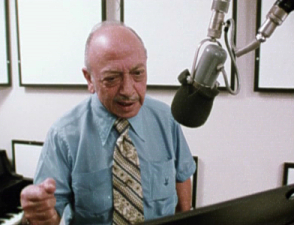 A rarely seen 1991 short Blooper Bunny is next and is possibly one of the most brilliantly executed ideas I have ever seen in animation. Running over eight minutes, and starting out with a bland "we're all friends" celebration of Bugs' 51½ Anniversary with all the characters wearing beaming smiles, the short cuts away to reveal the "real" making of the thing and what the characters are truly like on set. Optional commentary from Greg Ford (who, with Terry Lennon was responsible for keeping the Looneys on track through the late 80s/early 90s) explains that this was an attempt to get back to basics with the characters, and the animation is very much in keeping with the 1950s output. The full-frame opening slides away to a 1.66:1 letterboxed, ever so scratchy "deleted footage" look – but don't worry, it's intentional. Even more elaborate is the extensive and detailed use of CGI backgrounds, which allows a single minute-and-half shot to follow through in what can best be described as "animated Stedicam", and the "fake outtake" routine predates Pixar by a good few years – amazing!
By far the most interesting and exciting bonus for fans on this disc is Part One (28:50) of an original documentary, The Boys From Termite Terrace, from the 1975 Camera Three arts series. Anyone who's ever seen the compilation feature Bugs Bunny Superstar (coincidentally also released in 1975) will know that there were many home movies taken during the heyday of Warner Brothers animation, some of which turned up in that feature, which also interviewed members of the production teams, including Tex Avery, Friz Freleng and Bob Clampett. This documentary cuts the cartoon inserts and plays it for straight, using similar interviews (shot at the same time?) to tell the real story of Termite Terrace and the Looney Tunes production process, hosted by an alarmingly young looking John Canemaker.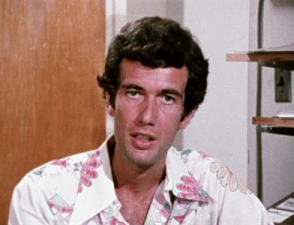 The documentary film shows signs of its age and is a definite relic of its time, while the footage from the cartoons themselves is subject to being dupes from original prints and further degraded by being edited into the print for the documentary, but they still come across as having all of their energy. The film covers everything, from the early cartoons, and their developing of the boys' own style, to Tex's work for MGM, and Mel Blanc in the studio) and is simply a wonderful inclusion in the set and an essential watch as well! Rounding out Disc One is a Trailer Gallery (of varying quality) for two early compilation films, Bugs Bunny's Cartoon Festival and Bugs Bunny's Cartoon Jamboree, as well as an extensive 16×9 formatted Stills Gallery which features around 50 images, with everything from model sheets, posters and backgrounds covered.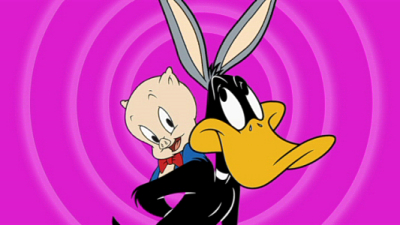 Disc Two contains more Behind The Tunes featurettes, this time base around Daffy and Porky. Hard Luck Duck features a three-and-a-half minute profile of you-know-you, featuring insights from many of the same people we have heard from on Disc One, as well as animator Willie Ito and director Eric Goldberg. Porky Pig Roast: A Tribute To The World's Most Famous Ham (3:35) follows Porky from his early black and white beginnings to the development of Mel Blanc, who brought to the character the famous stutter we all know and love. Finally, Animal Quakers takes a look at the teaming of Daffy with his ultimate foil, Porky Pig and the introduction of Marvin The Martian and the Duck Dodgers In The 24½ Century persona.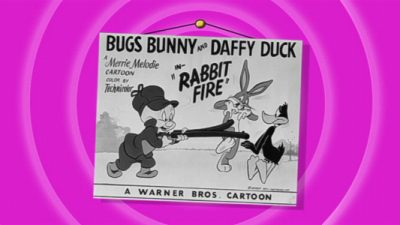 Due to space considerations, the Boys From Termite Terrace documentary has had to be cut in half to fit on the set with all the other extras. Part Two of the film, running 28 minutes, continues in much the same vein as Part One, with more emphasis on the other Looney Tunes stable of characters, including Tweety and Sylvester, Speedy Gonzales, Road Runner and the Coyote, and the star of One Froggy Evening, later identified as Michigan J Frog. Disc Two rounds out with an additional Stills Gallery, featuring around 50 images of posters, model sheets, storyboards and layouts.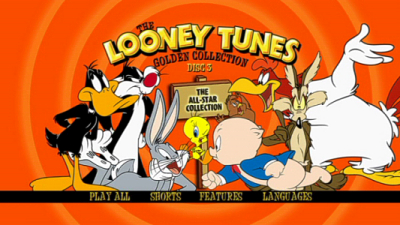 Disc Three has more of the same – none of it ever overlapping or becoming monotonous, which is saying something. Behind The Tunes has three more featurettes, each running four-and-a-half or so minutes, with soundbites from the usual suspects plus animators Jerry Eisenberg and Corny Cole, artist Peter Alvarado and Tiny Toons composer Bruce Broughton; one on Road Runner (Too Fast, Too Furry-ous), and two on the legendary contributors to the series, vocalist Mel Blanc (Blanc Expressions) and musical composer Carl Stalling (Merrie Melodies: Cartoon Music). The piece pays tribute to these two great men, while again pointing out the vast amount of vocal and musical genius that went into recording and scoring each cartoon.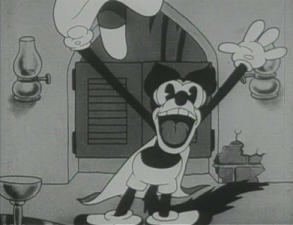 From The Vaults offers up a couple of surprises: "Scheme-Matics" (or storyboards to you and me) for two full shorts, Hair-Raising Hare and The Hypo-Chondri-Cat, running the cartoons as they normally play, but with original concept art in place of many of the finalized shots. The big draw on this disc though, is the Cartoon Network production Toon Heads: The Lost Cartoons, an over 45 minute delve into the vaults for a look at some extra special footage. Here you'll find rare home movies, gag reels, and long unseen sequences from a variety of films including the first Harman-Ising Bosko and Foxy shorts (including the full Lady Play Your Mandolin), the Snafu and Hook wartime series, a public health film, commercials, a really cool television pilot and a live-action comedy short. The program is well presented, offering lengthy clips and showing much more than one would expect to see of such usually "censored" films, and though Leslie Fram's voice-over is a little overly excited, it covers all bases and even throws in some extra history not covered elsewhere on the set – another great bonus!
Moving on to the final collection, and Disc Four doesn't let up with the extras in any way! Only highlighted and briefly glimpsed at in the Toon Heads program, the From The Vaults section here presents the full Bosko The Talk-ink Kid pilot that convinced Leon Schlesinger and Warner Brothers to go into partnership with Hugh Harman and Rudy Ising and produce animated cartoons. This amazing footage, seemingly uncut here, is a blend of Fleischer's Out Of The Inkwell and Disney's Alice Comedies series – both often duplicated around this time in Hollywood cartoons. This sequence, running without any front or end title cards lasts a full four and a half minutes, and is of remarkable quality considering its original intended use and age. Also featured in this section is a group of Virgil Ross' pencil tests, running just over a minute, in silent form.
Behind The Tunes highlights the stars of the disc, namely Speedy Gonzales (Needy For Speedy, 3:10 mins), Tweety and Sylvester (Putty Problems And Canary Rows, 5:33 mins) and Foghorn Leghorn (Southern Pride Chicken, 3 mins). Presented in the same way as the other featurettes in the set, these are zippy character profiles featuring several of their most memorable moments, with further soundbites from Robert McKimson Jr among others. Another Stills Gallery further showcases these additional characters, with posters, photos, layouts and background art from the cartoons featured on the disc, amounting to another 50 images.
Finally, and truly wrapping things up in style, is Irreverent Imagination: The Golden Age Of Looney Tunes, a new documentary created especially for this DVD release. It does a fine job of covering the history and philosophy behind Looney Tunes animation without overlapping too much on what has been touched on in the extensive supplements provided on the other discs. Running a lengthy – and packed – 50 minutes, and presented full-frame, the doc is narrated by Stan Freberg, an original WB voice artist and later comedian, who also provided vocals for Disney's 1985 animated series The Wuzzles. Although it's almost twenty years after that short-lived show ended, there's no mistaking Freberg's voice and it's almost being right back in the Land Of Wuz again – but only with an even more outlandish cast of characters to enjoy the ride with! Everything from 1920s animation and the creation of their famous stars, to the closing of the studio, its continuing legacy and its influences on today's animators and filmmakers (Shawshank Redemption director Frank Darabont reveals an admiration in the doc) is covered, using rare photographs, classic sequences and new interviews, capping a great collection with a great retrospective.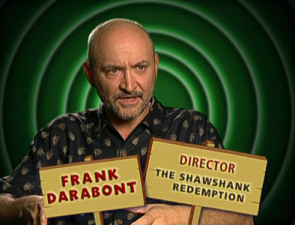 Across all the discs are additional commentaries and isolated music tracks, which further examine and showcase of the artists and musicians involved in giving the Looney Tunes their own unique style. Even better are the inclusions of rare archival material to present the original creators' views on certain shorts – informative, in-depth and wonderfully executed – you'll learn more from one six minute short than many feature-length commentaries! Historians Michael Barrier and Jerry Beck, filmmaker Greg Ford and actor Stan Freberg contribute their thoughts on these selected shorts: Rabbit Seasoning, Long-Haired Hare, High Diving Hare, Bully for Bugs, What's Up Doc?, Rabbit's Kin, Big Top Bunny, Wabbit Twouble, Duck Amuck, Drip-Along Daffy, The Scarlet Pumpernickel, Wearing Of The Grin, Duck Dodgers, Bugs Bunny And The Three Bears, Fast And Furry-ous, Hair-Raising Hare, Haredevil Hare, For Scent-imental Reasons, Feed The Kitty, Bugs Bunny Gets The Boid, Canary Row, Devil May Hare, Canned Feud, Speedy Gonzales, Tweety's S.O.S., and The Foghorn Leghorn.
Isolated music and effects tracks are available for: Rabbit Seasoning, What's Up Doc?, Rabbit's Kin, Duck Amuck, Drip-Along Daffy, The Scarlet Pumpernickel, Rabbit Fire, Baton Bunny, Feed The Kitty, Putty Cat Trouble, Broken Leghorn and Speedy Gonzales. From the way he's been plugging this release on his site, I was expecting more from historian Jerry Beck's input on this set, but he seems relegated to Disc Four and only chimes in with commentaries for four shorts. I guess he also had a lot on his plate what with assisting in putting the collection together and getting his book ready in time too, but it would have been nice to hear him a little more.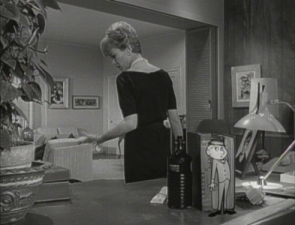 I'm sure you'll find every extra is worthwhile in the set, and nothing seems light or fluffy (an exception considering the lead character is a rabbit!) and the only thing that popped into my head that would have been a small but welcome addition would have been the 50 Years Of Bugs Bunny In Three And A Half Minutes clip which packs in every top moment in the rabbit's career in…you guessed it, 3½ minutes! In a good way, there is no allusion to the more recently made cartoons, the tired 1970s TV specials, or the attempted 80s and 90s resurrection of the shorts in the compilation features. Everything here is classic Looney Tunes based, so there's no Space Jam or Back In Action cross promotion or trailering – something that should be admired in this corporate synergy-led world. Warners are making quite a name for themselves with their recent turnaround in DVD production, complimenting fine transfers with informative bonus material. If it's possible, this pushes that policy one better still!
Case Study:
Designed like a four-disc extended version of the current (and excellent) two-disc sets that Warners are issuing, the box feels sturdy and is nicely put together. Folding out to reveal a five-side digipak (for the four discs and an index card), the contents are laid out logically and look fun. I really would have liked to see release dates for the cartoons themselves listed by the titles (even year date would have helped) and I'm surprised that these are not present, given Beck's involvement in the LaserDisc series that did showcase this information. Somewhat making up for this oversight is a nice pick of catchphrases on the back of the slipcase, with a genuine laugh-out-loud moment if you read downwards fast enough to be hit with one clever print gag. Rounding out the package is a free child's ticket to see the Looneys on the big screen in Joe Dante/Eric Goldberg's latest live-action/animation extravaganza, Back In Action (is it me, or is Steve Martin's Acme Corporation head a twist on director Henry Selick?), released November 14th.
Ink And Paint: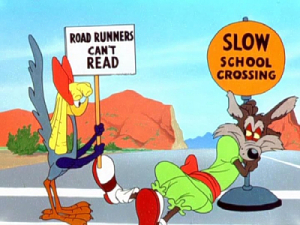 Anyone who saw the added shorts on the Chuck Jones documentary Extremes And Inbetweens: A Life In Animation will know what to be looking for here. All the shorts have been given a decent digital clean up, rendering them as bright and colorful as the day they were drawn – and the results do not disappoint in the least. Unlike some other digital restorations, the unique film look has not totally been washed away, and these are still very much film-based representations, and I was surprised at how many nicks and scratches were still visible. No attempt has been made to fix up animators mistakes, color pops or artefacts inherent in cel-layered animation, but these toons look vibrant and as stable as can be. Titles (some of which use the Blue Ribbon title cards, some of which are actually Merrie Melodies and some that switch from being Melodies to Tunes) have been windowboxed to retain the complete information, and it would have been nice to have the cartoons slightly boxed throughout so as to see the whole frame. The later entries do sport slightly cleaner prints than the earlier shorts, which is to be expected, but this really is as good as I have seen some of these cartoons.
Scratch Tracks:
No attempt has been given to try and expand the sound of the cartoons from their original mono tracks, and it's all for the better. Being such bombastic, in your face and over the top tracks sonically, the fake spreading of these classics would have done one of two things: either created too dynamic a mix so as to put the listener off, or thin the tracks out from their effects-piled-on-top-of-one-another style so as to make them bland and insipid. Thankfully, this is how we all remember them sounding from viewings past, but that's not to say they don't sound cleaned up. The Dolby encoded sound shows great range, and only minor bugbears pop up in terms of a slight trace of distortion on a couple of very, very noisy takes. Carl Stalling's minefield of music cues is recreated well, and everything feels so wide and spacious that one would swear it was a stereo track anyway! French is also included as a dubbed option, and is fairly odd to watch, as most of the songs and impressions remain in English and the character voices are subtly different from cartoon to cartoon. English, French and Spanish subtitles for all the shorts and supplements are also offered.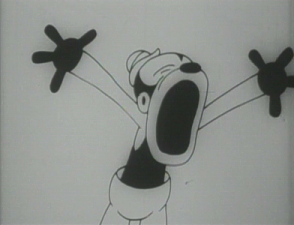 Final Cut:
I have to say that the Wartime cartoon set in the Disney Treasures line is what I was most excited about owning this year, mainly due to the simple nature of the amazing material that is included in that release. However, we kind of all know what to expect from these limited tins by now in terms of Leonard Maltin introductions and the added featurettes, so the Looney Golden set was perhaps just as highly anticipated, but in another way. It's a bit of a dark horse; Warner Brothers entering the animation SE box set market with their biggest catalog titles and characters, and could have been a disaster. Happily, it's definitely been worth the wait and will be a tense coin-flip decision at the end of the year to pick between that Wartime set and these Golden Looneys as the most important collectors' edition of the year. As I said at the top of this review, The Looney Tunes Golden Collection is probably already on your wish list, or you wouldn't be reading this review. If it's not on your wish list, and you are reading this review, then put it on your wish list right now, or even better – go buy a copy now – but remember to go for Gold!
Animated Classic or Back To The Drawing Board?