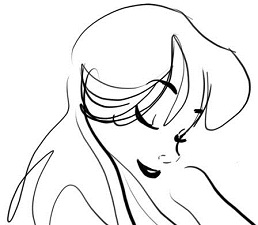 Who better than the filmmakers could talk about all the art – and the heart – put into a movie? That's the idea of some "Art of" books published these last months. Remember about Ben Queen's Art of Cars 2, last year?
And now, that's the case with The Art of Brave, recently published by Chronicle – maybe one of their most heartfelt and exquisite Disney/Pixar art-of books – written by Pixar story artist Jenny Lerew.
Jenny is an animation story artist and the author of a noted blog on animation art and history, The Blackwing Diaries. She is also the author of Scrambled Ink, a compendium of original illustrated stories, and has worked as a director and story artist at Warner Bros, Amblimation, Turner, Disney, and DreamWorks. Before Brave, she worked on DreamWorks Animation's How to Train Your Dragon.
As a story artist, she really knows Brave from the inside and offers a unique sight on the making of Pixar's thirteenth feature film. That's that unique experience she kindly shared with us.
---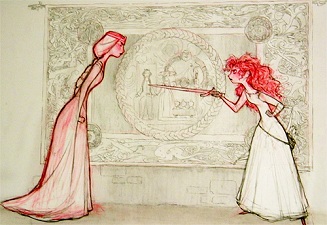 Animated Views: How did you come to write The Art of Brave?
Jenny Lerew: I was contacted by Chronicle on the recommendation of a fellow author. That interest was spurred by my blog The Blackwing Diaries, which I started in 2005.
AV: Can you tell me about the highlights of the process of making this book?
JL: Definitely the interviews; the chance to meet (and in some cases, reconnect) with such a varied group of artists, many in production jobs I as a story person usually never meet. They were all the coolest, most committed bunch of people imaginable. They were lively sessions.
AV: How is it to write about art made by fellow artists, people you know and like?
JL: When it's the kind of art that I saw from Brave, it's a total thrill. These are among the best people in the business, and the settings and character designs were so appealing and alive I fell in love with them instantly.
AV: You would have liked to have the book be twice its present size. What would you have liked to add to it?
JL: Tons more from all of the interviews – but then there'd be that much less space for the art!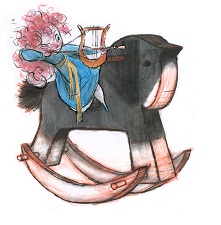 AV: What is for your the heritage of Joe Ranft in your personal experience?
JL: As for me personally, he taught story at Calarts for several years, both when Brenda and I went there, and was my teacher – a fantastic one. His encouragement was what steered me and a lot of others towards story and I loved the guy, even though my association with him was only for several years at school, before he went back to Disney, Pixar and the myriad of other neat things he worked on.
Brenda and of course many other people at Pixar and Disney who either went to school with or learned from Joe knew and loved him that much more as he was for years a daily presence in their lives. I am terribly jealous of that experience, one I know none of them would trade for the world. There's isn't enough that can be said about the positive influence of the man. He is completely irreplaceable. He was just the most giving, kind and funny-and, while knowing his strengths very well, modest-guy in the business. he was also a really good magician. What else can one say? John Canemaker wrote a terrific book about him (Two Guys Named Joe) and it still couldn't encompass everything, though it did a heck of a job towards doing that.
AV: You directed episodes of the Animaniacs series. How different is such a feature film to the shorter format, be it in the pace, the narration, the process?
JL: Television series and feature films in animation are completely different animals. I left work as a director in TV to be a part of a story crew in features in 1994, because the longer-form storytelling, the development of characters, the chance to tell a story from beginning to end matter deeply to me. TV is great and was a at learning experience for me, but really, it's a totally different approach to storytelling. It's also a very different thing to be involved in boarding scenes for a big screen vs. a small one; no matter how large TVs get or how sharp their displays (and they are sharp!), the experience of sitting in a public space, with lights dimmed and all eyes looking at the screen in a movie theater is a thrill, for me akin to being in church. Cinema is special, it has a permanency and a gravitas that is unmatched by any other medium. Seeing a good movie on the big screen is just a fantastic experience. It's magical.
AV: The strength of Brave is to propose a brand new approach to Princesses, but through a lot of nods to Disney, from Sleeping Beauty (the sleeping guard) to, obviously, Brother Bear, among others. How did you deal with that aspect?
JL: No one I spoke with on the crew mentioned Brother Bear, and quite honestly at the time I never thought about it either! Although it's a lovely film that of course does deal with Bear/human "magic" transformation. I think this is because the story for Brave sprang from a very personal place for Brenda, and was set in a very specific, quite different place [Scotland]. That said, the traditions of folk tales from around the world share a lot of elements, no matter the culture, as they deal with potent human archetypes.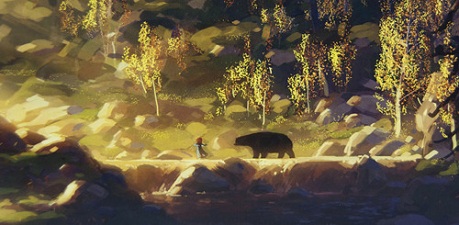 AV: Brave is about transformation – this time, not the bear transformation, but the transformation of the individuals. How did that movie and that book transform you?
JL: I write in the book about the renewed and increased respect I felt for the artists in all phases of production that I spoke with. I wouldn't say it "transformed" me, but the process of interviewing them and the sheer infectiousness of each person's passion for their work – both as individuals and as a team – had a palpable impact on me as an animation artist. Whatever studio people work for, and on every project – and people move around quite a bit – we all share a common goal of giving our very best and wanting to see that on the screen, whatever it takes.
It's not always an easy thing to work as part of a team, and especially the massive teams that make up the crew of a motion picture. One always has to keep in mind that the goal is not only personal expression, but communication of that expression: these are films that are meant to connect with an audience. The artists of Brave were always working towards that, and just so love their task that it reminded me, if I needed reminding, of why I got into animation in the first place.
---
---
---
---
Our thanks to Jenny Lerew and April Whitney