Some animated movies lend themselves more than others to the standard practice of the "art" book. But maybe no recent animated movie deserved such a book more than Tangled , considering its massive inspiration from European art, from Rembrandt to Fragonard and to Disney and Disneyland artists, and most of it filtered through the tremendous input of animation director Glen Keane, who gave all his experience, mastership and heart – in other words, his genius – to this beautiful movie.
Jeff Kurtti captured all the artistic and magical essence of the making of the movie through The Art of Tangled, certainly one of the most artistic "art of" books ever done! We spoke to Jeff about getting caught up in this new version of the old Rapunzel fairytale's journey to the screen…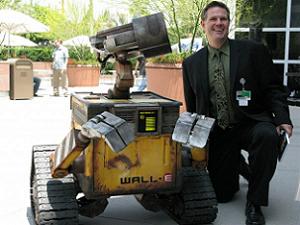 ---
Animated Views: As a connoisseur of Disney history, both in the movies and in the parks, how did you react to Tangled, with all the references it uses, be it in the layout (you mention Pinocchio and Cinderella) or in the architecture (Disney parks)?
Jeff Kurtti: The idea of the filmmakers was a simple one: to look at what had been done throughout the history of Disney, and examine what the creative people in the past were doing to achieve the results they did. For many of the artists, it was an indefinable "Disney Feeling," and they set out to figure out what was going on to make all of those Disney films and parks feel the way they did, and elicit the kinds of emotional reactions that they do based on purely visual information.
Much of that "Disney Feeling" was (not surprisingly) purely personal, and based on their own memories of Disney experiences in their past, rather than some quantified design formula or art style.
In the end, the makers of Tangled were able to arrive at a wonderful fusion of style that at once feels familiar and reaches to a collective feeling about these kinds of films, but is also refreshingly new and unburdened by any sense of imitation or duplication.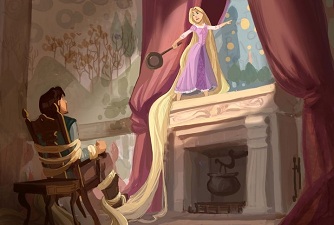 AV: In Walt's time, animators and designers would tell that they took lessons from classical art, with Chouinard teachers. The same, present-day Disney research showed all the influences coming from Europe (Robin Allan and others). Now Disney artists seem to rather stress the fact that their references come from Walt's classics (the research on Princess and the Frog, inspired by Lady and the Tramp, Tangled, inspired by Cinderella or Sleeping Beauty among others). How do you explain that move?
JK: I think you see the progression of the influences based upon the storytelling media. In addition to their educational and cultural backgrounds, early Disney artists were influenced by great storybook illustrators like Arthur Rackham, Howard Pyle, and N.C. Wyeth.
Walt bringing Kay Nielsen, Albert Hurter, and Gustaf Tenggren into the Studio was certainly not accidental, it was the carrying over of the well-known contemporary influences into a new medium. Bringing those famous illustrations to life was certainly as much a part of the thinking at the early Studio as was classical art.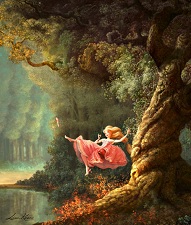 With the new generation of artists, the mistake for those observing from the outside is to overstate the idea of their inspiration. The same thing happened with The Princess and the Frog, where people got focused on the idea of a "Disney films inspiration," rather than what the filmmakers were doing: examining the rules and lessons of other films, and applying those compositional, color, style, or lighting ideas in creating their own production. (This misapplied focus on inspiration also ignored the very real minds and talents of educated and experienced artists, and made it all seem like a bunch of novice kids copying Masters, when nothing could be further from the truth.)
In reality, the filmmakers wisely and intelligently examined the Disney canon, both in film and in place-making, and examined how their design disciplines created reaction in the audience. Their goal was to reach for a collective memory and touch it, not to crudely duplicate or slavishly copy something that had already been done.
AV: In your introduction, you tell about a new direction (at one time) influenced by Rembrandt.
JK: Ultimately the production design shifted from the dark and tonal Rembrandt feel because it did not serve the story. There was also a feeling that the design style did not tap into the complexity of the CGI medium in a way that did what the filmmakers wanted to do: create a CGI film that utilized the lessons and ideals of hand-drawn animation, to create a new level of hybrid form between the two.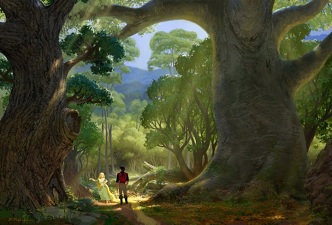 AV: The movie presents a most-anticipated balance between CG techniques and a hand-drawn/hand-made approach. Did you want to relay that aspect in your book?
JK: It was impossible to express within the book the remarkable and innovative visual world of Tangled. So much of what the film accomplishes is so nuanced and subtle that the film requires several viewings before you will notice many of the details, because they are presented without showboating or spotlighting.
In overall effect, the film plays so subtly on many of the expectations that we as an audience have from both animated and live-action film vernacular that it seems as natural as either form, and as immediately engrossing and comfortable as either.
So many CGI films blare their technological origin through endless impossible camera moves and effects, whereas Tangled takes advantage of those effects in ways that support the story, but without being distracting.
There is an intelligence and reserve to the combination of the beauty and subtlety of hand drawn and the artistry and ability of CGI. The character animation performances in particular deserve attention as a new high mark in the art of character animation in the CGI realm.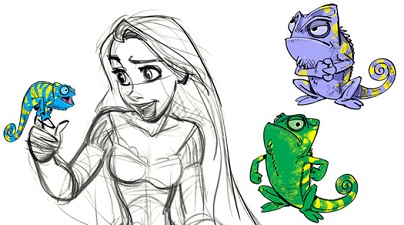 AV: Can you tell me about your sources on the book and their beauty?
JK: Tangled was in development for several years, and has a huge inventory of concept development and design art. Although we did strive to represent some of the earlier concepts, our focus was on the film that actually got made, so readers will see an abundance of materials in a variety of media. One of the biggest challenges was the dilemma of abundance–deciding what to leave out was the hardest part of all.
Glen Nakasako of Smog Design, Inc. did a masterful job with the book, and created a design and relationship between the varied art elements commensurate with the skill and beauty of the art itself. He is a monumentally talented designer.
AV: Can you tell me about the most inspiring meetings you had in the making of the book?
JK: I am such a fan of Disney Animation, and admire these people so much, every meeting provided inspiration on a different level. Certainly Roy Conli, the producer, who has been a friend for many years, made me feel welcome and comfortable as always. Nathan Greno and Byron Howard were so sincere in their desire to make a great film, and so articulate about their hopes, fears, and aspiration for what they were doing. Everyone on the production team was cooperative and enthusiastic (to varying degrees, too–no sense of a "Company Line" being followed), and a few of them, such as Claire Keane, Vicki Ying, and Dan Cooper, were truly refreshing to meet.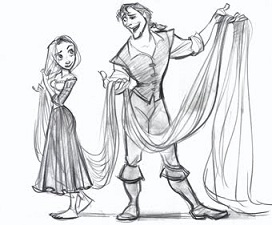 AV: In your acknowledgments, you mention Glen Keane, Eric Larson and Dave Smith (among others). Can you tell me about your relationship with those gentlemen?
JK: I have known Glen Keane for about 20 years, and he continues to be the soul of inspiration. A gentle, quiet, spiritual man of enormous depth and talent, I find myself inspired every time we talk. He is learned without being patronizing, wise without being pretentious, and humble without knowing it.
One of Glen's early mentors was Eric Larson, one of Walt's "Nine Old Men." I don't know if Glen even realizes how much of Eric's legacy he carries on, but he has the same mentoring qualities and a true desire to help people, with a quiet but authoritative hand. Eric was the very first famous Disney person I ever met, back in 1979, and we remained friends until his death a decade later.
When I went to visit Eric at the Studio in 1979, he introduced me to Dave Smith, and we became fast friends. Dave has ever been a support and mentor, and over many years has provided priceless guidance and insight on many dozens of projects and issues. His encouragement has helped form the careers of many who have made Disney and its history and culture a part of their livelihood. He will be very much missed in the Archives, and will never be replaced.
AV: What are your projects?
JK: I am currently consulting with Disney Theatrical Productions on a variety of efforts, and am a consultant to The Walt Disney Family Foundation, working to develop several new projects. I am in the beginning stages of a new book project with Thomas Schumacher, president of Disney Theatrical and author of How Does the Show Go On? An Introduction to the Theatre. I am also writing a novel based upon my experiences adopting an at-risk child, and a children's book inspired by my oldest son.
---
---
With all our gratitude to Jeff Kurtti and April Whitney