French-born artist Laurent Ben-Mimoun has contributed matte paintings and concept art to a host of Hollywood films including The Day After Tomorrow, Around the World in 80 Days, Peter Pan, The Two Towers, The Fellowship of the Ring, and Pearl Harbor, among many others over a 10 year career. For Disney's Tangled, he brought his amazing talent and culture to building of the aesthetics of the film.
So let's meet with an artist extraordin-hair!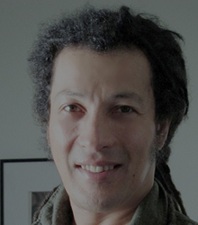 ---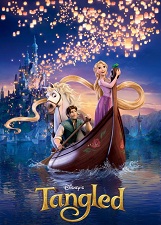 Animated Views: How did you get from Toulouse to LA?
Laurent Ben-Mimoun: My first stop was in London. There, I had the opportunity to work on American Tail II. It was a great experience to be a young artist in an animation studio. I learned a lot amongst so many talented people. During that time, computers became available to artists. Knowing my interests in learning new technology to make art, a friend, Christian Hogue, gave me the chance to try a new software called Photoshop. He offered me a position in his company, at the time he was working on a film called Lost in Space. You have to remember that animation drawings were first photocopied on cels, painted on the backside and then placed on top of backgrounds also painted with gouaches or acrylics…
In order to be able to do any kind of digital manipulation, they had to be scanned. It was a must to bypass this tedious process and to paint directly in the computer. After this, I was noticed by the production of Seven Years in Tibet. They had shot the movie in Argentina, the challenge was to make it look like Tibet. We created for them some of the first digital matte paintings. Because of the quality of the visual effects, I had the opportunity to come to work that year in the US. It was 1997. I have lived here ever since. I also spent two years in New Zealand to work on the first two Lord of the Rings movies.
AV: What is the most interesting project you've had to work on so far?
LBM: Every project is different. I like the challenge and especially, i like a project that offers me the most creative freedom. I had a lot of creative freedom at Disney. Most days, I was briefed by the art director but sometimes, I just came up with stuff straight from the pages of the script or the story board frames. A lot needed to be done. It's the great thing in animation: everything is created. I find this very engaging and interesting.
AV: What was the most demanding project you've had to work on so far?
LBM:It's always demanding and never easy to work in this industry. It becomes worst when the work week extends to 60/70 or even 80 hours.
AV: Do you think filmmakers rather come to you because of your technical expertise or because of your own style and personality?
LBM: As far as visual development, they like what they see in my portfolio, so yes it's both style and expertise. My skill set allows me to copy other styles and hopefully transcend them, for example, Fragonard in the Rapunzel version of the movie. Personality plays a great part as well as a flexible approach to the job, I can come up with many different ideas for designs. In the end, they all can be rejected and I have to come up with new ones, reiterate some, until the desired result is achieved. It's a team effort and that's what I enjoy most. So yes, in this particular case being French. I have been to these castles I'm drawing from, I have walked and felt these places. I generally study thoroughly the architectural, cultural and historical characteristics of the time period. Above all, your imagination is the driving force behind any kind of creativity.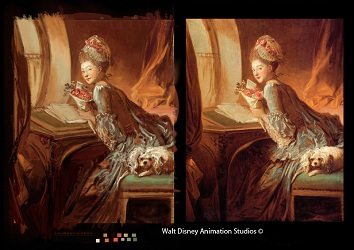 AV: At what stage of the production of Tangled did you get on board?
LBM: I got on board when it was called Rapunzel, in the early stages of production, all the way up to the beginning of Tangled.
AV: What interested you in the project?
LBM: I needed something different when I came across the project and the attraction was mutual. I do like animation, one of my first loves. After working for a long time on live action movies, I thought it was a great opportunity to go back to animation and work in such a renowned studio.
Everybody has drawn Disney characters or at least I did at a younger age. It's great place to work. Disney provides a highly creative and nurturing environment for its artists. When I was there, I witnessed a cornerstone in the history of animation: Pixar joining forces with Disney animation!
AV: Who did you work with?
LBM: It was Glen Keane and Lisa Keene, the art director then, that got me on board after they saw some test images I created for them. Usually, I do a presentation, the artwork gets printed and I get feedback. It was really inspiring to have Glen comment on my work and exceptionally humbling to have him complimenting me on it as well. By the way, working with him was one of my greatest experiences. It's an immense pleasure to see him draw. It has such a dexterity, a great craftsman and artist.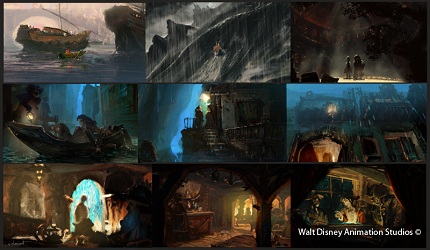 AV: You've worked both in concept design and story development. How come the styles of Rembrandt and Fragonard were needed for this story?
LBM: It was based on the need of the story and the production. The painterly look enabled me to sketch quickly, then I could refine it if necessary. To emulate this look with the digital medium, I added a sepia layer over a minimal drawing and then opaque bright colors on top (impasto). This way, I was staying within the look of the movie. Rembrandt's style was working for the darkest moments, but mostly it was Fragonard we took the inspiration from, during the Rapunzel era. His style was much colorful and romantic. The staging and lighting we thought was very appropriate for a love story.
Beside that, the movie had a lot of similarities at all level. I remember my friend, Stephane Frank, suggesting that Rapunzel's hair should have some kind of power. We had a castle on an island, a bridge and a tower, the fairy tale existed of course long before the movie. We had a dog which was replaced with the excellent character of the horse policeman. They took a turn in the art direction going back to Mary Blair. The architecture was inspired mostly by central Europe , thatched roofs etc…
I must say, when I attended the Premiere, I didn't know what to expect. The movie came up and it was great! I particularly loved the ending of Tangled. The build up was breath taking. You know, every version contributed something to the movie. That's Disney!
AV: From Bolt to Tangled, how do you see the evolution of the treatment of the environments at Disney Animation Studios?
LBM: These are two different movies, my involvement with Bolt was when Chris Sanders was the director, it was then called American Dog. During that time, I was working on Beowulf . Then I went on to do concepts on The Last Airbender movie.
What I can say, I think the medium (CGI) dictates and defines the way the environments and the movie look. I'd love to see movies with a rich diversity of visual styles in the future of animation in general, very stylized but not necessarily cartoon-ish. It's a new beginning with a movie like Avatar. The worlds of animation and live action have merged and the lines are blurred. I think diversity is key, and for that matter traditional animation shouldn't be disregarded either, I enjoyed the movie Tekkon Kinkreet.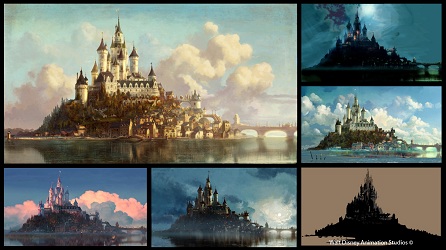 AV: Can you tell me about your work on the Castle?
LBM: This one is not in the final movie. The idea was for Glen to have a renaissance castle on an island, reminiscent of Mont St Michel in Normandie, France. Emulating the style of the "peinture galante" (by Fragonard) was the art direction. That was my brief and from there, I designed the castle and its surroundings. Scene per scene, it was like exploring a new world. Before the pieces were created, working out the logistics was necessary.
For example, to get enough realistic height in the tower, I created a three towers main core for the highest point, to force perspective way up. You can notice this in modern architecture: Century City Twin Towers in LA, for example. They are not square but triangular in shape from the top. When you stand at the foot, they shoot way up in the air. The bridge helped the composition as well. I had to do something that would compose well for the 1:85 aspect ratio format of the film.
AV: Can you tell me about the different castles that you used as inspiration (I kind of identified Amboise, Chenonceau, maybe Chaumont, and a little of Neuschwanstein, but I may be wrong…)?
LBM: Sure, yes you're right, to also keep unity in the design, the references were mostly from the French Renaissance. It's noticeable in some of the proportion, the chubby towers from Chenonceau, for example, were inspiring. Voilet le Duc comes to mind. He has created hundreds of drawings all around France, ranging from collecting architectural details to whole streets and cities, around the turn of 19th Century.
AV: Can you tell me about the pictorial influences in those concepts?
LBM: After researching the period, I decided to develop ways to create the style of Fragonard digitally. This was the challenge, the same approach was taken for the painting of the castle. I always started with the sepia layer, like Fragonard or his piers, etc. From that point on, it helped tremendously to sell the concepts to the director and the production.
AV: How did you manage to translate Fragonard's style in CG?
LBM: I started like he did. Nowadays, the computer serves as a paintbrush. I created a digital pencil/charcoal brush in Photoshop. As mentioned earlier, I then created the sepia layer wash and put my impasto on top. After experimenting, I was able to emulate the style.
AV: What kind of problems that visual style imply when going into animation?
LBM: It would be wonderful if one day, this oil painting technique could be reproduced throughout animation and characters. Everything has limitations, but within these limitations, paradoxically, you can find infinite possibilities. Things are evolving right now, it's an interesting time for animation.
AV: Do you always drawn on cultural references of that kind in your work?
LBM: Cultural references, always, and life in general, it has to tell a story. I enjoy a loose painting style in my own work. I am also capable to create a very realistic style when I work in live action and my matte paintings have to to be super real
AV: What are your projects (as far as they can be shared)?
LBM: I'm doing some concepts and matte paintings for Arthur Christmas.
---
---
---
With all our gratitude and admiration to Laurent for his time and all the documents he kindly provided (©Disney, all rights reserved)
Feel free to visit Laurent's website at www.blueman.ws.