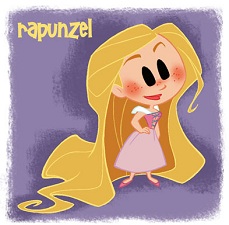 If there's one person who was looking forward to the release of Disney's Tangled, it's David Gilson (Prince Kido to his friends!).
The man is a French drawer and illustrator, specializing in character-designs and mainly works in the small world of animation. After being a student at CFT Gobelins in Paris, he developed his art through various animation studios such as Walt Disney Feature Animation, Ellipsanime, Marathon, SIP Animation, and Xilam, etc…
Passionate about Disney Princesses (which he re-interpreted as "Chibis" – like the cute Rapunzel on the right – which seduced John Lasseter to the point of asking to have shirts – his famous illustrated shirts – made out of David's re-interpreted characters!), he lived a dream-come-true in being able to follow to the closest the production of Tangled, as well as becoming an illustrator for some of the books derived from the movie.
When talent, exquisite poetry, unbounded imagination and fan-ness meet, it can only be David Gilson!
---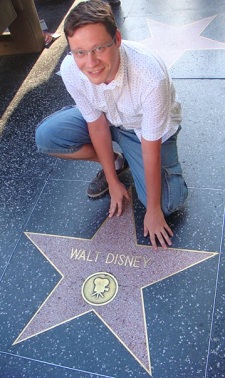 ---
Animated Views: Your path led you from the Gobelins school of animation to Walt Disney Animation Paris. How did that happen?
David Gilson: First of all, years have passed by between the two! I spent two years at CFT Gobelins, I was 18-19. At that time, the Montreuil studio was held by the Brizzi Brothers and was about to produce films such as Duck Tales and Goofy Movie. I am myself rather a fan of the classic movies than of those characters. And most of all, I didn't feel ready to go there. I was born with a gift for drawing. I liked Disney, of course, but not Disney only. I wanted to experiment all kind of things like comic book. So, at that time, the Disney studios went to us, at Gobelins, and some of us, at the end of their assignments, went to Disney…but not me!
I started in animation at Saban's. I designed secondary characters on the Achille Talon series. Meanwhile, the Montreuil studio began to expand and when I heard that they were working on The Hunchback of Notre Dame, I became interested. I started training in view to enter the clean-up department since there wasn't any visual development done in France. I sent them my resume. At that time, they were working on Hercules. It took some time since they had received a lot of resumes. From then on, I had to pass a test – I was fortunate to get one on Ariel, whom I knew by heart! – and soon after, they told me I could join.
That was in April 1997. It was the time of the pre-production of Tarzan. Glen Keane was there and they were doing animation tests. We were four rookies coming after a few months training. We were assigned each to one person at Clean-Up, who gave us shots of different Disney characters, in order to practice. In September-October, I got involved in the movie. I became an inbetweener. Actually, we were displayed in mini-teams with a chief assistant who gets a shot and then does the key poses and dispatches all the drawings to do between the different inbetweeners and breakdowners (the ones in charge of unifying the animation).
One of my first shots to clean up was the famous scene where Tarzan is surfing on the trees, which was largely used in the trailers. We knew it was an important scene because of the Deep Canvas process which was revolutionary then. It was a long shot, everyone at the studio got a part of it to do, and I got the end of it.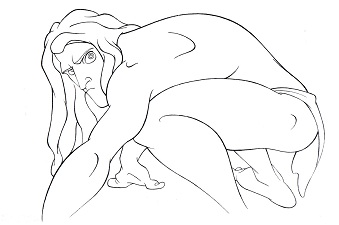 I stayed almost two years at the studio, working with great animators, people I knew from Gobelins and people who had been working there for several years, way before working on Disney production. We worked on adult Tarzan and Sabor. I had a lot of scenes with Tarzan and Jane, many close shots with subtle things, complex things to do (since the drawing mustn't shake on screen). Sometimes it was though and some shots had to be re-done several times.
That's just two years of my life, but I consider that was one of the most important experience in my career, because it was one of my dreams – working at least once on a Disney feature film – and because I learned a great deal in little time. I came to meet artists, hugely talented animators, and to attend English, drawing, anatomy and sculpting classes. A lot of artists from the outside also came to us, like comic artists or artists from other animation studios. And there was Glen Keane – he was just bringing his paper and pencils and explained to us how to draw Tarzan. That was unique!
AV: How was it, meeting Glen Keane?
DG: In fact, I had met him before getting hired by Disney. I was at Gobelins. The school has a tradition of producing trailers for the Annecy Animation Festival and I proposed a project on Little Red Hood that was accepted and that became one of the most emblematic trailers of the school. So, we got to the Festival, where Disney was represented, notably by Glen Keane. As we had seen him, my friends pushed me into him since I was the only one who could speak English. But Glen was along with his wife, Linda, and I didn't dare disturbing him. Because of my hesitation, we lost sight of him, and my friends got mad at me! Yet, at that very moment, Glen and his wife were standing just behind us and understood we were talking about him. So, he came to us and spontaneously gave us an appointment for the next morning, for breakfast. We couldn't believe it! The next day, he was there and we talked about everything with him, mostly about his passion. And he hasn't changed since then, he's still passionate. And so humble!
At that time, he was researching on Pocahontas, and as I've always been a fan of Disney heroines, he drew me Pocahontas. It was a great memory, and the drawing is still framed at my home. And when I first came to Montreuil, he recognized me! I have a lot of memories with him during the production of Tarzan. During the first months, I was in Heaven…then it's everyday life…"Hello Glen!", "Bonjour David!"
I remember that his daughter, Claire, who did wonderful concepts for Rapunzel, was heading towards becoming a costume designer and it happened that, in my portfolio, there was a drawing that was close to stylism and Glen would remember about it… So, he came to my office, almost shy, asking me if it were possible to borrow that drawing to show it to his daughter!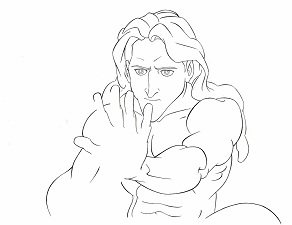 AV: How did your experience in Montreuil end?
DG: You have to know that, at that time, Disney was running out of budget in hiring a lot of new talents and in investing in new material. The result was that, in the end, everyone under short contract knew they had to leave the studio at the end of Tarzan, and so did I. That was not easy since, at that time, we had to work even more thouroughly. The three or four lasting months, I often worked 9-10 hours a day with my fingers hurting me. It was so sad when everyone had to say goodby. I wasn't expecting a career at Disney, but I would have loved working on two or three more movies. During the last days, I was no more an inbetweener, rather more of an assistant animator, which really fit more to my personality. Some of us were called back later to help on New Groove and Atlantis, but since I'm somehow a perfectionist, I don't draw fast enough to Disney's requirements, as mentioned in their feedbacks.
So, I left the studio end January 1999, but as I was noticed as being gifted in matters of design and character design, I was adviced to send my portfolio to the American studio. After a while, it was sent back to me with a note saying I was good enough for them, but that, because of the crisis, they wouldn't hire foreign artists. Anyway, I wasn't sure to be willing to go work abroard. Meanwhile, I worked a lot in Europe, up to the Magic! series.
AV: Can you tell me about your experience regarding French animation?
DG: I've worked with several French animation studios, mostly as a character designer, on projects or on production. I'd say that France is a peculiar country from this viewpoint. A project is greenlit by a producer – nowadays, mostly TV channels, which wasn't the case a few years ago. So, TV has its input on it and can easily ask to change everything. That's kind of unfair regarding the artists since TV channels are competent to talk about marketing, but not really about art. That said, from the moment the project is greenlit, everything goes pretty fast. The design is set…far before the story, whereas you'd better have a story well set to create a world visually from it.
That creates production issues because you hire people and then you have to fire them since there's a production hiatus to solve problems. Then you want to call them back, but since they're freelance, they're not available anymore. That's specific to France. The consequence of that is that US and Japanese productions seem far better conceived, with true stories and true emotions, whereas rarely are you touched by a French series, despite the talent of the writers and the artists. That's the reason why I decided to begin working freelance, because that's a very frustrating environment. After initiating dozens of projects that led to nowhere, you kind of feel you've been used for nothing ; and when you love drawing, you feel you loose your time and talent.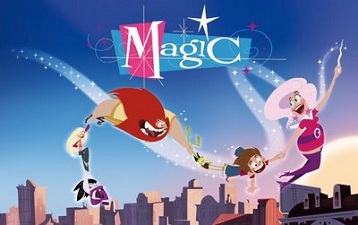 AV: One successful project of yours was the animated series Magic!
DG: I was head character designer, managing a whole team. Basically, the design was by Arthur De Pins, and since I was often told my style was kind of close to his, I was hired when an artist left the project. There was a lot of pressure since there was a young director, Charles Vaucelles, who had worked with Xilam Studio for a while and who directed for the first time. Thanks to his rigor, I was able to learn a lot, to be more synthetic or more graphic, and that's how I ran the character design department. I created most of the secondary characters, improved some of the main characters, and went into storyboard.
That was a very intense part of the process, very interesting since you have to capture at once the attitude and the expression of the character – and I'm pretty good at that! I also worked on drawings for the marketing campaign of the series. I loved the series, but in the end it was so exhausting and demanding. At many studios, the working conditions are difficult. There are a lot of ego problems and it's not easy to find your place. Can you imagine certain studios don't even tell you when the series is broadcast? So, as the years went by, I realized I didn't fit that kind of environment and today, I'm more inclined to do things in comic books and illustration.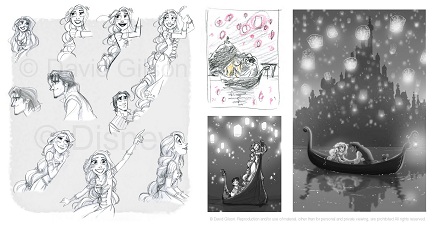 AV: As with Tangled, for which you illustrated several books derived from the movie.
DG: I happen to have good friends at the Disney Studios, notably Byron Howard, one of the directors of Tangled and Bolt. We've known each other for several years. We kind of have the same approach to drawing, humor, spontaneity and freshness, things that seem important to us. He's someone very positive and kind. We do get along on the artistic level and we realized that it was the same on a more personal level. We became friends, a sincere friendship. Hence I followed all of the Bolt adventure, that was being produced at the time and I met with John Lasseter. I heard almost imediately about Byron being appointed director of Tangled following his excellent job on Bolt.
Being myself a fan of Disney heroines, and especially Rapunzel, whom I'd been waiting for ten years, I couldn't believe it! Byron, the director of the film I was anticipating the most, that was so great for me! Then, you can imagine my desire to work at Disney, all the more since I had learned that some non-American artists like Harald Sieperman (character designer on Tarzan, Brother Bear or Enchanted) could have been hired without leaving their country. But Byron told me that was pretty difficult by now and that Disney had stopped doing that. He rather suggested I enter via the backdoor, which means through illustration and merchandising.
He put me in touch with Disney Consumer Products and I was contacted about a year ago to take part in the novelization of the movie. I had to pass a (one month long) test. That wasn't easy because there were very little references, but at the same time, corrections were being done by Glen Keane in person! Meanwhile, I got to see the production of the movie in Burbank in September last year, where I re-met Glen, who remembered me! He drew two sketches of Rapunzel for me, one with Tarzan holding her by the hair! That was great! That was the first time I entered the real Walt Disney Studios and I was amazed by what I saw that was going to be that wonderful movie a while later.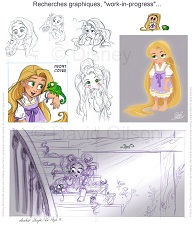 Back in France, I did that test and was contacted by Leapfrog Editions, that publish interactive books for kids, as they wanted to make a book on Rapunzel. That was a very structured and long process. With very specific steps. You work, you deliver and your work is checked by them, then by Disney, then comes back to you and you go to the next step in including the corrections demanded. You start with a rough drawing, then you stop, they correct, then you go to clean up and the drawing is corrected and then we go to color, etc. That's really interesting.
Then there was another project with Disney Europe, based in London, on Rapunzel's childhood, which never made it, though for financial reasons – they needed to make little interactive dolls in China and it proved too complicated. In the end, I contributed to two books among the amount of books that accompany the release of an animated film. I was thrilled because it allowed me to come back to Disney and to bring my modest contribution to the movie I love so much.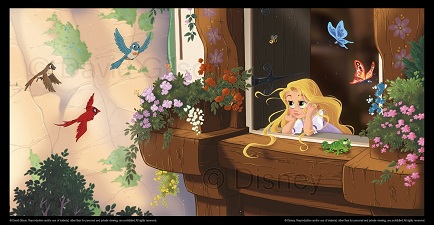 AV: What were your references to creating those drawings?
DG: I got everything, all the concept art and even more! For instance, I have everything that is in the tower, all the tiniest details of the decoration and the furniture. That's incredible! I treasure all that…and I signed tons of confidentiality clauses before getting on board! As for the characters, that was a little trickier since the production of the books was being done before the movie was finished, hence some mistakes in the books derived from the film. The clothes are different, the proportions of the faces and the colors of the eyes.
Considering the deadline of the movie, its creators had to change things almost constantly. I thing the last change to the characters was May-June 2010. I got the models end April, early May, so they weren't complete yet. Fortunately, Byron was there to help me go in the right direction. He told me the details that were gonna be changed, the mouths, the dress, etc, and plenty of details about the story like scenes that were gonna be deleted. I was very fortunate, so, since I could update my work, even before Leapfrog!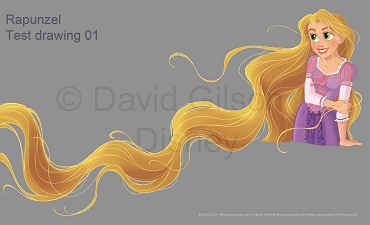 AV: Indeed, the final film is so different from what was first presented to the audiences, some time ago, with a squirrel instead of Pascal.
DG: First of all, Pascal was to be blue, then we got to green. They made tests so that he didn't have too many colors since he's so small and had to be clearly seen on Rapunzel's shoulder, with the hair and the purple dress. Since he's a cameleon, it allowed them to have him go through different colors all along the movie, but in a very balanced way. What's nice about Tangled is that you don't have the sempiternal sidekick spoiling the whole story. At the very beginning of the production, there wasn't any sidedkick at all. But we were several to convince Byron to have one, anyway.
They searched different animals, a crow, an owl, a ferret… Ultimately, Pascal proved to become Byron's Jiminy, all the more since one of his friends and colleagues owns a true chameleon named Pascal! That said, I liked the idea of the squirrel on Rapunzel Unbraided. The idea was to have to teenagers from our world that would transform one into Rapunzel, one into Bastion. Actually, in the sneek-peak presented at the beginning, the young girl was the teenager girl and the squirrel was the true Rapunzel transformed. And, as for Glen Keane's original vision, it was much darker and much closer to the original tale, and visually inspired by Rembrandt.
Tests were done to see if his style and Fragonard's would fit to animation, using a developed version of Deep Canvas, created on Tarzan, but it proved more complicated than expected. The result was pretty neat on fixed images, but less convincing in animation. Maybe in a few years, on another film… And most of all, Glen Keane suffered health issues and had to quit directing. He was glad about that, relieved. Also, the time is different. When you think "animation" now, you think Ice Age, not something dark. At the time, at the Studio, they pretty much compared Rapunzel to Hunchback of Notre Dame. I think that, ultimately, the Studio found the right tone.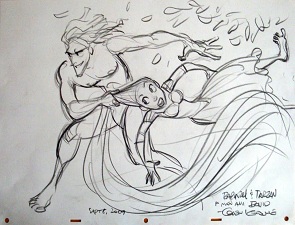 Some years ago, I have to admit I had my doubts about the film when I heard it would be CG, since I prefer hand drawn animation (even if, since Ratatouille, we've seen we could do interesting things in CG!), while waiting for it with great anticipation since I knew Glen Keane was on it. I knew he was to animated another Disney heroine, which he hadn't done for a long time. I was looking forward to Tangled first of all because I love Disney's female characters. When Little Mermaid was released, I was 16-17, I was in High School and I wanted to make comic books. But I went to animation at Gobelins because of Ariel!
Now, I can watch the film over again, see all the mistakes, and yet, be attached to the character because that was the first time we had a Disney heroine who had such personality… and such hair (I love hair!). And, in the movies produced afterward, even if I wasn't so much found of them, there always was a great heroine. Tangled was all that for me: with Glen Keane, I knew it would be strongly emotional, and it was a story about hair! And then there was Byron! And I was totally convinced by the result. You recognize Glen Keane, and the hair is remarkably animated thanks to CGI. I love the colors, too (we went from green to purple – my favorite color – for the dress!)
Now, the Studio seems to want to explore different universes, which is great, but I'll always have a soft spot for Tangled!
---
---
---
Be sure to visit David's website. All material ©Disney. Thanks a million, David!.