Whether you're a Disney oriented book reader or a DVD/Blu-ray buff, you can't have missed Jeff Kurtti. A renowned Disney historian, he's the author of more than 20 books, notably on Disney Animation and Imagineering, that have become references. He's also a director/producer of some of the best supplements you can see as bonus features on Disney DVDs.
Now, he's the author of the most anticipated Art of Princess and the Frog book, featuring the lush concept art and illustration that inspired the film's animators, through character design, storyboards, full-color pastels and intricate scene sketches, along with behind-the-scenes stories and insights from the film's creative team.
It's been our pleasure to have Jeff Kurtti answer our questions in an interview that we imagined just like the bonus features of the book…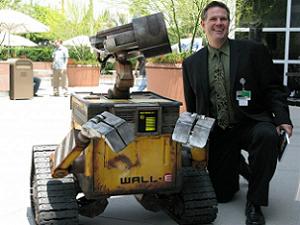 Backstage Disney: The Making Of The Art of Princess and the Frog
Animated Views: What interested you in writing The Art of Princess and the Frog?
Jeff Kurtti: I have been a fan of Disney Animation since childhood, and have written several animation-related books in the past, so when I was asked to write The Art of The Princess and the Frog, I was naturally both flattered and excited.
AV: You started working in the field of Imagineering and Disney parks. What led you to animation (through documentaries and books)?
JK: I started working for Disney in those fields, but my interest in Disney has always been culturally much more broad. As a child, film and animation were actually much more accessible to me and much easier to research, so my earliest Disney studies were Walt and Studio biographical, and animation-based. It was only later that I began to expand into true study of Disneyland, then Walt Disney World much later.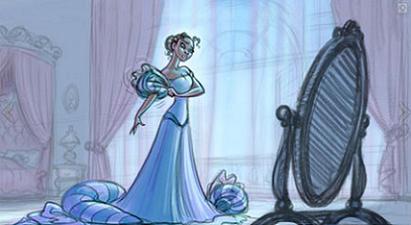 AV: When did you start becoming aware and interested in the Princess and the Frog movie from a personal point of view?
JK:I think like most fans of Disney animation, my interest began when I heard that Ron and John had been brought back to Walt Disney Animation Studios after being let go for a period of time. I knew that such a move was not without intent to use their talents, and those talents being what they are that they would emerge with an interesting new project.
AV: At what stage of the making of the movie did you start working on the book?
JK:I began in the fall of 2008, a little more than a year before release.
AV: How long did you work on it?
JK:My friend Richard Sherman has a response to a similar question when people ask how long it takes to write a song: "Your whole life, plus the time it took to write it down." Having studies animation for decades, and written books and produced documentary material on scores of titles, there was a lot of preparation that had nothing to do with actually writing the book.
I spent a few weeks interviewing more than thirty of the production team members, and then several more weeks crafting a manuscript. Then there was a lengthy editorial process as the manuscript was revised and crafted to address the needs of the book overall.

AV: How did the interviews go with all the Disney artists?
JK: In many cases, it was a really happy reunion with people I have met, worked with, or known before. The atmosphere was welcoming and convivial, and everyone was genuinely enthusiastic and optimistic about being back making a hand-drawn feature at Disney.
AV: Did you have carte blanche to choose whoever you wanted to talk to?
JK:The producer and directors chose the key members of the team for my interviews, their guidance and viewpoint was essential, otherwise I would be flying blind, and working a lot harder, to suss out who the right voices and perspective for the right production areas.
AV: Can you tell me more particularly about your meetings with the creators of the movie?
JK:I have worked with most of these artists on previous projects, and it is always fascinating to sit and talk with them. Watching the team dynamic between Ron and John is interesting, their way of sharing a conversation gives a good insight into how they work as a team, how their minds work together, and where they overlap and diverge to create the successful duo they have become over many years and many projects.
I noted that the majority of the people I spoke with, in addition to their talent as artists, spend a lot of time in study and thought about what they do, how they do it, what it means. Not just pushing out production footage, but really getting inside the process, technique, cultural values, and historic importance of what they do.
It makes it a pleasure to interview them, and the depth of dialog and insight we can share, and pass on to the reader, has more to do with their encompassing perspective and perception about their craft than a simple Q&A interview.

AV: What kind of ambiance did you feel when you met the artists? Did you feel some special excitement about the film?
JK:There was a genuine sense of excitement and optimism, and also gratitude. Not only for being able to again work on a Disney hand-drawn feature, but also to be working with an all-star lineup of talent in that craft.
AV: What kind of material did you have access to?
JK:Pretty much everything generated for the film. In most cases, I left the decisions about art to the filmmakers and the book designer, as their input was equivalent to mine in terms of the final product. In the case of an Art Of… book, in fact, it is more important than the text, the text should be in place to serve the art and create context for the reader.
The book designer, Glen Nakasako of Smog Design, Inc., did a really remarkable job, both in terms of organizing art and creating his own harmonious internal design for the book itself.
AV: At some point in the book, Don Hall says that the beat board didn't have any text because the story was primarily to be told visually. Can you tell me about the visual strength of the movie?
JK:Typically animation is a visual medium, the basic story beats work out in advance of or simultaneously with the script or dialogue. It's one of the reasons animation is such an international art form. Ideas are communicated through shape, staging, color, and light.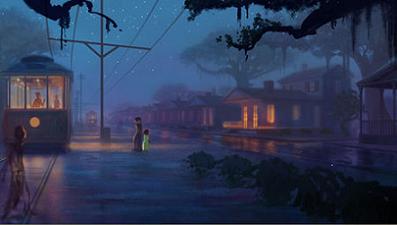 AV: There are many ways to approach the making-of and the art-of a movie. You chose to organize our voyage geographically, from New Orleans to the Garden District, to the Bayou. How did you come to that (brilliant) idea? Can you explain why and tell me more about it?
JK:The idea actually came from the initial book editor Sarah Malarkey, and it made sense as an organizing principle since the settings are so fundamental in supporting the story and characters. Each setting also provided a natural way to organize both the roll-out of the characters ad the film's art processes, too.

AV: It is much said that Princess and the Frog goes back to the great Disney classics. But I prefer the way Ian Gooding puts it at the end of the book, saying that they were "trying to reinvent everything." It's not just about rediscovering the tradition, it's really about reinventing it. From what you perceived during the making of the book, from your meetings with the artists, please, would explain that statement?
JK:Since hand-drawn animation as a process had evolved, in its most recent incarnation, from the mid-1980s, there was a certain level of production process that had been locked into place. When Disney shut down hand-drawn, everything involved in that process was dismantled, up to and including animator's desks and animation paper.
So, in addition to rediscovering the tradition, the filmmakers had both the responsibility to re-establish the overall production procedure and the luxury of conforming what had, to many people, become a cumbersome process less able to accommodate quick changes and thinking on one's feet.
AV: The artists who worked on The Princess and the Frog drew some of their inspiration from Lady and the Tramp, the last Walt Disney animated film that was intended to be realistic, before the more "stylized" Sleeping Beauty and Dalmatians. So, the end of an era (Lady and the Tramp) helped to the emerging of a new one (hopefully, a new golden age of hand drawn animation). Funny, isn't it?
The greatest advantages that Disney has in the field of animation are the institutional commitment to the medium and the ability to draw on nearly a century of work in that medium for methodology, technique, and inspiration. Each new project to one degree or another draws on some previous work, whether it is a direct examination of technique, or the cultural memory of an artist who saw a Disney film as a child.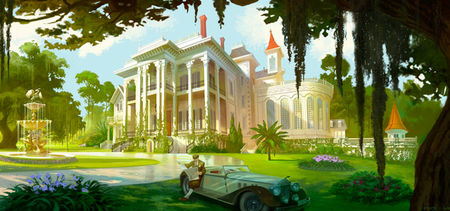 Music and More
AV: Each chapter of your book is introduced by lyrics taken from Randy Newman's songs. In the same vein, the last chapter of your book is called "Coda", which is a musical term, too. Can you tell me about the idea of having such a coda, which is relatively unusual regarding the set up of the other Art Of… books published by Chronicle?
JK:It seemed that there was a need to go beyond the "art" structure and address the culture of the production, given that this film marks a resurrection of sorts, a place for the filmmakers to express what they do with art in a prose medium, and to articulate some of the emotional and legacy issues that almost everyone mentioned or discussed.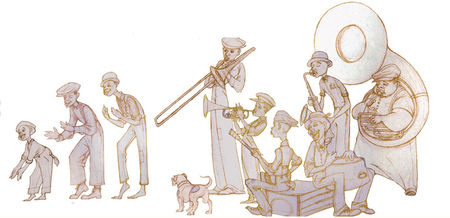 Bloopers
AV:
What was the best or funniest moment in the creation of the book?
JK:For me personally, the best possible moment or moments was the idea of being back at Disney Animation, and being there to talk with Ron and John, Eric Goldberg, Mike Surrey, Mark Henn, Andreas Deja — people I thought a few years ago might never do this kind of thing again.
AV: What were the best moments of the interviews you did?
JK: In many cases, the people I interviewed are so intellectually attuned to their entire art form and its history that we wandered FAR off the path of the production at hand, discussing films and artists decades old, or our previous works together on productions past.

Sneak Peek
AV:
Can you tell me about your upcoming projects, both on video and in the book medium?
JK: I just completed a great work, perhaps my magnum opus, I was the initial Creative Director, then Content Consultant and Media Producer for the cornerstone exhibit at The Walt Disney Family Museum in San Francisco. To be asked on to such a project by Walt Disney's daughter and grandson, and devote five years to telling the story of Walt Disney in a way that will speak to generations was simply thrilling.
I am now working on some big projects for my friends at Disney Cruise Line and their spectacular new liner, Disney Dream, which launches in January of 2011, and I am doing a book on the ship for Disney Editions as well.
Finally, right now I am working on The Art of Rapunzel for Chronicle Books for release concurrent with the all-new animated feature next December.
---
---
With all our thanks to Jeff Kurtti and April Whitney at Chronicle Books. All artwork ©Disney Enterprises, Inc.
Photo of the author courtesy of Jeff Kurtti. All rights reserved