Metro-Goldwyn-Mayer (1940-2005), Warner Home Video (June 22 2010), 2 discs, 223 mins plus supplement, 4:3 (native 1.33:1 and reformatted widescreen – not anamorphic 16:9), Dolby Digital Mono, Not Rated, Retail: $26.98
Storyboard:
The immortal cat and mouse's career is snapshot in this ultimately disappointing collection of shorts and episodes from their long running feud.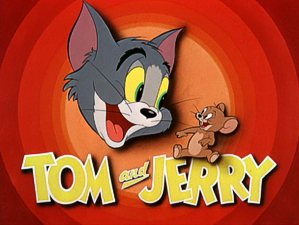 The Sweatbox Review:
Right up front it has to be said: I'm really not sure what Warners' thinking is behind this rather quite strange collection of Tom & Jerry cartoons, but the bottom line is that Bill Hanna and Joe Barbera's cat and mouse have still not been treated to the kind of DVD respect that other characters under Warners' more watchful eye have been awarded. In short, after a slew of barely remastered, poorly thought out "Spotlight Collections" (those non-chronological sets that used censored prints of non-restored cartoons) and numerous one-shot "best of" compilations, where are what fans are really clambering for and have been waiting (and waiting) patiently for: complete retrospective collections that the likes of Popeye and others have enjoyed in the past and, indeed, as appeared back in the LaserDisc days?
Supposedly, this Deluxe Anniversary Collection offers the "cream-of-the-crop" picks from the duo's long career, taking in Hanna-Barbera's original theatrical animated shorts, through later TV incarnations, to Joe Barbera's last outing produced for the Cartoon Network. But the puzzling choices begin right with the package in one's hands: what is a Deluxe Anniversary Collection and which anniversary is it celebrating, exactly? With no markings anywhere as to what number has been plucked from the sky to label this a commemorative set, I suppose we must assume that it's their 1940 debut, Puss Gets The Boot, that sets this collection apart, so why not just be plain about it and slap a "70" on the box?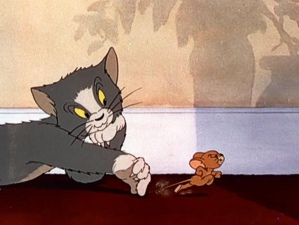 Other details frustrate also: the choices for the cartoons feel a little "basic", the first disc featuring but a handful of shorts accompanied by Tom & Jerry's seven Academy Award winners and another handful of CinemaScope cartoons (though not all in their widescreen ratios). Although personal opinions will always come into play with a selection like this, there are far better cartoons than the pair's seven Oscar successes, and it feels like an easy way to fill a disc by grouping them together rather than really going through and picking the true "cream" from the crop. Anyway, let's look at what's included, and you can make up your own minds: first up is the aforementioned Puss Gets The Boot, which came so early in Hanna-Barbera's MGM careers that it is actually labelled as a Rudolf Ising production, and neither character is named as we know them. The cat is called "Jasper" and has a distinctly more tabby appearance, while the mouse already has the features that we recognise as Jerry, (in fact, he would be the character who, over the years, changed least).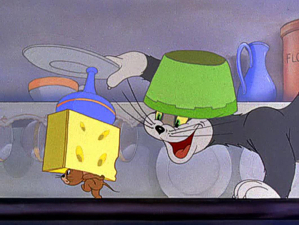 Nominated for an Academy Award, Puss Gets The Boot, really is a great cartoon, and it's easy to see how the duo were awarded their own series, which began with the next title in this set, 1941's The Midnight Snack, the first "true" Tom & Jerry cartoon, as announced by the title card and Hanna-Barbera's directing credit. The long-standing preoccupation with food makes an appearance in this one, when Tom catches Jerry raiding the refrigerator, and the short has all the production values we expect from a cartoon of this period. Tom's look is a little more rounded and it is clear that there is a lot of mileage to be had from these characters, as was evidenced in 1942 with the series producing no less than five animated shorts.
A trio of them are included here: Dog Trouble seems to have been featured because it sees the first appearance of Spike the dog from next door, while Fraidy Cat has Jerry acting on Tom's scared nature after listening to a spooky radio show. In later cartoons the dog would more often than not be on the side of the mouse, but in this one he is brought into the house itself, so both Tom and Jerry team up to take him on – finally getting him thrown out. Puss N' Toots, another play on words title, has Tom trying to romance a pretty female feline, while Jerry sabotages his attempts by rigging a record player to malfunction with Tom stuck to it – but missing is The Bowling Alley Cat, one of the most brutal of the early T&J cartoons, but still one of the funniest.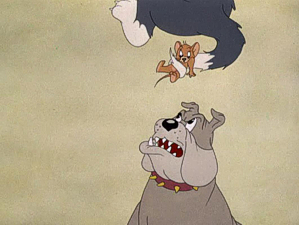 In 1943's The Lonesome Mouse, Jerry finally gets Tom thrown from the house but soon becomes bored with the quiet life, so the two join forces to get Tom back in and up to their old ways. In the same year, after a couple of attempts, a T&J cartoon finally won an Academy Award with Yankee Doodle Mouse. This edition comes from the hastily reissued print which announces the win in the title card, though I still find Yankee Doodle Mouse to be a quite routine short; the wartime bent, clever army parallels and simply hysterical sound effects probably having something to do with its win. In Mouse Trouble – their second Oscar winner, from 1944 – is very much in the style of stable-mate Tex Avery's films in terms of pace and gags. This time, Tom takes tips from the book How To Trap A Mouse (a Random Mouse publication, naturally) but finds it no use when up against a mouse of Jerry's strength and will!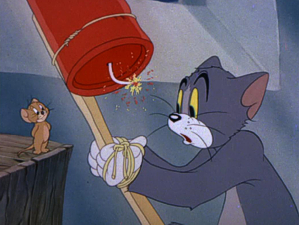 Mouse In Manhattan is a rare mouse-only cartoon, with Jerry heading for the big city in a short reminiscent of Disney's The Country Cousin from 1936, which features a number of similarities, though the perspective backgrounds are very effective and reminded me of the detail put into the layouts for Max Fleischer's 1941 feature Mr Bug Goes To Town. In proof that the cartoons here are actually uncut, there is one "blackface" gag that plays its part in earning this set's "intended for the adult collector" disclaimer (other elements throughout include the original Mammy and some typical wartime humor). Their next Oscar winner, Quiet Please!, plays on a similar premise as the earlier Million Dollar Cat (not included here) by having Spike warn Tom against making any noise while he tries to get some shut-eye, although obviously with a set up like that, Jerry can only but try and wake the bulldog up and get Tom into more trouble!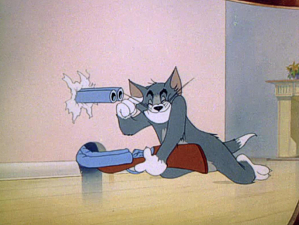 Another odd, non-Oscar winning choice is The Milky Waif, an okay 1946 outing but nothing spectacular apart from noting the introduction of little mouse Nibbles, while missing is a personal favorite, Cat Fishin'. The set glides over other, better cartoons to include The Cat Concerto, which I've personally never understood how it went on to win an their fourth Academy Award. Several ideas from the T&J cartoons would later be used by both Hanna-Barbera themselves and by other animators, but the series also "borrowed" much from other studios, and despite going on to become one of the most cherished cat and mouse shorts, The Cat Concerto is a direct copy of the Bugs Bunny cartoon Rhapsody Rabbit, directed by Friz Freleng the year before.
The basic set up for both cartoons is simple: Bugs/Tom portrays an acknowledged master pianist primed to give his greatest performance of Liszt's Second Hungarian Rhapsody (forever to be associated with the manic cartoon output of animation houses everywhere). As he prepares and finally settles down ready to play, a little mouse makes things impossible for him by pulling on the strings inside the piano, slamming the shutter on his hands and generally running amok. While I agree that the concept is best suited to the established Tom & Jerry double act, the fact that this cartoon came so close to Bugs' earlier effort and then went on to steal an Oscar puts me off the short, and however funny it may be, the Freleng version remains the more frantic and heated battle.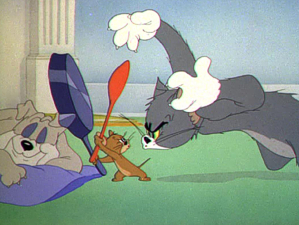 A much better example, and a rightful Oscar winner this time, is The Little Orphan, one of an incredible seven titles from 1949 and a Tom & Jerry cartoon that works well on all levels, also featuring Nibbles again, and once more bringing food into the equation as the reason for another battle of wits to begin. As the series progressed, T&J's world was developed a little more, taking them out from their house-bound antics and opening up the possibilities by placing them in new locations and situations. This set skips over another number of classics (The Truce Hurts, Jerry's Cousin, Little Quacker) for Saturday Evening Puss in which the tables are turned when Tom's rowdy friends this time disturb Jerry's sleep.
Nibbles returns for one of T&J's most lushly designed cartoons, The Two Mouseketeers. Again a fight over a table chock full of food, this deserved 1952 Academy Award winner has our principal cast all dressed up in Musketeer outfits for an epic banquet battle! The following year, Johann Mouse was another piano-playing Academy Award winner – T&J's seventh and final – and a departure in a sense from the usual design in its very nice watercolor production values. Set in the very home of the composer of The Blue Danube, it's also no surprise that this is what Tom decides to play in a bid to lure Jerry from his mouse hole – in a style only he can, of course!
1954's Touché Pussy Cat! also harks back to past glories when the Mouseketeers of Paris are brought back for another duel against Le Tom Cat – BUT despite the packaging's claims that this cartoon is presented in widescreen it unfortunately uses the same old pan-and-scan print as earlier editions after a letterboxed main title opening…shame! We should be in anamorphic widescreen for the next short, That's My Mommy (where by which time Hanna-Barbera had adopted the surrealistic and very stylised approach that many studios took to their widescreen films in the mid-1950s), but That's My Mommy, another Little Quacker short following Jerry's attempts at keeping the little duckling safe from Tom, after letterboxed titles is again presented from a pan-and-scan transfer – what's going on with this release!?
On the LaserDisc sets, these widescreen cartoons were a revelation to finally see in their intended ratios, and as if the framing wasn't tight enough originally it's only cramped even more here by the pan-and-scan format! Actually allowed to breathe in 'Scope, but NOT anamorphically enhanced as indicated on the packaging, it seems that most of the animation is recycled from Hatch Up Your Troubles (1949) in the next selection, a remake called The Egg And Jerry, from 1958. Although the backgrounds now have the rough-edged 50s look and the character lines are thicker and smoother, this is basically a shot for shot copy of the earlier film, which makes for interesting comparisons in how the new ratio allowed Hanna and Barbera the opportunity to revisit several of their previous shorts, the same year's remake of Love That Pup (1949) being another example, this time entitled Tops With Pops, but the same in all other respects.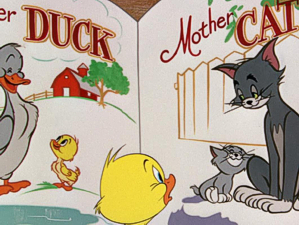 Although Hanna-Barbera continued to produce cat and mouse shorts, including the classic Happy Go Ducky, those films seem to have been deemed unworthy here as, with the move to Disc Two, we go back in time to 1945, when Walt Disney refused MGM's use of Mickey Mouse to appear opposite Gene Kelly in an animated/live-action sequences planned for the musical Anchors Aweigh (despite Disney's mouse appearing in MGM's 1934 feature Hollywood Party alongside Jimmy Durante). MGM's in-house cartoon producers Hanna-Barbera stepped in and offered Jerry instead, and the entire eight-minute animated sequence, combining Kelly and a slightly taller Jerry, who also sings, turned out to be one of MGM's all-time defining moments and a real career highlight for Kelly. Referenced brilliantly in a classic episode of Family Guy where Jerry was digitally erased and Kelly wound up dancing with Stewie Griffin, this is the genuine original, presented complete and uncut (as opposed to the five minutes sampled on the earlier LD) in its correct 1.33 ratio, and although the entire film is available on DVD, this really is the best part of this fun picture.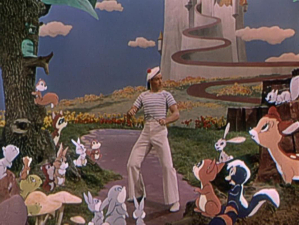 Tom & Jerry ventured into live-action musical pictures again almost a decade later when they met up with swimming sensation Esther Williams in the 1953 feature Dangerous When Wet. Though T&J were appearing in CinemaScope by this time, many of the live-action films remained photographed in the standard Academy frame ratio, and this is how this clip is correctly presented. Running the length of a cartoon short itself, the sequence finds Williams dozing off into a dream that sees her T&J comic book come to life. She joins them in their undersea adventure, which sees the duo rescue her from a preying shark as well as an amorous octopus! The whole thing works rather well, though there are no notes that place either of these movie sequences in context or how this one was achieved. Williams seems to have been filmed submerged in a giant blue-screen tank and is seamlessly integrated into the aquatic animated plates – a great detail is the many hundreds of bubbles that have been hand animated as she twists and turns in the water.
By the early 1960s, with MGM having shut down their animation department and thinking that older, catalog shorts could generate just as much revenue as new cartoons, they soon found that there was still much demand for freshly created films from theater exhibitors, who balked at paying good money for the same old product twice. Bill Hanna and Joe Barbera had left to begin their prolific television output, so the Studio decided a cheap way of continuing the cartoons without the need to actually run a cartoon unit was to lease the characters to Czech animator/director Gene Deitch, who created a short-lived series of such lacklustre shorts that they were all but disowned by the company. Not only is it a great shame that – for completists – those films have not made it to a single disc release of their own, but absolutely none of them are included here.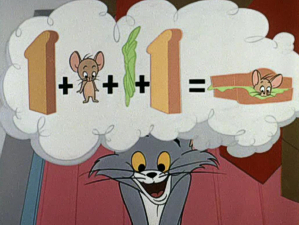 Their lacklustre popularity led MGM to tap Chuck Jones' Tower 12 Productions with the proposition of redesigning their cat and mouse for a re-vamped series. Jones accepted the not so easy task and re-defined their personalities in a Road Runner/Coyote-type light, and their characteristic visual appearance also changed a little to reflect the wry look Jones fans will recognise from such characters as Wile E Coyote and Pepe Le Pew. Here Tom and Jerry are more mischievous, with careful plotting taking the place of a quick and painful revenge. Certainly, these cartoons are of their time, the mid-1960s, but within that range there were also some new things brought to the shorts, such as the idea of spoofing popular trends and other films, which was a popular movie concept at the time when the comic Cat Balloo aped epic westerns and In Like Flint was the Austin Powers of its day, turning the James Bond phenomenon on its head.
This particular selection continues with Jones' first effort, Pent-House Mouse (1963), and one remaining element that has not changed is Scott Bradley's unmistakable theme, here accompanying an entire animated sequence that opens each film, with Tom replacing Leo, the celebrated lion in the MGM logo, sniffing and growling as best he can, while Jerry floats down and plumps himself cosily on top of his name, sliding into the final letter like it was a cocktail glass, though other Jones traits remain: Pent-House Mouse looks and feels like a 1950s Warner Bros cartoon, in particular One Froggy Evening. While Tom lazes about in his stylish top-floor apartment, poor Jerry is desperate for food, leading to the tried and tested shenanigans…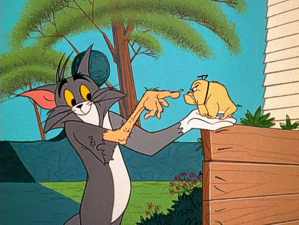 Jones made over 30 theatrical shorts – released themselves in a nice collection last year – but only three of them show up here, the next being 1964's The Cat Above And The Mouse Below, invoking Jones' taste for classical music when "Thomasino CattiCazzaza" attempts to sing the Rigoletto to a packed house, not realising that Jerry is trying to sleep beneath the stage (the cartoon also recalls the earlier 1949 WB short Long Haired Hare). Again, there are better and funnier helpings in Jones' T&J output (Duel Personality, Rock 'N' Rodent, The Mouse From H.U.N.G.E.R.), but this set is content to settle with 1965's fairly routine The Cat's Me-Ouch, featuring a tiny but dangerous mouse-sized bulldog.
Though previous cartoons in the T&J series had been made in CinemaScope, the Deitch cartoons had returned to the full-frame 1.33 ratio, while Jones' cartoons fell somewhere in-between, coming at a time when the majority of films were photographed to a full-frame negative and then matted to a 1.85:1 ratio in theaters. Most of these cartoons are visibly framed so as not to lose any vital picture information if cropped, but in another packaging/presentation discrepancy, instead of the matted widescreen prints used in their Jones collection of last year, Warners have reverted to the "open matte" transfers last seen on the LaserDisc collection of the mid-1990s.
For many, the magic of the Tom & Jerry shorts ended when Joe Barbera and Bill Hanna left the studio. While that is not entirely fair on the Chuck Jones films, it has to be said that it's the Hanna-Barbera shorts and character attitudes we think of when we see "A Tom And Jerry Cartoon" blaze upon the screen. So it was fitting that, in the 1970s when Bill and Joe's television domination of the animation medium was arguably at its highest point, the cat and mouse's original creators would be allowed to work with the characters once more. The Tom & Jerry Show brought them back to the (small) screen, in newly animated adventures that would play back to back in every half hour.
Unfortunately the zippy nature of the original cartoons can't seem to be captured, especially by the painfully limited animation techniques on show in the example selected here, Cosmic Cat And Meteor Mouse, in which T&J's favorite show disturbs Spike's slumber, and they end up teaming to outwit him when he turns the television set off. For personalities that built their reputation on being perfect pantomime characters, it's long (at eight minutes) and extremely talky, and T&J actually don't end up doing much of anything themselves! After a single season, the cat and mouse were retired again until the Filmation studio licensed them for a new show in 1980, which ran for a couple of years and combined other characters from the MGM cartoon line up.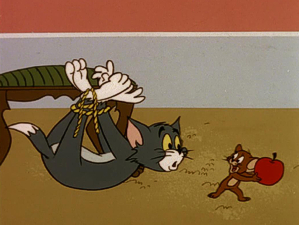 Jerry's Country Cousin, from this period, while not quite capturing the classic attributes, is much better, reverting to the pantomime slapstick (accompanied by some really crazed music!) style and featuring, on more than a few occasions, some pleasingly good animation by television standards. The story is as basic as they come – Jerry's stronger cousin turns up and causes double trouble for Tom – but the largely on-model characters and movement make it fun for its appropriate six minutes. A decade later, Bill and Joe returned to the characters once again, reducing their ages as a new twist for the ultimately insipid Tom & Jerry Kids television project. A single short released as a special, Flippin' Fido, is included as an example here, and although the production values are typically good for 1990s TV animation, I just don't get the "kids" angle: Jerry basically looks the same anyway and, baby Tom aside, this is a routine T&J outing.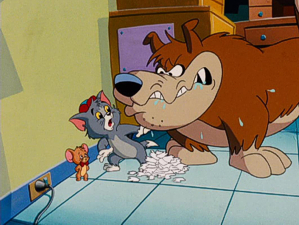 As animation took off again in the 1990s and various studios clambered to match the success of Disney's renaissance, Hanna-Barbera announced the return of their cat and mouse stars back to the big screen, in Tom & Jerry: The Movie. Though Bill and Joe had made successful excursions to movie theaters in the past (including the woefully never-issued on home video Heidi's Song), Tom & Jerry: The Movie was not one of them, and the film isn't even highlighted by a theatrical trailer in this collection. With their merging with the Cartoon Network, the producing/directing pair would undergo their own renaissance of sorts in the 1990s, becoming figureheads for the channel in its infancy and finally coming full circle with Joe co-directing their first short in over 30 years – naturally, it was an old school-styled T&J special, The Mansion Cat (2001), unfortunately not included here either!
Next up for the characters was a switch back to theaters, this time courtesy of Warner Bros. Animation, owned by Cartoon Network's parent company, in the 2005 short The KarateGuard, again co-directed by Joe Barbera. Finally, the magic of the original 1940s animated cartoons is captured again, and the theatrical budget animation allows for the full fluidity we associate with the personalities, even reminding of Disney's Mulan in one character's ancestral special effects. The direction is wild again too, though if there's one element that doesn't quite mesh it's surprisingly Michael Giacchino's music score, which "Mickey Mouses" the action too specifically and doesn't show off the mastery he has developed for such other shorts and films produced under his collaborations with Pixar.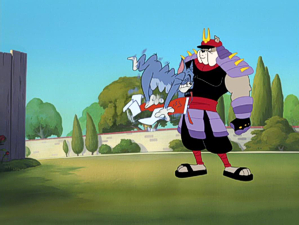 I'm not sure this was the case, but The KarateGuard, in which a Karate practising Jerry's personal samurai styled bodyguard keeps the mouse protected from Tom, feels like a precursor to T&J's current incarnation as the stars of television's Tom And Jerry Tales. The duo has always been popular faces on TV, and a slew of direct-to-video features in the 2000s have never seen them off DVD shelves. Tom And Jerry Tales continues in the current vein of artists wishing to pay proper tribute to animation's golden age, and the 2007 Game Of Mouse And Cat example here proves that as the technology has arrived to allow good-looking cartoons to be produced on lower budgets, the lack of money needn't mean the lack of fluid, near-full animation or imagination: many of the cartoons I've managed to glimpse from Tom And Jerry Tales are clearly a return to form – perhaps the best the pair have performed since the glory days – even if the synthesized music doesn't feel as rich and full as Scott Bradley's orchestra.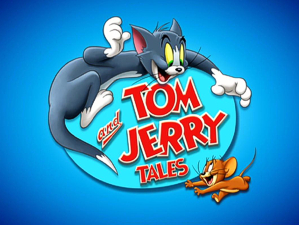 Bringing things up to date with that cartoon closes what I can only describe as a very odd collection of Tom & Jerry shorts. As another basic "best of" grouping, it's a fair enough selection, though as an anniversary celebrating career retrospective it's awfully low on real classics and highlights. The seven Academy Award winners are a plus, even if not all of them deserved the award, but then the screwed up widescreen offerings detract from the overall enjoyment, and the pair's latter, more spottier career is only briefly touched on, again missing some better or more notable cartoons. I can't help but think that, after all the compilations of before, the real fans will have much of this material and, like me, what they really want to complete their collections are the missing Deitch cartoons of the 1960s, not one of which (The Tom & Jerry Cartoon Kit?) is included here. Comprehensive, and ultimately recommendable, this is not.
Is This Thing Loaded?
Listed under the "Special Features" are a number of trailers for other Warner Home Video animation titles, specifically Saturday Morning Cartoons: 1960s and 1970s Volume 2, Scooby-Doo: Abracadabra Doo!, Ralph Bakshi's The Lord Of The Rings and Peanuts: Snoopy's Reunion, while the disc also loads with previews for the live-action Warner Premiere movie Free Willy: Escape From Pirate's Cove (yes, really), Peanuts: 1970s Collection Volume 2, and an understandable "these films are a product of their time" disclaimer that remains unskippable and static onscreen for an agonising 45 seconds!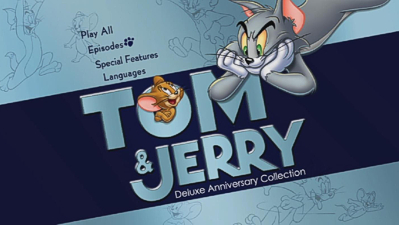 The set's lone true supplement is the 19-minute featurette Much Ado About Tom And Jerry, newly produced by New Wave Entertainment and just about the only reason even hard core collectors should be interested in this set. Narrated by Peter Thomas, the impact of Hanna-Barbera's initial MGM series is clear in the first 10 minutes being spent discussing those cartoons, but there's a wealth of info that's digested into interesting chunks for those that still have to catch up on their T&J history (though one would have thought that's its inclusion on a collector's set negated that need), including archival interviews with Bill and Joe.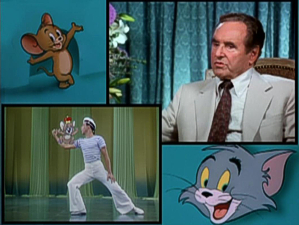 The second half is probably even more interesting, covering the later Deitch and Jones cartoons, television and the failed 1992 theatrical movie (here politely called one of the "unique surprises of the 90s"). As always with New Wave's Warner supplements, it's well researched and presented, though I'd have much preferred to have seen this included on another, more fitting release, perhaps an alternate grouping of theatrical cartoons that includes the Deitch series and the more recent The Mansion Cat and The KarateGuard. Why Warners keeps regurgitating these cartoons when there are others that most fans have never had the opportunity of seeing is a mystery.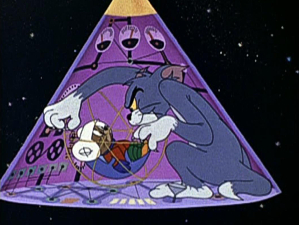 Case Study:
The Tom & Jerry: Deluxe Anniversary Collection follows the trend of other recent Warner animated releases by featuring a double-sided sleeve in clear keepcase with a side-accessed embossed slipcover. The overall silver design and mostly on-model artwork offers a pleasing presentation that suggests a much better quality of product than appears on the discs themselves, over-dressing up the quite lacklustre selection of cartoons and their bizarre presentation choices, also presenting inaccurate product descriptions of how some of the cartoons have been presented – "widescreen shorts enhanced for widescreen TVs" is a redundant phrase that applies to not one of the titles in this collection.
Ink And Paint:
I've already made mentions of the frankly odd way these cartoons have yet again been presented. So much for a fitting Tom & Jerry collection: the early cartoons on the first disc do not seem to have undergone any major new remastering since their appearance on LaserDisc in the 1990s, although the DVD process naturally renders them sharper and cleaner than before. Some can look quite striking, but on the whole they're still the speckly old, gate weaving prints that have seen a thousand previous runs. As well as those issues, at least two of the 1940s cartoons appear to derive from interlaced transfers.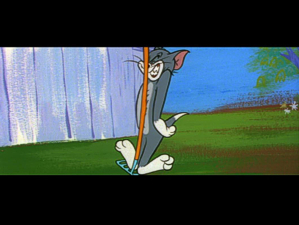 When we get to the CinemaScope cartoons, the packaging erroneously states we will be treated to anamorphic widescreen for those shorts: instead we get the first two in soft-looking pan-and-scan 4:3, and the remaining two letterboxed to 4:3 without any 16:9 enhancement. It's true the few Chuck Jones cartoons could have gone either way, but the packaging suggests these should be the 1.75 ratio versions as released in The Chuck Jones Collection last year. They're not, presented in their open matte negative ratio of 1.33:1, as are the later television episodes, and although the 1970s-90s titles contain the expected color crosstalk, the final two digitally produced shorts naturally look spotless.
But when it comes to The Karate Guard, we're offered an open matte 1.33 aspect again as opposed to what should be an anamorphic widescreen showing of the matted 1.85 presentation it would have seen theatrically. In short, this is a hodgepodge mess of a collection, featuring a mix of progressive and interlaced video and essentially fixing every single title to an Academy/4:3 ratio of 1.33:1 by way of pan-and-scan, letterbox or open matte transfers which, in this day and age, is simply not good enough.
Scratch Tracks:
If there's one half-decent mark to save the set it's in the audio department, where the aged soundtracks of the earlier cartoons sound as good as ever, with every thump, whack, smash and smack coming through with a hearty punch. The later TV selections sound thin and weedy as much of the output of the time did due to the lower budgets, but they too are offered as well as can be, while the final few shorts offer much more than the package-described mono, clearly activating left and right speakers in stereo and adding more bass. Spanish dubs are included, as are English and French subtitles.
Final Cut:
Poor old Tom & Jerry get it again: there's just not much to recommend this collection for. A mishmash selection of cartoons that, while bringing together the pair's seven Oscar wins, misses out many more true classics and notable titles, re-uses the same old prints (some still interlaced), and messes up the screen ratios on the widescreen theatrical offerings. The soundtracks are worth a mention, but are otherwise nothing spectacular for this kind of release, and the best comments are saved for New Wave's Much Ado About Tom And Jerry extra, an as usual very good retrospective that really belongs on a better or more anticipated release, such as a collection of the still unreleased theatrical cartoons.
Animated Classic or Back To The Drawing Board?