Metro-Goldwyn-Mayer (1941-1956), Warner Home Video (October 13, 2009), Single Disc, 101 minutes, 1.33:1 aspect ratio, Dolby Digital 1.0 Mono, Not Rated, Retail $14.98
Storyboard:
Watching Tom and Jerry cartoons always transports me back to my childhood. While the cartoons were already in reruns for several decades when I was a kid, they never felt old to me. The humor on the shorts always felt fresh, fun, and up-to-date. Sure, by then censors had already removed some questionable material related to ethnic humor and violence, but even that didn't always diminish the humor in the shorts. Of course, having grown older, I can see the differences between different Tom and Jerry designs of different animators as the show developed. Now, I can see the different types of gags that were used on the shorts and how the humor also changed as the characters developed. The beginning featured fun cat and mouse chases, but as the characters developed, the stories became more complex with the two characters forming a bond beyond mortal enemies and the stories becoming more about the balance of power between the two. In some episodes, Tom clearly has the advantage, but in others it seems the tables have shifted and Jerry is clearly in command. In both cases, the writers kept the humor which is still accessible to new fans so many decades later.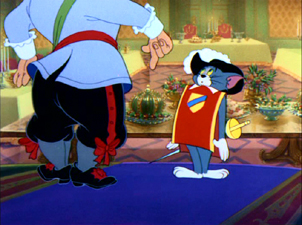 The Sweatbox Review:
The cartoons included on this set are some of the best in the cat and mouse duo's career. They include several Academy Award nominated shorts spanning over one decade. In these shorts, Tom and Jerry fly, fight epic sword battles, fall in love, battle witches, and deal with a better mouse trap. There are fourteen shorts on this one-disc set that provide a variety of different shorts. There are the shorts that are strictly cat and mouse chases, others where they play a character, and finally others where the cat and mouse are in some new kind of peril.
The ones that are strictly cat and mouse chases, sometimes with a little twist, are Cat Napping, The Flying Cat, Designs on Jerry, The Night Before Christmas, The Bowling Alley-Cat, Fine Feathered Friend, and Puttin' On the Dog. These are the most common cartoons and usually feature Tom going after Jerry and Jerry figuring out a new way to keep the cat at bay. In Cat Napping, Tom chases Jerry out of a hammock that they are both fighting for. In The Flying Cat, Tom figures out a way to fly when he creates wings out of hanging laundry in the backyard. This happens as Jerry tries to keep Tom away from a canary. In Designs on Jerry, the cat and mouse chase takes a unique twist. In this imaginative short, Tom designs a better, and more elaborate, mouse trap for Jerry. When he goes to sleep, the cat and mouse in the blueprints come to life and chase each other. There are some clever gags where the cat and mouse draw new things to get each other and it is very funny when the real Jerry gets involved. The last four shorts on the set are some of the earliest shorts (from 1941 to 1944) and feature some classic cat-and-mouse chases. In The Night Before Christmas, one of the first handful of shorts directed by Hanna-Barbera duo, Jerry wakes up on Christmas Eve to find presents under the Christmas tree and Tom begins the chase through all the different presents. By the end of the short, Tom eventually gets rid of Jerry but feels bad for him when he sees him freezing out in the cold. This clever short was nominated for an Academy Award in 1942. In The Bowling Alley-Cat, another early T&J short, Tom and Jerry chase each other through a bowling alley. It's a classic chase short and one of the best early cartoons of the comic duo. Fine Feathered Friend is a landmark short because it finally established the character designs that we are familiar with today. In this short, Jerry finds protection from a mother hen as he stays away from Tom. Finally in Puttin' on the Dog, Tom disguises himself as a dog to catch Jerry who has taken refuge in a dog pound.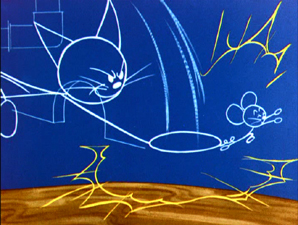 Another number of shorts usually feature Tom battling it out with another antagonist other than Jerry. Sometimes it's just Tom dealing with love and a broken heart as in Smitten Kitten and Blue Cat Blues. In Smitten Kitten, Tom falls in love with a cat next door and Jerry realizes that it is bad for him. We then see a series of clips from previous shorts where Tom fell in love and how it affected Jerry. This is my least favorite short since it just features clips from other Tom and Jerry cartoons – Salt Watter Tabby, Mouse Comes to Dinner, Texas Tom, and Solid Serenade. A much better story about love is Blue Cat Blues where we first see a suicidal Tom lying over train tracks. Jerry then narrates the events that led up to the heartbroken cat's demise. The other three shorts deal with secondary characters creating trouble for our heroes, usually for Tom. In Baby Butch, Tom has to deal with Butch sneaking into his house dressed up as an abandoned baby. In The Flying Sorceress, Tom scans the newspaper looking for a new home and ends up at the home of a witch (basically an MGM version of Witch Hazel). Finally, my favorite short on this set is Pecos Pest where Jerry's uncle Pecos comes to visit. Pecos plays a guitar and every time one of his strings breaks, he plucks one of Tom's whiskers, much to Tom's dismay. This was the last Tom and Jerry cartoon produced by Fred Quimby and the last non-cinemascope cartoon.
One last set of shorts are ones where Tom and Jerry are playing characters as if they were in a movie. In fact, these two cartoons were shot in Cinemascope. In The Two Mouseketeers, the Academy Award Winner of 1951, Jerry is a mouseketter and Tom is one of the king's guards. In this first short, Jerry and his protégé, Nibles, find a lavish banquet hall filled with food. Tom, in turn, is charged with guarding the banquet table. Of course, the majority of the short features Nibles and Jerry trying to outsmart Tom as they eat their way through the banquet hall. Touché Pussy Cat! is a prequel of sorts since it features the same characters. In this story, we find out how Jerry first met Nibles and how he almost didn't take him as his apprentice. It is a cute short and lavishly produced in Cinemascope.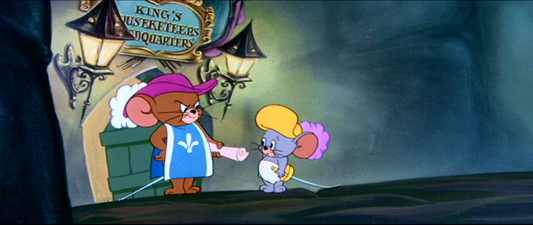 The shorts in the order presented on this DVD are as follows:
Cat Napping (1951)
The Flying Cat (1952)
The Two Mouseketeers (1952)
Smitten Kitten (1952)
Baby Butch (1954)
Designs on Jerry (1955)
Pecos Pest (1955)
Touché, Pussy Cat! (1954)
The Flying Sorceress (1956)
Blue Cat Blues (1956)
The Night Before Christmas (1941)
The Bowling Alley-Cat (1942)
Fine Feathered Friend (1942)
Puttin' on the Dog (1944)
Is This Thing Loaded?
There's not much here in terms of special features, but there are trailers for Tom and Jerry Tales, Scooby-Doo, Where Are You?, Batman: The Brave and the Bold, Tom & Jerry's Greatest Chases: Volume 2.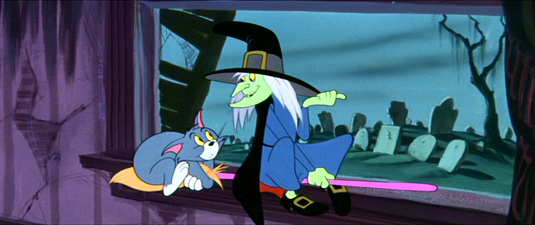 Case Study:
This release comes in a basic black keep case. The front cover art features Tom and Jerry in their musketeer outfits, while the back references Designs on Jerry. There are no inserts inside the case.
Ink And Paint:
Most of the shorts on this set are featured in their original 1.33:1 theatrical aspect ratio. In 1954, the first Tom and Jerry Cinemascope short, Touché, Pussy Cat!, was produced by MGM. After that date, most of the releases were produced and released in widescreen. There are three cinemascope shorts on this release – Touché, Pussy Cat!, The Flying Sorceress, and Blue Cat Blues. The aspect ratio on these is approximately 2.37:1. Not surprisingly, the quality of these shorts varies from short to short. Most of the shorts feature plenty of scratches and dust fragments on the print. One particularly bad print is for Smitten Kitten where old Tom and Jerry shorts are retooled for this purpose. The rule of thumb here is that the older the short, the worse the print quality. The print isn't bad enough for me to discourage people from purchasing the set, but really it is no better than other prints out there. One can choose to play the shorts individually or select the play all option.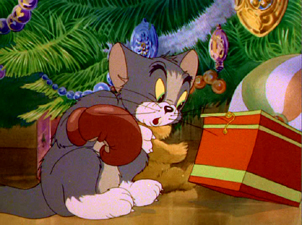 All of these shorts were featured in previous Tom and Jerry Spotlight Collections. Cat Napping, The Flying Cat, The Two Mouseketeers, Smitten Kitten, Baby Butch, Designs on Jerry, Pecos Pest, Touché, Pussy Cat!, The Flying Sorceress, and Blue Cat Blues were featured in Tom and Jerry Spotlight Collection: Volume One. The Night Before Christmas, The Bowling Alley Cat, Fine Feathered Friend, and Puttin' on the Dog were featured in Tom and Jerry Spotlight Collection: Volume Two.
Scratch Tracks:
Unlike the previous Greatest Chases release, this one actually features the advertised audio tracks and subtitles. There are English and Portuguese Dolby Digital 1.0 tracks and English, French, Portuguese, and Thai subtitles. The audio tracks are good for what they are but fans should not be expecting much from these very basic tracks.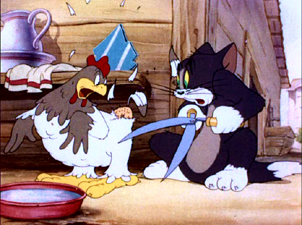 Final Cut:
Once again we get a basic re-release of old Tom and Jerry shorts. This is now the third Greatest Chases release and just a few more and all shorts will have been released this way. For a person like myself that did not purchase Spotlight Collections past Volume One, these are good release. I still think it's interesting that it is cheaper to buy the Spotlight Collections, but perhaps these are alternatives for people that want a backup copy of these shorts or who want to keep the Spotlight Collection DVDs away from young children. Either way, the shorts included in this release are very good, as most Tom and Jerry cartoons were during this period, with only one or two clunkers. It is up to each individual to figure out which collection to purchase and there might be good reasons for both.
Animated Classic or Back To The Drawing Board?