Warner Bros. (2005-2008), Warner Home Video (February 3, 2009), single disc, 110 mins plus supplements, 1.33:1, Dolby Digital 2.0, Not Rated, Retail: $14.98
Storyboard:
Tom and Jerry return for the sixth and final volume of their latest incarnation – Tom and Jerry Tales. In these fifteen cartoons, the duo travels around the world and back in time, singing and dancing their way through new hilarious adventures.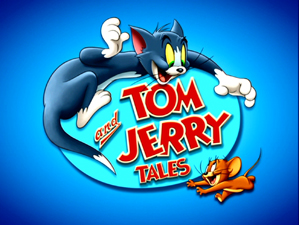 The Sweatbox Review:
Tom and Jerry Tales began as a revival of the Tom and Jerry franchise for Warner Bros. back in 2006 for the Kid's WB block on The CW. I call it a revival because it had been nearly 13 years since the end of their previous series, Tom and Jerry Kids, ended its run on Fox. Of course, theatrical shorts and other animated features were in continuous release on The Cartoon Network and Boomerang on cable. Warner Brothers had begun releasing Direct-to-Video films of the cat and mouse duo since The Magic Ring was released in 2001. After that, two more films were released before production began on a new series that would attempt to emulate the original shorts from the MGM era. Joe Barbera, one of the two creators of the duo, even served as one of the producers for the show before his death at the end of 2006. It is interesting that he was coming full circle with his characters that year with The KarateGuard, the final Tom and Jerry theatrical short release, being nominated for an Annie Award and with Tom and Jerry: A Nutcracker Tale, his last animated project, being in the middle of production.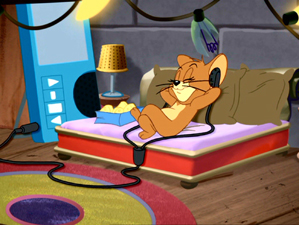 A total of 26 episodes were produced for the show with 78 sub episodes altogether. Unless the show gets picked up for an additional season, this sixth release will be the final release of the show on DVD. Each 22 minute episode contains 3 shorts with a unifying theme. In this release we have 5 full episodes with 15 shorts in total. The themes include history, winter games, music, exotic animals, and home & leisure.
The historical cartoons found on this DVD are The Declaration of Independunce, Kitty Hawked, and 24 Karat Kat. In The Declaration of Independunce, Tom is Thomas Jefferson's lazy cat who uses Jefferson's draft of the declaration to make a paper plane to get rid of Jerry. Jerry, realizing the importance of the document and trying to get Tom into trouble, shows the document to a British redcoat (played by Spike). A cat and mouse chase ensues as Tom tries to get the document back in time for the actual declaration that is to take place that afternoon in Philadelphia. The second short, Kitty Hawked is about the first mouse to fly a plane. Once again, Tom is the cat of a famous individual. In this case, he is the Wright Brother's cat and while chasing Jerry around their bicycle shop he gives them an idea about how to create an airplane. Jerry is then used as a test subject for their model planes. Finally, 24 Karat Kat is about the Gold Rush. In this short, Tom and his friend have an adjoining mining claim to Jerry's. Jerry, however, seems to have all of the gold. The short is made up of Tom and his friend trying to steal Jerry's gold while dodging the local sheriff, Spike. My favorite of these shorts is Kitty Hawked which has a satisfying conclusion in the Air & Space Museum in Washington, DC. It was very interesting to see the duo bear witness to historical moments in US history, although one should ignore any historical inconsistencies.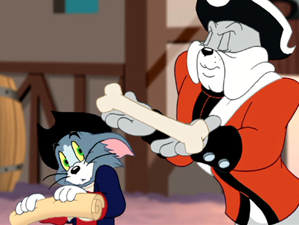 The second set of cartoons is related to winter leisure and sports. In the first short, Hockey Schtick, Jerry puts on his skates and begins to figure skate in a pond in someone's back yard. His peace is short-lived because Tom comes out and begins to play hockey in the same pond. Jerry gets in his way and the two begin a duel to see who will get the right to use the pond. Snow Brawl is about Tom and Jerry playing in the snow. Each of them decides to make their own snow castles and they battle with snowballs back and forth. Eventually, they build snowmen that come to life with the addition of a magic hat and these cause havoc in their backyard. The final short, The Abominable Snowmouse is about Tom chasing Jerry through snow-covered hills until they come across a giant mouse hidden in one of the caves in the mountain. My favorite of these is Snow Brawl, with the animated snowmen waging a full-out-war in the snow. It is very funny and the action keeps building to the inevitable conclusion.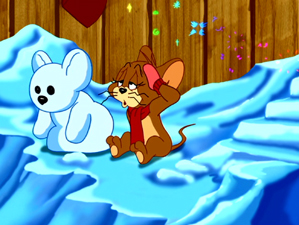 The third set of cartoons is about music and dancing. In the first cartoon, DJ Jerry, Tom is the pet of a record store owner (with a Jamaican accent) and Jerry is the DJ of a mouse nightclub that meets underneath the store. At night, when his sleep is disturbed by the music, Tom does everything he can to stop the noise and close the club. In the second short, Kitty Cat Blues, Tom is madly in love with a neighbor cat that is taken to having Jerry as her pet. Tom tries desperately to woo her, but easily gets distracted by Jerry who teases him whenever he tries to play music and be romantic. Finally, in Flamenco Fiasco, Tom and his partner are trying to win a flamenco dance competition for a wealthy Latin American president. Meanwhile, underneath the stage, Jerry is on a date with girlfriend. Eventually, the two couples participate in a dance-off that literally brings the house down. Of course, this last short is the best of this bunch with the dance-off being a very funny build-up of dance of moves as the music gets faster.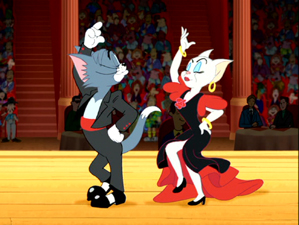 My favorite cartoons on this disc were about the exotic animals and locations. These included cartoons set in Africa (non-specific country), Australia, and Malaysia. In You're Lion, Two-Shoes takes Tom (and tag-along Jerry) on a safari to Africa. Tom is intrigued by his female lioness cousins, but is completely intimidated by the lion of the pride that sees him as food. In this short, while Tom does chase after Jerry, he also gets chased by the lion. The second short is Kangadoofus where once again Tom is on a trip to Australia and he goes chasing after Jerry. Jerry, however, manages to disguise himself as a baby kangaroo and is protected by the mother kangaroo. Tom must then figure out how to get to Jerry without getting himself injured by the mother kangaroo. The final short is Monkey Chow when Two Shoes and Tom go to the botanical gardens somewhere in Malaysia and they encounter a mischievous monkey who takes Two-Shoe's purse in search of food. Tom is then required to get her purse back, but the monkey always has the upper hand.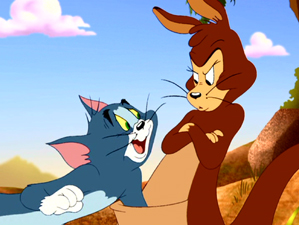 The final three cartoons are more about home and leisure. In Game of Mouse and Cat, an alternate universe is shown where Tom and Jerry switch roles and Jerry ends up chasing Tom as if he were a pest. It all culminates in a surprising resolution. In the next short, Babysitting Blues, both Tom and Jerry suffer the burden of having to take care of their rebellious nephews. They fail miserably at the job, as the two toddlers seem to always get into trouble, usually at their caretaker's expense. At the end of this short, the two decide to leave the house and head out to the country to go fishing. This leads us to Catfish Follies where Tom and Jerry are trying to enjoying their day fishing. Jerry seems to be an expert fisherman, but Tom cannot seem to catch anything. Eventually, a catfish enters the picture and Tom realizes he needs to use Jerry as bait to catch the wily catfish.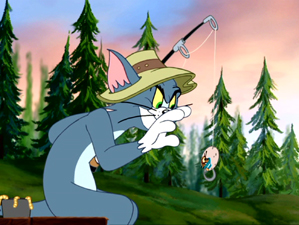 Is This Thing Loaded?
The only special features found on this disc are three trailers for other Warner properties including A Pup Named Scooby-Doo: Season 1, Tom and Jerry Tales: Vol. 5, and Pop Go the Wiggles.
Case Study:
As with previous releases, this volume is being released in a regular single disc, black keepcase. The cover features a shot from the episode Flamenco Fiasco. On the back, we see more of the flamenco theme with Jerry dancing with his partner. In bright letters on the back are the words "It is a Dance, Dance Demolition with these Hilarious Hijinks".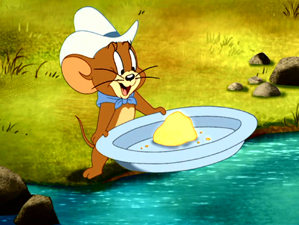 Ink And Paint:
I was actually impressed by the animation quality and design I found on this release. I was happy to note that the characters look true to their original shapes and designs. The titular characters have not been noticeably redesigned and they have kept their basic characteristics. I must give props to the excellent backgrounds and art design found in these episodes, particularly in the exotic locales where vibrant colors enhanced the mood and the action of the show. I should mention that the show did receive an Annie Nomination last year for best storyboarding for Dave Bennett. Overall, the quality of the picture here is excellent as usual now for newer shows that have been animated with the aid of a computer. The episodes here are in their original 1.33:1 aspect ratio.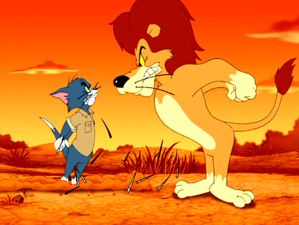 Scratch Tracks:
I love the music and special effects found in this release. It really takes one back to the original shorts where full orchestral sounds were used to great effect. It enhances the mood and invigorates many of the stories. Music was used as a way to separate the characters and animate their personality. For example, in Hockey Schtick, Jerry is accompanied by classical music while Tom, in his hockey outfit, is accompanied by rock music. Credit must go to composer Gordon Goodwin who does an excellent job in these episodes. The show is being released with a Dolby Digital 2.0 track in English, French, Spanish, Japanese and Portuguese.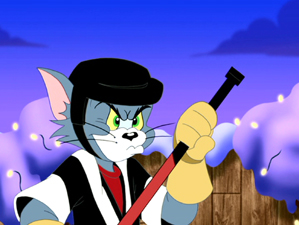 Final Cut:
Overall, I quite enjoyed watching this show. It was a good update on an old classic which has had many ups and downs over the years. Tom and Jerry finish up this show with a great set of episodes that showcase some of the things the new show got right. We had fun hijinks, good music, hilarious pranks, and funny characters in full animation glory. The show got it right when it updated these cartoons and I am sure that somewhere both Joe Barbera and William Hanna are giving their approval. The show, and the characters, continue to be fun for kids and are still enjoyable to adults.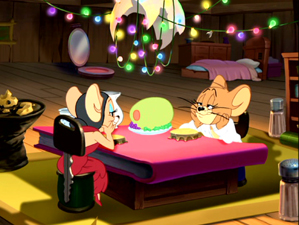 Animated Classic or Back To The Drawing Board?