Metro-Goldwyn-Mayer (1940-1953), CLV box set with extensive booklet liner notes, 5 discs/10 sides, 8hrs 50mins, 70 complete and uncut Hanna-Barbera cartoon shorts, 1.33:1 original full-frame ratio, Digital Sound, Not Rated/Rated G
---
With the majority of the cat 'n' mouse's oeuvre still to debut on DVD, what better time is there than now to take a look back almost 15 years (!) to when animation historian Jerry Beck co-produced a trilogy of fine LaserDisc box sets starring the bickering duo.
MGM/UA Home Video had started to gain something of a reputation for itself with the issues of a collection of its earliest animated shorts, under the title MGM Cartoon Classics: Happy Harmonies (which contained many of the Hugh Harmon-Rudy Ising cartoons), and the first couple of volumes of their then-owned pre-1948 Warner Bros catalog, titled The Golden Age Of Looney Tunes. Even long after these sets finally become reincarnated on the smaller, and more handy DVD sized discs, LD fans will still cherish these original compilations and they are sure to remain collectors items due to their deluxe packaging and the many toons that will surely remain only available in these sets (at least for a good few years).
Although a total of five Looney Tunes sets would emerge from the MGM vaults, as well as a single-disc nod to sister company United Artists' success with the Pink Panther and another entire set dedicated to the genius of Tex Avery, their celebrated team of Thomas, the cat, and his nemesis Jerry, the mouse, were given three such fully packed sets to shine in. These collections, under the banner of The Art Of Tom And Jerry, brought together all of their motion picture appearances, including original CinemaScope shorts and sequences from other feature films, save their short lived (and best forgotten) European series and the 1990s update movie.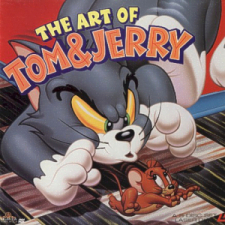 THE ART OF TOM AND JERRY: VOLUME ONE, an epic five CLV disc set, kicks off in ultimate style with, as one might expect, the very first T&J cartoon, Puss Gets The Boot (1940). All the cartoons on these sets are presented in their original theatrical editions, with main and end title cards, and in their intended aspect ratios (all of the shorts in this set are framed correctly at 1.33:1). Hanna and Barbera had been at the MGM studio by this time for a few years, and had already produced a number of stand-alone shorts. Puss Gets The Boot was to be one just like any other, although the immense success of the film and the pressure from distributors for more cat and mouse war meant the development of the series.
In Puss Gets The Boot (which comes so early in H-B's MGM careers that it is labelled as a Rudolf Ising production), neither character is named as we know them. The cat is actually called "Jasper" and has a distinctly more tabby appearance, while the mouse already has the features that we recognise as Jerry (in fact, he would be the character who, over the years, changed least). It starts off with a great gag: in close up we see the mouse running from his opponent. The camera cuts back and we see that the cat has already caught the mouse and he is running on the spot, his tail held by the cat's claw! While the cat toys with his prey, the mouse gets away, leading to a number of gags which result in the breaking of a vase. Mama, the house maid (no mention is made in the sets to her racial stereotype, and no changes have been made to the cartoons themselves, so we'll also leave this subject alone here) chastises the cat, stating that if anything gets broken, he'll be sent out. Naturally, this is an opportunity that the mouse cannot pass up and a battle of wits that would last for decades begins for the first time…
Nominated for an Academy Award, Puss Gets The Boot really is a great cartoon, setting up the situation and playing it off to perfection, and it's easy to see how the duo were awarded their own series. As with all the prints in this first set, a true digital restoration would work wonders, but as they are the colors are vibrant (the result of extensive grading and remastering) and the sound clear as a bell. Many of the shorts have their title cards windowboxed within an appropriately colored border, a popular way of preserving ratio and picture information at the time as opposed to the plain black of today, and overall are very fine representations of these classic shorts. The collection continues with 1941's The Midnight Snack, the first "true" Tom And Jerry cartoon, as announced by the title card and Hanna-Barbera's directing credit. The preoccupation with food makes an appearance in this one, when Tom catches Jerry raiding the refrigerator, and the short has all the production values we expect from a cartoon of this period. Tom's look is a little more rounded and it is clear that there is a lot of mileage to be had from these characters!
Another Oscar nomination was due their way with The Night Before Christmas, a classic that still gets a lot of airings today, from the December of 1941. The film begins with Tom's usual pursuit of Jerry, this time under the Christmas tree, but ends happily when the grouchy cat is touched by the holiday spirit. The film has a great look to it, with some simply stunning pre-CGI snow falling and delicate animation throughout, also having fun with the classic title poem along the way! This short is also marks the first appearances of unsung composer Scott Bradley's memorable Tom And Jerry Theme music. A number of his musical cues come to prominence in this cartoon, and they point out just how much Bradley's scores contributed to each film, pushing the action ahead and utilising the vast library of MGM catalog tunes to musically illustrate a point or hit a beat. Listen out throughout the set for such cues as Sing Before Breakfast from Broadway Melody Of 1936, The Trolley Song from Meet Me In St Louis, and We're Off To See The Wizard and Over The Rainbow from The Wizard Of Oz, among many others.
1942 saw the series swing into full action with no less than five animated shorts! Fraidy Cat has Jerry acting on Tom's scared nature after listening to a spooky radio show, while Dog Trouble sees the first appearance of the dog from next door, Spike. In later cartoons the dog would more often than not be on the side of the mouse, but in this one he is brought into the house itself, so both Tom and Jerry team up to take him on – finally getting him thrown out. Puss 'N' Toots, another play on words title, has Tom trying to romance a pretty female feline, while Jerry sabotages his attempts by rigging a record player to malfunction with Tom stuck to it! This exhaustive first side ends with another all time classic, The Bowling Alley Cat, still one of the most seen of the early T&J cartoons, and one of the most brutal, but funniest! Set inside a closed bowling club, the action gets fast and furious as Tom sets out to stop Jerry's private game – print wise this looks great and is one of the best designed cartoons in the set.
On side two, 1942 came to a close with Fine Feathered Friend, another good looking print. It was around this time that the "fade out" was used to bridge from one situation to another (usually an explosion of some sort), and soon after the films became a series of non-stop gags rather than narrative storylines. The rest of this side offers Sufferin' Cats! from 1943 (in which Tom has a rival after Jerry) and The Lonesome Mouse. In this one, Jerry finally gets Tom thrown from the house but soon becomes bored with the quiet life, so the two join forces to get Tom back in and up to their old ways. After a couple of attempts, a T&J cartoon finally won an Academy Award with Yankee Doodle Mouse. This print comes from a reissue later in that same year which announces the win in the title card, and though I found this to be a quite routine short, the wartime bent, clever army parallels and simply hysterical sound effects probably had something to do with its win.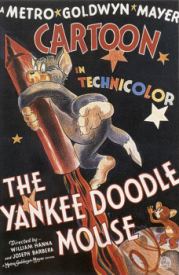 Baby Puss, also from 1943 in which Tom is teased by three other cats and Jerry when he has to don a baby disguise to entertain a little girl, comes next, while the first of 1944's efforts begins afterwards with Zoot Cat. Contrary to popular belief, Tom And Jerry did speak, albeit briefly, in a number of their animated films, and here is where you'll hear them utter their first words, as Tom tries to impress his feline beau again, without much help from Jerry! Next up is yet another popular cartoon, and not just affectionately known by T&J fans. The Million Dollar Cat puts a twist on things by having Tom refrain from harming any living creature – including Jerry – so that he can get his hands on his eccentric Aunt's inheritance. Needless to say, things do not pan out that simply, especially when Jerry does everything he can to annoy Tom (who by now goes by the smoother appearance that we associate with this era's shorts).
1944 continues on side three with The Bodyguard, the one where Spike (voiced by Billy Bletcher, who also provided Pete's growls in the Disney cartoons) comes to Jerry's aid to beat Tom up every time he uses the magic whistle, Puttin' On The Dog, where Tom chases Jerry into a dog pound and must disguise himself as a pooch, and Mouse Trouble – another Oscar winner, and very much in the style of stable-mate Tex Avery's films in terms of pace and gags. This time, Tom takes tips from the book How To Trap A Mouse (a Random Mouse publication, naturally) but finds it no use when up against a mouse of Jerry's strength and will. In The Mouse Comes To Dinner, it's a table full of food that becomes the focus of dispute between feline and rodent, and in Mouse In Manhattan, a rare mouse-only cartoon, Jerry heads for the big city in a short reminiscent of Disney's The Country Cousin (available on the Silly Symphonies DVD set) from 1936, which features a number of similarities with the later T&J films. In proof that this set comes uncut, there is one "blackface" gag that will probably be deleted by the time this one hits DVD, though the perspective backgrounds are very effective and reminded me of the detail put into the layouts for Max Fleischer's 1941 feature Mr Bug Goes To Town.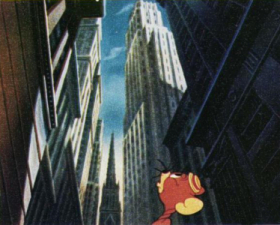 The wide wide world of sports makes its first appearance in a T&J cartoon with Tee For Two, a golfing escapade in which Tom's game is disrupted by a number of terrific gags perpetrated by a woodpecker, a swarm of bees and Jerry, of course. Flirty Bird has Tom in a rare role trying to save Jerry from a tough eagle, and the side finishes with yet another Oscar winner, Quiet Please! which plays on a similar premise as Million Dollar Cat by having Spike warn Tom against making any noise while he tries to get some shut-eye. Obviously with a set up like that, Jerry can only but try and wake the bulldog up and get Tom into more trouble! Side four begins with a line-up from 1946: Springtime For Tom, The Milky Waif (introducing the little mouse Nibbles), Trap Happy and Solid Serenade, all of which provide variants on previous cartoons in the series. A personal favorite of mine is Cat Fishin' from 1947, which I still have my original 16mm copy of. In this one, Tom uses Jerry as bait to catch a shark, but the mouse refuses to stay hooked, and fishes up some real trouble of his own. In Part Time Pal, Tom gets drunk as he watches guard over the refrigerator and tries gives the house maid a piece of his mind while befriending Jerry.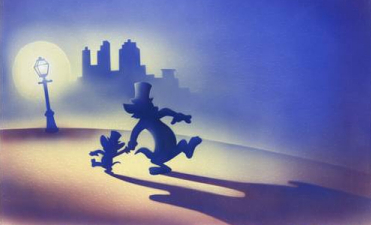 Several ideas from the T&J cartoons would later be used by both Hanna-Barbera themselves and by other animators, but the series also "borrowed" much from other studios. I've personally never understood why the next cartoon, The Cat Concerto, went on to win an Academy Award (their fourth!) and become one of the most cherished cat and mouse shorts when it is a direct copy of the Bugs Bunny cartoon Rhapsody Rabbit, directed by Friz Freleng the year before. The basic set up for both cartoons is simple: Bugs/Tom portrays an acknowledged master pianist primed to give his greatest performance of Liszt's Second Hungarian Rhapsody (forever to be associated with the manic cartoon output of animation houses everywhere). As he prepares and finally settles down ready to play, a little mouse makes things impossible for him by pulling on the strings inside the piano, slamming the shutter on his hands and generally running amok. While I agree that the concept is best suited to the Tom And Jerry double act, the fact that this cartoon came so close to Bugs' first and better effort and then went on to steal an Oscar puts me off the short, and however funny it may be, the Freleng version remains the more frantic and heated battle.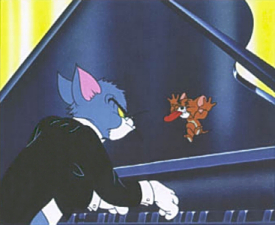 In Dr Jekyll And Mr Mouse, the inevitable happens when Tom mixes Jerry a potion to teach him a lesson about drinking his milk. Things don't quite work out for Tom, and Jerry's potion turns him into a super-strong giant mouse who is only able to cause Tom more pain! Tom continues to try and impress a female kitty, this time at the beach, in Salt Water Tabby, and in Mouse In The House Tom is joined by a rival cat in trying to catch Jerry – loser is thrown from the house. Some inventive situations are developed in The Invisible Mouse, another popular short, which has Jerry submerged in invisible ink that allows him to torture Tom in a whole new way. Some of H-B's best work is in this one, with some neat effects and perfect camera staging – you'll actually believe that Jerry really is there!
Perhaps, as the liner notes say, the next film, Kitty Foiled from 1948, is the most "pure" Tom And Jerry cartoon in that it is straight action from start to finish, without any pause for breath, the "plot" being that Jerry is being helped to keep safe from Tom by a little canary (who would go on to make a number of his own MGM appearances) in a very Avery-esque short. The Truce Hurts is another classic, being the one where Tom, Jerry and Spike sign a pact of friendship and vow to end their bickering ways. That is, until the promise of a meaty steak comes between them… Cat and mouse join up again in the following cartoon Old Rockin' Chair Tom to outwit a super-duper mouse catcher named Lightnin', and in Professor Tom, his learnings go amiss when a kitten he is teaching decides to take Jerry's side of the battle!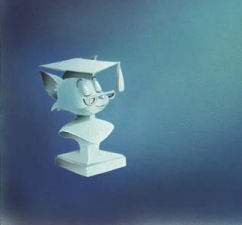 More outlandish physical gags are to be found in 1948's Mouse Cleaning, in which Tom has to keep the house clean, and the incredible seven cartoons released in 1949: Polka Dot Puss (Jerry "nurses" Tom when he gets "sick"), Hatch Up Your Troubles, The Little Orphan, Heavenly Puss (where Tom has to get a signed forgiveness from Jerry after he uses his ninth life trying to catch him), The Cat And The Mermouse (an underwater chase), Love That Pup (the introduction of the bulldog's puppy son), Jerry's Diary (a "highlights" clip package) and Tennis Chumps. The Little Orphan won T&J yet another Oscar, and is a great example of a Tom And Jerry cartoon working well on all levels, also featuring little mouse Nibbles, and once again bringing food into the equation.
Well over half-way through now, and side seven continues with the introduction of another favorite T&J character, the unnamed little duckling who takes a fondness to Jerry, in Little Quacker, the first of 1950's eight cartoons. This next batch developed T&J's world a little more, opening up possibilities and placing them in new locations. Saturday Evening Puss has Tom's rowdy friends disturbing Jerry's sleep, and Texas Tom places the duo out west in another popular favorite (and is one of the cartoons recently announced for digital tweaking or being pulled from TV distribution due to Tom's now very un-PC rolling of a cigarette). Jerry And The Lion sees the mouse joining up with an escaped circus lion, Nibbles re-joins the cast for a Fourth Of July spoof Safety Second which has its own fireworks, and Tom And Jerry At The Hollywood Bowl does exactly what its title suggests, putting Tom at the head of an all-cat orchestra that goes into battle at Los Angeles' famous landmark against rival conductor Jerry. Side seven ends with The Framed Cat, a cartoon with a pretty basic set up: Spike warns Tom not to touch his dinner bone, meaning of course that Jerry will do anything to frame his feline adversary.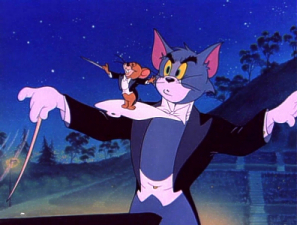 Apart from Cue Ball Cat, another sports skit that places Jerry on the table as the ball in a brutal billiards game, the rest of the shorts on side eight come from 1951. All now firmly in the established T&J tradition, there is noting particularly special about any of these shorts, but they are all animated to the same high quality standard and are all very funny. Titles featured, in original release order, are Casanova Cat, Jerry And The Goldfish, Jerry's Cousin (worth a mention for Tom's mistaking Jerry for his cousin, Muscles Mouse), Sleepy Time Tom, His Mouse Friday (set on a cannibal island!), Slicked-Up Pup (this time Tom has to keep Spike's son clean) and Nit-Witty Kitty, another favorite that gets much replay value out of the fact that Tom is hit on the head and begins to act like a mouse – hysterical sound effects and a great visual makeover for Tom!
Tom And Jerry battle over who gets to use a hammock in Cat Napping, the first cartoon on side nine, and the canary character makes a return in The Flying Cat when Tom fashions himself a pair of wings to help him catch the bird and the mouse. 1952 proved a very successful year for the Hanna-Barbera team, and as well as The Flying Cat, they turned out an amazing ten animated shorts. A redesigned little duckling reappears in The Duck Doctor, and Nibbles returns for one of T&J's most lushly designed cartoons, The Two Mouseketeers. Again a fight over a table choc full of food, this deserved Academy Award winner has our principal cast all dressed up in Musketeer outfits for an epic banquet battle! Smitten Kitten is another "highlights" episode, which this time around recounts Tom's attempts at wooing the opposite sex. Triplet Trouble finds Tom with orders to care for a naughty bunch of kittens, and another circus animal escapes to their house in Little Runaway, which makes great use of a subtitle gag. Side nine ends with the much shown and ever popular Fit To Be Tied, in which Spike is halted by a new leash law that stops him from protecting Jerry from Tom.
Coming near the end of this first set (I had long since given up any sanity I had!) I was relieved to be in the final stretch (you just try 77 cartoons in one sitting)! An obvious scenario is finally brought into play in Push Button Kitty when Tom is replaced by a "robo-cat" named Mechano, and Tom's job as ship's cat is at stake in Cruise Cat if Jerry is found on board. Rounding off this collection are the 1953 shorts The Dog House, The Missing Mouse, Jerry And Jumbo (another circus intrusion), Johann Mouse, That's My Pup and Just Ducky (probably the best known of the duckling cartoons, it certainly has the best gags). Worthy of mention are The Missing Mouse, which makes the most out of its "threat on the loose" concept, and Johann Mouse, another piano-playing Academy Award winner, and one that has very nice watercolor production values. Set in the very home of the composer of The Blue Danube, it's also no surprise that this is what Tom decides to play in a bid to lure Jerry from his mouse hole – in a style only he can, of course!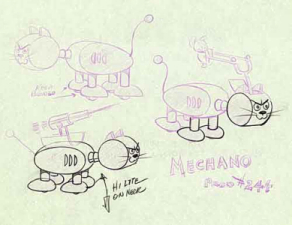 With seven Academy Award winning cartoons, plus two additional nominated shorts, this packed collection sets up the Tom And Jerry collaboration very well and provides many of their landmark and most memorable moments. The cartoons are in overall good shape and much better than some of the television prints I've seen over the years. Due to having these extensive collections, I passed on the DVD releases so can not comment on whether any further restoration has brought these cartoons up the digital standards we have come to expect for such programming, but there is really not anything inherently wrong with the prints on offer here, given their age. Color is stable throughout and the sound is strong. I would advise dipping in and out of this set, however, as Bradley's incessant musical cues can become the most tiring thing about watching a cat and mouse beating the heck out of each other!
---
LaserDisc Archives: The Art Of Tom And Jerry – Volume Two