MGM Studios (1950-2007), Warner Brothers Home Video (July 5, 2011), single disc, 99 mins., 1.33:1 aspect ratio, Dolby Digital mono, Not Rated, Retail $14.98
Storyboard:
A smattering of Tom and Jerry cartoons from the 1950s-2000s are collected on the second installment of the Tom And Jerry: Fur Flying Adventures series.
The Sweatbox Review:
Tom and Jerry cartoons are a staple in the animation industry, managing to survive into the modern day, though their popularity appears to be slipping in recent years. The cat and mouse duo have faced controversies dealing with racial insensitivities and violence, but despite the censor's scissors they continue to endure. I am always guaranteed a few laughs whenever I watch their animated antics, but based on my prior experience with Tom And Jerry: Fur Flying Adventures Vol.1 I was very hesitant when I pushed the play button.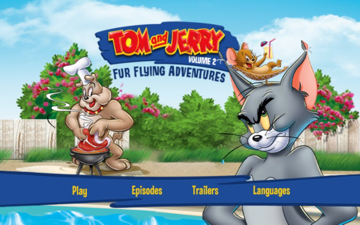 Closing my eyes in anticipation of what accumulated chronological mishaps would greet me this time, when I opened my eyes I blinked. The DVD menu was exactly the same as volume one. Spike was still frying burgers, Tom was still peeved, and Jerry was still sitting in his hammock with a slightly off character design. If there was ever proof that Warner Brothers Home Video is releasing these DVDs to make a quick buck, here it is. They didn't care enough to change the menu for volume two.
Despite the menu, I pressed, "play all" and was greeted with a series of cartoons that had a date range that stretched over fifty years. The collection starts out once more with a Spike feature, Tops With Pops from the Hanna/Barbera/MGM production era. It's a complete reproduction of the 1949 short, Love that Pup. The only difference is that the 1949 version was shot in full screen, while this version was remade in 1956 to be widescreen. This is also the last time the canine father and son appear in the Hanna/Barbera Tom and Jerry cartoons. To sum up, father and son are taking a nap, when Tom and Jerry create a lot of noise in one of their usual chases. Tom disturbs the slumbering dogs and Spike threatens to pummel him if it happens again…to which it does—much to Jerry's benefit.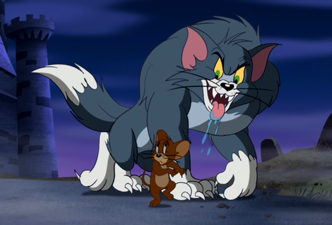 After Tops With Pops, I expected to see another old goody, but was astounded to see Monster Con from the most recent TV series: Tom And Jerry Tales (2006-2008). This series is lackluster compared to its former incarnates, adding voice acting, uninspiring stories, and an educational factor so they could be shown in the classroom. Monster Con aired in 2007 and answers the question, "what would happen if Tom was Van Helsing's partner and they attended a convention for history's famous monsters?" I lost my suspension of disbelief in this one as I couldn't wrap my head around all of horror's monsters gathering in such a small haunted house, then Tom and Jerry didn't add anything to the plot.
At this point, I paused the DVD to see what other shorts were taken from Tom And Jerry Tales. There are Which Witch, Kitty Hawked, and The Declaration of Independence all from 2007 episodes. The animation quality in these cartoons is newer and smoother with digital coloring and enhancements, but I didn't like it. Part of Tom and Jerry's charm is the hand-drawn animation that bespeaks of a quality that is lost in today's world of computer's only (although there are programs that can simulate this same effect, but it's rarely used).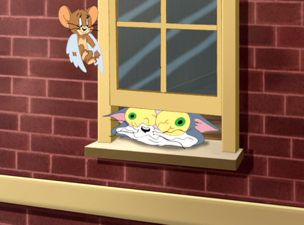 Kitty Hawked and The Declaration Of Independence are two of the educational cartoons that place the feline and rodent at important moments in history. Kitty Hawked, by far, was my favorite as Jerry inspired the Wright Brothers to experiment in aviation. The pioneers of flight used their inventions to help Jerry escape Tom in quirky comic moments that poke fun at history. The Declaration Of Independence has Tom as John Hancock's cat and he accidentally tosses the important document out the window in an attempt to thwart Jerry. The pair retrieve the Declaration from Spike, a loyal British soldier dog complete with a redcoat. Which Witch is strange. Tom is a witch's cat who must deliver spells to his mistress's neighbor, another witch. He encounters Jerry and fails in his mission, his mistress threatens to turn him into a mouse, then the neighbor witch takes pity on him, and it falls into complete randomness after that. Tom does spend half the cartoon as a mouse, which could have been done better in a different plot.
Getting over the Tom And Jerry Tales, I was blessed once more with shorts from last century.
There were two more Tom and Jerry cartoons made by Hanna/Barbera/MGM both from 1950 on the DVD: Tom And Jerry In the Hollywood Bowl and Saturday Evening Puss. The first takes Tom and Jerry from their familiar urban setting to the Hollywood Bowl, where Tom is a conductor for an entire orchestra of cats. Jerry attempts to takeover Tom's conducting duties with the usual cat and mouse chase. What I find different about this one is the lack of humans. Most of the Tom and Jerry cartoons take place in the human world with Tom as a pet and Jerry as a mouse who lives in the wall, but in Tom And Jerry In The Hollywood Bowl it's distinctly an animal's world—primarily cats.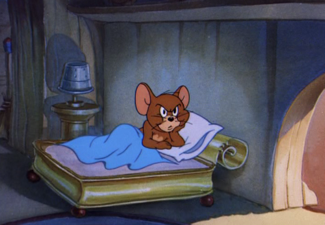 Saturday Evening Puss must have inspired the later Chuck Jones Tom and Jerry cartoon Rock n' Rodent. The two are nearly identical in plot, except reversed. In this short, Tom's owner goes out for a night on the town (bedecked in costume jewelry) and Tom throws a party. He disturbs Jerry's slumber, who endeavors to quiet Tom and his cat companions. The chase ensues and you can guess the rest. Tom's owner is the character known as Mammy, often she is reedited for her stereotypical portrayal of black women. In this DVD, she is edited once more. Her antiquated dialogue is softened to the point where you think something is wrong with your volume.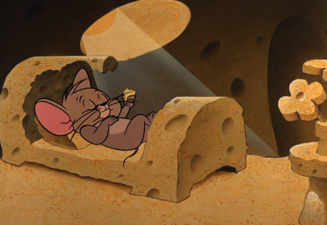 The rest of the cat and mouse montage consists of cartoons produced by Chuck Jones and Sib Tower 12 (later MGM Animation/Visual Arts). I love the Chuck Jones cartoons more than any others, because of the beatnik/groovy feel to the animation that retains a pencil-outlined style and the storylines take creative and different approaches to the tired chase gimmick. The following are included: Of Feline Bondage (1965), The A-Tom-inable Snowman (1966), Surf-Bored Cat (1967), Somebody Loves Me (1964), Duel Personality (1966), Is There A Doctor In The Mouse? (1964), and Haunted Mouse (1965).
Duel Personality turns the usual chase sequence into a classical duel with an endless amount of rounds and weapons. Tom and Jerry simply can't kill each other, so they are stuck in a continuous cycle of chivalry. In Surf-Bored Cat, Tom and Jerry visit a tropical beach. Tom is desperate to learn how to surf, but between a shark, a starfish, and Jerry he doesn't succeed until he, himself, is transformed into a surfboard.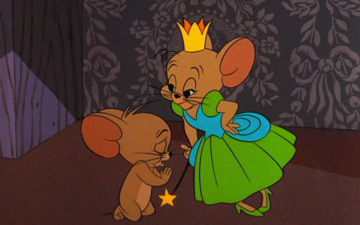 Haunted Mouse and Of Feline Bondage venture into the magic end of the Tom and Jerry franchise. In Of Feline Bondage, Jerry sees no end to Tom's constant bullying. He is visited by his fairy godmother, who gives him a solution that will make him invisible. After Tom thinks his home is haunted, the pair end the ruckus with scissors, bad haircuts, and laughter. A magician mouse in Haunted Mouse visits Jerry. The magician is clone copy of Jerry, albeit older, and he uses his magic and their similar appearance to fool to cat.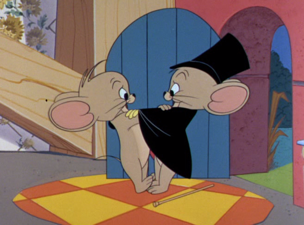 Jerry experiments with science and the power of chemistry in Is There A Doctor In The Mouse? He creates a potion that turns him into the rodent Flash and he steals food faster than Tom can blink. When the potion wears off, Jerry mixes another concoction that makes him huge. Poor Tom just can't win.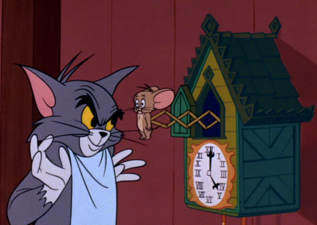 The A-Tom-inable Snowman, Tom chases Jerry through the Swiss Alps. Filled with Heidi scenery and products associated with this region, the traditional chase occurs. Tom, however, is knocked out a few times and is revived by a St. Bernard bearing alcohol. Lastly in Somebody Loves Me, Jerry is out on a cold, cold night and happens upon a cheese shop inhabited by Tom, one again set in the Swiss Alps. The shop is full of lederhosen and dirndl-clad dolls and tons and tons of cheese. Jerry goes slap happy with his favorite food, even constructing a Swiss cheese mansion, but he accidentally locks Tom out of the shop in the blistering ice. Cue the usual chase with Tom kicking Jerry out, but in the end Tom brings Jerry inside and gives him some Schnapps. Both cat and mouse are happy to be warm and the cartoon ends on the rare note of comradely.
Again Warner Brothers Home Video reached inside a hat and pulled out random names of Tom and Jerry cartoons to put on a DVD. I can't help but wonder if the Fur Flying Adventures collection will continue until all the cartoons are released in this unorganized arrangement.
Is This Thing Loaded?
There aren't any special features on volume two, but there is the usual round of trailers. Strangely, the trailers that automatically play when you start the DVD are different from the ones that have their own option on the menu. The trailers are Scooby-Doo!: Legend Of The Phantosaur, Tom And Jerry Meet Sherlock Holmes, the new Cartoon Network series The Looney Tunes Show, and Happiness Is…Peanuts: Snoopy's Adventures.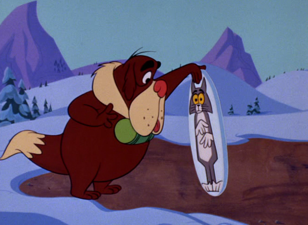 Case Study:
The DVD is housed in a standard "green" DVD case—parts of the case were purposely left out to cut down on plastic production. Once more there were not any special inserts inside the case. The cover art is much improved over Fur Flying Adventures Vol.1. Jerry is sitting in an inner tube floating in a pool and holding a net, while Tom jumps off a diving board into the net. While the perspective is off, Jerry could not conceivably hold a new big enough to capture Tom, I chalk that up to cartoon physics.
Ink And Paint:
The shorts are much cleaner in this DVD compendium. Since Tom And Jerry Tales were made in the later 2000s, they needed zero remastering and the digital enhancements used in the animation process are apparent. Tops With Pops and Surf-Bored Cat are presented in the original Cinemascope aspect 2.35:1, while the rest of the cartoons are in either 1.85:1 or the standard 4:3 ratio.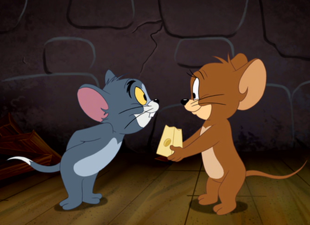 Scratch Tracks:
There are Spanish and English mono tracks with subtitles in English, French, and Spanish. The sound quality fits the standard of the DVD and is clear.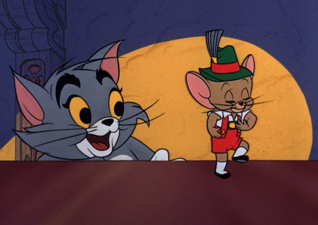 Final Cut:
In my review of Tom And Jerry: Fur Flying Adventures Vol.1, I stated that Warner Brothers needed to release a remastered, digitally enhanced, special features heavy, and chronological DVD or Blu-Ray collection of our favorite mouse and cat. While I never started an online petition or letter writing campaign, Warner Brothers heeded my advice. In October 2011, Tom And Jerry Golden Collection: Volume One will be released on Blu-Ray. It appears to be light in the special features area, but it will have the unedited cartoons in complete chronological order. I mention the Golden Collection, because you really should save your money and purchase that one instead of Fur Fly Adventures Vol.2. It's not that the DVD is boring, I actually enjoyed watching the cartoons, but I cannot shake the mass-produced feeling—"14 fur flying cartoons-over 1 hour of fun!" says the cover byline. Scenes of parents or grandparents purchasing this DVD from a drugstore or gas station to occupy their children for "over 1 hour" keeps fluttering through my mind. Tom and Jerry cartoons have been icons in animation since the Golden Age of Cinema and they should be treated with more respect than this hodge-podge collection.
Animated Classic or Back To The Drawing Board?