Disney (2010), Walt Disney Studios Home Entertainment (September 21, 2010), 2 discs (Blu-ray + DVD), 76 mins plus supplements, 16:9 ratio, DTS-MA 5.1, Rated G, Retail: $39.99
Storyboard:
A well-meaning girl captures Tinker Bell, and Tink ends up helping her to connect with her busy and scientifically minded father.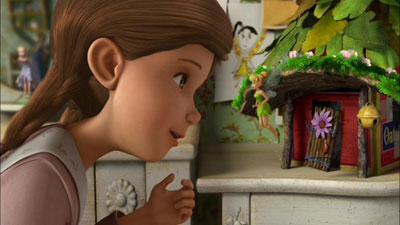 The Sweatbox Review:
Disney's direct-to-video movies featuring Tinker Bell have been a pleasant surprise. They may have been borne of a marketing directive, but the creative energy that has gone into the movies has been impressive. These are much closer in quality to Peter Pan's big screen sequel Return To Neverland than the mixed bag of straight-to-DVD sequels that dimmed the memory of many a Disney film over the past fifteen years. I watched the first Tinker Bell movie with trepidation, the second one with anticipation, and this third one with the question of whether or not the series could continue to improve with each instalment.
Well, not quite. I still prefer the second film, Tinker Bell And The Lost Treasure, but this third entry is pretty good too. The one thing I had looked forward to most in these films was the exploration of the rivalry between Tinker Bell and her fellow fairy Vidia (the "bad girl," with the pony tail and pants). This film plays on that, though it's used mostly as a plot device rather than being the point of the story. We also get to spend more time with the other fairies than we did in the previous movie, which took Tink away from Pixie Hollow for a more solitary adventure. Actually, Tinker Bell And The Great Fairy Rescue takes place entirely away from Pixie Hollow, bringing the whole cast to England. It was good to see a new environment presented, but at the same time I did miss Pixie Hollow, which was so well realized and enchanting in the earlier films.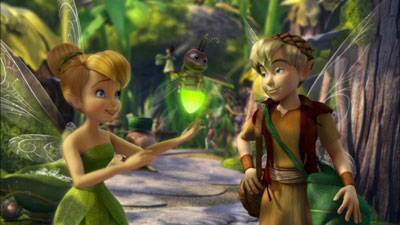 The story begins with Tinker Bell at long last joining her fellow fairies on a trip to "The Mainland," which we know better as England (ironically, more an island than a mainland, but I digress). Tinker Bell has been looking forward to this for a long time, largely so that she can check out the marvellous human objects and devices for which she has so far had limited exposure. This is made more acute by her finding so little else to do upon her arrival at The Mainland. She has already invented many wonderful devices for the fairies, and has become so good at it that nothing needs tinkering. Her fascination for finding out more about human objects concerns her fairy friends, and just about terrifies Vidia, because the fairies are supposed to stay far away from humans. All of the fairies know that Tink isn't really great with keeping her enthusiasm in check, and the problem is made critical when she learns of a nearby human house. Before you know it, Tink is scoping out an early automobile, with Vidia pleading with her to return to the field to rejoin the rest of the fairies.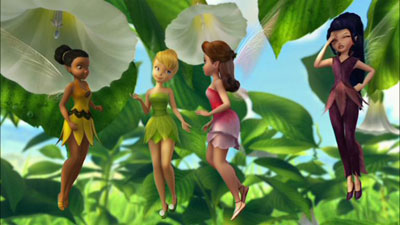 Tink also spies the humans who arrived via the automobile. They are a nine-year-old girl named Lizzy and her father, a scientist with a keen interest in butterflies. Eventually, Tinker Bell relents and heads back to the field, but there she encounters a fairy house constructed by Lizzy. Fascinated by the girl's artistry and ingenuity, Tink enters the house. Vidia tries to teach her a lesson, and accidentally traps Tinker Bell inside the fairy house. Though she finds Tinker Bell exasperating, she certainly wishes no harm to her, so she is terribly afraid for Tinker Bell when Lizzy comes and discovers her there.
Naturally, Lizzy is overjoyed to have caught herself a live fairy, and she brings Tink home with her. Her father has also found a prize: a butterfly with a most unusual pattern (unbeknownst to him, the asymmetrical pattern is the result of a fairy accident). Right away we can see that Lizzy and her dad have very different ways of viewing their finds. Her father sees his discovery as a scientific coup, and a way to advance his career. Lizzy just wants to make a magical friend and learn more about fairies. And she proceeds to do just that, earning Tinker Bell's trust and her friendship. Vidia, however, still thinks that Tink is in horrible danger, and she goes back to the other fairies to try to get help. Things become complicated by a rainstorm, which prevents the fairies from flying to Tink's rescue.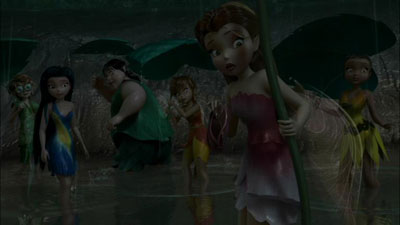 While the fairies make their way towards Tinker Bell through the dangerous storm, Tinker Bell connects with Lizzy, and they become good pals. Lizzy's excitement is only dampened by her father's unwillingness to spend time with her, or to show any capacity for believing in fairies. Things worsen when the prized butterfly goes missing, and we find out that Lizzy's father doesn't trust or even really respect her. Tinker Bell finds purpose in her meeting Lizzy, as she becomes determined to perform a "fix" that she never considered before— fixing the relationship between a father and daughter.
Of course, the arrival of the other fairies at Lizzy's home causes the story to veer into new territory, with the fairies being endangered by a fat cat (including a clever scene with pixie-dusted plates), and one of the fairies finds herself shanghaied to London. In the midst of all this adventure, everyone finds out that faith, love, and pixie dust really do go a long way.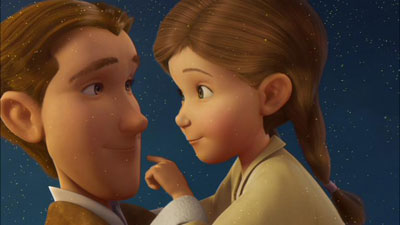 It's a pretty straightforward story, obviously crafted with young minds being considered. However, the story is almost as charming as it is unchallenging, showing a dream come true that any little girl could relate to. Despite some mild action and peril, the story comes off as pretty mild, not as exciting or adventurous as Tinker Bell And The Lost Treasure. And, with the whole film taking place in normal ol' England, the visual creativity seen in prior instalments has less opportunity to show itself. With a more ordinary setting, this story really needed to shine, and instead we just get a pleasant glow. It was a bit brave to have most of the story take place in Lizzy's bedroom, but the plotline certainly could have been more original in order to be more captivating. Honestly, the objective-minded single dad having trouble relating to his imaginative daughter is a bit dusty already.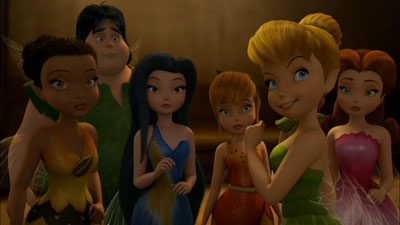 Despite so much focus on Tinker Bell and Lizzy, as well as Lizzy's father, the gallery of Tink's fairy friends still manages to get lots of screen time, but little in the way of characterization. I still can't remember anyone else's name (Vidia excluded), which may explain why the Disney Fairies merchandise hasn't been flying off the shelves as hoped. The one thing that does continue to improve is the animation. Already impressive in the first movie, it's only gotten stronger. Mostly, I noticed more careful attention to hair, which now moves more realistically; and better, more naturalistic facial expression asymmetries. The exception to all this good news is Lizzy's father, who generally comes off fine, but in some scenes moves and runs very awkwardly, as if the final animation couldn't get completed in time.
This may be the weakest of the Tinker Bell movies so far, but that's far from an indictment. This is still a high quality series that has plenty of the ol' Disney flair. Good values, generally strong animation, and endearing characters make this quintessential Disney, even if it's not as strong a movie as its predecessors.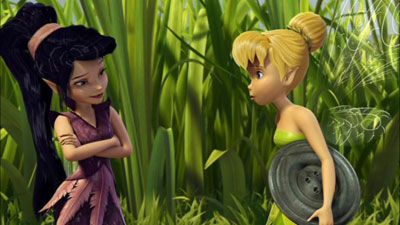 Is This Thing Loaded?
The Blu-ray and DVD hold the same extras, with the Blu-ray providing all of them in high definition.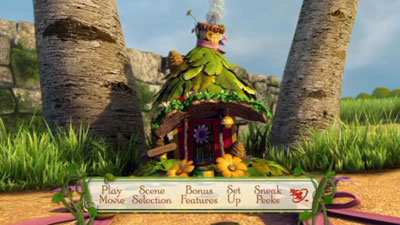 The Tangled Exclusive Sneak Peek (3:38) is introduced by the directors, and shows off what we can expect out of Disney's latest animated feature. It certainly looks to have their most sophisticated CGI character animation yet. The pre-production art also shines, and we see the voice actors at work too.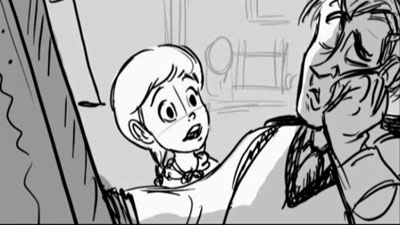 There are five Deleted Scenes, which can be played together along with introductions to each one by director Brad Raymond and producer Helen Kalafatic. It's mostly storyboards, with one scene going to full animation and rendering. All are decent scenes, only having been cut for story reasons, and as usual the choices are sound from that standpoint. There is then the How To Believe Music Video Performed By Bridget Mendler (3:09)— harmless enough and worth a look if you're interested. Fairy Field Guide Builder is an interactive game testing your fairy knowledge. Design A Fairy House covers a promotion done at Walt Disney World's EPCOT, building up to a special presentation for the winning entry.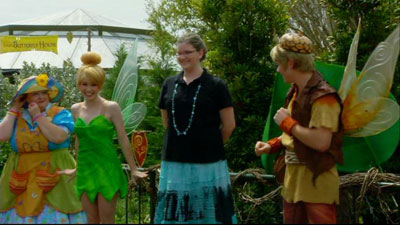 Both discs, of course, include a trailer for Tangled, and promotional material about Disney discs for Beauty And The Beast, The Lion King, Beverly Hills Chihuahua 2, The Search For Santa Paws, Toy Story 3, the new DisneyNature releases, and Tinker Bell And The Mysterious Winter Woods.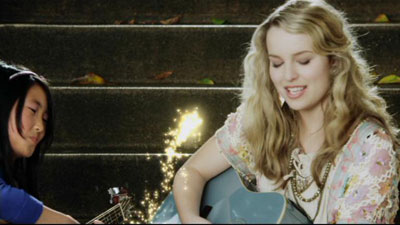 The Blu-ray is also BD-Live enabled, bringing you to the Disney portal to check out more trailers, etc.
Case Study:
The Blu-ray case has a disc in each side— DVD on the left, Blu-ray on the right. Inside are two inserts, one focusing on Disney Movie Rewards and one promoting general fairy and other Disney merchandise. A subtly embossed slipcover wraps around the package.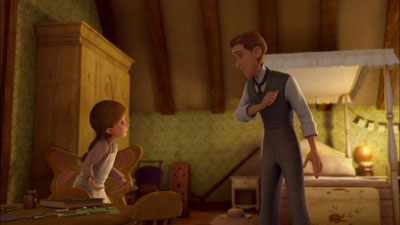 Ink And Paint:
The 16:9 picture is, well, perfect of course. Though one might not think so, this is the type of film that really benefits from the hi-def presentation, as the filmmakers have taken full advantage of their creativity and have prepared a visual feast. The apparent transparency of the fairy wings actually holds delicate patterns that cannot be properly appreciated in standard definition, and everything from pixie dust to finely rendered cat hair looks simply exquisite. The DVD picture looks great for standard def, but it just cannot compete with the Blu-ray image. (Note that our screen captures come from the DVD.)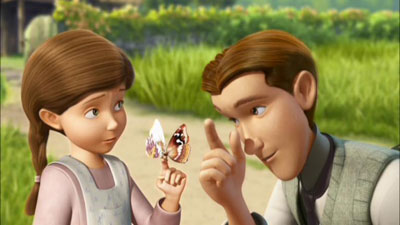 Scratch Tracks:
Disney also doesn't skimp when it comes to its audio efforts. The sound designers really go to town in these Tinker Bell movies, refusing to take the easy out of this being "only" a direct-to-video title. These people obviously have pride in their work, being sure to offer us a very enveloping sound experience. Much of this film is relationship-based, but even in quiet scenes there is a preponderance of dripping water, bell ringing, and summer breezes. The Blu-ray goes lossless with DTS-Master Audio, while the DVD gets an almost-as-good 5.1 Dolby Digital track. Both the Blu-ray and DVD also have Dolby Digital 5.1 French and Spanish tracks, plus subtitles for all three languages.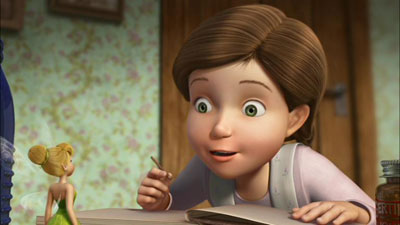 Final Cut:
Tinker Bell And The Great Fairy Rescue should satisfy its most important audience— little girls. The whole Blu-ray package screams quality, from the positive values in the story to the high quality artistry on display, not to mention perfect video and audio, and a nice assortment of extras. Older viewers may find themselves preferring the previous films in the series (even my nine-year old daughter described this one as not her favorite, though she enjoyed it), but there is no doubt that this series continues to be way more effective than we were expecting a couple of years ago.
Animated Classic or Back To The Drawing Board?